Are you looking for a hotel in Austin?
This lively city is home to several charming neighborhoods, including South Congress Avenue.
The street draws visitors with its humming live music venues, outdoor eateries, and boutique shops.
Staying near South Congress Avenue itself is one of the best ways to submerge yourself in the district. 
We'll uncover the best hotels most suitable for couples, families, even those that allow pets.
Or if you want to cool down, we'll show you which properties have on-site pools.
Read on to discover the best hotels near Austin's South Congress Avenue.
1. Park Lane Guest House
Nestled amidst a vivid green garden complex sits Park Lane Guest House, a charming inn with cottage-style accommodations.
It's only a 5-minute walk to the shops on South Congress Avenue.
Within the neat solar-powered cottages, you'll find gorgeous wooden ceilings, a loft bedroom, a couch for relaxation, and an ensuite bathroom with a tub.
They even have comforts like a coffee machine.
On the outside, there's space and time to soak up the sounds of the birds from the furnished private patio.
'Green' is the magic word at Park Lane Guest House, as the property is built up from organic materials.
No animal products are used inside.
Each morning, it's time to drool over a vegetarian breakfast consisting of free-range eggs, dairy products, vegetables, and fruits.
Is being lazy on your mind? Stroll around the property's gardens, or dip in the pool.
Guest Rating: 9.1
Star Rating: 4 stars
Address: 221 Park Lane, Austin, TX 78704, United States 
---
2. Hotel Magdalena
Located along Music Lane is Hotel Magdalena, a 4-star property with 89 rooms.
The hotel is brand-new, and its modernity is shown through features like an outdoor lap pool, plus complimentary bicycles and yoga mats for guests to use.
For sleeping and chilling, you can pick from different types of suites and studios.
Many of these rooms have comforts like a private balcony, a seating area, and private bathrooms.
Summer House on Music Lane, the hotel's on-site bar and restaurant, looks as joyful as its name sounds.
This dining room has a wonderful atmosphere and equally tempting dishes on the menu.
If you're feeling thirsty, you can opt for the in-room cocktail service or enjoy a complimentary cup of coffee in the lounge.
Guest Rating: 9.0
Star Rating: 4 stars
Address: 1101 Music Lane, Austin, TX 78704, United States
---
3. Hotel San Jose
This Austin boutique hotel is utterly charming, thanks to its green setting and quirky details on the inside.
Various rooms and suites are located in a 4-star property established in 1936 and sits in the middle of South Congress Avenue.
We're particularly fond of the Courtyard King Suite, fitted with a homely lounge area with a flatscreen TV plus a furnished balcony.
All of the rooms come with high-quality toiletries, comfortable bed linen, and carefully curated minibars. 
The outside section is where Hotel San Jose really shines.
A spacious lap pool is encircled by lush gardens and plush seats that are incredibly tempting on a warm day.
Next door, Jo's Coffee serves snacks and beverages in a cozy environment.
Guest Rating: 8.9
Star Rating: 4 stars
Address: 1316 South Congress Avenue, Austin, TX 78704, United States
---
4. South Congress Hotel
South Congress Hotel is home to 83 guest rooms in the heart of the South Congress Avenue neighborhood.
This property houses modern conveniences, including a 24-hour fitness center, gift shop, and motorbike rental. 
Book one of their king rooms and enter a blissful world fitted with a minibar, bathrobes, and an ensuite bathroom with exquisite toiletries.
Pamper yourself and book one of the larger suites, many of which have a private balcony plus a soaking tub.
The styling in the rooms is sublime, with details like dark wooden furniture and vintage art.
For dining, South Congress Hotel is actually a very compelling choice on South Congress Avenue.
Café No Sé and Central Standard tempt guests with breakfast, lunch, and dinner menus.
While the Lobby Bar is the spot for a refreshing cocktail.
Guest Rating: 8.7
Star Rating: 4 stars
Address: 1603 South Congress Avenue, Austin, TX 78704, United States 
---
5. Austin Motel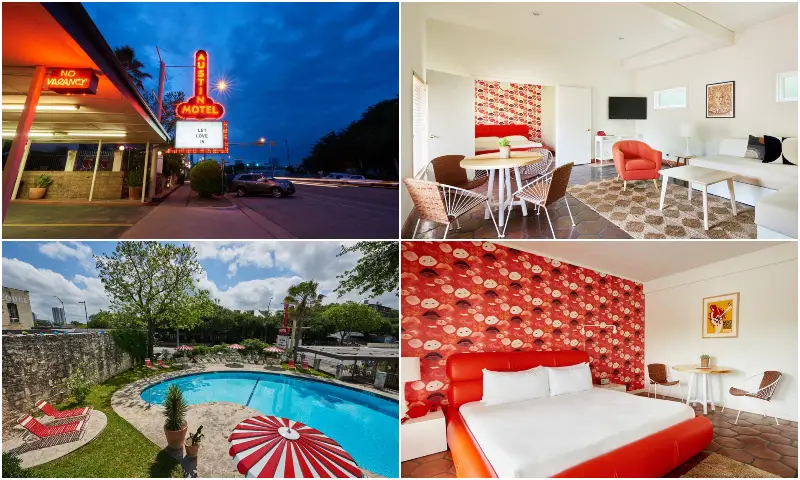 Art lovers should seriously consider looking into Austin Motel for a future trip to Texas.
Every space, from the common areas to the tastefully designed rooms, breathes creativity.
Austin Motel offers 41 different rooms, leaving you with plenty of options for a family getaway or a leisure solo trip.
The 500 square feet suite is the highlight due to its snuggly sofa facing a flatscreen television and the separation of the bedroom.
All of the residences have a large bathroom plus some seats to spend the night chatting or reading.
Does your tummy start to rumble? Head over to Joann's Fine Foods across the street for a Mexican feast and skillfully composed cocktails.
Additional features within the Austin Motel include a lobby shop, outdoor pool, and laundry facilities.
Guest Rating: 8.7
Star Rating: 3 stars
Address: 1220 S Congress Ave, Austin, 78704-2422, United States 
---
6. Sonder – South Congress
Sonder – South Congress is a property with modern, apartment-style dwellings.
Enjoy a homely atmosphere, provided by the separation of living, dining, and sleeping areas.
Are you traveling with family or a gang of friends? Pick the 3-bedroom apartment, accommodating up to 6 guests.
You can cook up a storm in the ample kitchen within your apartment.
With a bit of help from a stovetop, an oven, a microwave, and a generous counter space, you'll be able to cook a real homely meal.
Eat your homecooked dinner outside on the shared courtyard, or prepare your alfresco dining experience at the barbecue facility.
Right next to the barbecue, you'll find tables, chairs, and hammocks to laze in the shade of the towering trees.
Apart from splendid cooking possibilities, each apartment has traits like a fast WiFi connection and a lounge compartment with a plush couch and TV.
Guest Rating: 8.7
Star Rating: 4 stars
Address: 1221 South Congress Avenue, Austin, 78704, United States 
---
7. Colton House Hotel 
This stunning hotel is a true eye-catcher and houses 80 custom-made rooms for guests' comfort.
Open one of the suites' doors, and you'll be greeted by designer furniture, abstract artworks, and sharp minimalist lines.
Besides the classy looks, the Colton House Hotel's dwellings come with a kitchenette, as well as an ensuite bathroom with free toiletries.
On top of that, you'll have an entertainment area with a snuggly couch, plus a TV with streaming services at your disposal.
Outside, cool features like a pool, picnic area, and a patio with a fire pit can be found.
The on-site Simona's Coffee + Cocktails is an excellent venue to end the day with some booze and bites.
Colton House Hotel allows guests to bring a maximum of two dogs.
Guest Rating: 9.1
Star Rating: 4 stars
Address: 2510 South Congress Avenue, Austin, 78704, United States 
---
8. Aiden by Best Western @ Austin City Hotel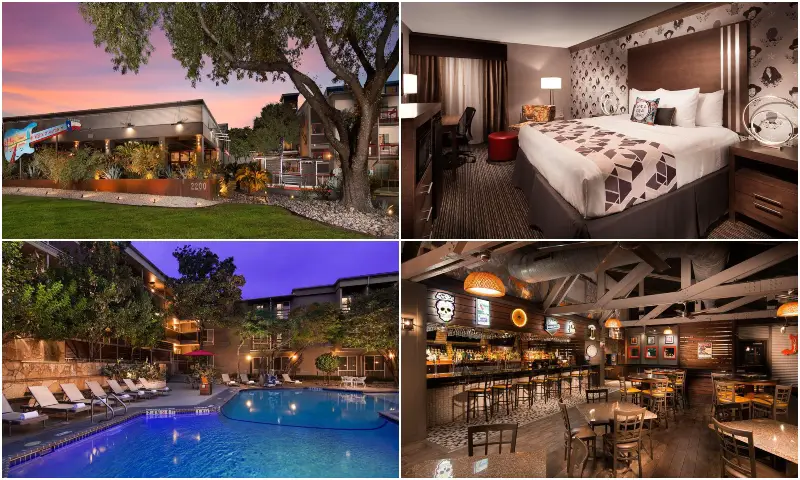 Aiden by Best Western @ Austin City Hotel has an impressively long list of features, plus comfortable rooms.
With a giant guitar on the outside and a bar that resembles a Texan music club, this hotel is a tribute to Austin's lively music scene.
There are rooms with working desks, armchairs, and a coffee machine to start the day with a caffeine kick.
After a long day, you can sink into a king bed and watch premium movies on your TV.
Feel the serenity of the outdoor pool encircled by native Texan plants and rolling waterfalls.
Inside, the adjacent gym gives you treadmills, rowing machines, and weights for a proper workout. 
The hotel has vending machines on each floor and washing facilities that come in handy during a more extensive trip.
Guest Rating: 8.6
Star Rating: 4 stars
Address: 2200 South Interstate 35, Austin, TX 78704, United States 
---
9. Embassy Suites Austin Downtown South Congress
Embassy Suites hotel has a certain grandeur.
It is emphasized by the high-class ceilings in the dining court and painstakingly decorated dwellings.
This Hilton hotel has double rooms and fancy suites to choose from.
Booking a suite is definitely worth considering, as you'll get bonuses like a complimentary evening reception with alcoholic drinks and snacks.
Each room offers city views, a kitchenette with fridge and microwave, and a TV with premium movie and sports channels.
On the first floor, you can sit down and sip on drinks at the hotel bar.
Whether you feel like relaxing or working up a sweat, the pool and gym give you both options.
A buffet breakfast is included in the room rate and contains items like hot drinks, juices, fruits, pastries, and omelets.
Guest Rating: 8.6
Star Rating: 3 stars
Address: 300 South Congress Avenue, Austin, TX 78704, United States
---
10. Hotel Saint Cecilia
Hotel Saint Cecilia is a gorgeous 5-star property on the northern side of South Congress Avenue.
It's a stunning country house surrounded by a lawn and mighty trees.
Inside, patterned wallpaper, shiny chandeliers, and pops of color in the interior make for a unique ambiance.
The suites and garden bungalows are all designed in a one-of-a-kind manner, and they all feature a separate lounge area.
Moreover, most of the residences have a private patio or balcony, a TV, plus board games for nighttime gatherings.
The lounge with its classy leather sofas is open for dining and drinks, but guests can also opt for the in-room dining service. 
Other amenities here include a library with books and DVDs, plus concierge services to help you plan out your stay in Austin.
Guest Rating: 8.5
Star Rating: 5 stars
Address: 112 Academy Drive, Austin, TX 78704, United States
---
Austin South Congress Avenue Hotels Map
Also read:
Find More Austin Hotels Near South Congress Avenue
FAQs
Summary