Out of the six 5-star hotels in Austin, Texas, Fairmont Austin Gold Experience is the most highly rated among guests. So this can be considered the absolute best Austin 5-star hotel. However, we know everyone has different needs. Some visitors prefer larger rooms, some want swimming pools, while others prefer a convenient location. Or maybe you need high-end facilities that suit families. And for couples, perhaps you're looking for the most romantic hotel to celebrate a honeymoon. We'll look at all these aspects and will show you which 5-star hotel is the best choice for your next stay in Austin, Texas.
---
1. Fairmont Austin Gold Experience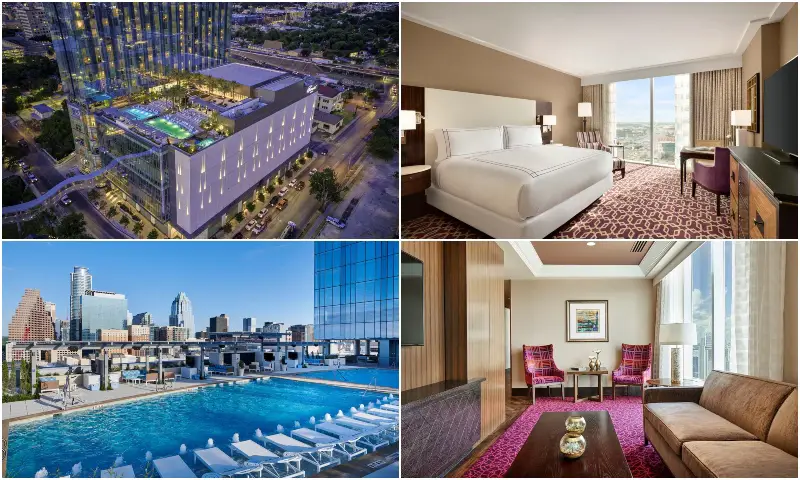 The 'Gold Experience' in the name is not an exaggeration. This 5-star hotel in Austin gets high praise for both services and facilities. With 131 guest rooms on 37 levels, this luxurious establishment caters to any type of traveler who wishes to explore Austin. Fairmont Austin Gold Experience has rooms ranging from spacious doubles to family residences. Sitting atop the carpeted floors, you'll find luxuries and furnishings in the rooms. In some of the more upscale suites, guests are pampered with a large soaking tub, and staggering views of the city. On the 7th-floor terrace, there's an outdoor pool with recliners along the edges for sunbakers. For relaxation, head to the spa center where saunas, hot whirlpools, and body treatments await. Fairmont Austin Gold Experience also boasts 5 restaurants and a high-end fitness club.
Guest Rating: 9.0
Star Rating: 5 stars
Best Rooms: Fairmont gold grande suite
Address: 101 Red River Street Fairmont Gold, Austin, TX 78701, United States
---
2. Hotel Saint Cecilia
Hotel Saint Cecilia is based in an enchanting colonial-style mansion encircled by beautiful gardens and lawns. You can choose from 5 suites, 6 poolside bungalows, and 3 studios behind the timber facades of the primary and side buildings. Suites one and four are the most popular due to their size. But all the rooms are equally luxurious and perfect for couples. Another notable feature is the 50-foot lap pool, which is open to guests 24 hours daily. Around the pool, you can make use of deckchairs, umbrellas for shade, and poolside dining services. Hotel Saint Cecilia offers all-day dining paired with alcoholic and non-alcoholic beverages.
Guest Rating: 9.0
Star Rating: 5 stars
Best Room: Suite four
Address: 112 Academy Drive, Austin, TX 78704, United States
---
3. Austin Proper Hotel, a Member of Design Hotels
Austin Proper Hotel, a Member of Design Hotels is a splendid 5-star Marriott hotel with 244 rooms and suites. On top of the elegant wooden floors in the rooms sit spacious beds and snuggly armchairs. Perfect for couples, it's easy to feel at ease in the rooms and suites. Lie down and browse through streaming services on TV. If you feel a bit more active, a health club with treadmills, bikes, and rowing machines can cater to your fitness requirements. There are plenty of options when your tummy starts to rumble. Enjoy vivid dishes at The Peacock Mediterranean Grill, delve into Mexican cuisine at La Piscina, or get your American fare at Goldie's. On top of this, Austin Proper Hotel has a gorgeous outdoor pool with lounge areas on the side.
Guest Rating: 8.5
Star Rating: 5 stars
Best Rooms: Deluxe suites
Address: 600 West 2nd Street, Austin, TX 78701, United States 
---
4. Hotel Granduca Austin
Hotel Granduca Austin is designed in the style of a traditional Italian villa and is based in the western parts of Austin. A vivid interior with splendid armchairs, paintings, and dark wooden cupboards gives this place its class. From the Deluxe Room to the magnificent Residenza Imperatore, all rooms treat guests with welcoming treats upon arrival. Inside all rooms, you'll find the comfiest beds and spacious ensuite bathrooms. The 1350 square feet Residenza Imperatore is the absolute highlight. Thanks to its two bathrooms, freestanding bathtub, private study, luxury robes, and striking views. Outside the guest rooms, there's plenty to do in this 5-star complex. Both the outdoor pool surrounded by reclining chairs and the atmospheric Visconti Bar are inviting spots to chill on your vacation. Furthermore, you can drink and dine at Visconti Restaurant or at the pool bar.
Guest Rating: 8.4
Star Rating: 5 stars
Best Rooms: Presidential suite
Address: 320 South Capital of Texas Highway Bldg B, Austin, TX 78746, United States 
---
5. The Driskill, in The Unbound Collection by Hyatt
Situated in a charming 1886 building sits The Driskill, in The Unbound Collection by Hyatt. Guests can revel in several dining venues and a bar where live music is played regularly. Pick from one of the 189 exquisite guest rooms or 14 suites, and get ready for a relaxing holiday in this 19th-century hotel. Most rooms are fitted with plush armchairs, a queen bed, and an ensuite bathroom with a soaking tub. Due to their quirky details, stunning furniture, and extra living space, the suites are particularly attractive. 1886 Café & Bakery and Driskill Grill are the hotel's onsite restaurants. You can pair multi-course meals with carefully crafted cocktails. With the help of concierge services, you can also plan tours in Austin.
Guest Rating: 8.4
Star Rating: 5 stars
Best Rooms: Suites
Address: 604 Brazos Street, Austin, TX 78701, United States 
---
6. Commodore Perry Estate, Auberge Resorts Collection
Nestled in the very center of Austin sits Commodore Perry Estate, Auberge Resorts Collection. This lush haven for holiday-seekers has an incredibly rusty ambiance. Around the estate, you'll see large plants on the terraces and perfectly manicured gardens all around. Inside, the vintage rooms with their four-poster beds, colorful rugs, and attention to ornaments really steal the show. Aside from the looks, small touches like a cocktail cart and a private patio improve the guest experience vastly. The suites with their dining table, customizable wet bar, and striking interior design are simply breathtaking. Sit back and savor some extraordinary endeavors at this estate, such as live music performances, yoga sessions, and art classes. At night, Lutie's Garden Restaurant is an elegant spot to dine. Enjoy a feast made with local ingredients accompanied by late-night drinks.
Guest Rating: 8.1
Star Rating: 5 stars
Best Rooms: Magnolia suite (Executive suite)
Address: 4100 Red River Street, Austin, TX 78751, United States 
---
Austin 5-Star Hotels Map
You may also want to read:
Find More Luxury Hotels in Austin
FAQs
What's the best Downtown Austin 5-star hotel close to 6th Street?

6th Street is Austin's bustling entertainment hub, filled with live music venues and homely bars.

Although most hotels are particularly far from this renowned avenue, Austin Proper Hotel, a Member of Design Hotels is the closest.

It's a 12-minute walk or a 3-minute drive from the hotel's entrance to 6th Street.
Which Austin 5-star hotel is closest to Austin-Bergstrom International Airport?

Austin-Bergstrom International Airport is based in the southeastern end of Austin.

The nearest hotel that's featured on this list is Hotel Saint Cecilia, be it by a small margin.

It takes 10 minutes or 7.5 miles to drive between the airport and the property.
What's the most romantic 5-star hotel in Austin with a hot tub in the room?

Several high-end hotels feature rooms with hot tubs in the rooms.

Some of the most excellent soaking tubs can be found in Hotel Granduca Austin.

The freestanding tubs in the suites here even overlook the garden complex.
Which Austin 5-star hotel has the best rooms for families?

Fairmont Austin Gold Experience has incredible family dwellings with room for 5 adults.

You'll love the sweeping city views from the suites, and huge living space for gatherings.

There are also plenty of dining and amusement options, making this hotel the most family-friendly overall.
What's the best Austin 5-star hotel with a swimming pool?

While nearly every hotel boasts a pool (complex), there are differences between them.

Due to its modest scale and quaint surroundings between the trees, the pool at Hotel Saint Cecilia is our recommendation.

Additionally, you can enjoy poolside dining and drinking.
What's the best 5-star boutique hotel in Austin?

The peculiar and historical look of The Driskill makes this hotel an excellent boutique hotel.

An authentic interior is paired with modern facilities in most rooms, and the common areas are composed beautifully.
Which 5-star Austin hotel has the best city views?

With its 37 floors, it's figuratively and literally hard to overlook Fairmont Austin Gold Experience.

This hotel definitely provides the best city views.

When you book a suite on the higher floors, you're able to overlook Austin and the areas well beyond the city borders.

Even from the pool complex on the 7th story, you'll get to enjoy stunning vistas.
Summary