Are you looking for the perfect place for your next outdoor adventure? How about one that reflects nature's best, offers stunning views, and is ideal to visit practically all year round? If you are smiling and nodding in agreement, then Iceland may just be your next travel destination. Mountains, glaciers, volcanoes, and rugged terrain are just a few of the awesome natural wonders that await you. However, there are so many famous landmarks to see, it's difficult to decide on where to go. So we've done the research for you and found the best natural wonders to see in Iceland.
---
1. Iceland Northern Lights
From the months of April to September, witness the sighting of a natural phenomenon known as the Northern Lights. Also named Aurora Borealis, it lights up the great darkness that hovers over Iceland during winter. The best place for you to experience the dancing lights across the clear skyline is away from the well-lit areas like Reykjavik. However, there is no guarantee that you'll get to see the Northern Lights, making their sighting even more precious. To see Iceland's Northern Lights, it's best to join experts who can take you to areas where there are likely sightings. We've done the hard work for you and found the best Northern Lights experts in Iceland.
On The Go Tours – Land of the Northern Lights
One of the most popular packages offered by On The Go Tours is their 5-day trip, Land of the Northern Lights. Hunting for Northern Lights is just one part of the tour. During the 5 day tour, you will also see the Blue Lagoon, Eyjafjallajökull Glacier, Reykjanes Peninsula, and more attractions part of the Golden Circle. An expert guide will lead you to all the highlights in Iceland and give you the best chance of seeing the Northern Lights.
---
2. Geysir Hot Springs
The Geysir in Haukadalur is Iceland's most famous geothermal field. Great Geyser was formed towards the end of the Ice Age, thereafter lending its name to this natural wonder. The earliest record of the Great Geysir was in 1294 when an earthquake caused major changes in Haukadalur. The Geysir's water jets are considered to be amongst the oddest natural wonders in Iceland. About thirty smaller active geysers and hot pools exist here, notably along a 100-meter wide strip of land. Geysir hasn't erupted in recent years but Strokkur shoots up every 4-10 minutes to the joy of viewers. Earthquakes have often set off Geysir, so you might just see the next eruption happen any time!
---
3. Gullfoss Waterfall
Gullfoss Waterfall is regarded as the highlight of Iceland's Golden Circle tour. The two-tiered waterfall is considered by many as one of the world's top ten waterfalls. Gullfoss is unique because you can view the waterfall from above, giving the impression that it vanishes underground! Gullfoss means "Golden Falls", an apt name since its hurtling waters resemble a sun-struck golden waterfall.   Its origin is Hvítá, a mighty river from Langjökull glacier, giving Gullfoss an awesome flow rate of up to 140 m3/s. Gullfoss is special to Icelanders; a memorial stone erected here honors Sigríður Tómasdóttir who fought for its protection. In winter, Gullfoss looks gorgeous and offers you a great setting for a photo of the Northern Lights.
---
4. Seljalandsfoss Waterfall
Seljalandsfoss Waterfall is often cited as the "waterfall you can walk behind". Found on Iceland's Southern Coast, it's fed by glacial water from the famous ice-capped Eyjafjallajokull volcano. Plunging 60 meters over an ancient sea cliff into a pool, it's part of Katla Geopark and flows into Seljalands River. It gushes in a misty rush, and a path behind the tumbling water provides unique views and photos. A small trail leads you to Gljufrafoss, another special waterfall that's hidden in a canyon. Due to its huge acclaim, floodlights light up the waterfall so it can be viewed at night too. During winter, Seljalandsfoss looks amazing and also quite alluring with icicles hanging from the cliffs.
---
5. Skogarfoss Waterfall
Skógafoss Waterfall is located on Skógá River in South Iceland, 149 km from Reykjavik. Standing 60m high and 25m wide, it's one of the largest and most beautiful waterfalls in Iceland. The waterfall comes directly from two glaciers, Eyjafjallajokull and Myrdalsjokull, making Skogafoss quite unique. As the water hits the ground, it produces a huge amount of spray which forms rainbows on sunny days, at times in doubles! This is the start of the Fimmvorduhals Pass, a popular hiking trail and one of Iceland's most visited places. For stunning views of Skógafoss and South Iceland's coastline, you can also climb to the top of the waterfall. You may visit Skógafoss all year but take caution during winter, as ice makes the area slippery.
---
6. Reynisfjara Black Sand Beach
Reynisfjara, the world-famous black-sand beach is found on the South Coast of Iceland. In 1991, it was voted by National Geographic as one of the Top 10 non-tropical beaches on the planet. Its awesome features include the Reynisdrangar sea stacks, lava formations, steep cliffs, stone arches, and basalt columns. Though once part of Reynisfjall Mountain, erosion makes the sea stacks look like they sprouted from the ocean. The alluring sea stacks are steeped in local legend thus making this beach a popular filming location. The beach has shiny black stones and pebbles, formed when hot lava flowed into the ocean, cooling instantly. You are advised to keep a safe distance from the water as the waves can be very erratic.
---
7. Vatnajokull National Park
This park was created in 1928 as a result of the Jokulsargljufur and Skaftafell National Parks merging. The Vatnajokull National Park is now the largest in Europe and has the most diverse terrain. It includes Jökulsárlón Glacial Lagoon, Svartifoss waterfall, Dettifoss waterfall, and Vatnajökull glacier. Up north, you will find glacial rivers, volcanoes, and mountains. The famous landmarks Jokulsargljufur Canyon, Hljodaklettar's formations, and the cliffs of Asbyrgi are all found here too. South Vatnajokull features imposing mountains, glacial rivers, and volcanoes while the West has fissures and lava eruptions. Visitors often go to Skaftafell due to its friendly weather, terrific scenery, and Svartifoss waterfall which plunges over black basalt columns. If you want to see Vatnajokull National Park, you will see the synergy between volcanic and geothermal activity. These naturally formed landscapes are a definitely must-see in Iceland!
---
8. Jokulsarlon Glacier Lagoon
This Jokulsarlon glacier lagoon has many honors, and you'll understand why it's a stunning natural wonder on arrival. It has Iceland's deepest lake and crown jewel. The gripping beauty and surreal terrain make it one of the most favored filming locations in Iceland. It emerged in 1934 when Breiðamerkurjökull glacier started receding, leaving the lagoon behind, and has since quadrupled in size. After the breakaway icebergs drop into the lagoon, melt, and float to sea, they get washed ashore on the jet-black beach. On the beach, you'll see bright ice sculptures that sparkle like diamonds, hence the name "Diamond Beach". The lagoon joins the ocean, mixing sea and freshwater which lends it a unique color. You will also find​​ seals swimming amidst the icebergs, while hordes troop to the fish-filled lagoon in winter.
---
9. Leidarendi Lava Caves
These are actually two caves that formed after separate eruptions on the volatile Reykjanes Peninsular. The lava tube caves formed when the surface lava hardened but magma continued to flow in tunnels. As the magma gushed out, a hollow tube remained and the caves collapsed, leaving a circular path with hidden chambers. The cave is pitch-black and you need a headlamp to see the natural beauty inside.  You will find colorful lava-stream polished cave walls, as well as stalactites, stalagmites, and other rock formations. During winter, you're also likely to see sparkling natural ice sculptures that further enhance the allure of this fantasy world. For a memorable underground adventure, visit the lava caves with a guide to ensure a safe and enjoyable trip.
---
10. Hengifoss Waterfall
Hengifoss, the third-highest waterfall in Iceland is found in the Hengifossá River in East Iceland. It stands at an impressive 128 metres and the view of Fljótsdalur valley from above is awesome! The cliff face sports dramatic red clay and black basalt patterns that make an attractive backdrop for the gushing water. On closer look, the landscape tells the area's geological history as fossilized conifer and other tree trunks confirm milder weather earlier on. You can follow a trail to Litlanesfoss, another waterfall that features amazing basalt stone columns. The dazzling waterfall goes on to pour into the Hengifossárgljúfur gorge in Fljótsdalur valley. A visit to Hengifoss is worth it since you get to see two amazing waterfalls in one hike!
---
11. Dettifoss Waterfall
Dettifoss waterfall is located in North Iceland and is presumed to be the most powerful in Europe. The waterfall is sustained by the mighty river Jökulsá á Fjöllum which flows from the Vatnajökull glacier, the largest in Europe. Water moving at 193 m3/s plunges into Jökulsárgljúfur canyon at a height of 45 meters and 100 meters in width. The roaring waterfall nicknamed the "beast" is dramatic with the water spray and resultant rainbows visible from afar. Standing at the waterfall edge to view the booming waters plummet into the wide canyon is quite an experience! Nearby, the canyon contains two more waterfalls that are also remarkable; Selfoss and Hafragilsfoss. The fall is mightiest and more accessible in summer than in winter, when the landmark freezes into ice.
---
12. Namaskard Geothermal Area
Namaskard Geothermal Area is a marvel of steam springs and hot sulfuric mud springs found in North East Iceland. Black rivers and sulphuric mud pools emitting steam and smoke fill a terrain that's rich with colorful minerals. Linked to the Krafla volcano system, this natural wonder is home to hot springs, mud pots, and fumaroles. The Namaskard area is barren; the extreme heat, acidic soils, as well as lethal fumes ejected allow for no vegetation. Despite this, brilliant colors layer the earth in red, orange, yellow, and green hues, especially around the springs. The pungent smell of Sulphur fills the area, an ever-present reminder of the powerful forces toiling beneath. Stay a good safe distance from the hot springs and take plenty of photos of this remarkable attraction in Iceland.
---
13. Myvatn Nature Baths
Myvatn Nature Baths have proved to be a key attraction in the area since it opened in 2014. Located in the Lake Mývatn region of North-East Iceland, these sets of pools and steam baths are geothermally heated. They are centered around a large intensely hot lagoon in addition to two steam baths placed atop frothing geothermal waters. The complex offers you a totally natural experience as you dip into the geothermal pool, building upon centuries-old tradition. Steam clouds rise from deep fissures while geothermal water is drawn from depths of up to 2,500 meters. The relaxing azure waters contain a unique mix of minerals and geothermal microorganisms that benefit the body.  Myvatn is a nature reserve in a beautiful region and a terrific example of Iceland's hot spring culture.
---
14. Hverfjall
Hverfjall is a 396-meter-high tephra explosion crater found near Lake Myvatn in Northern Iceland.  The volcano erupted in 2500 BP in the Krafla fissure area, creating a crater 140 meters deep and 1km wide. Walking up the crater's steep slopes and around its rim gives you a terrific view of the nearby terrain. During the eruption, a landslide affected the mountain's round shape resulting in a gigantic black ash cone. Hiking atop Hverfjall is wildly popular and provides you with a magnificent view of the Lake Myvatn area. The region around Lake Myvatn is covered with Tephra from Hverfjall which makes it amazingly stunning. If you're visiting Hverfjall, stick to the assigned routes to protect the fragile environment.
---
15. Dimmuborgir
Dimmuborgir is a huge stretch of lava featuring volcanic caves and rock formations that resemble a medieval castle. A natural wonder shrouded in mythology, Dimmuborgir is located near Lake Mývatn and is among Iceland's most famous tourist sites. Dimmuborgir means "Dark Castles," the name aptly depicting the spooky rock formations and creepy myths that surround it. The lava cliffs and pillars arose 2300 years ago as scorching lava flowed over a pond in a huge eruption. Steam from water trapped underneath escaped, forming pillars that today present as large rock mounds, spiky lava stacks, and caves. This resulted in crumbly and fragile rocks hence they have been preserved and climbing over them is prohibited. It's easy to get lost unless you follow a particular path since some of the lava formations look alike. Despite its dark history, Dimmuborgir inspired the black metal legend's name, Dimmu Borgir, and a feature on Game of Thrones.
---
16. Godafoss Waterfall
Located on river Skjálfandafljót, this is one of the largest and most dazzling waterfalls in Iceland. The river waters fall from 12 meters high over a 30-meter stretch and the waterfall itself bears a riveting history. Godafoss means "waterfall of the gods" and tells when Christianity became the official religion and pagan idols were dumped therein. The waterfall's godlike beauty plus the area's mystical aura have inspired a number of Iceland's best legends. This waterfall is quite charming; azure glacial waters stream over a curved arc, creating turquoise ripples in the water below. Godafoss waterfall is easily accessible besides offering an awesome backdrop as you take photos of the Northern Lights. You can also access Godafoss during winter, although the road conditions might be a bit taxing. It's best to follow a tour guide.
---
17. Puffin Island
Iceland is clearly the best place to view puffins as 60% of the world's puffins live here. Puffins are charming birds and some would say they're even friendly to people. They have vividly colored bills, a clumsy walk, and are naturally amiable. Puffins live in colonies consisting of thousands and are quite absorbing when viewed together. Every summer, you can join puffin-watching tours to Akurey and Puffin Islands, where many puffins nest. Both islands are only accessible via boat, although they do get close enough for you to view the puffins. The best time to see Puffins is between April-September. Most of their life is spent at sea so they only come ashore to breed and nest. Akurey is a thriving sanctuary for nesting puffins where you can also view cormorants, black guillemots, and kittiwakes.
---
18. Eyjafjordur whale watching
If you love nature, then head to Eyjafjörður, Iceland's longest fjord full of stunning scenery and rich marine life. Crucial ocean currents and nutrient-rich freshwater sustain marine life and allow whales to gather in sheltered fjord waters. You can view different whale species including blue whales, humpback, minke, and killer whales, as well as white-beaked dolphins and harbour porpoises. The majestic blue whale visits Iceland's north coast to eat plankton, while humpbacks go to feed and mate. Blue whales, Fin whales, and Orcas, however, can be hard to spot. Humpback whales tend to be the most popular sightings as they perform acrobats and tease onlooking visitors.
---
19. Silfra Fissure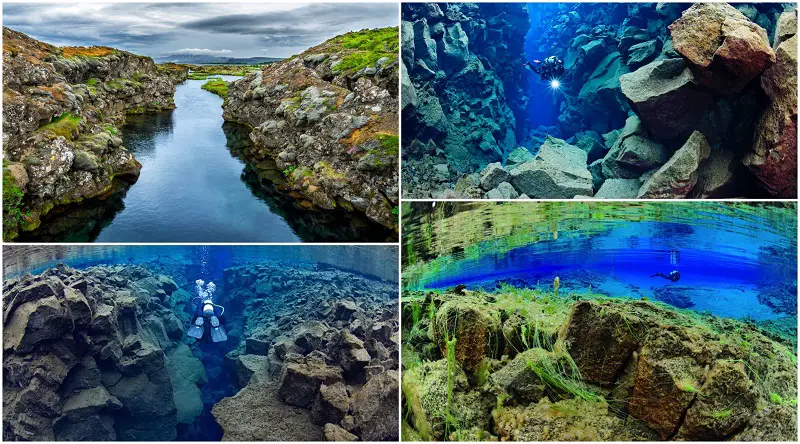 Silfra is a crevice that's filled with fresh spring water, located in Thingvellir National Park. A cherished phenomenon, it's the only place where you can dive or snorkel in a cleft between two tectonic plates. Formed due to earth movements, it's found where the North American and Eurasian plates meet and part, about 2 cm annually. Silfra is a "living" dive site as it's always undergoing changes which result in caves, tunnels, and underwater terrain. The water flowing from Langjökull glacier takes 30-100 years to filter through porous underground lava before reaching Silfra. This makes it remarkably pure and clear thus allowing you to have underwater visibility of over 100 metres. Hailed as the clearest water worldwide, it's very cold but never freezes. Get a taste of this natural wonder as you dive or snorkel!
---
20. Deildartunguhver
Deildartunguhver is one of Iceland's ideal spots to see hot springs in Reykholtsdalur. This is a must-see attraction and Europe's most powerful hot spring, whose rising steam pillars are seen for miles. Deildartunguhver features a very high flow rate of 180 liters/second, with the water surfacing at a constant 97 °C. It's risky to venture too close to the hot spring, so wooden walkways have been erected for your safety. The water heats homes in nearby towns and the 64 km hot water pipeline to Akranes is the longest in Iceland. Showering within a 65 km radius of the spring means you will have bathed in hot water from Deildartunguhver! Visit Krauma Geothermal Spa for the perfect blend of the hot spring with glacial water from Iceland's smallest ice cap. You will also find the deer fern here, a plant that doesn't grow anywhere else in Iceland.
---
21. Barnafoss and Hraunfossar waterfall
These two waterfalls are suitably located near each other, just a few kilometers from Reykholt. A national treasure, the Hraunfossar waterfalls are charmingly attractive as well as an incredible natural wonder. A clear spring cascades down into the Hvita River, its water seeming to arise magically from the lava. This series of waterfalls is formed by small streams flowing for about 900 meters out of the Hallmundarhraun lava field. The waterfall features azure waters which at times appear milky white, creating a majestic scene. Barnafoss waterfall is named after two children who fell into the waterfall and is found above Hraunfossar. You can spend an awesome day here viewing the gorgeous waterfalls and walking through the hike trails.
---
22. Strokkur
Located in the Geysir Geothermal Area, Stokkur is the greatest active geyser in Iceland. It is one of the three key attractions on the renowned Golden Circle tour route. While Geysir itself is inert, Strokkur erupts often, jetting water 15-20 meters high every 5-10 minutes, at times reaching up to 40 meters. Strokkur is the main feature of the Haukadalur valley explaining the huge numbers that visit here more than anywhere else. You will also find smaller geysers, fumaroles, hot springs, mud pits, and natural elements that color the ground. Active geysers like Strokkur are rare, except in some highly geothermal areas.
---
23. Thingvellir National Park
Thingvellir National Park, "where you walk between two continents​", is among the most visited places in Iceland.​ This is the first national park in Iceland and a UNESCO World Heritage Site as well. It's near the capital Reykjavík and is one of the first stops on the Golden Circle – Iceland's most favored tour route. The region boasts amazing historical and geological importance as well as charming landscapes such as waterfalls and gorges. Its history dates back to when it was the base of the Icelandic parliament. Many visitors come to snorkel and dive at Silfra as the water's clarity allows for incredible views. You can see the effects of tectonic plate movement, making it the best place to view the drifting continents!
---
24. Blue Lagoon
National Geographic lists this warm lake found amidst a rugged lava field among the 25 World Wonders. Found just 45 minutes from Reykjavik, the world-class spa is wildly popular for its mystical-looking blue waters. The mixture of freshwater, seawater, natural silica, and minerals, makes it very good for the skin. You can easily access it via public transport for a memorable lagoon spa experience. It's among countless hot springs and man-made geothermal pools offering stunning views in amazing locations in Iceland. Geothermal bathing is very popular here. It is part of the culture, so join the locals for a revitalizing dip!
---
As shown above, Iceland offers you an unmatched range of awesome natural wonders. Indeed, you will find some of the rarest and most amazing collections of natural landscapes in the world. Few places exist with such a huge cluster of natural wonders, most of which appear close to each other. Ice and fire co-exist in a rare but very thrilling blend. The powerful forces of nature continue shaping this island today so there's always something new to see. It is not surprising then that Iceland is rated so highly as a travel destination! If you want to see most of these natural wonders, join a tour that follows the Golden Circle.