Alaska is one of the world's best locations to gaze upon the magical Northern Lights.
Fairbanks is a town in the heart of Alaska, the US's largest state.
It is a prime destination to see the enchanting Northern Lights dancing in the sky during the winter months.
Are you planning to travel far north with your friends, partner, or family?
We have found 12 comfy hotels in Fairbanks from where you can see the Northern Lights in its full glory.
1. Candlewood Suites – Fairbanks
Candlewood Suites – Fairbank is located in the northern part of town, and features modernly designed accommodations. 
You can choose from 103 guest suites, but we would pick the comfortable Queen Suite.
This residence measures 56 square meters, has a fully equipped kitchen, a large bathroom with a tub, and a separate seating area.
Before the Northern Lights appear at night, you can watch TV or a movie with the Blu-ray DVD player.
On top of that, you can work out in a gym that's open 24/7 and comes with treadmills, weights, and stationary bikes.
If you dare to stay in the cold, the terrace and barbecue area is a beguiling spot to cook yourself a winter night feast while waiting for the magical lights.
In case you spend a more extended holiday here, the hotel offers laundry services and a self-service laundromat.
Guest Rating: 9.3
Star Rating: 3 stars
Address: 551 Harold Bentley Avenue, Fairbanks, 99701, United States
---
2. A Taste of Alaska Lodge
At A Taste of Alaska, you can spend your vacation in a charming timber lodge. 
Away from the center – and therefore light pollution – this alluring accommodation is excellent for Northern Lights observations.
The property is 260 acres in size and includes pine forests, cabins, and a lovely restaurant made of logs. 
During winter, the lodge organizes fun adventure activities like dog sled rides and snowshoeing in the woods around.
You'll have your own cozy cabin, that's fitted with a full-size kitchen, a furnished balcony with a barbecue, plus seats and a table next to a window inside. 
You can watch the sky from this little lounge area inside the wooden house on cloudless nights.
A continental breakfast is included in the price; you'll be served bread, cereals, fresh fruits, juices, and pastries.
A Taste of Alaska Lodge also hosts an on-site restaurant where you can enjoy a hearty dinner.
Guest Rating: 9.2
Star Rating: 3 stars
Address: 551 Eberhardt Road, Fairbanks, AK 99712, United States 
---
3. Minnie Street Inn
In the center of Fairbanks, on the Chena River banks, you'll find the 3-star Minnie Street Inn.
This homely lodging boasts comfortable double rooms, suites, and even a vacation home if you treasure your privacy.
No matter what residence you choose, there's always bathrobes, a cable TV with sports channels, a seating area, and a microwave at your disposal.
The premium suites even have a fireplace, hot tub, and heated floors to keep your feet toasty on winter nights.
In the main building, a shared kitchen with a stove, fridge, and other cooking utensils allow you to prepare your favorite meals.
For viewing the Northern Lights, Minnie Street Inn has an outdoor deck with tables and chairs.
The inn can arrange your winter trips like ice fishing, dog sledding, and even a romantic aurora dinner under the spellbinding skies.
Guest Rating: 9.2
Star Rating: 5 stars
Address: 345 Minnie Street, Fairbanks, AK 99701, United States 
---
4. Sophie Station Suites
This 4-star resort is based in west Fairbanks, conveniently close to its international airport.
Rest your head in one of their spacious rooms or suites that all have a kitchen, lounge, an ensuite bathroom, and a safe for your valuables.
We prefer the suite with the massive bubbling tub for its size and the private balcony.
From here, you can gaze upon the vivid Northern Lights if you're lucky.
Sophie Station Suites also offers room service and a 24-hour front desk, enabling you to arrange excursions or a free airport shuttle at any given moment.
Feeling hungry? The on-site Zach's Restaurant serves classics like fried calamari, fish and chips, and pasta dishes.
Pick a book in the lounge's library, work on your fitness in the hotel's gym, or wait for the Northern Lights to show up at the outdoor terrace.
Guest Rating: 9.1
Star Rating: 4 stars
Address: 1717 University Avenue, Fairbanks, AK 99709, United States 
---
5. Pike's Waterfront Lodge
Sandwiched between Fairbanks International Airport and the Chena River sits Pike's Waterfront Lodge.
Thanks to its indoor Aurora Conservatory and river views, this resort is a prime location for when the skies are brightly lit during a nighttime light show.
Otherwise, you can see the spectacle from around the firepit at the observatory deck.
Spend the rest of the night in one of the rooms, suites or cabins.
They all come with a private bathroom with complimentary toiletries, a kitchenette, and a sofa to rest.
Do you want to spice up your holiday experience? Book the Jetted Tub Room to get a large hot tub and a balcony with stunning river vistas.
For the room fare, you'll also get a continental buffet breakfast to start the day off properly.
On top of this, Pike's Waterfront Lodge houses a gift shop, a 24-hour gym, and a coin-operated laundrette. 
You can also request a free airport pick-up or drop-off.
Guest Rating: 9.0
Star Rating: 3 stars
Address: 1850 Hoselton Drive, Fairbanks, AK 99709, United States
---
6. Wedgewood Resort
Wedgewood Resort is beautifully located at the edge of the Creamer's Field Migratory Waterfowl Refuge.
The rooms here are laid out in a snuggly way, with carpeted floors, wonderful mood lighting, and dark wooden furniture.
You'll instantly feel at home in their suites, where a large kitchen, dining area, lounge, and an enormous TV are all within an arm's reach.
Outside the rooms, a 24-hour reception for bookings and a 24-hour gym are some of this hotel's handy features.
Designated aurora watching services at Wedgewood Resort include headlamps and wake-up services when the Northern Lights appear. 
This hotel has a restaurant and bar, where you can revel in delectable dishes, sharing platters, and Alaskan craft beers.
Guest Rating: 8.8
Star Rating: 3 stars
Address: 212 Wedgewood Drive, Fairbanks, AK 99701, United States 
---
7. Northern Sky Lodge
To reach Northern Sky Lodge, you'll have to drive nearly 50 kilometers from downtown Fairbanks, but it's all worth it.
This timber lodge is lightyears away from civilization, situated amidst grassland and forests.
It provides guests with unspoiled views of the night skies.
Head for the furnished observation deck when there's solar activity at night.
Inside the building, there are 6 simple yet rustic rooms fit for 2 to 4 guests.
A large lounge, dining area, and shared kitchen are all available for guests.
Borrow books or board games for a fun night with the family, or benefit from the complimentary WiFi – which is available despite the remoteness.
Are you heading out in the snow? The staff lets you borrow winter gear such as thick jackets, boots, and snowshoes at no additional costs.
Guest Rating: 8.7
Star Rating: 2 stars
Address: Milepost 329 Parks Highway, Fairbanks, AK 99709, United States 
---
8. Aurora Villa
Aurora Villa is a hypermodern accommodation that seems to pop up like a UFO in Fairbanks' winter scenery.
Straight lines, designer furniture, and massive floor-to-ceiling windows cause the rooms to have a stylish and clean look.
Due to the window size, you can even observe the aurora from the comfort of your massive bedroom.
Residences here come with a private bathroom with complimentary high-class toiletries and a hairdryer.
If you're traveling with a family, there's also a timber cabin that sleeps up to 6 guests.
It has a full-size kitchen, dining table, and a seating area with a fireplace.
You can choose between a modern villa and a traditional wooden Alaskan home to spend your holidays.
Guest Rating: 8.7
Star Rating: 3 stars
Address: 1110 John Kalinas Road, Fairbanks, AK 99712, United States 
---
9. River's Edge Resort
River's Edge Resort is a holiday park along the banks of the Chena River, west of central Fairbanks.
Pick between an elegant King Studio in the main building, a quaint cottage on the riverside, and cottages with river views.
All accommodations have a coffeemaker, a microwave, and a flatscreen TV to make yourself comfortable during the dark winter nights.
The River Front Cottages are particularly appealing, as they come with a river-facing terrace perfect for night sky viewings.
If you're exploring Fairbanks with your family, it's comforting to know that the cottages can host up to 4 people.
Chena's Alaskan Grill is part of the property, and this is the hotspot for generous buffet breakfast, a filling lunch, comforting dinner, or late-night drinks.
Guests can arrange an airport or train station pick-up and drop-off at no extra costs.
Guest Rating: 8.6
Star Rating: 3 stars
Address: 4200 Boat Street, Fairbanks, AK 99709, United States 
---
10. Best Western Plus Chena River Lodge
The famous hotel chain Best Western Hotels & Resorts also has a branch in Fairbanks, fairly close to the town center.
Choose your queen or king room, that are all equipped with a small fridge, tea and coffee making facilities, and a 32-inch TV with cable channels.
In certain rooms, pets are allowed, so you can bring your loyal four-legged friends on a wintery trip as well. 
One draw of Best Western Plus Chena River Lodge is the free breakfast, consisting of fruit, several styles of eggs, yogurt, juice, cereals, and bread.
Make use of the fitness center with stationary bikes, treadmills, and weights to keep you in shape during your vacation.
In case you want to plan some tours and activities, the 24-hour front desk is open to help you with your travel requirements.
Ask for a wake-up call in case the wondrous Northern Lights occur.
Guest Rating: 8.6
Star Rating: 3 stars
Address: 1255 TVSA Way, Fairbanks, AK 99709, United States 
---
11. Hampton Inn & Suites Fairbanks
The Hampton Inn & Suites Fairbanks is wedged between a neat shopping area and a magnificent waterfowl sanctuary in northern Fairbanks.
Besides the great location, this resort has 101 delightful guest rooms and suites decorated with carpets, colorful artworks, and fashionable lampshades.
Keep or prepare hot and cold snacks with the fridge, microwave, and free coffee provided in each accommodation.
Hampton Inn & Suites Fairbanks has several favorable features, including an indoor pool with reclining chairs around it and a whirlpool for ultimate relief.
Start the day at the sumptuous breakfast buffet line, where a spread of hot and cold items awaits.
At this resort, free goodies include a WiFi connection, shuttle service to the train depot and international airport, and gym access.
You'll also find a convenience store and a spacious shared lounge for relaxation.
Guest Rating: 8.6
Star Rating: 3 stars
Address: 433 Harold Bentley Avenue, Fairbanks, AK 99701 , United States
---
12. SpringHill Suites by Marriott Fairbanks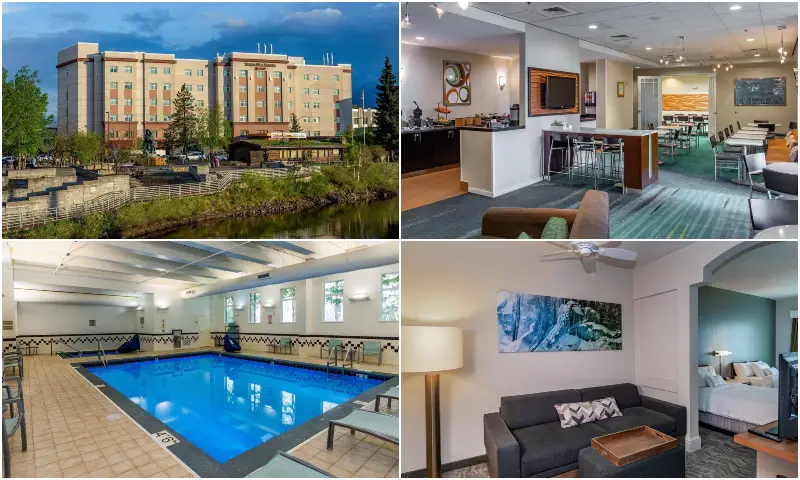 Right in the heart of Fairbanks, you can find SpringHill Suites by Marriott Fairbanks, a 3-star hotel with modern suites and compelling facilities.
In the furnished residences, armchairs, a comfy sofa, a TV with streaming services, and a generous bathroom will make you feel right at home.
You won't have to explore Fairbanks and surroundings with an empty belly either.
This hotel offers a buffet breakfast with fruits, eggs, bread, and even a waffle making machine.
The adjoining Lavelle's Bistro is a superb eatery to go for a warming lunch or dinner.
They have international classics like potstickers, risotto, and French onion soup on the menu.
Other amenities that make this hotel stand out are its heated indoor pool, a hot whirlpool, and a 24-hour fitness facility.
Furthermore, SpringHill Suites by Marriott Fairbanks boasts a convenient laundry room for guests, plus a handy minimarket. 
As a guest, you can benefit from free parking and a free airport shuttle to and from the hotel.
Guest Rating: 8.5
Star Rating: 3 stars
Address: 575 1st Avenue, Fairbanks, AK 99701, United States
---
Fairbanks Hotels Map
Also read:
Find More Fairbanks Hotels to See Northern Lights
FAQs
Summary