Are you looking for something to do in Dallas tonight? There are plenty of fun things to do in Dallas, and we have a few interesting ideas to make the night memorable. Whether you're a sports fanatic, an art lover, a history buff, an adrenaline junkie, or all of the above, Dallas' got you covered. It's a very lively city with activities for families, couples, and friends. Here is our list of the most fun things to do in Dallas at night.
---
1. Dallas Evening Tour
If this is your first night staying in Dallas and you want to see the fun highlights of the city, then there's no place better to start than the Dallas Evening Tour. This is a great way to get to know the city. Take a tour through downtown Dallas, the famous Deep Ellum, Main Street, Uptown, among other neighborhoods. See the main landmarks in Dallas light up on this trip. You'll get to see some iconic buildings like the Bank of America Tower, the Reunion Tower, and the Hotel Lorenzo lit up at night. Also, see iconic sculptures like The Eye and the Dallas Pegasus.
Departure time: 7:30pm
Duration: 90 minutes
Departure point: 646 Main St, Dallas, TX 75202, USA
---
2. Dallas' Reunion Tower GeO-Deck
At 470 feet up from the ground, the Dallas' Reunion Tower GeO-Deck has the best views of the city at night. Whether you're traveling with your family, friends, or partner, this is another fun activity for your first day in Dallas. It will give you the opportunity to get to know the place from a very unique and breathtaking perspective. The Dallas' Reunion Tower also has two dining options available for its visitors. For those who want something quick and casual bite, the Cloud Nine Café offers great food and drinks with a fantastic view. For those who want something more elegant, try Wolfgang Puck's Five Sixty serving Asian flare and incredible wine. It also boasts those incredible views of the city.
Opening Hours: Sunday to Friday 2pm-9:30pm; Satruday 12pm-9:30pm
Duration: 1-2 hours
Address: 300 Reunion Blvd E, Dallas, TX 75207, United States
---
3. Haunted Dallas Ghost and Pub Walk
History buffs, ghost hunting enthusiasts, and pub goers will have endless fun and laughter on this tour. This 2.5 hour tour takes you across some incredible historic buildings of downtown Dallas. You'll be stopping at bars for drinks while listening to some of the best ghost stories from your guide. The group is small, making the tour feel all the more personable and creating a friendly atmosphere. Still, don't let the good drinks and great conversation fool you. With so many historic buildings and creepy events, you just might end up seeing a not-so-friendly ghost.
Departure time: 7:30pm
Duration: 2.5 hours
Departure point: 600 S Harwood St, Dallas, TX 75201, USA
---
4. Party Bike Pub Crawl
Beer, bicycles, premium sound systems, and LED party lights – What could be more fun? At the Party Bike Pub Crawl, you get the best of Dallas' party nightlife. You'll get a good workout while learning about the Deep Ellum neighborhood. Sharing this two-hour tour with fourteen other people and try a few specialty drinks. Get to know everyone and pedal together through the city enjoying the evening sights of Dallas. During the trip, you'll get to know some of the best bars and restaurants in town.
Departure time: Tours from 11am
Duration: 2 hours
Departure point: 3909 Main St, Dallas, TX 75226, USA
---
5. Medieval Times Dinner and Tournament
Lords and Ladies of the realm – are you ready to see what true valor, honor, and skill look like? Inspired by 11th-century Spain, Medieval Times is a franchise that has made a name for itself through sword battles and jousting tournaments. You can witness what the atmosphere was really like while enjoying a delicious four-course meal. Suitable for both families and adults, at Medieval Times you get assigned to one of the six kingdoms. Watch your representative knight compete against the others to become the Queen's Champion. Arrive 75 minutes prior to seating and enjoy the fun atmosphere of Medieval Times.
Opening Hours: Show time typically begins at 8:30pm.
Duration: 2-3 hours
Address: 2021 N Stemmons Fwy, Dallas, TX 75207, United States
---
6. Dallas Indoor Skydiving
Have you ever wanted to fly? Well, if you'd love to experience the thrill of skydiving without having to go through the whole jumping-off-a-plane ordeal, worry not! The iFly Dallas gives guests the opportunity to experience free falling without flying up into the sky. You'll go through a short training session first. Vertical wind tunnels will shoot you up into the air. Once you're comfortable, you'll be floating in wind speeds reaching 130 to 175 miles per hour. Suitable for kids and adults, this is a great fun activity at night for families, friends, and couples. All equipment necessary is provided by iFly Dallas, so you don't have to worry about bringing anything.
Opening Hours: Monday to Friday 12pm-8pm; Saturday 9am-9pm; Sunday 10am-8pm
Duration: 75 minutes
Address: 8380 TX-121, Frisco, TX 75034, United States
---
7. Late Night Shopping
Dallas has a number of great shopping malls, many open into the late hours of the night. Most malls have a variety of restaurants, ice skating rinks, cinemas, and more. So you can expect a lively vibe as you browse through the shops.
Which shopping malls open late in Dallas?
---
8. Pin Stack Bowl
If you're a night owl who loves to have fun, play games, and eat good food, a bowling venue might be the best option. Pin Stack is an entertainment and dining combination that seeks to provide fun in a unique and modern setting. Their bowling lanes come with lane-side food, and beverage services, and comfortable seating. For something even more active, their laser tag arena – which occupies an impressive two floors – is filled with obstacles, mist, and music. They also have a high ropes course, rock climbing walls, video games, bumper cars, a fifteen-person foosball table, and a laser maze. Their menu includes pizzas, sandwiches, salads, appetizers, sundaes, and milkshakes. If you're looking for a night out with family and friends, this is a great option.
Opening Hours: Sunday to Thursday 11am-12pm; Friday & Saturday 11am-2am
Duration: 2-4 hours
Address: 6205 Dallas Pkwy, Plano, TX 75024, United States
---
9. Escape Room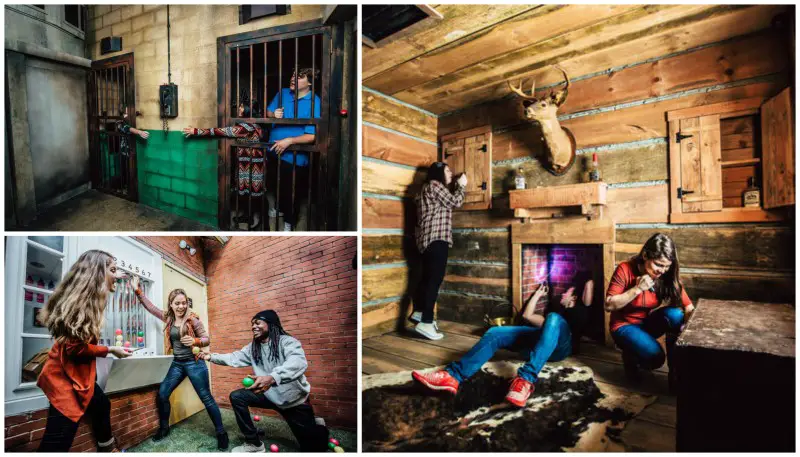 Those who love a good fun challenge will be addicted to the Escape Rooms offered in Dallas. The venue takes bookings up to 11:30pm at night so there's plenty of time to figure out all the puzzles. Challenge your creativity, logic, and mathematical skills in various rooms. You'll really be tested in your deductive reasoning and resourcefulness. Groups tend to vary from 6 to 10 depending on the room, along with the difficulty level and puzzles you'll encounter. Typically, most escape room experiences give you 60 minutes to find the clues and solve the puzzles presented to you. Make sure to arrive 10 to 15 minutes prior to your booked time.
Session Times: from 8:40am to 11:40pm
Duration: 75 minutes
Address: 3000 Grapevine Mills Pkwy Suite 604, Grapevine, TX 76051, USA
---
10. Six Flags Over Texas
Six Flags is known around America as the home of fun and thrill rides. Every summer adrenaline junkies flock to the park, ready to take on the wildest and most exhilarating rollercoasters they can find. Live entertainment and family rides are also available for those who would rather skip the twists, turns, and drops. With Looney Tunes characters and rides named after your favorite DC heroes and villains, this is a fun-filled visit from beginning to end. Some of the most popular rides include Batman the Ride, Aquaman, and Catwoman Wip.
Opening Hours: Sunday to Friday 11am-9pm; Satruday 11am-10pm
Duration: 3-5 hours
Address: 2201 E Road to Six Flags St, Arlington, TX 76011, United States
---
11. SEA LIFE® Aquarium Grapevine
Who doesn't love seeing interesting aquatic wildlife. Whether you're on a date or taking kids out, Sea Life Aquarium is a fun a relaxing option. However, it's only open late on Saturday nights. See unusual jellyfish, cute turtles, and exotic fish in specially designed-habitats. For kids, they'll love the rock pool section where they can touch starfish and other creatures. lastly, you'll be amazed by the 360-degree ocean tunnel.
Opening Hours: Monday to Friday 10am-6pm; Saturday 10am-8pm; Sunday 11am-5:30pm
Duration: 2-4 hours
Address: Mills Mall, 3000 Grapevine Mills Pkwy, Grapevine, TX 76051, United States
---
12. LEGOLAND® Discovery Center Dallas Fort Worth
Get ready to bring out your creative side at Legoland. While kids will love this, that doesn't mean adults can't have fun at this playful theme park. Besides building Lego, there are some amazing interactive activities. Watch a fun show in the 4D cinema where your Lego heroes come to life. Make sure you catch the rides Merlin's Apprentice and Kingdom Quest. There are also deals to combine these tickets with a visit to the Aquarium.
Opening Hours: Monday to Friday 10am-5pm; Saturday 10am-8pm; Sunday 11am-5pm
Duration: 2-4 hours
Address: 3000 Grapevine Mills Pkwy, Grapevine, TX 76051, United States
---
13. Dallas Zoo Lights
Each year, during the Christmas holidays, Dallas Zoo lights up the night. There'll be over one million sparkling lights draped around the park. You'll see animal lanterns, an ice palace, and of course, brightly lit Christmas decorations. The normal zoo will close at 4pm during these times to prepare for the night. Ensure you book a ticket early as it does get quite full. This is certainly one of the best fun activities at night for families.
Opening Hours: 6pm-9:30pm Christmas holidays; Normally 9am-5pm daily
Duration: 2-3 hours
Address: 650 S R L Thornton Fwy, Dallas, TX 75203, United States
---
There are plenty of fun things to do in Dallas, but what differentiates this city from many US destinations are the unique night activities. These are just some of the best options available that we recommend. If you're looking for the perfect hotel in Dallas, check out our other guides:
Find more Things to do in Dallas at Night