Are you looking for an extra romantic holiday on your next trip to Dallas?
This city in the American state of Texas is known for its historical architecture, food scene, and some inspiring museums.
It's a very popular destination for couples.
But to make it a trip to remember, some hotels offer private hot tubs, jacuzzis, or luxury in-room bathtubs.
We did some research and found the most romantic hotels in Dallas with these facilities.
Read on to find out which hotels have the most luxurious hot tubs for couples.
Dallas Hotels with Private Hot Tubs/Jacuzzi
1. Hotel ZaZa Dallas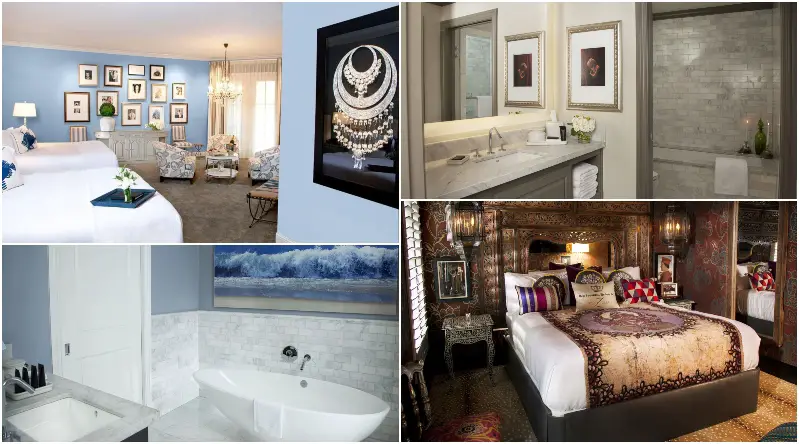 Hotel ZaZa Dallas is located in the Uptown neighborhood.
It's a lively district with an impressive selection of eateries, nightlife, and plenty of tram stops for your convenience.
Each of the rooms in this hotel has a one-of-a-kind design, from Chinese dwellings with dragons and paintings, to colonial-style bungalows.
Many of the dazzling Concept Suites and Magnificent Seven Suites have a bathtub, where you can recline after a day of exploring Dallas.
Most of the rooms feature novelties like a TV with a sound system, a coffee machine, and individual climate control.
Have you built up an appetite?
The on-site Dragonfly restaurant treats your tastebuds with classic American dishes, plus a selection of craft beers and wines.
To top off your romantic vacation, choose from the many treatments on the spa menu of Hotel ZaZa. 
Guest Rating: 9.2
Star Rating: 4 stars
Address: 2332 Leonard Street, Uptown Dallas, Dallas, TX 75201, United States
---
2. The Sanford House Inn & Spa
This heritage guest house in the far west of Dallas has 12 lavish suites and villas, plus some amenities to make your amorous journey even more memorable.
Once you step inside, you'll feel the vintage vibes, thanks to dark wooden furniture, paintings, and crackling log burners.
The one-bedroom Cottage Suites are the place to reside during a romantic getaway.
They have a massive hot tub jacuzzi and a wonderful living room where you can cuddle at the fireplace. 
Pamper yourself and your partner with one of the hotel's romantic packages.
This includes welcome cookies and fruits, a wine and cheese plate, and a 1-hour massage.
For fine dining, head down to Restaurant 506, where a menu is developed based on seasonal ingredients.
Smaller bites, desserts, and drinks are served in the snuggly Van Gogh Bar & Lounge, where bartenders shake up your cocktails with elegance.
The spa centre offers hair-styling, massages, facial treatments, body scrubs, among others.
Guest Rating: 9.2
Star Rating: 4 stars
Address: 506 North Center Street, Arlington, TX 76011, United States
---
3. Best Western Plus Addison/Dallas Hotel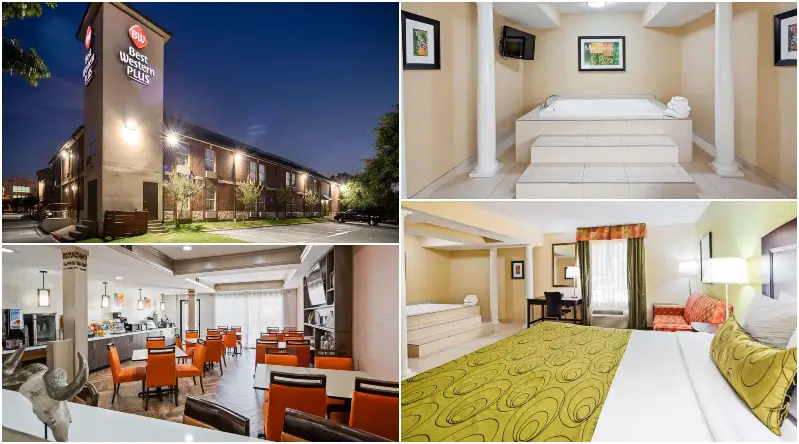 In the north of Dallas, you can find the Best Western Plus Addison / Dallas Hotel, a 3-star resort.
Book the whirlpool suite to bask into a bubbling bath that sits right beside the luscious king bed.
Not only can you watch TV from the bed, but the hot tub has its own television as well.
With the in-room microwave and fridge, you can store all of your snacks and drinks.
Have a relaxing romantic stay thanks to an outdoor pool with deck chairs and umbrellas. 
Wake up with a warm breakfast served in the lounge, where hot waffles, cakes, pastries, fresh fruits, and hot drinks invite you to dig in.
Guest Rating: 8.4
Star Rating: 3 stars
Address: 14975 Landmark Boulevard, Addison, TX 75254, United States
---
4. Holiday Inn Express Hotel & Suites Dallas Central Market Center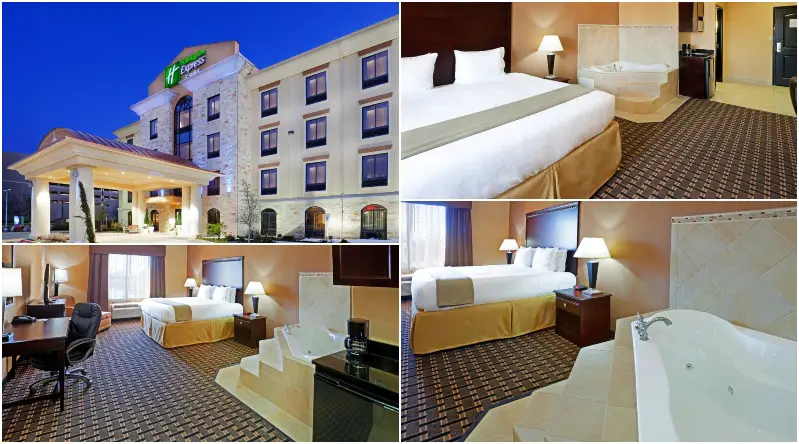 Holiday Inn Express Hotel & Suites Dallas Central Market Center is near the city center and a highway.
This makes it a convenient pick if you're coming straight from the airport.
Spread over 4 floors, there are 85 rooms and 20 suites to choose from.
But the king room with a spa bath is the grand prize you don't want to miss.
Besides a bubbly soaking tub, this charming residence has an en-suite bathroom, free coffee, and black-out shades for the most peaceful nights imaginable.
After a revitalizing rest, you'll wake up to the smell of a continental breakfast, consisting of eggs, bacon, toast, fruits, and more goodies.
Stay in shape during your trip and go to the gym, or make use of the indoor swimming pool that features a whirlpool.
Not far from the property, you'll find attractions like the Trammell Crow Park and the Dallas Museum of Art.
Guest Rating: 8.2
Star Rating: 3 stars
Address: 1521 Inwood Road, Dallas, TX 75247, United States
---
5. Romantic Inn & Suites
Romantic Inn & Suites is a romance-themed hotel southeast of Dallas' centre, and it's close to several parks.
This is the spot to spark a remarkable romantic break with your partner, as the Romantic Inn & Suites has spa baths, welcoming snacks, and mood lights in the rooms. 
Book the Honeymoon Suite and a bottle of champagne will await you in the rooms, as well as complimentary chocolates and chips.
Other room features are a generous hot tub, coffee machine, a sofa and a small fridge to store your drinks.
The suites also feature a TV with Cinemax and HBO movie channels, allowing you to curl up for a chill night beside your partner.
Light up the love and request for silk petals and candles to add even more romance to the suites.
Guest Rating: 6.1
Star Rating: 3 stars
Address: 8504 South Central Expressway, Dallas, TX 75241, United States
---
Dallas Hotels with Private Bath Tubs
6. Hotel Crescent Court
The hip and happening Uptown area is also home to Hotel Crescent Court, a classy 4-star resort with top-notch facilities.
From the wonderfully designed bar & lounge to the homely dwellings, Hotel Crescent Court is an excellent example of architectural elegance mixed with modern conveniences.
Arrange a stay in the Studio Suite, Junior Suite, or Loft Suite to benefit from a hot tub.
You'll also have high-quality toiletries, daily newspapers, and a TV with streaming services.
Whether you're down for a casual lunch or an up-scale culinary journey, the hotel offers a variety of dining options.
The Conservatory hits the jackpot for a hearty breakfast, while The Crescent Club serves a fancy lobster brunch and an a-la-carte menu at night.
Lay down for a loosening spa cure, or stay fit and healthy during your holiday in the on-site fitness centre.
Spend a lazy day at the hotel and seek the tranquillity of the outdoor pool, which is surrounded by umbrellas and reclining chairs.
Guest Rating: 9.2
Star Rating: 5 stars
Address: 400 Crescent Court, Uptown Dallas, Dallas, TX 75201, United States
---
7. Rosewood Mansion on Turtle Creek
Based in an exquisite mansion, this property has 142 guest rooms, an outdoor pool, and a gym to keep guests entertained.
Once you step inside this 1920s manor, you'll be overwhelmed by the rich decorations, wondrous staircases, woodcarvings, and stunning artworks.
Suites and penthouses are equally enchanting.
Your romantic trip is complete with a private book collection, soaking tub, and a fully stocked personal bar.
A pinnacle of luxury, the Penthouse boasts 235 square metres of living space, a private and fully furnished outdoor terrace, and snuggly bathrobes.
Dine under the finely detailed ceiling of the Mansion Restaurant, where American favourites are matched with sophisticated French influences.
On warm days, the alfresco Restaurant Terrace is a compelling all-day diner, with cocktails and small snack platters to share with your partner.
Guest Rating: 9.2
Star Rating: 4 stars
Address: 2821 Turtle Creek Boulevard, Dallas, TX 75219, United States
---
8. Four Seasons Resort and Club Dallas at Las Colinas
Sandwiched between several golf courses in northwest Dallas sits Four Seasons Resort and Club Dallas at Las Colinas.
Villa rooms here feature expansive golf course views, while the inside has a marble bathroom with a hot tub.
Prepare yourself to be pampered with a chic dining table, lounge, and a newspaper and magazine bundle.
Other than the resort's own golf course, you can enjoy 2 pools and a sports center.
Would you rather exercise or unwind?
With the presence of both a spa facility and an indoor tennis court, you won't have to choose.
For drinks and food, you have the pool bar, classy pub, and Texan steakhouse: easing your appetite is effortless.
Guest Rating: 9.0
Star Rating: 4 stars
Address: 4150 North MacArthur Boulevard, Dallas, TX 75038, United States
---
9. Hyatt Regency Dallas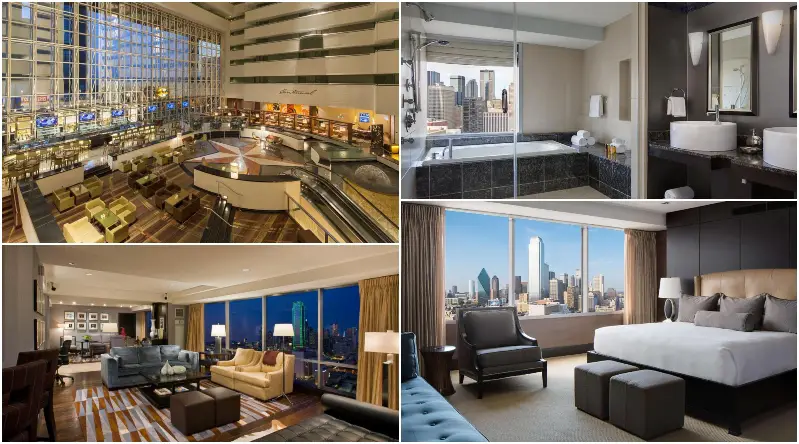 It's impossible to find a more central hotel than the Hyatt Regency Dallas, a high-class hotel.
Although all of the rooms and suites are elegant and modern, the Presidential Suite is the best romantic stay at the hotel.
See the skyline illuminate at night with your lover from the window-facing hot tub, or watch series in style with the surround-sound stereo system.
Other amenities in the royal residence include a kitchenette with coffee machine and dishwasher, plus a complimentary turndown service.
Order your meal for in-room dining, or watch a sports game at the Monduel's bar.
In case you're about to explore Dallas, you can bring takeaway snacks and coffee from the Coffee's Post.
Furthermore, you can entertain yourself at the 24-hour gym or the pool with its sundeck.
Guest Rating: 8.7
Star Rating: 4 stars
Address: 300 Reunion Boulevard, Dallas, TX 75207, United States
---
10. HALL Arts Hotel Dallas, Curio Collection by Hilton
Based in the city centre is HALL Arts Hotel Dallas, Curio Collection by Hilton.
Thanks to its fantastic location and complete set of facilities, this is a desirable option for couples.
Both the Junior King Suite and the One-Bedroom King Suite are fitted with a hot bath tub, perfect for soaking after an active day in the city.
Are you only looking for the best?
The Grand Finale Suite measures 157 square metres, a powder room for the ladies, and a roomy lounge with TV.
Take your partner out for dinner at the adjoining Ellie's Restaurant & Bar, where beautifully presented American food takes centre stage.
While you sip on wine or a cocktail at Ellie's Lounge, chances are that you'll be greeted by live music.
Guest Rating: 8.7
Star Rating: 5 stars
Address: 1717 Leonard Street, Arts District, Dallas, TX 75201, United States
---
11. Virgin Hotels Dallas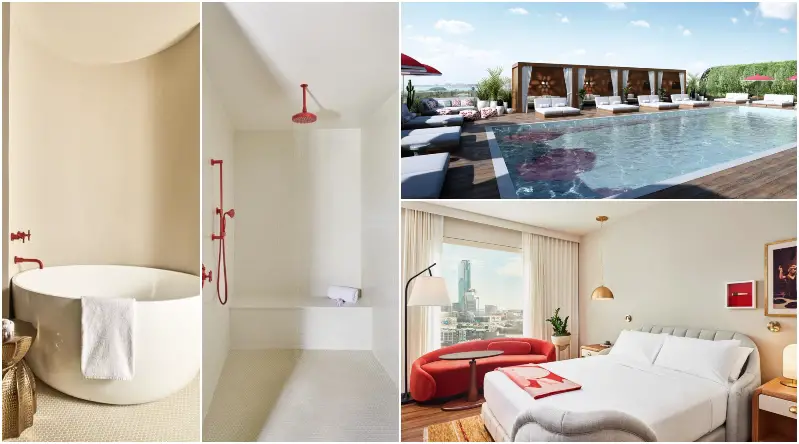 Virgin Hotels Dallas is located in a state of the art high-riser in the downtown area. 
A rooftop pool with private cabanas, a spacious fitness room, and a shared lounge for socializing are just some of the nifty features of this 4-star establishment.
We recommend picking the Deluxe King Suite with its circular designer tub, a romantic couch that overlooks the city, and a neat kitchenette to top it all off.
Downstairs, the chefs at the Commons Club work magic with locally sourced and seasonal products.
In the morning and afternoon, this restaurant dishes up filling dishes like sandwiches, waffles, wraps, and pastries.
 Virgin Hotels Dallas is a pet-friendly hotel, so you can even bring your furry friend along on a getaway journey.
Guest Rating: 8.4
Star Rating: 4 stars
Address: 1445 Turtle Creek Blvd, Dallas, TX 75207, United States
---
12. Hilton Anatole
Stay at Hilton Anatole for a pleasant honeymoon or romantic vacation with your partner.
Several rooms here have a bathtub, but nothing beats the majesty of the Grand Presidential Suite.
It has large dining and living areas, and a TV with on-demand movies and video games.
Hilton Anatole has 6 restaurants, bars, and cafes, leaving you spoiled for choice when it comes to food options.
Do you want to stay inside instead?
Order from an extensive in-room dining menu.
One of the eye-catching features of this Hilton hotel is the pool complex, that has a lazy river, slides and even a fancy swim-up bar.
Alternatively, head for the 25-metre indoor pool, play a game of squash or take a boxing class.
Relax with your partner in the sauna, the whirlpool, and hop inside a eucalyptus steam room.
Guest Rating: 8.4
Star Rating: 4 stars
Address: 2201 Stemmons Freeway, Dallas, TX 75207, United States
---
13. The Statler Dallas, Curio Collection By Hilton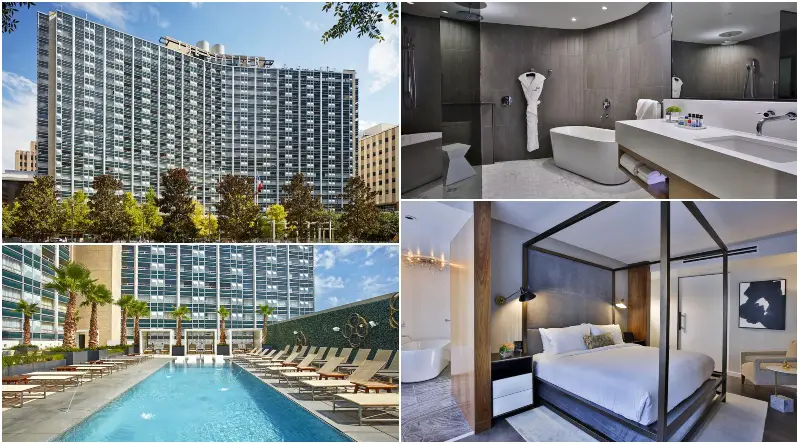 Based in a noble ski-riser in the Main Street District sits The Statler Dallas, Curio Collection By Hilton.
For your dreamy holiday, you can choose from queen rooms, king rooms, and suites.
They all fit with a bathtub, handy coffee maker, personal iPad, and a minibar.
Black-out curtains and high-quality pillows will make you sleep like a baby.
Ascend to the roof of the hotel, soak up the city views from the bar, or plunge into the lap pool.
Other than the rooftop bar, the resort has several eateries that serve Tex Mex cuisine and Italian inspired dishes. 
Scout, a lounge and bar, even adds ping pong and billiard tables to the mix for a night full of amusement.
Guest Rating: 8.3
Star Rating: 4 stars
Address: 1914 Commerce Street, Main Street District, Dallas, TX 75201, United States
---
Map of Dallas Hotels
For more romantic places to stay, you can check out:
If you're looking fun activities, read:
Find More Romantic Dallas Hotels
FAQs
Summary