Are you an active traveller who wants to see all the fun activities in Dallas on your next trip?
There are plenty of fun things to do in Dallas, but like most visitors, it's what Dallas has to offer in the evening that makes a trip memorable and you can easily fit in some night activities to make the most of your time.
Be it if you're a sports fanatic, an art lover, a history buff, an adrenaline junkie, or all of the above, Dallas' got you covered.
There are numerous grander-than-life things you can do in Dallas at night, and all of them are complete with that unique Texan flare!
Here is our list of 17 fun things to do in Dallas at night.
1. Dallas Evening Tour
If this is your first night staying in Dallas and you want to see the fun highlights of the city, then there's no place better to start than the Dallas Evening Tour.
This is a great way to get to know the city, as the tour takes you through not just downtown Dallas, but also the famous Deep Ellum, Main Street, Uptown, among other neighborhoods.
See the main landmarks in Dallas light up on this 90 minute trip.
What's fun about the Dallas Evening Tour?
You'll see neighborhoods including Deep Ellum, Main Street, Uptown, and downtown Dallas. This is the perfect way to get some insider tips and recommendation right at the beginning of your trip.
You'll get to see some iconic buildings like the Bank of America Tower, the Reunion Tower, and the Hotel Lorenzo lit up at night. It's a beautiful sight!
See iconic sculptures like The Eye and the Dallas Pegasus.
Starting point: 411 Elm St, Dallas, Texas 75202.
Departure time: 8pm.
---
2. Dallas' Reunion Tower GeO-Deck
At 470 feet up from the ground, the Dallas' Reunion Tower GeO-Deck has the best views of the city at night.
Whether you're travelling with your family, friends, or with your significant other, this is another fun activity for your first day in Dallas, giving you the opportunity to get to know the place from a very unique and breathtaking perspective.
The Dallas' Reunion Tower also has two dining options available for its visitors.
For those who want something quick, casual, and yet satisfying, the Cloud Nine Café offers great food and drinks with a fantastic view.
Those who want something more elegant with an Asian flare and incredible wine, try the Wolfgang Puck's Five Sixty. It also boasts those incredible views of the city.
What makes the Dallas Reunion Tower a fun experience?
The high-definition zoom cameras allow you to take some amazing photographs of Dallas.
The interactive touchscreens add a new dimension to the experience.
The telescopes allow you to see great distances, giving you the opportunity to get to know every corner of Dallas.
Address: The Dallas' Reunion Tower GeO-Deck is located at 300 Reunion Boulevard, Dallas, Texas 75207.
Opening Hours: Though hours may vary depending on the day, the Dallas' Reunion Tower GeO-Deck is usually open between 10am – 9pm.
---
3. Haunted Dallas Evening Pub Small-Group Walking Tour
History buffs, ghost hunting enthusiasts, and pub goers will have endless fun and laughter on the Haunted Dallas Evening Pub Small-Group Walking night tour.
As the name implies, this 2.5 hour tour takes you across some incredible historic buildings of downtown Dallas, all while stopping at bars to get some good drinks and listening to some of the best ghost stories you'll ever hear.
The group is small, making the tour feel all the more personable and creating a friendly atmosphere.
Still, don't let the good drinks and great conversation fool you; with so many historic buildings and creepy events, you just might end up seeing a not-so-friendly ghost.
What's fun about the Haunted Dallas Evening Pub Small-Group Walking Tour?
To get in the right mood, the tour starts at a bar.
See Dallas' historical downtown district while sipping your drinks and listening to some interesting ghost stories.
The tour takes you to four different bars, giving you the option to buy drinks or food at any of them.
Starting point: The tour starts at Frankie's Downtown, located at 1303 Main Street, Downtown Dallas 75202.
Departure time: The tour starts at 8:30pm and lasts for two and a half hours.
---
4. Party Bike Pub Crawl
Beer, bicycles, premium sound systems, and LED party lights – What could be more fun?
At the Party Bike Pub Crawl, you get the best of Dallas' party nightlife while getting a good workout and learning about the Deep Ellum neighborhood.
You'll be sharing this two hour tour with fourteen other people, while getting the opportunity to try some exclusive specialty drinks.
Get to know everyone and pedal together through the city enjoying the evening sights of Dallas.
What will you see at the Party Bike Pub Crawl?
Deep Ellum is a neighborhood in downtown Dallas, well-known for its art and entertainment venues. During this tour you'll get to know some of the best bars and restaurants in town.
Starting point: The exact meetup location will be given in the confirmation e-mail.
Departure time: The tour happens multiple times a day, with a new one leaving at every half an hour on the weekends, and every hour during weekdays. Evening tours start from 6pm and go til 9:30pm.
---
5. Fort Worth Ghost Bus Tour
Listen to stories of cowboys, outlaws, brutal murders, haunted houses, oil barons, and unsolved mysteries.
On the Fort Worth Ghost Bus Tour, a local guide will share all the fun twisted history of Dallas!
A two hour journey aboard the ghost bus will take you back in time to some of Fort Worth's most iconic historical locations, with a riveting narrator telling you bone chilling stories all through the night.
Sit back, relax, gaze out your window, and have your camera ready; you might just be able to catch a ghost.
What's fun about the Fort Worth Ghost Bus Tour?
The two-hours long bus ride takes you to 32 different locations across Fort Worth.
Learn about 36 different ghosts through engaging narrated stories; this is a great way to learn much about Texas' rich history.
An optional cocktail is available for an extra fee. The Apparition, Bad Guy with a Badge, and Hangman's Hooch are a great way to get you in the mood for some funny and spooky ghost stories.
Starting point: The Fort Worth Ghost Bus Tour meets up at Acre Distillery, 1309 Calhoun Street, Fort Worth, Texas 76102.
Departure time: Tours are held Thursdays through Saturdays, leaving at 7pm and 9pm.
---
6. Medieval Times Dinner and Tournament
Lords and Ladies of the realm, are you ready to see what true valor, honor, and skill look like?
Inspired by 11th century Spain, Medieval Times is a franchise that has made a name for itself through sword battles, jousting tournaments, beautiful horses and falcons, and knights with long flowy hair.
You can witness what the atmosphere was really like while enjoying a delicious four course meal (vegetarian options available upon request).
Suitable for both families and adults, at Medieval Times you get assigned to one of the six kingdoms and watch as your representative knight competes against the others to become the Queen's Champion.
Who will win?
Well, you can only know by journeying to the castle and seeing it with your very own eyes.
What's fun about the Medieval Times Dinner and Tournament?
Alcoholic drinks are available for purchase at the bar, but they are sold separately from your ticket.
You can buy all sorts of souvenirs: crowns and tiaras, daggers and swords, shields and dragon figurines. If it's medieval-themed, they have it!
Arrive 75 minutes prior to seating and enjoy the fun atmosphere of Medieval Times.
At Medieval Times, you eat like you're in medieval times – this meas no utensils! If the idea grosses you out, you can choose the vegetarian option.
Address: 2021 N Stemmons Fwy, Dallas, TX 75207.
Opening Hours: Show time typically begins at 8:30pm.
---
7. Dessert Cruise on Lake Carolyn
What could be more relaxing and fun than a nice evening on a boat, enjoying a leisurely cruise at a lake while eating delicious cake?
At the Dessert Cruise on Lake Carolyn, you get to experience just that.
Relaxing and picturesque, this one hour night cruise in an open air boat gives you not only the chance to do some sightseeing, but also get to know new people, as the each ride fits up to eight passengers.
With informative guide, water, and your choice of cheesecake or chocolate cake, this is a soothing way to finish off your day.
Address: Avocado Restaurant & Lounge, East Las Colinas Boulevard, Irving, Texas 75039.
Starting Hours: Cruises depart at 6:00pm, 7:30pm, and 8pm.
---
8. Dallas Indoor Skydiving
Have you ever wanted to fly?
Well, if you'd love to experience the thrill of skydiving without having to go through the whole jumping-off-a-plane ordeal, worry not!
The iFly Dallas gives guests the opportunity to experience fun free falling without flying up into the sky.
You'll go through a short training session before getting the chance to float and fly at wind speeds reaching 130 to 175 miles per hour as their vertical wind tunnels shoots you up into the air.
Suitable for kids and adults alike, this is a great fun activity at night for both solo travellers and groups of friends and family.
What do you need to know before trying Dallas Indoor Skydiving?
All equipment necessary is provided by iFly Dallas, so you don't have to worry about bringing anything. Still, try to wear something comfortable.
The iFly Dallas is suited for guests of all ages and all levels of experience.
Each session lasts about 75 minutes, with multiple slots open throughout the day.
Address: 8380 S.H 121, Frisco, Texas.
Opening Hours: The iFly Dallas is open Sunday through Thursday, from 8:30am to 9pm, and Friday and Saturdays from 8:30am to 9pm.
---
9. Zero Gravity Thrill Amusement Park
Zero Gravity Thrill Amusement Park is where you can really test your nerves.
Try favorites Bungee Jumping, and Skycoaster, a 16 drop free fall… If the rides don't get your adrenaline pumping on your next Dallas trip, nothing will!
You can get a unique souvenir if you choose to purchase videos of yourself enjoying these heart racing rides.
What fun rides are at the Zero Gravity Thrill Amusement Park?
The Bungee Jumping allows you to jump from a seven-story tower with elastic cords tied to your feet.
The Skycoaster raises you and two other people 110 feet in the air before dropping you to a 60 miles per hour flight.
Nothing But Net is exactly what it sounds like: you jump from a 16 story tower with nothing attached to you and only a net to cushion your fall.
Skyscraper proves that before you can come down, you have to go up; when at this ride, you and three other people get whipped up 165 feet in the air before falling back down.
Those with a need for speed will love going 150 feet in the air in only 1.2 seconds with the Texas Blastoff.
Address: 11131 Malibu Dr. Dallas, Texas 75229.
Opening Hours: Monday to Thursday, 4pm – 10pm; Friday 4pm – Midnight; Saturday 12pm – Midnight; and Sunday from 12pm – 10pm.
---
10. Late Night Shopping
Dallas has a number of great shopping centers, many open into the late hours of the night.
So if you need to get your fix, or perhaps just shop for something nice for your friends and family back home, try doing some late night shopping.
Most shopping centers have a variety of restaurants, ice skating rinks, cinemas, and more.
Which shopping malls open late in Dallas?
The North Park Center is open until 9pm every day, with the exception of Sunday, when it closes at 6pm.
The Galleria Dallas is open until 9pm every day, with the exception of Sunday, when it closes at 6pm.
The West Village Uptown Dallas is open every weekday until 9pm, and until 6pm during the weekend.
---
11. Museums
While many museums tend to close at 5pm, that is not the case for all of them.
In Dallas, there are a few museums stay open well into the night, allowing visitors to spend hours marveling at their exhibitions.
If you're an art lover or a history buff, or simply enjoy fun and interesting exhibits, this can be a great way to spend your evening.
What are some museums you can visit at night while in Dallas?
The Dallas Museum of Art hosts a Late Night event on the third Friday of each month, when the museum stays open until midnight. With collections ranging from Classical to contemporary art, art from Latin America, Africa, Asia, the Pacific Islands, Europe, and the Americas, there's something for everyone to see and enjoy!
Part of Ripley's Believe It or Not, the Louis Tussaud's Palace of Wax is a wax museum that stays open until 8PM during the weekends. If you love the wacky and the weird, this is the place for you!
---
12. Pin Stack Bowl
If you're a night owl who loves to have fun, play games, and eat good food, a bowling venue might be the best option.
Pin Stack is an entertainment and dining combination that seeks to provide fun in a unique and modern setting.
Their bowling lanes come with lane side food and beverage services and comfortable seating, while their laser tag arena – which occupies an impressive two floors – is filled with obstacles, mist, and music.
They also have a high ropes course, rock climbing walls, video-games, bumper cars, a fifteen person foosball table, and a laser maze.
Their menu includes pizzas, sandwiches, salads, appetizers, sundaes, and milkshakes.
What do you need to know before visiting the Pin Stack Bowl?
The Pin Stack Bowl restaurant takes reservations, but guests have to wait until the entire party is there to be seated.
No outside food or beverages are allowed inside the Pin Stack Bowl (with the exception of a birthday cake).
Both alcoholic and non-alcoholic drinks are available for purchase at the Pin Stack Bowl.
If you want to try climbing the rock wall, you must wear closed toe shoes.
Address: 2750 West I-635, Irving, Texas 75063.
Opening Hours: The Pin Stack Bowl in Las Colinas is open from Sunday to Thursday from 11am to Midnight, Friday from 11am to 2am, and Saturday from 10am to 2am.
---
13. Deep Ellum Foodie Tour
The Deep Ellum Foodie Tour will take you to some of the best places to eat in Dallas' neighborhood.
Three hours long, this trip allows you to explore local food artisans, vintage candy shops, and market places.
We highly recommend this tour on one of your first nights in Dallas so you'll have plenty of great local recommendations to try out during the rest of your trip.
Just remember that sodas and alcoholic beverages are not included with the standard tour price, but can be added for an extra cost.
What are some of the fun stops on the Deep Ellum Foodie Tour?
The Stirr restaurant is the Deep Ellum Foodie Tour's meeting location and first stop.
You'll also get to see the Baker's Ribs restaurant.
Another restaurant on the list is the Bucky Moonshine, so come hungry!
Bring your sweet tooth when you stop by the Rocket Fizz vintage candy shop.
The 1890 Marketplace is a great stop for lovers of spices and oils.
Departure Point: The Deep Ellum Foodie Tour meets up at the Stirr restaurant, located at 2803 Main Street Suite 110 Dallas, Texas 75226.
Starting Hours: The tour is held on Tuesdays and Thursdays at 5:30pm.
---
14. Escape Room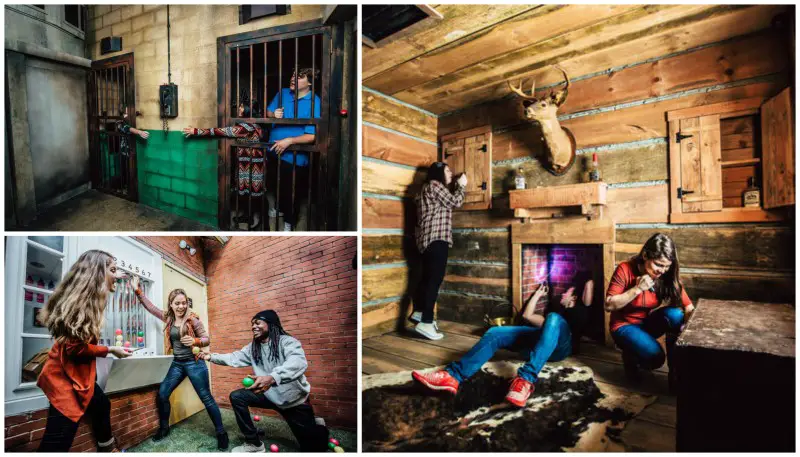 Those who love a good fun challenge will be addicted to the Escape Rooms offered in Dallas.
The venue takes bookings up to 11:30pm at night so there's plenty of time to figure out all the puzzles.
With four rooms challenging your creativity, logic, and mathematical skills, escape rooms is the place for those who love testing their deductive reasoning and resourcefulness.
Groups tend to vary from 6 to 10 depending on the room, along with difficulty level and puzzles you'll encounter.
If you think you are up to the challenge, why not give it a try!
What should you know about escape rooms prior to visiting one?
Typically, most escape room experiences give you 60 minutes to find the clues and solve the puzzles presented to you. There is also a 10 to 15 minute briefing, followed by an intro where you'll get to know the specifics of your room, and after the escape experience, a debriefing where you go over the clues you might have missed. Make sure to take all of this into account when scheduling your visit.
Make sure to arrive 10 to 15 minutes prior to your booked time.
Have a photo ID with you.
---
15. Six Flags Texas
Six Flags is known around America as the home of fun and thrill rides.
Every summer adrenaline junkies flock to the park, ready to take on the wildest and most exhilarating rollercoasters they can find.
Live entertainment and family rides are also available for those who would rather skip the twists, turns, and drops.
With Looney Tunes characters and rides named after your favorite DC heroes and villains, this is a fun filled visit from beginning to end.
What are some of the fun rides at Six Flags Texas?
Batman the ride
Batwing
CATWOMAN Whip
HARLEY QUINN Spinsanity
Judge Roy Scream
Lone Star Revolution
MR. FREEZE: Reverse Blast
Runaway Mine Train
Titan
Address: 2201 E Road to Six Flags St, Arlington, Texas 76010.
Opening Hours: Hours depend on specific dates, so be sure to check their website for more information.
---
16. Dinner Detective
Dinner, show, and… Murder?
Bring out your inner Sherlock Holmes, Hercule Poirot, or Miss Marple as you are faced with a mystery and a fantastic four-course meal.
With actors and actresses dressed just like everyone else, the performance happens throughout the dining room rather than a stage.
The murder itself will take place where you least expect it.
With the Suspect Package, you have the option of even becoming one of the show's prime suspects!
But if you are a bit shy and would rather just watch, don't worry – you can enjoy your meal and watch the entertaining mystery unfold.
What should you expect from the Dinner Detective?
The show does contain some loud noises, simulated gunshots, and light blackouts.
You must bring your confirmation page, a valid ID, and the card you used for purchase your tickets with you.
Parking at the venue costs an additional $10.
Address: 994 South Lamar Street, Dallas, Texas 75202.
Show Hours: The show usually starts at 6pm and ends around 9pm.
---
17. Dallas Arts District Evening Segway
Seeing Dallas at night on a segway is the most relaxing way to enjoy the evening.
This is when all the traffic is gone, and crowds are limited to give you clear view of Dallas' Arts District.
Before departing, your guide will provide you a helmet and teach you how to use the segway.
Once the group is ready, you'll be heading through various streets of Dallas to see the most popular buildings in the district.
There'll also be plenty of time for you to snap photos as your guide showcases the various landmarks Dallas has to offer.
What will you see on the Dallas evening segway tour?
AT&T Performing Arts Center
Winspear Opera House
Wyly Performing Arts Center
Nasher Sculpture Center
Morton H. Meyer Symphony Center
Crow Collection of Asian Art
Starting time: 6pm
---
There are plenty of fun things to do in Dallas, but what differentiates this city with many US destinations are the unique night activities.
These are just some of the best options available that we recommend.
Also read:
Find more Things to do in Dallas at Night