There are plenty of things to see in the city of London.
But a bit further out, you'll find more incredible places to explore on a day trip, particularly by train.
Depending on where you want to go, there are express services to certain destinations.
And fortunately, London has a number of reliable train stations.
Within 3 hours of the city, there are castles, historic sites, beaches, and outlying towns.
Whether you're a couple or a family with kids, we'll show you how to escape the crowds.
Here are the best day trips from London by train.
---
1. Warner Bros. Studio Tour
Warner Brothers Studio Tour is your ultimate magical journey to The Making of Harry Potter.
It's only 15 minutes by shuttle bus from Watford Junction, so the perfect London day trip.
There's no Platform 9 3/4 to get you directly there, but the train to Watford Junction from London Euston is 20 minutes.
Alternatively, you can go direct from London King's Cross or Victoria on the Golden Tour double-decker Harry Potter bus.
Apart from viewing original sets, props, and costumes, there are always attractions and special features.
Don't miss the recent addition of Professor Sprout's Greenhouse, or browse the revamped Dragon Alley.
There are various ticket options including VIP tours.
Make sure to check their website for upcoming special features and events.
Duration: 35 minutes
Train Station: Watford Junction
Opening Hours: Daily 8:30am-10pm
Address: Studio Tour Dr, Leavesden, Watford WD25 7LR, United Kingdom
---
2. Windsor Castle
When you arrive at Windsor Castle, you'll be in awe of the historic structure and grandeur.
It's an easy-going 35-minute day trip by train from London Paddington station.
Windsor is a working palace and it closes on specific days and sometimes at short notice.
To avoid disappointment, always check the website first for details.
You won't be disappointed though with its majestic architecture, superb interiors, and fantastic artwork.
The castle's St. George's Chapel is England's finest example of Gothic architecture.
During your trip, make sure you stop by the souvenir shop and Undercroft Café.
You can also book private tours to get the most out of the day.
Duration: 35 minutes
Train Station: Windsor & Eton Central
Opening Hours: Thursday to Monday 10am-5:15pm
Address: Windsor SL4 1NJ, United Kingdom
---
3. Cambridge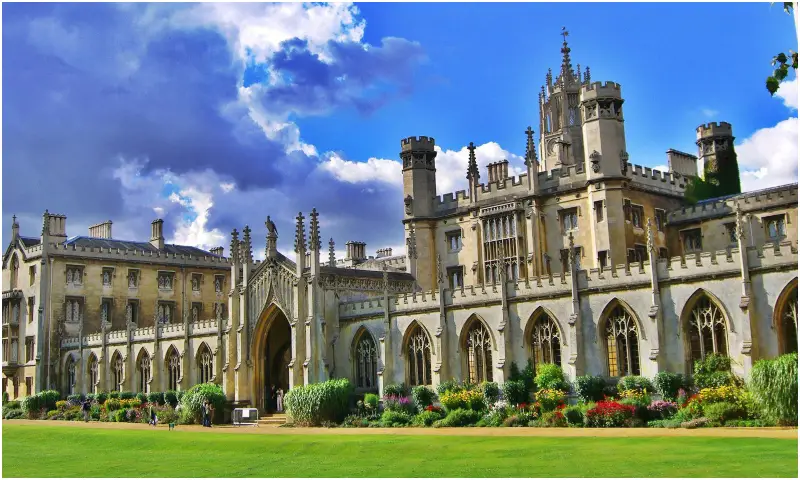 Cambridge, compared to Oxford, is quite compact, picturesque, and laid back.
A fun way to discover this historic city is along its punting canals.
There's an abundance of nature and the flattish landscape makes bicycling suitable for all.
As a famous university town, don't miss either self-guided or private campus tours.
On rainy days, you can visit a number of museums and educational spaces large and small.
Apart from popular shopping streets and arcades, there are also local and seasonal markets.
Trains leave from St. Pancras Int. and King's Cross, but it'll be cheaper from Liverpool Street station.
Duration: 55 minutes
Train Station: Cambridge
Opening Hours: Daily 24/7
Address: Cambridge, UK
---
4. Highclere Castle (Downton Abbey)
On the grand scale of things, Highclere Castle is rather small but filled with eccentric British charm.
It is a family estate of the famous Lord Carnarvon.
One of the highlights is Tutankhamun's tomb in the Egyptian Exhibition, along with the estate's antique collection.
Around the grounds, there are public walkways to enjoy the greenery.
But what made the caste really popular is the drama series, Downtown Abbey.
Tours are available so you can see the different set locations onsite. 
To get there, catch the train from London Paddington to Newbury Station.
It's just a 10-minute taxi ride from here.
On arrival, it's not a 'free-for-all' so you have to book in advance.
Duration: 1 hour
Train Station: Newbury
Opening Hours: Generally April, May, July, August, and September; 10:30am-4pm (must pre-book)
Address: Highclere Park, Highclere, Newbury RG20 9RN, United Kingdom
---
5. Oxford
Although only slightly more populated than Cambridge, Oxford has quite a bustling urban vibe.
The country town is more varied in industry and economy.
It's also somewhat hilly and spread out over quite a large area.
For Harry Potter fans, Oxford is second only to Warner Bros. Studio Tour.
There are actual studios but the Great Hall in Christ Church College is one of the must-see locations.
Other key highlights are Oxford Castle & Prison, the famous Blenheim Palace, and the Ashmolean Museum.
Oxford also has a number of distilleries that can add more variety to your day.
If you're into theatre and music, visit the New Oxford Theatre, the Sheldonian, and the Oxford Play House.
Trains leave from London Paddington or Marylebone – which is cheaper but 10 minutes longer.
Duration: 1 hour
Train Station: Oxford
Opening Hours: Daily 24/7
Address: Oxford, UK
---
6. Canterbury
The small town of Canterbury is full of architectural gems with Canterbury Cathedral as the centerpiece.
Other popular attractions include St. Augustine Abbey, St. Martin's Church, the medieval West Gate, and Roman Museum.
Additionally, the Beaney House of Art & Knowledge has plenty of activities for all ages.
Historic river tours are extremely popular as are walking tours.
There are two stations, Canterbury East and West, but East station is closer to key historical sites.
For both stations, trains leave from London Victoria or St. Pancras Int.
If you want to go to West Canterbury, you can also hop on at Charring Cross.
Just 10 minutes by bus from Canterbury is the charming seaside town of Whistable famous for oysters and boutique crafts.
Another popular combination is Dover, both with trains back to London.
Duration: 1 hour 10 minutes
Train Station: Canterbury East/West
Opening Hours: Daily 24/7
Address: Canterbury, UK
---
7. Leeds Castle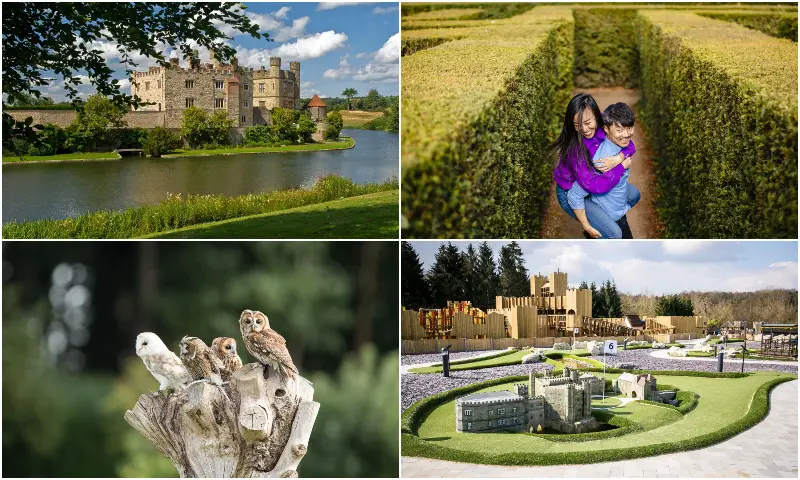 Leeds Castle was the first of England's 'less stately' castles to truly engage the public.
Partly, this was due to the American heiress Lady Baillie purchasing and repurposing the castle in the 1920's.
These days, Leeds Castle is hard to beat which is great considering the lack of nearby attractions.
There's a fantastic maze-grotto adventure, obstacle course for 8 to 12 year old's, mini golf, and playgrounds.
Nature lovers can enjoy acres of guided walking tours and gardens, while the adventurous can challenge three high-rope courses.
Additionally, there are jousting shows, a swan lake ferry, a dog collar museum, and a bird of prey center.
Trains from London Victoria stop at Bearsted where shuttle buses are more frequent than the local Hollingbourne station.
Duration: 1 hour 15 minutes
Train Station: Bearsted
Opening Hours: Daily 10am-5pm
Address: Broomfield, Maidstone ME17 1PL, United Kingdom
---
8. Bath
Bath is home to the only natural thermal waters in Britain built by Romans who liked to take baths.
It's not just a place to clean off the London grime, but a modern holistic and wellness destination.
You'll find independent beauty brands, local crafts, and boutique stalls along the streets.
There are also unique museums, contemporary art galleries, theaters, and special events.
To get the most out of a day trip, join a walking tour in the morning or afternoon.
The local guide will show you the best of Bath's Roman architecture and Georgian elegance.
Trains leave early from London Paddington Station so have your backpacks ready.
Duration: 1 hour 30 minutes
Train Station: Bath Spa
Opening Hours: Daily 24/7
Address: Bath, UK
---
9. Stonehenge
Stonehenge is a rather singular site and you may have to contend with long queues.
Since the time to spend there is limited, you can combine Stonehenge with other local activities.
It's cheaper to get tickets online, and thus avoid queues.
However, your entry time is fixed and you should arrive 30-minutes before.
Trains depart from either London Paddington or Waterloo stations.
The way to Stonehenge is a bus from Salisbury station or a 20-minute cab or Uber if you can afford one.
At the station, you can hop on the Stonehenge Bus Tour on a round ticket with an optional hop-off at Old Sarum.
Alternatively, make a day of it and hire a bicycle in Salisbury to explore the area.
Duration: 1 hour 30 minutes
Train Station: Salisbury
Opening Hours: Daily 9:30am-3pm
Address: Salisbury SP4 7DE, United Kingdom
---
10. The Cotswolds
Although the Cotswolds is well worth a couple of nights at least, a day trip from London is equally memorable.
The Cotswolds runs through five counties and is adored for its rustic villages, quaint towns, and bucolic countryside.
It's often best to book a tour to cover all the gardens, landscapes, and historic areas.
Photography, walking, and cycling tours are good options to see Cotswolds.
Tetbury is one of the popular towns much unchanged since the 16th and 17th centuries.
For Tetbury, you have to take a train from London Paddington to Kemble Station and then a bus for 11 km.
A more accessible town is Moreton-on Marsh direct from London Paddington Station.
Alternatively, the small Oxfordshire village of Kingham, once voted 'England's favorite village', is also direct from London Paddington.
Duration: 1 hour 30 minutes
Train Stations: Moreton-in-Marsh, Kingham, Kemble
Opening Hours: Daily 24/7
Address: Cotswolds, UK
---
11. Dover Castle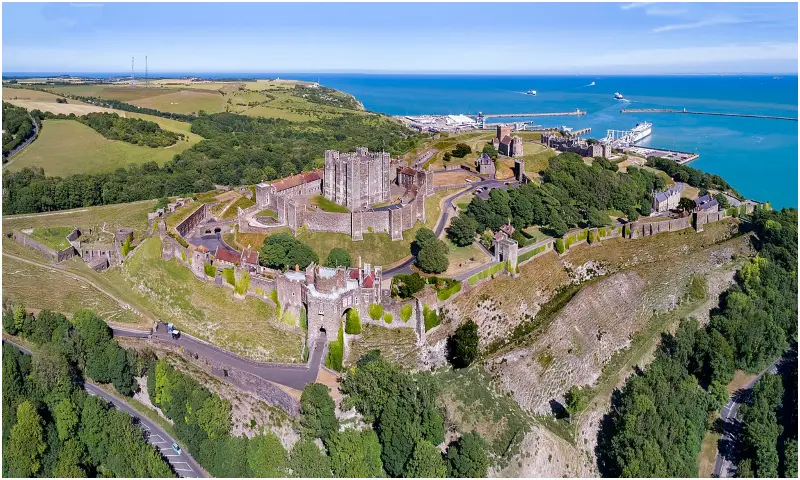 Dover Castle is a veritable bastion that has served military purposes from 1066 into modern times!
It was an Iron Age site and contains one of two remaining Roman lighthouses.
At Dover Castle, you can explore secret WW II tunnels, an underground hospital, and a morse code signaling station.
For kids, there are interactive displays, games, and costumed characters on select days.
Trains depart from London Victoria, St. Pancras Int., or Charring Cross stations.
From Dover Priory, it's a short walk through Dover town for buses on Taswell Street.
Or if you're fit, you can walk 20-minutes uphill to the castle.
You can combine Dover with a day trip to Canterbury via train from Canterbury East Station or by coach.
Duration: 1 hour 30 minutes
Train Station: Dover Priory
Opening Hours: Daily 10am-5pm
Address: Castle Hill Rd., Dover CT16 1HU, United Kingdom
---
12. Warwick Castle
Warwick Castle was built in 1068 by William the Conqueror.
It went through a number of historic events like rebellions and battles.
But today, it offers numerous engaging activities for a fun family day out.
Young children will love the Zog Playground with a dragon wing zip-wire.
For older kids, there's a maze adventure or you can try your hand at archery.
There are also special events like falconry, jousting and stunt shows, historic tours, and live concerts.
Trains leave from London Marylebone and it's a 1.1 km (0.7 miles) walk from Warwick Station to the castle.
Duration: 1 hour 40 minutes
Train Station: Warwick
Opening Hours: Daily 10am-4pm
Address: Warwick CV34 4QU, United Kingdom
---
13. Brighton
From a quirky English seaside town, Brighton has forged its own fate with destiny.
It's home to more tech start-ups and entrepreneurial ventures than any other UK city.
Trains depart from London Bridge or Victoria stations, but the cheaper way is by National Express bus lines.
There's a lot to enjoy at the iconic Royal Pavilion & Garden, particularly during the Christmas holidays.
Other popular activities include ziplining across the beach and going up the Brighton 360 tower.
If you're visiting with kids, check out SeaLife Brighton, the world's oldest (Gothic-style) aquarium.
Shopping along Brighton's unusual colorful lanes and narrow alleys is also a must.
Duration: 1 hour 40 minutes
Train Station: Brighton
Opening Hours: Daily 24/7
Address: Brighton, UK
---
14. Stratford-upon-Avon
Stratford-upon-Avon is one of the farther choices for a day trip from London by train.
The earliest train is 06:16 from London Marylebone, but since it's a popular ride you should get tickets in advance.
The early train is direct, but later trains have at least one interchange.
On Saturday, the earliest train is 7am and Sunday is 9am so you'll only arrive after 11am.
Stratford can be touristy, but lots of fun.
They have unique attractions like the Mad Museum, Magic Alley, and Butterfly Farm.
On arrival, you can join bus tours to go to all key Shakespeare locations.
The Royal Shakespeare Company often has early afternoon performances.
Duration: 2 hours 15 minutes
Train Station: Stratford-upon-Avon
Opening Hours: Daily 24/7
Address: Stratford-upon-Avon, UK
---
15. Paris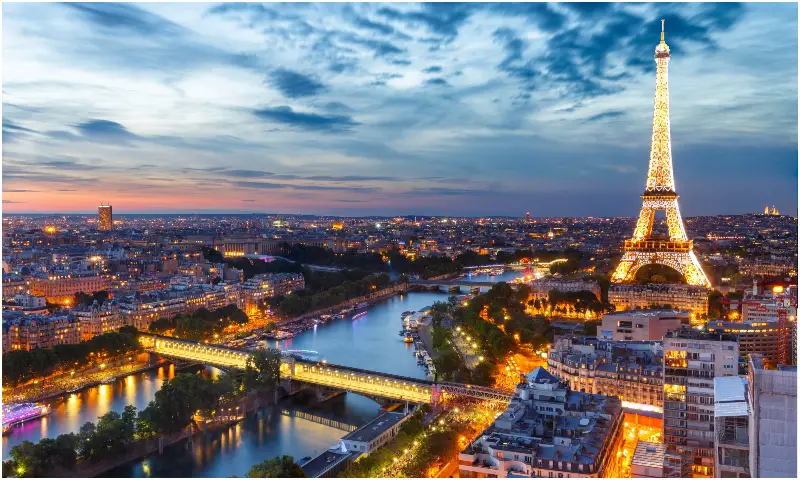 Last, but not least, if you actually want to get out of England for the day, Paris is just under 3 hours away.
Eurostar trains leave from St. Pancras International, and the first train departs at 5:40 am.
Prices vary a lot depending on the time of day but keep an eye out for special deals and flash sales.
You need to arrive at least 90 minutes before departure, but your ticket will advise on this.
Passports are checked London side, so it's get-off-and-go from the moment you arrive.
EU passports with a chip can go through the express ePassport gate.
Generally, gates close 30 minutes prior to departing.
While it can be a fun day trip, it's best to stay overnight. 
Duration: 2 hours 40 minutes
Train Station: Gare du Nord
Opening Hours: Daily 24/7
Address: Paris, France
---
London Day Trips Map
Find More Day Trips From London
---
FAQs
Summary