Ko Yao Noi is a striking piece of paradise in the southwest of Thailand.
It has gorgeous beaches, magnificent landscapes, and a relaxing vibe, perfect for honeymoons.
What makes it even better are the luxurious resorts in the area.
We'll show you the most romantic 5-star hotels, resorts on the beach, and the most stunning rooms for couples.
Here are the best luxury honeymoon resorts in Ko Yao Noi.
1. Koyao Bay Pavilions
Koyao Bay Pavilions is a luxurious resort on the southeastern coast of Ko Yao Noi.
Having only 3 beach suites and 6 pool villas, Koyao Bay Pavilions has a secluded and intimate atmosphere.
Each of the dwellings has a unique design, with architectural styles from all around Southeast Asia and spectacular wooden ornaments.
Pick the 130-square metre Villa Ingfah for a memorable honeymoon with your lover. 
Pamper yourself with a private pool that overlooks the rice paddies, a terrace, gazebo, and private access to a nearby beach.
Relax in the intimacy of your own villa with an in-house massage, or explore the surrounding islands on a day trip.
Indulge in Thai and Mediterranean cuisine in La Sala Restaurant, or have your table set on the beach at sunset.
Guest Rating: 9.6
Star Rating: 4 stars
Best Rooms: Villas with private pool
Address: 46/7 moo 5, T. Koh Yao Noi, A.Koh Yao, 82160 Phang Nga, 82160 Ko Yao Noi, Thailand
---
2. Six Senses Yao Noi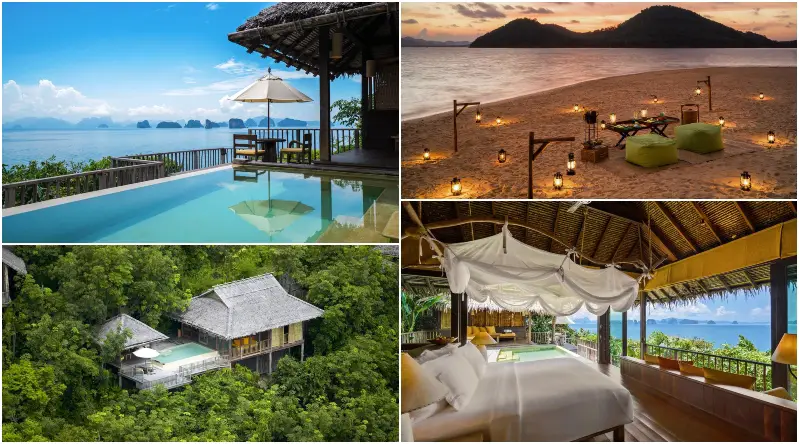 Six Senses Yao Noi is an extravagant 5-star resort, based along Ko Yao Noi's east coast.
Set amidst the tropical greenery, this paradise has 56 villas, each with an infinity pool overlooking the Andaman Sea. 
Soak up the sun from the loungers, wake up with a brew from the coffee machine, or watch a movie on the TV with Bose hi-fi system.
Outside, you'll need weeks to take part in all the activities at this resort.
Witness cultural performances, loosen up in the spa centre, or keep your fitness in the gym. 
The resort can also organize intimate dinner at the Chef's Table, long-tail boat excursions, village tours, and trips to surrounding islands. 
For food, stuff yourself in the scenic Hilltop Restaurant or in The Living Room, an eatery that features tandoori and pizza ovens.
Guest Rating: 9.4
Star Rating: 5 stars
Best Rooms: Ocean panorama pool villa
Address: 56 Moo 5, Tambol Koh Yao Noi, 82160 Ko Yao Noi, Thailand
---
3. Cape Kudu Hotel, Koh Yao Noi
Like most of the island's luxury getaways, Cape Kudu Hotel, is situated on the eastern side of Koh Yao Noi.
This deluxe resort has accommodations ranging from snuggly double rooms to elegant pool villas.
Your honeymoon is best spent in one of the pool villas, which include a bathroom with tub, private pool, sundeck, and a TV with DVD player.
For onsite facilities, you'll find a gym, a reading room, a pool table, a spa centre, and a massive swimming pool.
Finish your day in paradise in one of the 3 on-site restaurants.
Sit down for a meal in the homely Hornbill Restaurant or propose a toast with your lover in Long Island Bar
For quick snacks and coffee, dine at Cafe Kantary.
Guest Rating: 9.3
Star Rating: 5 stars
Best Rooms: Villa with private pool
Address: 25/54-55 Moo 5, Koh Yao, Phang-nga, 82160 Ko Yao Noi, Thailand
---
4. TreeHouse Villas
In the green north of Ko Yao Noi sits TreeHouse Villas, encircled by jungle and stunning bays.
The villas here are built on giant stilts, and they have a bright interior with lots of white tones.
If you stay here, you'll be treated with complementary services like a welcome drink, a free trip to nearby islands, and a Thai massage for two.
For the best stay, book the Beachfront pool villa.
You'll have a personal bar with complimentary drinks, a private pool, and a lounge deck facing the beach.
The spa experience here is quite something, with a waterfall plunge pool, massages, and yoga session at your disposal.
It's a joy to wake up in this resort, as a fresh brew from your own coffee machine and a sumptuous buffet breakfast await.
Dine at one of the cosy restaurants, or have the fine food delivered to your villa for a romantic meal.
Guest Rating: 9.3
Star Rating: 5 stars
Best Rooms: Beachfront pool villa
Address: 24/21 Moo 4 T. Koh Yao Noi A. KohYao Phang Nga, 82160 Ko Yao Noi, Thailand
---
5. 9 Hornbills Tented Camp
If you're after a unique and lavish accommodation, 9 Hornbills Tented Camp might be the spot you're looking for.
This one-of-a-kind tent is a part of the Koyao Island Resort, which is a 5-minute walk away.
Surprise your partner with a stay in a safari-style tented pool villa, and savor a large seating area and a pool with bay views that are unrivaled on the island.
Wake up with breakfast in your pool, including bubbles, all brought to you by your personal butler.
For your entertainment, the resort can provide you with mountain bikes, organize yoga sessions on the beach, or a Thai cooking class with a well-known local chef.
Dine with a cooling ocean breeze in your face at Pum Pui, or go for a romantic candle-lit dinner in front of your own villa.
Guest Rating: 9.3
Star Rating: 4 stars
Best Rooms: Villa with private pool
Address: 54/8 Moo 5 T. Koh Yao Noi A. Koh Yao, 82160 Ko Yao Noi, Thailand
---
6. Koyao Island Resort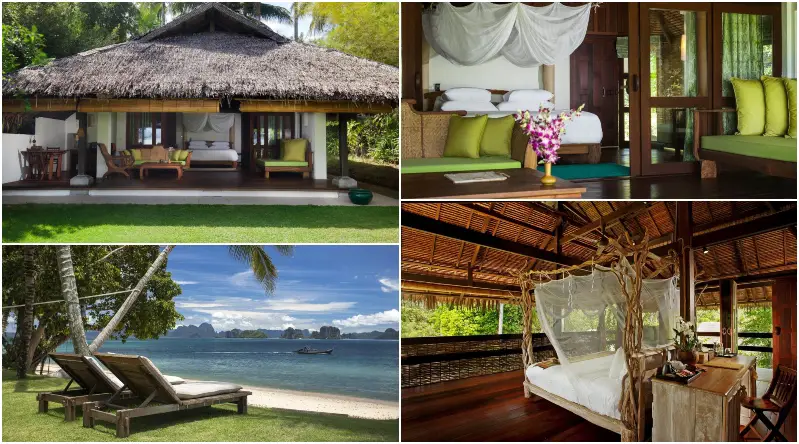 This beach-facing retreat has fancy suites and villas, decorated with dark wooden details and all the modern comforts you'd wish on a honeymoon.
For couples, the Beach Villa Suite is an excellent choice, as this dwelling offers splendid beach views straight from the bed.
Koyao Island Resort welcomes honeymooners with open arms, and upon request, you'll be pampered with dinners on a private island or a couple's massage.
On top of that, the resort provides mountain bikes, kayaks, and snorkelling gear free of charge.
Find inner calmness, try a yoga class, or hang out at the resort's infinity pool.
Food options include Thai cuisine from Pum Pui, cooling cocktails from the Gecko Bar, or eating in the warm setting of your own villa.
Guest Rating: 9.0
Star Rating: 4 stars
Best Rooms: Panorama tented pool villas
Address: 24/2 Moo 5, T. Koh Yao Noi. A. Koh Yao, Phang Nga Province, 82160 Ko Yao Noi, Thailand
Check Rooms Official site
---
7. The Hideout – Koh Yao Noi
From The Hideout – Koh Yao Noi, all you see is the lush treeline and the stellar Phang Nga Bay.
This small-scale retreat is an extraordinary honeymoon destination, with simply designed but ritzy treehouses to reside in.
The Hideout – Koh Yao Noi doesn't use electricity, but it still has comforts such as bathtubs in the rooms and a solar-heated swimming pool.
Instead of watching TV, you can hear the birds sing from your spacious balcony with jungle views or join yoga and meditation sessions.
To make your stay more memorable, you can arrange romantic dates.
This could be a wine and dine experience at sunset, a daily 30-minute couple massage, or a sunset boat trip.
In the restaurant, you'll find organic food composed with ingredients sourced on the island.
Guest Rating: 9.0
Star Rating: 3 stars
Best Rooms: Treehouses
Address: 37/3 Moo 2, T. Koh Yao Noi, A. Koh Yao, 82160 Ko Yao Noi, Thailand
---
8. Paradise KohYao
This 4-star property is located on the island's north side and houses comfy suites and pool villas.
Opt for the 91-square metre Pool Villa to live the posh life during your after-wedding holiday.
Delve into your own pool and hot tub, savour the magical views of Phang Nha Bay, and do pictorials in your private tropical garden.
On-site, culturally enriching activities at Paradise KohYao include traditional Batik painting classes, fire dancing shows, and Thai cooking classes.
Alternatively, revel in Thai and Mediterranean food at the Seafood Terrace or Al Fresco restaurant, or sip on drinks in the laidback Beach Club.
Are you in the mood for a romantic evening meal?
Watch the sunset over the gorgeous islands of Phang Nha Bay from your table for two.
Guest Rating: 9.0
Star Rating: 4 stars
Best Rooms: Seaview pool villas
Address: 24 Moo 4, T.Koh Yao Noi, A. Koh Yao, Phang Nga, 82160 Ko Yao Noi, Thailand
---
9. Niramaya Villa & Wellness
Niramaya Villa & Wellness is an exclusive resort with only 12 honeymoon villas, for an ultimate feeling of peace and serenity.
All villas have a contemporary Thai interior, with plenty of artworks and dark wooden furniture.
Surprise your lover with an opulent stay in the Deluxe Villa.
Outside, there's a private pool plus an intimate deck where you can chill.
Niramaya Villa & Wellness also has a 19-metre outdoor pool, so you can comfortably do laps with your partner by your side.
The resort's own restaurant praises itself in using organic products and dishes out Mediterranean classics in a homely setting. 
Book an in-villa spa treatment to seek utter relaxation with your partner.
Guest Rating: 8.9
Star Rating: 4 stars
Best Rooms: Deluxe pool villa
Address: 29/9 Moo 5 Phang Nga, 82160 Ko Yao Noi, Thailand
---
10. Jaiyen Eco Resort
Jaiyen Eco Resort is based on the west coast of Ko Yao Noi, right beside breathtaking An Pao Beach.
Feel connected with nature in one of the resort's cute cocoons, simple-looking cottages that have all the comforts for a romantic honeymoon.
Pick the Deluxe Cocoon to have a TV and internet connection at your disposal, as well as a fun kit for painting and drawing.
If you want a digital detox during your honeymoon, the Standard Cocoons don't have a TV and WiFi.
On the property, you'll have access to a gym, an infinity pool, a spa centre, and a sauna.
The staff can provide you with games and books that help you recline even more.
A stay at Jaiyen Eco Resort includes an a-la-carte breakfast, and for lunch and dinner, you can order from a vegetarian Thai-style menu.
Guest Rating: 8.6
Best Rooms: Deluxe bungalow
Address: 53/12 M. 7 T. Koh Yao Noi, 82160 Ko Yao Noi, Thailand
---
Map of Honeymoon Resorts in Ko Yao Noi
Find More Luxury Honeymoon Resorts in Ko Yao Noi
FAQs
Summary