It's going to be hot when you arrive in Cancun. And there's no better way to cool off than having your own private plunge pool in a 5-star resort. If you're on a honeymoon, there are all-inclusive and adults-only resorts ideal for a romantic getaway. Some resorts on the list are suitable for families too. If you want a plunge pool on the balcony or a lap pool, we'll uncover the best rooms as well. With all the tropical vibes, limitless luxury, and mesmerizing surroundings, picking the right place can be difficult. So first, we'll share some findings before reviewing each Cancun resort in detail.
---
Best Cancun Resorts With Balcony Pools
Atelier Playa Mujeres – This is the highest-rated Cancun resort with a plunge pool on its terrace or balcony. You'll find them in the Rooftop, Master, and Junior suites. The Master suite has the largest pool, that curves around the terrace's edge.
Nizuc Resort & Spa – If you're looking for a suite in the Hotel Zone with a private pool on the balcony, check out Nizuc Resort & Spa. Their Penthouse and Master suites feature furnished sea-view terraces with private plunge pools.
Majestic Elegance Costa Mujeres – At Majestic Elegance Costa Mujeres they offer a variety of adults-only suites with private plunge pools. Each pool is set on an outdoor balcony, some with incredible sea views.
---
Best Cancun Resort With Plunge Pool Villas
Nizuc Resort & Spa – This resort offers 4 types of villas, all with private plunge pools. The villas are close to the beach and feature a little garden, sun lounges, and an infinity pool with its own little waterfall.
Grand Park Royal Cancun – This resort features Villa Junior and Master suites both with private plunge pools. Both villas feature plunge pools on a private and furnished outdoor terrace. And if you book the Master suite villa, you'll enjoy butler service and 24-hour room service.
---
Most Romantic Cancun Resorts
Atelier Playa Mujeres – For the ideal romantic vacation, the adults-only resort is one of the best. For the best experience, choose the Rooftop or Master suites. These well-designed suites offer large terraces with private plunge pools and sweeping sea views.
Secrets Playa Mujeres Golf & Spa Resort – If you're planning a couple's getaway to Cancun, check out the suites at Secrets Playa Mujeres. The Master suite with ocean view has everything you need including a private furnished terrace, a plunge pool, and direct beach access. There's also a hot tub for two, a rain shower, and Preferred Club access.
Grand Park Royal Cancun – This 5-star resort's Master suite villas are suitable for romantic holidays. There's a furnished terrace with a private plunge pool, a king bed, and a large walk-in shower. If you don't want to leave the suite, there's butler service and 24-hour room service.
---
Best Family Cancun Resorts
Dreams Vista Cancun – This is one of the better places to stay in Cancun for a family vacation. They have a small water park, two surf pools, and a variety of exciting outdoor activities. It's all-inclusive so there are plenty of food and drink options.
Riu Palace Costa Mujeres – If you're traveling as a family, this is one of Cancun's top resort options. For the kids, there's an onsite water park, a playground, and lots of fun activities. Also, there are five pools, live shows, and special events that everyone will enjoy.
Catalonia Costa Mujeres All Suites & Spa – With a variety of family suites, the resort has plenty of options for large families. The privileged Grand family suite features double beds, bunk beds, and a sofa bed. There's also a garden terrace with a private pool that the whole family will enjoy.
---
1. Atelier Playa Mujeres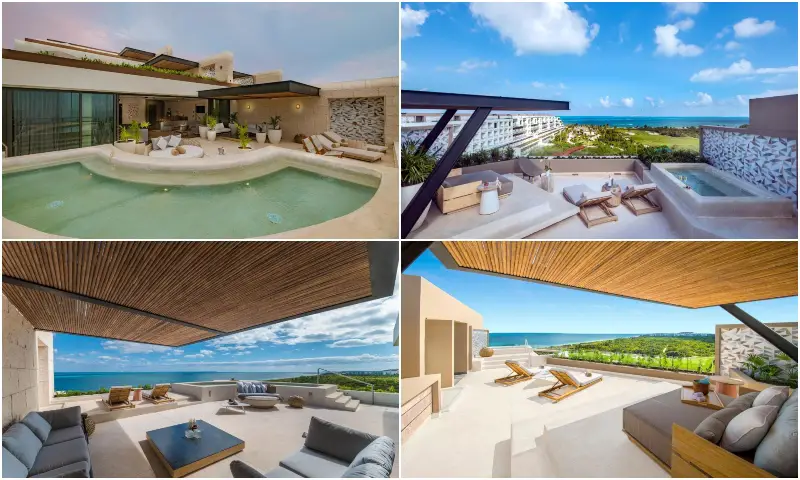 Settled right next to the turquoise Caribbean sea, this all-inclusive resort offers a unique atmosphere and luxurious amenities. It's adult-only so it makes a perfect destination for a romantic getaway. After all, it doesn't get more romantic than having your own plunge pool on the terrace. Pick a Rooftop suite for a wonderful view and contemporary Mexican design. Don't forget to try out other pools too – the resort's vast pool area will ensure you calming yet lively vibes. It's no different with numerous on-site restaurants and bars. Choose between a variety of cuisines and ambiances, each more appealing than the other. To make your holiday even more memorable, the resort offers spa facilities, a golf course, and plenty of day and night activities.
Guest Reviews: The facilities were so luxurious and the food at the restaurants was incredible.
Best Rooms: Rooftop, Master & Junior suite
Address: Prolongación Bonampak S/N MZ 1, Lote RTH4, SM 3 Complejo Playa Mujeres Zona Continental, 77400 Cancún, Mexico
---
2. Nizuc Resort & Spa
Experience real paradise in the Nizuc Resort & Spa. You'll be swept away by the resort's decor that reflects the beauty of its natural surroundings of the secluded Punta Nizuc. Besides the captivating interior, suites offer utter comfort on their oceanfront terraces with private plunge pools. You can enjoy fresh fruit for breakfast from there or get lost in the mesmerizing sunset. This is one of the most romantic and relaxing Cancun oasis. It also offers spacious, luxurious villas with a small pool. Moreover, you'll have an array of activities at your disposal – fitness classes, water sports, and culinary lessons. Relax in the bar pool afterward, indulge in the enticing cuisine of the on-site restaurants, and enjoy live music in the evening.
Guest Reviews: Our room was spacious and tastefully decorated. Breakfast was amazing and the infinity pools were so cool.
Best Rooms: Villas, suites & penthouse
Address: Boulevard Kukulcan Km 21 Punta Nizuc, 77500 Cancún, Mexico 
---
3. Dreams Vista Cancun Golf & Spa Resort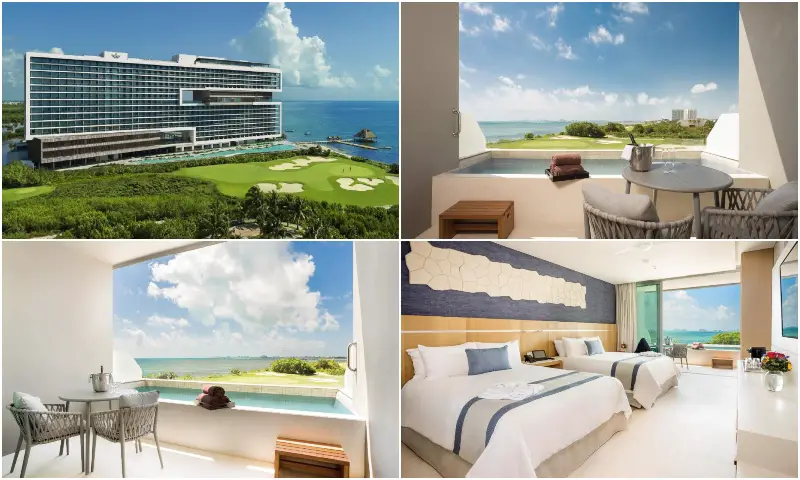 This all-inclusive Cancun resort will ensure you the vacation of your dreams. Enjoy unlimited access to a variety of vibrant restaurants and a world-class Dreams Spa. Relax at your elegant and bright private balcony with a plunge pool. You'll be amazed by the panoramic view it boasts! Although this makes an ideal romantic setting, Dreams Vista is also family-friendly. The resort offers many interesting activities both for families and couples. It features two surf pools, a splash park, and an exclusive rooftop pool. Whether you keep exploring the resort's pools and restaurants or sunbathe next to your plunge pool, you'll have a truly fulfilled holiday here!
Guest Reviews: Our room was incredibly comfortable. Large swimming pool and there was a good selection of bars and restaurants.
Best Rooms: Deluxe ocean view rooms
Address: Lote 1-03 – Manzana 12 Supermanza 84 , 77520 Cancún, Mexico 
---
4. Riu Palace Costa Mujeres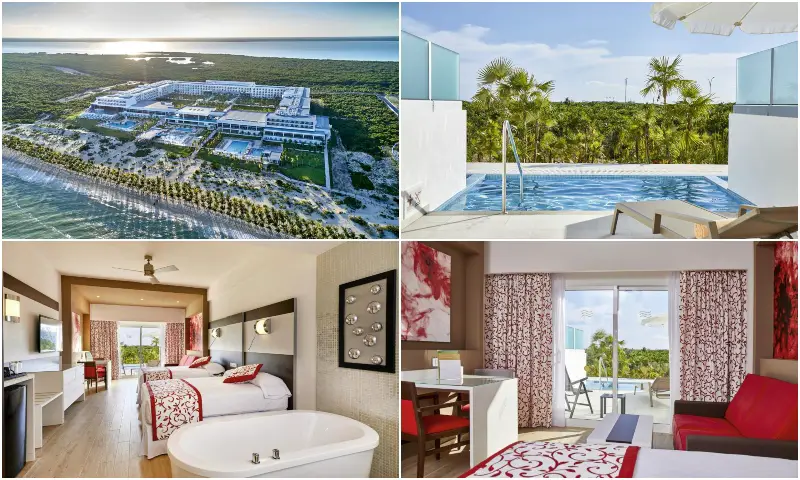 Are you searching for 24-hour all-inclusive service and dreamy Caribbean vibes? Located on the Bahía de Mujeres beach, Riu Palace Costa Mujeres provides everything you need for a memorable vacation in Cancun. Stay in a room with a balcony or terrace including a private plunge pool with a tropical view. You'll also have an in-room hot tub and all the high-end amenities for your ultimate comfort. If you're traveling with family, this is one of the better resort options. Your kids will love the on-site water park, playground, and an array of fun activities. If you want to go for a proper swim, take a dip in one of the 5 pools. Then, get pampered at the Renova Spa for more 5-star treatments. On top of that, there are daily activities, live shows, and events, so each day you can try something new!
Guest Reviews: Our room was spacious and comfortable with a sea view. The beach was very nice and the entertainment was amazing.
Best Rooms: Junior suite
Address: SM 006, Mza 002, Lte 14, Subcondominio Playa, Condominio Costa Mujeres, 77400 Cancún, Mexico
---
5. Secrets Playa Mujeres Golf & Spa Resort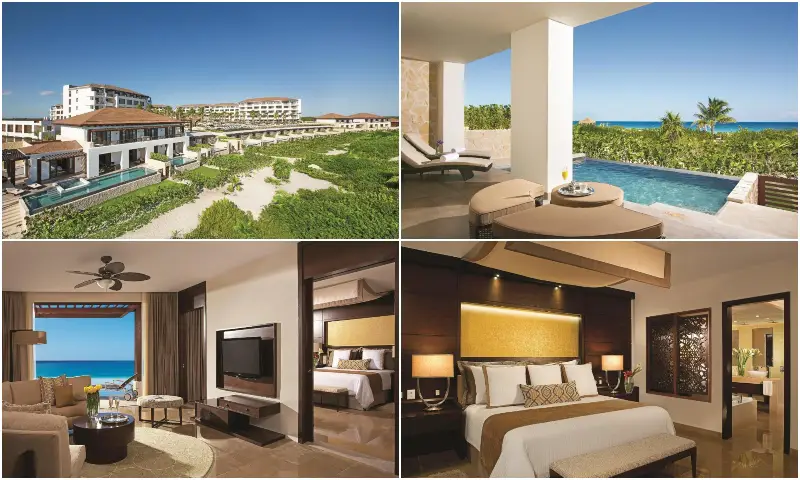 Nestled on the shore of the crystal clear Caribbean sea, this all-inclusive resort is a true tropical gem. Elegant rooms boast terrific oceanfront views. What's a better place to enjoy the view than your own plunge pool? Besides outstanding accommodation, the resort provides numerous amenities and world-class service. Enjoy unlimited luxury in the resort's spa facilities. Alternatively, relax in the outdoor pools and hot tubs. Have a romantic dinner at one of the 5 a la carte restaurants. You'll undeniably come across many ways to unwind, relax, or find romance at this stunning resort.
Guest Reviews: The room was great. The gigantic pool led right to the beach. The selection at breakfast was amazing.
Best Rooms: Master suite oceanfront
Address: Lote RTH-7-PM-II, Playa Mujeres, Lote 1, Mza 1, SM 3, 77400 Cancún, Mexico
---
6. Majestic Elegance Costa Mujeres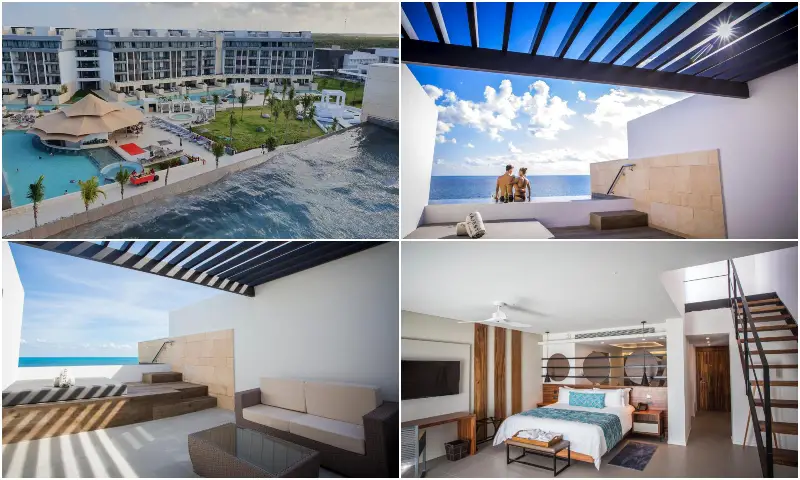 Experience true elegance at this all-inclusive resort. Lose yourself in the pristine view from your wonderful private terrace. Have your first coffee while dipping your toes in the terrace's idyllic plunge pool. Alternatively, go to the pool bar or indulge in a full breakfast in one of the restaurants. There is a variety of gourmet restaurants for lunch and dinner too. Choose from authentic Mexican cuisine, Japanese specialties, Argentinean steakhouse, and many more. Besides gourmet bites, try a treatment in the Majestic Spa. You'll surely never want to leave this place!
Guest Reviews: We loved our room with the plunge pool. The buffet breakfast was our favorite and the entertainment was awesome.
Best Rooms: Elegance Club Plunge Pool Suite
Address: Carretera Libre 85 – Punta Sam Isla Blanca 85 SM 6, Manzana 2 Lote 4, 77400 Cancún, Mexico 
---
7. Grand Park Royal Cancún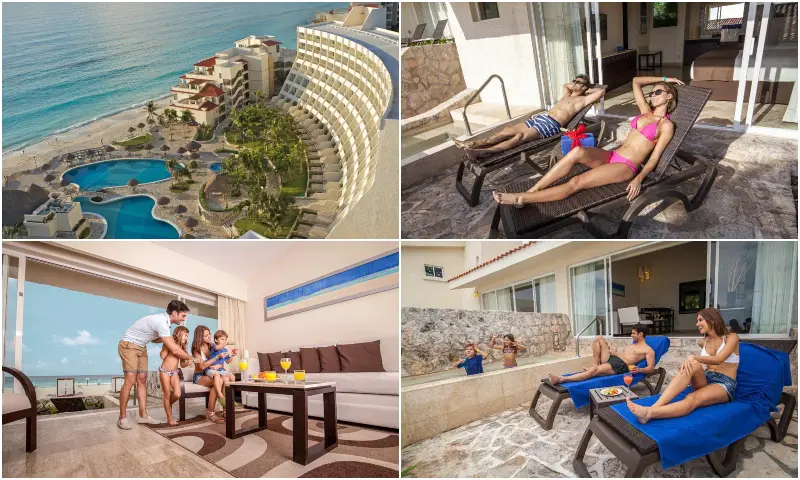 Settled on the private beach area, Grand Park Royal will provide you with a true sense of freedom. You'll feel at ease everywhere – from the resort's spacious pool area to your private terrace with a plunge pool. Master suite villas with a private plunge pool are suitable for both family vacations and romantic getaways. Villas provide butler service and 24-hour room service. Regardless of who you're going with, this magnificent resort will meet all your needs. Take advantage of the all-inclusive program and immerse yourself in the endless flavors of the resort's rich restaurant scene. Treat yourself to an outdoor massage and spa treatments. Or continue sunbaking in their outdoor pools, sitting by the swim-up bar with a cocktail.
Guest Reviews: The view from our balcony was excellent. The adult pool was the place to be with daily events and shows.
Best Rooms: Junior & Master villas
Address: Boulevard Kukulcan Km 10.5 Zona Hotelera, 77500 Cancún, Mexico
---
8. Catalonia Costa Mujeres All Suites & Spa
Another wonderful beachfront resort that reflects the true spirit of Mexico is Catalonia Costa Mujeres. The resort is all-inclusive and offers family suites and swim-up rooms with a private plunge pool. Each room features a modern design and all the in-room luxuries. Select rooms have in-room hot tubs too. So, why not take your family to this dreamy place? You'll undoubtedly have plenty to do with two large pools, a gym, a beauty salon, and spa facilities at your disposal. Of course, there's no real vacation without a proper gastronomic offer. The main restaurant, Gran Caribe, is a buffet with a wide range of international flavors. But if that's not enough, there are another 10 on-site restaurants to choose from. 
Guest Reviews: The suite was great with the best beach view. Our swim up pool was awesome.
Best Rooms: Privileged suites & swim-up
Address: Carr. a Punta Sam SM 6, Lote 6 Zona Costera, Zona Continental, 77400, 77400 Cancún, Mexico
---
Best Areas To Stay In Cancun
Playa Mujeres – Located just north of the Hotel Zone, Playa Mujeres is known for its luxury resorts like Atelier Playa Mujeres. The area features beautiful beaches, upscale amenities, and a quiet atmosphere.
Puerto Cancun – Situated between the Hotel Zone and downtown, Puerto Cancun offers upscale living, a marina, and shopping areas. It's a quieter alternative to the Hotel Zone, but you'll still find 5-star resorts like Dreams Vista Cancun.
Hotel Zone (Zona Hotelera) – The most well-known area in Cancun, it offers beautiful beaches and luxury resorts like Grand Park Royal Cancun. It's great for tourists, with easy beach access, water activities, and vibrant nightlife. But keep in mind this area can be more expensive than other parts of Cancun.
---
Best Things To Do In Cancun
Relax on the Beach – Cancun is known for stunning white sandy beaches like Playa Mujeres and Playa Langosta. You'll love lounging on the beach and swimming in the crystal-clear Caribbean waters.
Swim in Cenotes – Cenotes are natural sinkholes that are unique to the Yucatan Peninsula. These freshwater pools are excellent for swimming and snorkeling. There are some popular cenotes close to Cancun, including Ik Kil and Dos Ojos.
Ferry to Isla Mujeres or Cozumel – Take a ferry to Isla Mujeres or Cozumel for a day of relaxation, snorkeling, and exploring. Isla Mujeres is known for its beaches and vibrant town center, while Cozumel offers excellent scuba diving.
Watersports – Cancun offers a variety of water sports including snorkeling, jet skiing, paddleboarding, and parasailing. Make sure you check out the Great Mesoamerican Reef, the world's second-largest coral reef. It's a popular scuba diving spot.
Shop at Markets & Malls – Cancun offers a mix of local markets and high-end shopping malls. Local markets like Mercado 28 offer souvenirs and handmade crafts. And shopping malls like La Isla Shopping Village offer a variety of international brands.
Jungle Tours – Pack in the water adventure on this tour of Cancun's jungle. Take a speedboat ride through the mangroves and canals of Nichupte Lagoon. The two-person speedboats are a fun way to explore the area's natural beauty.
---
Best Times To Visit Cancun
Cancun is a popular destination with something to offer year-round.
The tropical climate ensures warm temperatures, but the timing of your visit can affect your experience.
These periods stand out as the best times to visit.
Peak Season (December to April) – This is the most popular time to visit, with warm temperatures, minimal rainfall, and good beach conditions. Expect high occupancy rates and resort prices, especially around holidays and spring break.
Shoulder Seasons (May to June, November) – These months offer a balance between pleasant weather and fewer crowds. You can enjoy warm temperatures, though there might be occasional rain. May and November are the best months to enjoy a quieter vacation experience.
Low Season (July to October) – This is the hottest and most humid season in Cancun. While you might experience more rainfall and tropical storms, you'll also find some of the best deals on resorts and activities.
Weekdays vs Weekends – Weekdays tend to be less crowded, with lower prices on resorts and activities. Weekends are livelier, especially in tourist areas like the Hotel Zone. There are more events, parties, and nightlife options on weekends.
---
Best Ways To Get Around Cancun
Navigating Cancun is easy thanks to a variety of transportation options. Whether you're looking for convenience or affordability there's a mode of transportation that fits your needs. Here are the best ways to get around Cancun.
Public Buses – The Cancun bus system is extensive, with buses running along the Hotel Zone, downtown, and to some attractions. If you just want to travel to the city's popular attractions, Cancun Bus Turistico is a good option. It's a hop-on hop-off tourist bus that allows you to explore Cancun's highlights at your own pace.
Taxis & Colectivos – Taxis are widely available in Cancun and offer convenient door-to-door service. Colectivos are shared vans that are popular with both locals and tourists. They operate along set routes and are a cost-effective way to travel between destinations.
Rental Cars – If you want to explore beyond the main tourist areas, renting a car is a good option. It gives you the flexibility to explore the surrounding areas at your own pace. But you need to be aware of local driving practices, road rules, and parking options.
Bike Rentals – Many areas of Cancun, especially the Hotel Zone, are bike friendly. Renting a bike can be a fun and eco-friendly way to explore the city, its beaches, and attractions.
---
Cancun 5-Stars Resorts Map
More articles:
Find More 5-Star Resorts in Cancun
---
Summary