Do you want a private hot tub right on the balcony so you can enjoy the views of Cancun?
Fortunately, a number of luxury hotels in Cancun have this feature in their rooms.
Some resorts are ideal for families, while others are designed more for romantic couples.
There are also hotels just a few steps away from the pristine white-sand beach.
And we'll show you exactly which ones are best for you.
Read on to discover the best Cancun hotels with private hot tubs on the balcony! 
1. Turquoize at Hyatt Ziva Cancun
This adult-only retreat is settled on the peak of the peninsula framed by the pristine Caribbean Sea.
Elegant, bright Master suites feature a hot tub on the private balcony with sweeping panoramic views.
You will also have sea views from your floor-to-ceiling rainfall shower.
Although you'll have everything you need in your suite, there is plenty to do on the property.
Take a dip in the mesmerizing rooftop infinity pool or unwind at the Zen Spa's hydrotherapy.
Onsite, there is an array of versatile restaurants and bars to choose from.
Visit vibrant Habaneros on the beach and taste authentic tacos and fresh ceviche.
Or get everything from El Mercado, their international buffet.
The hotel also offers numerous activities including sports and live shows, so you'll have something new to do each day!
Guest Rating: 9.3
Star Rating: 5 stars
Rooms: Master King or Double suites
Address: Blvd. Kukulcan, Manzana 51, Lote. 7 Hotel Zone, 77500 Cancún, Mexico
---
2. Villa del Palmar Cancun
Have an unforgettable visit to Cancun and stay at this wonderful all-inclusive beach resort and spa.
Villa del Palmar Cancun has rooms ideal for both families and couples.
You'll be mesmerized by the rooms with contemporary décor and a charming balcony with a whirlpool hot tub.
Residences and rooms that come with a whirlpool are equipped with state-of-the-art kitchens.
However, if you're up for a real gourmet bite, the resort houses excellent restaurants.
Besides Italian and Japanese cuisine, you can try distinctive Mexican dishes and Yucatecan specialties at the Zamá Restaurant.
Of course, a proper vacation requires sunbathing and refreshing yourself in swimming pools.
The resort's pool area includes a beautiful waterfall bridge pool, a children's pool, and an adult pool with a serene pool deck.
So you can soak in as much Caribbean sun as you want!
Guest Rating: 9.3
Star Rating: 5 stars
Rooms: 2-3 bedroom Oceanfront or Penthouse
Address: Carretera a Punta Sam Km. 5.2 Mza 9 Lote 3 SM-2, Zona Continental de Isla Mujeres,, 77400 Cancún, Mexico
---
3. Haven Riviera Cancun
Experience luxury, comfort and, all-inclusive benefits at the 5-star Haven Riviera resort.
Choose a Junior or a Serenity Club suite to enjoy a private sun-kissed balcony with a hot tub overlooking the sea.
Does it get more romantic than that?
Inside, you'll find rooms are decorated with contemporary, unique design and fitted with high-end amenities.
For fine dining, choose between four a la carte restaurants serving local and international cuisine.
There also vibrant bars on-site, including two swim-up bars and a visually appealing Havens lounge.
Other amenities that will complete your stay include stunning outdoor pools, spa facilities, and engaging daily activities.
Guest Rating: 9.1
Star Rating: 5 stars
Rooms: Junior, Master & Presidential suites
Address: Carretera Federal 307 Chetumal-Puerto Juarez Km 335, 77500 Cancún, Mexico
---
4. Condo in Ocean Front Hotel Resort
Located in the convenient area of the Hotel Zone, Ocean Front Cancun offers comfortable apartments and suites.
Apartments feature spacious terraces with private hot tubs and recliners for sunbaking.
Most rooms will also have views of the ocean.
Your kids will love the resort's water park with slides and waterfalls.
But if that's not enough, just head straight to the beach which is literally a few steps away.
What makes it a truly unique place to stay are authentic Mayan ruins near the property.
All in all, you'll feel both at home and have an exciting vacation here!
Guest Rating: 9.1
Star Rating: 4 stars
Rooms: Apartment with terrace
Address: 12 Boulevard Kukulcan PIRAMIDES DEL REY, 77500 Cancún, Mexico
---
5. Dreams Playa Mujeres Golf & Spa Resort
Whether you're planning a family vacation or a romantic getaway, this all-inclusive resort will ensure you an idyllic stay in Cancun.
Beautifully decorated suites feature charming balconies and terraces with hot tubs and plunge pools.
While relaxing in your private hot tub, you'll be gazing at the mesmerizing beachfront views.
For more space, we'd highly recommend the resort's villas which also have hot tubs on the terrace.
During your stay, enjoy limitless access to the on-site gourmet restaurants.
Indulge in Mediterranean cuisine at Mezés or local seafood in the airy Maris restaurant.
Take advantage of the unlimited luxury at the Dreams Spa.
Along with relaxing swimming pools, oceanfront bars, and a variety of activities, you'll have a truly fulfilled vacation.
Guest Rating: 8.9
Star Rating: 5 stars
Rooms: Villas, Garden view & Ocean view suites 
Address: Lote RTH-8-PM-II, Lte1, Mza1, Sm3, 77400 Cancún, Mexico
---
6. Fiesta Americana Condesa Cancun
This all-inclusive resort is a true Caribbean jewel.
Stay in the ocean-view Master suite which has a spacious terrace with Jacuzzi.
While soaking in the Jacuzzi with a pristine beach and endless sea in front of you, you'll experience a true sense of vacation.
The resort's pool area is no less mesmerizing – it includes a reflective swimming pool and a spacious pool deck with real tropical vibes.
For more outdoor fun, enjoy a refreshing drink in the charming pool bar.
Although, there are plenty of other vibrant bars and restaurants on-site.
Explore local and international gourmet dishes in elegant and unique ambiances.
With all the relaxing amenities and culinary experiences, you'll never want to leave this place!
Guest Rating: 8.9
Star Rating: 5 stars
Rooms: Master Suite
Address: Boulevard Kukulcan Km 16.5 Zona Hotelera, 77500 Cancún, Mexico
---
7. Secrets Playa Mujeres Golf & Spa Resort
This all-inclusive, adult-only resort is ideal for a romantic getaway.
Besides swim-out rooms, the resort offers outstanding suites featuring balconies with whirlpool hot tubs.
Enjoying a glass of champagne in a hot tub with ocean views – it doesn't get more romantic than that!
Have more romantic moments in the intimate atmosphere of the resort's rich restaurant scene.
Choose from Mexican, Italian, and Asian specialties, or visit the 24-hour Coco Café for a late bite.
Enjoy the variety of bars too, including a charming terrace of the Desires music lounge.
The resort's pool area includes infinity pools and four outdoor whirlpools.
On top of that, you'll have limitless access to the world-class Secrets Spa.
Guest Rating: 8.8
Star Rating: 5 stars
Rooms: Preferred Club Junior & Master suites
Address: Lote RTH-7-PM-II, Playa Mujeres, Lote 1, Mza 1, SM 3, 77400 Cancún, Mexico
---
8. Majestic Elegance Costa Mujeres
Another luxurious Cancun resort that reinvents the concept of romantic getaways is Majestic Elegance Costa Mujeres.
Spacious and well-decorated suites offer terraces and balconies with hot tubs and plunge pools.
Regardless of what you choose, couples will love the romantic and calming decor.
Get pampered with its wondrous wellness services at the Majestic Spa and the Beauty salon.
For dining, you can choose from a number of culinary experiences.
The Main Flavors Buffet serves breakfast, lunch, and dinner, while El Mariachi Loco will let you indulge in mouthwatering Mexican cuisine.
Other features at the resort include bars, a fitness center, and an on-site theatre for nightly entertainment.
Whether you want to simply relax or engage in various activities, this resort will make your wishes come true!
Guest Rating: 8.8
Star Rating: 5 stars
Rooms: Outdoor Jacuzzi suites
Address: Carretera Libre 85 – Punta Sam Isla Blanca 85 SM 6, Manzana 2 Lote 4, 77400 Cancún, Mexico
---
9. Panama Jack Resorts Cancun
Outstanding accommodation, a world-class spa, and family-friendly amenities await you at Panama Jack Resort.
If you want the best rooms, pick the One-bedroom Grand Master or Presidential suites.
They'll have private terraces featuring a double whirlpool tub along with sea views.
There's even a second hot tub inside the bedroom in case it gets too windy outside.
You'll have the privilege to enjoy stunning beachfront views wherever you are, including the resort's lively restaurants and bars.
For a feast, go to Ventanas buffet which serves international cuisine for breakfast, lunch, and dinner.
Jack's Landing lobby bar will provide you with soothing drinks and live music.
If you're traveling with kids, you'll be thrilled to hear that the outdoor area includes splash pools with slides.
And if you need some time for yourself, there are hammocks and cabanas next to the pool waiting for you.
Guest Rating: 8.8
Star Rating: 4 stars
Rooms: One-bedroom Grand Master or Presidential suites
Address: Boulevard Kulkulkan Km 11.5, 77500 Cancún, Mexico
---
10. Suites Malecon Cancun
If you're searching for modern accommodation in the Cancun city hustle, Suites Malecon has a place for you.
Located a short walk from the Boulevard Kukulkan, suites boast a panoramic view of the city and the lagoon.
You can enjoy it from the hot tub on your private balcony.
The property is set within the complex of Américas Shopping Mall, so you can easily reach all its shops, restaurants, and cafes.
There is an infinity pool onsite, as well as BBQ facilities and a terrace with loungers.
For a delicious breakfast buffet, go to the Café Vancouver on level 1 of the tower.
You'll have everything you need in here.
More importantly, you'll experience vibrant Mexican city life!
Guest Rating: 8.7
Star Rating: 4 stars
Rooms: Double room with spa bath
Address: Avenida Bonampak , Residencial Malecón Américas, Torre Vancouver , SM 6 Mza.1 Lote 1, 77503 Cancún, Mexico
---
11. Dreams Sands Cancun Resort & Spa
Do you want the perfect outdoor setting for a romantic getaway?
Nestled along the pristine beach in the Cancun hotel zone, Dreams Sands is a resort made for couples.
You can stay at the amazing Honeymoon suite featuring a terrace with a hot tub and a comfy Bali bed.
Sunsets here are quite amazing and you can enjoy them from your own whirlpool.
You'll also have magnificent views and true Caribbean vibes at the outdoor pool area.
The resort is all-inclusive so you can eat all you want at six a la carte restaurants and a World Café buffet.
Don't forget to try rejuvenating treatments at the Dreams Spa.
This stunning resort will undoubtedly take care of all your needs.
Guest Rating: 8.3
Star Rating: 8.3
Rooms: Honeymoon suite
Address: Km 8.5 Kukulcan Blvd Hotel Zone, 77500 Cancún, Mexico
---
12. Temptation Cancun Resort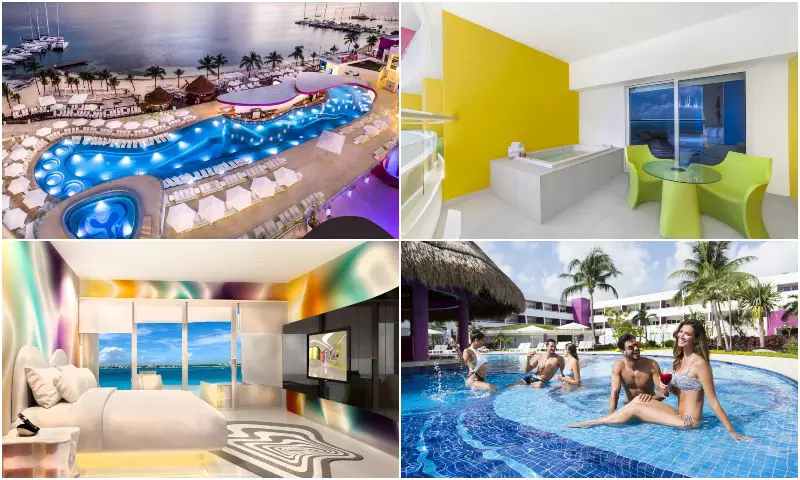 Are you tempted by the name of this Cancun resort?
You have every reason to be – it's adult-only and all-inclusive, so you'll surely have a memorable vacation if you stay here.
Known as a "playground for grown-ups", it offers a variety of daily activities and nightly shows and entertainment.
Plush Jacuzzi rooms are decorated with modern, colorful furnishings.
They feature private terraces with a hot tub for two.
You can also choose a spacious penthouse with a private outdoor Jacuzzi boasting ocean views.
The resort houses a number of a la carte restaurants and exciting bars.
As if you need any more reason to be drawn to this free-spirited resort, the outdoor area features multiple pools, hot tubs, and spa services.
Guest Rating: 8.2
Star Rating: 5 stars
Rooms: Plush Jacuzzi rooms
Address: Boulevard Kukulcan K.M. 3.5, 77500 Cancún, Mexico
---
13. Planet Hollywood Beach Resort Cancun
If you're after a unique, movie-like accommodation, Planet Hollywood Resort is for you.
This all-inclusive resort is a perfect spot for families, couples, or a group of friends.
Stay in the Director's Suite featuring Hollywood-inspired design.
Relax in the Jacuzzi tub on your private balcony overlooking the vibrant resort's vast pool area and Caribbean sea.
Take advantage of the limitless access to the resort's versatile restaurants, each showing a touch of Hollywood glamour.
You should also try the resort's spa and fitness center.
With all these luxurious amenities and world-class service, you'll undeniably feel like a star!
Guest Rating: 8.0
Star Rating: 5 stars
Rooms: Director suites
Address: Carretera a Punta Sam SM006 MZA 002 LOTE 07-08, ZONA COSTERA ZONA CONTINENTAL, 77400 Cancún, Mexico
---
Cancun Hotels Map
Find More Cancun Hotels with Hot Tubs
FAQs
Summary