Are you looking for an epic water park in Cancun?
Well, there are a number of luxury family hotels with huge pools, slides, lazy rivers, and water activities, right on their property.
Your kids will love it!
Surrounded by the Caribbean sea, you'll even have access to pristine beaches at some resorts.
Of course, there will be many other amenities and activities to explore.
We've found the best Cancun family resorts with water parks.
Check them out and we're sure you'll find the perfect hotel for your next Cancun trip. 
1. Hyatt Ziva Cancun
Settled on the astonishing strip of Punta Cancun, this luxurious all-inclusive resort is a few steps away from the clear waters of the Caribbean Sea.
Soak in the sun and the view from the terrace of your beautifully decorated suite or a swim-out room.
Although you'll have everything you need in your room, the resort offers a variety of activities that will make your family vacation truly memorable.
Yoga classes, live shows, pool games – possibilities are endless!
For kids, there's a small water park with mini slides and a tipping bucket. 
Of course, you can simply relax in the oceanfront spa and pamper yourself with massages and holistic body treatments.
After that, enjoy the rest of the day at the infinity pool with a pool bar.
When you feel like having a bite, you can choose between 11 on-site restaurants and lounges, serving local and international cuisines.
Guest Rating: 9.2
Star Rating: 5 stars
Address: Blvd. Kukulcan, Manzana 51, Lote. 7, 77500 Cancún, Mexico
---
2. Dreams Vista Cancun Golf & Spa Resort
Have a vacation of your dreams at this stunning 5-star family resort.
Stay in one of the luxurious rooms featuring contemporary design and breathtaking sea views.
Find ultimate relaxation in the world-class spa amenities or enjoy a glass of margarita at the mesmerizing rooftop pool.
If you're after a more active holiday, take your family to the golf course or for an adventure on the daring climbing wall.
Kids will love the splash park, water park with slides, and surf pools.
Enjoy live musical performances and shows at the outdoor theatre.
Choose between 8 dining options and satisfy your taste buds with gourmet food and refreshing drinks.
Dreams Vista Cancun perfectly blends relaxation and adventure, so your whole family will undoubtedly have an unforgettable stay.
Guest Rating: 9.0
Star Rating: 5 stars
Address: Lote 1-03 – Manzana 12 Supermanza 84 , 77520 Cancún, Mexico
---
3. Dreams Playa Mujeres Golf & Spa Resort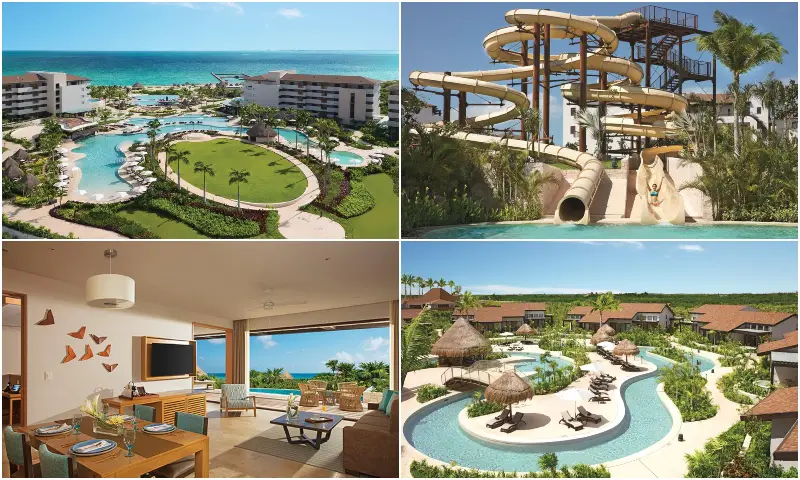 Spend some memorable quality time with your family at the Dreams Playa Mujeres Resort.
Luxurious comfort, astonishing interior design, and a variety of fun activities are what this high-end resort is all about.
If you have teenagers looking for an adrenaline rush, this is the best Cancun resort.
A vast pool area features children pools, hot tubs, lazy rivers, two infinity pools, and an exciting water park with huge spiraling waterslides.
Your family will be delighted by the on-site Dolphin Habitat, an interactive program that lets you see dolphins close up in their natural environment.
On top of that, you can treat yourself to a relaxing massage while your kids can head to Explorer's Club.
The resort also features live entertainment and an array of gourmet dining options.
After a day of exploring, unwinding, and water park fun, rest in the beautiful, spacious room with spectacular views.
Guest Rating: 8.9
Rooms: Junior suites swim-out ocean views
Address: Lote RTH-8-PM-II, Lte1, Mza1, Sm3, 77400 Cancún, Mexico
---
4. Panama Jack Resorts Cancun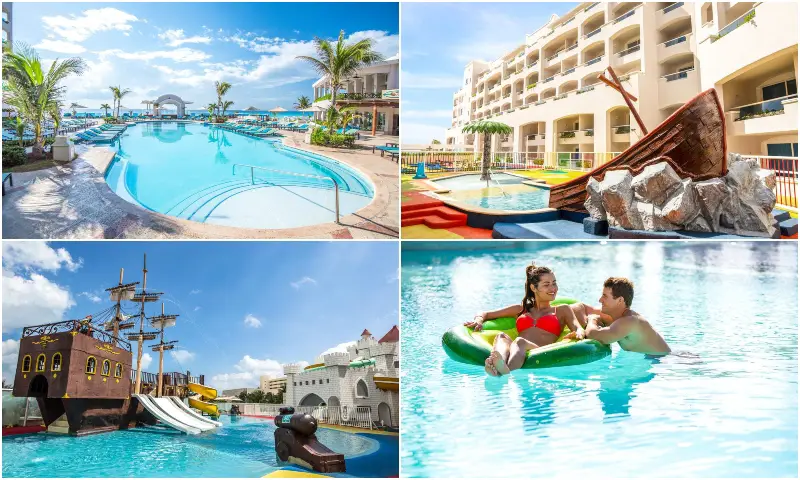 This all-inclusive resort and spa will ensure a truly memorable and fulfilled holiday.
Panama Jack Resorts has a water park with waterslides and fun pirate-themed features.
They also have a Camp Jack program that provides more engaging activities for children.
This includes arts & crafts and beach games.
Adults will love this resort too – soak in the Caribbean sun at the spacious pool deck with cabanas and hammocks.
Find pure relaxation at the luxurious Aura Spa.
To get your energy up, join a Zumba class or the Aqua Aerobics.
For food and drinks, there are several restaurants and bars on-site.
The most popular is VENTANAS, an international buffet opened for breakfast, lunch, and dinner.
Guest Rating: 8.8
Star Rating: 4 stars
Address: Boulevard Kulkulkan Km 11.5, 77500 Cancún, Mexico
---
5. The Grand at Moon Palace
Nestled in the Quintana Roo Region, The Grand at Moon Palace will take care of all your needs in the true paradise-like ambiance.
A private beach area, elegant rooms, and inviting restaurants are just a part of what will make your stay in this all-inclusive resort truly enjoyable.
Its huge water park is a world of its own and your kids will love it!
Test your surfing skills at the Flowrider Wave stimulator or have a race down the steep waterslides.
Find more family fun, head to the lounge with arcade games or play golf on the resort's private courses.
When you want to unwind on your own, enjoy one of the soothing spa services.
For meals, pick from a range of internationally-inspired restaurants including Asian, Italian, Indian, and of course Mexican cuisines.
Guest Rating: 8.2
Star Rating: 5 stars
Address: Carretera Cancun-Chetumal Km. 36.5, Riviera Maya, Cancun, QROO,, 77500 Cancún, Mexico
---
6. Iberostar Selection Cancun
This 5-star family resort will give you the vacation experience you've always imagined.
You'll have direct access to the beach and magnificent ocean views from the spacious rooms equipped with everything you need.
Your kids will be thrilled with the pirate ship water park and activities at the Star Camp.
Amenities your whole family will enjoy include sports facilities like tennis, soccer, and volleyball courts.
You can also experience true family adventure at the Dive center that offers training and diving excursions in magnificent coral reefs.
At night, there's live music, dancing, and magic shows.
A proper vacation doesn't go without delicious bites – have breakfast, lunch, or dinner at one of the resort's beachfront restaurants.
The most popular is Antiguo Laguito Buffet, but if you're looking for an experience, head to Naga Hibachi Japanese Restaurant for fun Teppanyaki.
Guest Rating: 8.5
Star Rating: 5 stars
Address: Boulevard Kukulcan KM.17 Zona Hotelera, 77500 Cancún, Mexico 
---
7. Royal Solaris Cancun
Royal Solaris Cancun is a stunning family resort overlooking Nichupte lagoon or the Caribbean Sea.
You will not get enough of the view from your bright and elegant room.
There will be something new to try each day: from live-themed shows to sports activities.
You can relax by the pool while keeping an eye on your kids playing in the animal-themed water park.
If you want some time for yourself, there is a variety of supervised activities for children at the Mini water park.
Then, you can try their exquisite wellness and spa services at the Beauty Salon.
Have a drink or a delightful bite at one of the on-site restaurants open from 6:30am to 10pm.
Being an all-inclusive resort, you can eat as much as you want.
Choose from a Japanese sushi bar, Italian pizza, or just eat everything at their Mexican buffets. 
Guest Rating: 8.3
Star Rating: 4 stars
Address: Blvd. Kukulcan Km. 20.5. Lote. 64 2a etapa. Sección A, Zona Hotelera, 77500 Cancún, Mexico 
---
8. Seadust Cancun Family Resort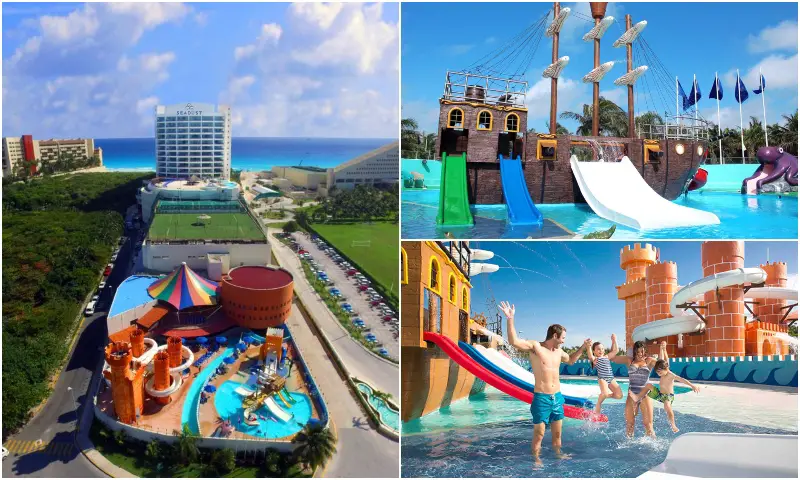 Excitement for all ages can be found at this all-inclusive beachfront resort.
Watch your kids have endless fun at the Treasure Island water park while you're sipping a cocktail by the pool.
Have quality family time with minigolf, zip lines, and a climbing wall.
You'll find entertainment at night too with professional art shows.  
The resort houses a fitness center so you can maintain your workout routine.
Meanwhile, let your kids play safely at the Baby or Kids club.
Teens will find their fun retreat at the PlayRoom.
The resort also features 11 restaurants and bars, as well as luxurious spa amenities for your ultimate relaxation.
Guest Rating: 8.2
Star Rating: 5 stars
Address: Boulevard Kululcan Km 17 Lote 52 04, 77500 Cancún, Mexico 
---
9. Royalton Riviera Cancun Resort & Spa 
Hours of fun at the pool, water sports, pure relaxation at the spa – whatever you're after, you'll find it at Royalton Riviera!
A spacious splash park with animal features and mushroom fountains will make your kids want to stay there forever.
You'll feel the same after you stay at one of the fully-appointed suites with a hot tub and sweeping ocean views.
For refreshment, there is a number of vibrant bars on-site, including a swim-up bar.
Savor local and international cuisine at one of the resort's nine restaurants.
To keep your energy up, exercise with the latest equipment at the fitness center and then unwind at the Royal Spa.
This is another fun resort ideal for families with young kids.
Guest Rating: 8.2
Star Rating: 5 stars
Address: Carretera Federal 307 Tulum-Cancun Km 332,15, SM31, MZ 03 77500, 77500 Puerto Morelos, Mexico
---
10. Crown Paradise Club Cancun
This beautiful all-inclusive Cancun hotel provides comfortable accommodation and numerous family-friendly amenities.
Each spacious and modern room features a balcony with a stunning beachfront view.
You'll have access to a multi-purpose court, a gym, and an exclusive area for adults.
Of course, there is also an exciting water park, as well as relaxing pools surrounded by breathtaking vistas.
Teenagers will love the winding water slides, while toddlers have a whole splash park themselves.
This section includes a pirate ship, castle, and 9 mini water slides.
You can also enjoy a poolside massage or soak in the sun-kissed hot tub.
Kids will also love spending time at the Baby and Kids Paradise playroom.
At night, choose from five specialty on-site restaurants, then enjoy the evening live show.
Guest Rating: 8.1
Star Rating: 5 stars
Address: Boulevard Kukulcan Km 18.5, 77500 Cancún, Mexico
---
11. All Ritmo Cancun Resort & Water Park
All Ritmo Cancun guarantees fun and comfort for the whole family.
Rooms are spacious, colorful, and fitted with all the necessary amenities.
But it's their fun water park which kids will love.
Get drenched under the tipping bucket, relax under a mushroom fountain or slide down their slippery water slides.
While your kids are playing, you can relax at the poolside Oasis bar.
The pool is also visible from the charming El Palmar restaurant that features daily themes such as Italian and Mexican night.
Whether you want an active holiday full of activities or some relaxing quality time with your family, you'll have a wonderful stay at the All Ritmo Resort.
Guest Rating: 7.1
Star Rating: 4 stars
Address: Carretera Pto. Juarez-Pta Sam, 77500 Cancún, Mexico 
---
Cancun Water Park Resorts Map
If you want to check out more luxury hotels, read our guide:
For activities in Cancun, check out:
Find More Cancun Family Resorts
FAQs
Which family resort in Cancun has the best waterslides?

A family resort with the largest waterslide is Dreams Playa Mujeres Golf & Spa Resort.

They have 2 giant winding slides about 4 stories high.

This outstanding beachfront resort also provides refined amenities and daily activities for the whole family.

Besides the exciting water park, the resort's vast and beautifully decorated pool area features a lazy river, hot tubs, and infinity pools.

Which family resort in Cancun has the best lazy river?

The best Cancun family resort with a beautiful, long lazy river is Dreams Playa Mujeres Golf & Spa Resort.

Plenty of recliners are also available next to the lazy river, so you can jump out anytime for more lazy napping!
Which family resort in Cancun has the best pirate ship water park for kids?

Panama Jack Resort will ensure you a wonderful stay in Cancun and endless fun for your kids at their pirate-themed water park.

A big pirate ship with waterslides and a pool cannon will make them feel like a true pirate of the Caribbean.

Another stunning and all-inclusive resort with a fun pirate ship water park is Seadust Cancun Family Resort.
What's the best all-inclusive family resort with a water park?

The best all-inclusive family resort on our list is Hyatt Ziva Cancun – eat and drink all you want in the luxurious comfort of this beachfront resort.

Spacious rooms with modern design and astonishing views, family-friendly amenities, and vibrant restaurants will turn your vacation dreams into a reality.

Your kids will love the resort's little water park, pool games, and KidZ Club activities.
Summary