If you're planning a trip to Paris, there's an overwhelming number of places to see.
The city caters to culture buffs, foodies, romantic couples, and more importantly, tourists.
With sights such as the Eiffel Tower and the Louve, you'll never get bored.
That's why Paris is one of the most visited cities in the world.
And of course, this comes with long queues at many attractions.
To counter that, we'll show you the best places to visit in Paris on private tours to help you bypass the crowds.
---
1. Eiffel Tower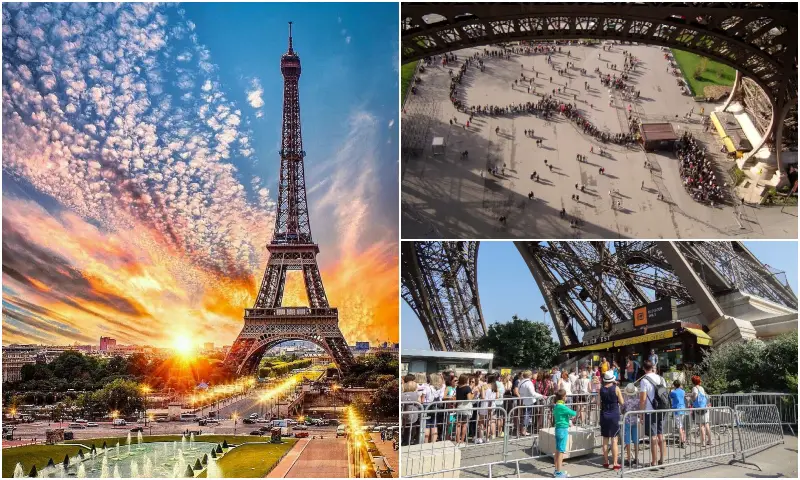 On your Parisian vacation, the Eiffel Tower is must-see.
Designed for the 1889 World's Fair, it welcomes 7 million visitors yearly.
That said, tickets to the Eiffel Tower sell out quickly and can be rather hard to find.
If you come here in the summer, you must book months in advance just to be allowed up.
That's where guided tours or private tours lend a helping hand.
Tours skip the line at the entrance and take you up to the Eiffel Tower without fuss.
Look through the glass floor on the first level for a different perspective.
Or head up to the summit for those spectacular city views of Paris.
Several tours combine this activity with Seine dinner cruises, perfect for couples.
Enjoy the views of the twinkling Eiffel Tower while sipping on wine on a boat.
Opening Hours: Daily 9:30am-10:45pm
Address: Champ de Mars, 5 Av. Anatole France, 75007 Paris, France
---
2. Arc de Triomphe
Arc de Triomphe is the second largest Arc in the world.
It sits in the middle of a huge round-about where twelve avenues meet.
Perhaps the most popular time to visit is around 6:30pm.
This is when the eternal flame under the arc ignites, a worthy sight to see but it does get crowded.
You can also walk to the top of the Arc where there's an observation deck.
Besides the Eiffel Tower, this is one of the best places for Paris views.
Lucky tour participants also get special access to the monument after hours.
Join a tour to encounter Arc de Triomphe in an unlikely setting.
Opening Hours: Daily 10am-10:30pm
Address: Pl. Charles de Gaulle, 75008 Paris, France
---
3. Louvre Museum
Delve into the world of fine art by taking a private tour of Louvre.
It is home to one of the world's richest painting collections.
You can find works from all historic eras here, up to the Revolutions of 1848.
These include masterpieces such as the Mona Lisa by Leonardo da Vinci, which is always crowded.
While there are tours during the day, the best time to visit Louvre is at night.
Sidestepping the queues, your guide will lead you around the museum with purpose, pointing out important tidbits.
Learn about the little-known facts of the pieces on exhibition here.
As part of the tour, go on to participate in a wine tasting workshop at an established bar nearby.
Or end your night by sampling French delicacies at Café Marly.
Opening Hours: Daily 9am-6pm; Friday 9am-9:45pm; Tuesday closed
Address: Rue de Rivoli, 75001 Paris, France
---
4. Orsay Museum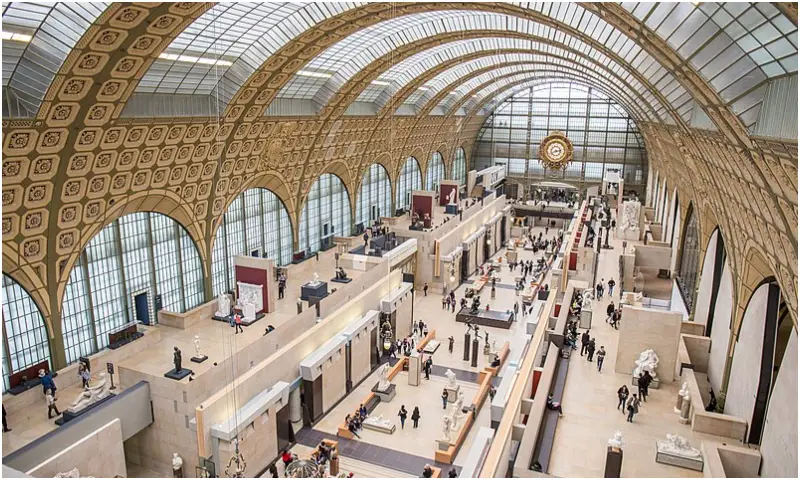 Further your art gazing in Paris by a stopover at Orsay Museum.
Built along the banks of the Seine, the building itself has been used for multiple purposes.
It was a train station, a hotel, an auction house, a theatre, before it was remodeled into an art museum.
By taking part in a private tour, you'll hear about the unique history of the museum as such.
Moreover, you'll study the remarkable artworks here, from artists such as Monet and Renoir.
Your guide even lets you in on the secrets behind the pieces.
As a completion of your tour, savor a delicious meal under the glittering chandeliers.
The Musée d'Orsay restaurant has excellent daily lunch specials.
Opening Hours: Daily 9:30am-6pm; Thursday 9:30am-9:45pm
Address: 1 Rue de la Légion d'Honneur, 75007 Paris, France
---
5. Palais Garnier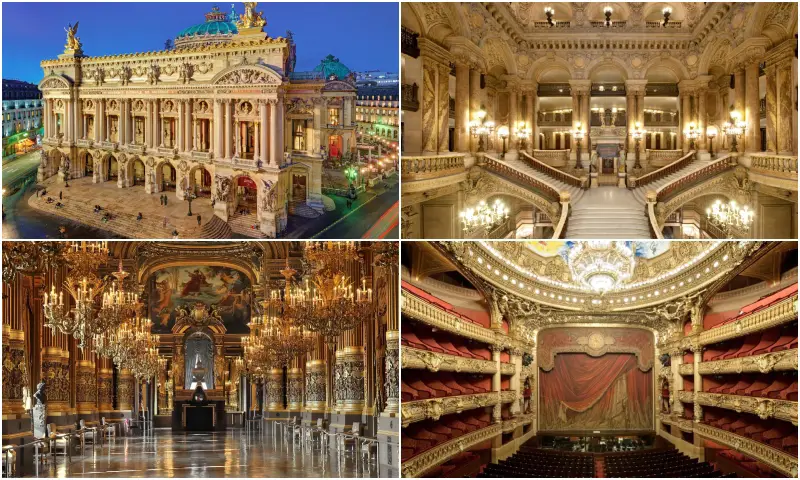 Dress up to go behind-the-scenes at Palais Garnier.
Inspired by the Renaissance architecture of Versailles, its interior is a grand affair.
High-vaulted ceilings, crystal chandeliers, and grand staircases mesmerize visitors.
Apart from opera and ballet performances, guests get backstage pass to Palais Garnier as well.
Tours take you through the Grand Staircase and Foyer, Auditorium, and Library.
Trail after the characters of The Phantom of the Opera in its original setting.
And see the theatre box that the author used to frequent here.
A more in-depth, but pricier experience incorporates normally unseen parts of Palais Garnier.
See the cabestans room, sewing workshops, and costume & wig department.
There are generally private tours throughout the day but you do need to book early.
Opening Hours: Daily 10am-5pm; close during performances
Address: Pl. de l'Opéra, 75009 Paris, France
---
6. Palace of Versailles
A 40-minute train ride away from Paris, plan a perfect day trip to the countryside.
The Palace of Versailles was built under Louis XIV's reign in the 17th century.
It is a huge estate spread over more than 800 hectares and has several "outhouses".
While you can stroll around the outside grounds for free, other areas require an entrance fee.
But if you want to learn more, there are exclusive walking tours around the Versailles Gardens daily.
On a private tour to the Palace, the Hall of Mirrors and the State Apartments are the main highlights.
Don't miss the interesting history of the Stables as well.
We advise you spend the night at a nearby hotel, because exploring Versailles is not a one-day excursion.
Waldorf Astoria Versailles and Hôtel Le Versailles are popular places to stay.
Opening Hours: Summer 9am-6:30pm; Winter 9am-5:30pm; Monday closed
Address: Place d'Armes, 78000 Versailles, France
---
7. Conciergerie
Delve into the mysteries of Paris, at Conciergerie.
This Gothic Palace keeps dark secrets hidden within its walls.
Once a Royal residence, then a Revolutionary prison, it tells a complex story of the city.
Tour participants can roam around the huge columns of the Hall of the Men-at-Arms.
It is the largest non-religious Gothic Hall in Europe.
See inside prison cells and the commemorative chapel, where Marie-Antoinette was imprisoned.
Don't leave without paying tribute to past prisoners at the Hall of Names.
Occasionally, they have featured exhibitions and events onsite.
Opening Hours: Daily 9:30am-6pm
Address: 2 Bd du Palais, 75001 Paris, France
---
8. Sainte Chapelle
Alongside Conciergerie, Saint-Chapelle is another Gothic masterpiece in Paris.
Constructed in the 13th century, this Rayonnant Gothic chapel is one of the jewels of the city.
The 1,113 stained glass windows make a breath-taking sight.
Arrange your arrival around the 30-minute acoustic performances.
Glory is a remarkable sound work within the chapel offering an intimate atmosphere.
Other special times to visit include Christmas and New Year's Eve.
Seasonal concerts are held throughout the year too.
To get the most out of your tour, walk through the other attractions of district Île de la Cité as well.
You'll get a discounted price, if you take a combined walking tour.
Opening Hours: Daily 9am-5pm
Address: 10 Bd du Palais, 75001 Paris, France
---
9. Les Invalides
The 7th Arrondissement of Paris accommodates most of the city's touristy locations.
The Hôtel National des Invalides is one of them.
Easy to spot due to its majestic Dome, Les Invalides was erected in the 17th century.
It is a complex of museums and monuments recounting the military history of France.
Les Invalides fulfils its original purpose too by serving war veterans as a hospital.
History buffs will love the tours that recite the conquests of Napoleon Bonaparte.
Even more when you spot his bronze sculpture guarding Court of Honor.
Stop by Saint-Louis Cathedral also, which is Paris's second cathedral, besides Notre-Dame.
Opening Hours: Daily 10am-6pm
Address: 129 Rue de Grenelle, 75007 Paris, France
---
10. Centre Pompidou
You'll find Centre Pompidou in one of Paris's oldest districts, Beaubourg plateau.
Designed by two European architects, its structure resembles a heart fed by gigantic arteries.
Labelled one of the quirkiest buildings in Paris, it offers 7 floors of entertainment.
Wander around Floors 4 and 5, which house Europe's largest collection of contemporary art.
Let a local art historian enlighten you about Cubism and Conceptualism.
This includes legendary pieces created by Henri Matisse or Giuseppe Penone.
Come on Sundays for the English guided tours organised by the museum.
Additionally, attend the exhibitions in Centre Pompidou's gallery space.
Come sunset, make your way up to the rooftop terrace to have a meal in style.
You'll love the stunning views of the Eiffel Towel at Restaurant Georges.
Opening Hours: Daily 11am-9pm; Thursday 11am-11pm; Tuesday closed
Address: Place Georges-Pompidou, 75004 Paris, France
---
11. Musée de l'Orangerie
Situated in the Tuileries Gardens, this art gallery is amid beautiful greenery.
More on the smaller side, Musée l'Orangerie has welcomed visitors since 1927.
In the past, this space was used to store orange trees in the winter.
That's where the name comes from.
Modelled after a greenhouse, the gallery has large windows and a skylight.
This make art gazing here a unique experience.
Today, the gallery is most known for Les Nymphéas, the large murals of Monet's water lilies that are painted on its walls.
Tour participants can also browse the Walter-Guillaume permanent collection.
After the tour, take a stroll around the Tuileries Gardens.
Or consider a stopover at nearby Ladurée, an upscale bakery famous for its macarons.
Opening Hours: Daily 9am-6pm; Tuesday closed
Address: Jardin Tuileries, 75001 Paris, France
---
12. Paris Catacombs
The Paris Catacombs is a maze of historic underground passages. 
On this tour, you'll walk down the stairs into the tunnels of former quarries.
Learn the stories behind the six million people, where Blaise Pascal and Robespierre were also buried.
Exclusive tours give you access into secret rooms, which are not included in normal routes.
Wear comfortable shoes when visiting the Paris Catacombs.
Be prepared for the damp smells, slippery stairs, and general darkness.
For further chilling adventures, take part in the nightly Ghost tours around Paris.
As an alternative, watch an old movie at the cinema around the corner.
Opening Hours: Daily 9:45am-8:30pm; Monday closed
Address: 1 Av. du Colonel Henri Rol-Tanguy, 75014 Paris, France
---
13. Père Lachaise Cemetery
Organize a thrilling outing in Paris at Pére Lachaise Cemetery.
Located in the 20th Arrondissement, it's the most fulfilling and free activity in the city.
While a cemetery tour sounds a bit eerie at first, the knowledge you gain about Paris's past is astonishing.
Survey the numerous styles of funerary art and architecture on display here.
Keep an eye out for the tombs of Oscar Wilde, Colette, and Jim Morrison.
You can explore the cemetery by yourself or sign up for the daily 2-hour guided tours.
Local guides will have a fountain of insight into Pére Lachaise Cemetery.
From anecdotes and odd rituals to the most unknown burials, they give you all the details.
Around Halloween, the cemetery is also lit up by candlelight.
This makes for a rather nostalgic scenic stroll.
Opening Hours: Monday to Friday 8am-6pm; Saturday 8:30am-6pm; Sunday 9am-6pm
Address: 16 Rue du Repos, 75020 Paris, France
---
14. Latin Quarter
On the left bank of the Seine, the Latin Quarter is a lively district to roam around.
Locals and tourists alike flock to the Latin Quarter for its bohemian atmosphere.
Main attractions include the Sorbonne University and the Pantheon.
Movie fanatics might recognize the streets from Woodie Allen's 'Midnight in Paris'.
Whether you opt for a walking or a bike tour, the Latin Quarter does not disappoint.
An intellectual's paradise, it has a long history for catering to artists.
Be prepared for cute cafés, botanic gardens, and open-air museums.
Stop by one of the bookstores too, particularly Shakespeare and Company.
And for a refuel, Dose has the best coffee.
Opening Hours: Daily 24/7
Address: Paris, France
---
15. Montmartre
Climb stairs upon stairs in this charming hilltop of Paris.
One of the trendiest districts to visit in the city, there are many private tours to choose from.
You'll find walking tours, art tours, and food and wine tasting opportunities as well.
Walk up to the highest natural point of Paris, to the steps of Sacre Coeur Basilica.
Visit vintage and food markets, then browse street art.
Attend a bakery tour, where you are taught the inside secrets to a perfect French bread.
You'll even leave with freshly baked baguettes and croissants for free.
Reserve a table for brunch at La Maison Rose, the pink café that Picasso used to frequent.
If you're visiting in October, you'll find grape harvests all around Montmartre.
Come for La Fete des Vendanges festival, which is the best and only time you can enter Paris's sole vineyard.
Opening Hours: Daily 24/7
Address: Paris, France
---
16. Le Marais
At the heart of Paris, Le Marais medieval architecture feels like rewinding time.
Cobblestoned lanes, centuries-old mansions, and artisan markets enrich this district.
Once the city's Jewish quarter, you will still find plenty of kosher restaurants here.
Besides that, Le Marais is a foodie's dream for its various gourmet bistros.
Sign up for a chocolate or patisserie tour for the best samples.
Or take a baking class to make your own gooey goodies.
Le Marais is also a good area to visit for its art and LGBTQ scene.
Eclectic bars and art galleries can be found at every corner.
Maison de Victor Hugo and the Picasso Museum are a couple of must-see attractions.
After you've collected all the delicacies of Le Marais, have a picnic at the iconic Place des Vosges.
Opening Hours: Daily 24/7
Address: Paris, France
---
Paris Places to Visit Map
Find More Private Tours in Paris
---
FAQs
What's the best place to visit in Paris at night?

The Eiffel Tower is undoubtedly the best place to visit in Paris at night.

Enjoy a glass of champagne, while gazing at the city under your feet.

Or organize a picnic as you watch the Eiffel Tower light up and twinkle at night.
What's the most beautiful place to visit in Paris?

Although Paris is full of attractions, the Palace of Versailles is in a league on its own.

Exploring the Palace and its Gardens feels like being in a fairytale-history book.

During the summer, come here for the evening fountain light installations.
What's the most unusual place to visit in Paris?

A cemetery might be the most unusual place on your Parisian travel itinerary.

However, Pére Lachaise is just too good of a spot to omit.

Combine your scenic walk with seeing funerary art in Paris.

The candlelit atmosphere around Halloween will definitely make a lasting impression on you.

Sticking with the ghostly theme, Paris Catacombs is another unusal place to visit in Paris.
What's the best place to visit in Paris for honeymoons?

For couples on honeymoons, we recommend checking out Palais Garnier.

Dress up for the night and see a ballet or opera performance at this historic venue.

Its high-vaulted ceilings and crystal chandeliers make touring it an intimate affair.

Not to mention, its the perfect selfie background for your honeymoon photo.

Make it a romantic date and combine this with a Seine River cruise.
Summary