Once the sun goes down, Bangkok transforms into the liveliest city in Southeast Asia.
Bangkok is full of great party streets, each one different from the next.
There is plenty to see, swanky clubs, rooftop bars, night markets, live music, and go-go bars.
With such a crazy nightlife in Bangkok, choosing where to go and what to do can be too much.
So where do you start?
We've put together a list of the best places to visit at night in Bangkok.
From trendy clubs and bars to Bangkok's best night markets, we'll show you where to go.
Let's start with the Bangkok areas with the most action. 
Best Nightlife Areas
Thonglor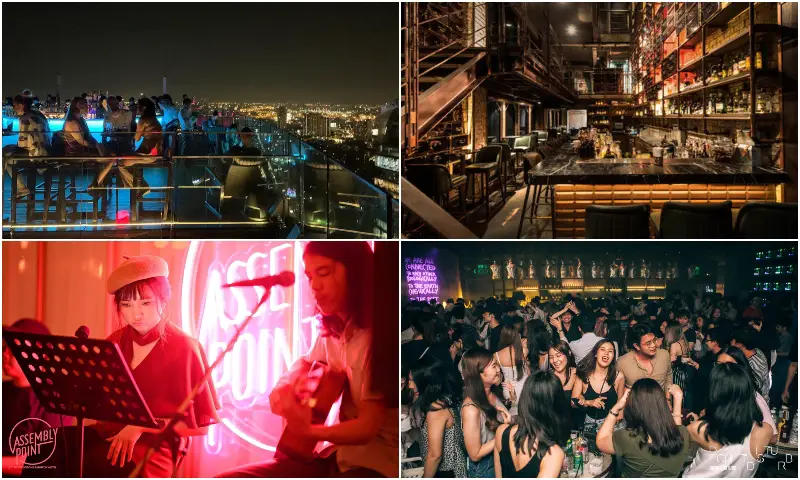 Thonglor is Bangkok's trendiest nightlife area, popular with Thais and Western visitors.
Here you'll find the city's best restaurants, cocktail bars, and nightclubs, with dress codes to match.
You need to dress to impress – flip-flops aren't allowed in Thonglor.
Like many of Bangkok's party areas, Thonglor is near Sukhumvit Road.
The bars and clubs are all accessible to BTS stations Thong Lo and Ekkamai.
Here are some of Thonglor's most popular places:
Soul Food 

Mahanakorn

 – This restaurant serves delicious Thai food and cocktails with a Thai twist. Diners come from all over for the tamarind ribs and Thai tequila cocktails.

 

DND – For those who like to dance, DND (Do Not Disturb) features live bands, and DJs until 2am. There's no cover charge, and mixers and ice are free when you buy a bottle.
Iron Fairies – Iron Fairies is one of 

Thonglor's

 popular cocktail Bars. They're famous for handcrafted cocktails and giant cheeseburgers. They feature live blues and jazz 

every night

from 9pm.

 
---
Silom Road
By day Silom is the financial center of Bangkok.
At night it's one of the hottest spots in the city. 
Silom's nightlife is famous because of its red-light district Patpong. 
But there's more to do at night than go-go bars and strip clubs. 
You'll find a nice variety of rooftop bars, nightclubs, and cocktail bars. 
And they're all accessible to BTS stations along Skytrain's Silom line. 
These are some of Silom's well-known bars and clubs : 
Lebua

 Sky Bar – Featured in the Hangover II movie, this bar is a popular tourist stop. It's a great place to enjoy a cocktail and a beautiful view of the city.

 

Maggie Choo – Located behind an old wooden door, Maggie Choo's is one of the coolest bars in the city. This 1930's Shanghai speakeasy features fancy cocktails and live jazz nightly.

 

The Club at Koi – The Club at Koi is the hottest nightclub in Silom because of its 

top-notch

entertainment. Every night Thai and top international DJs spin the best hip hop, house, and techno tunes.
---
Sukhumvit Soi 11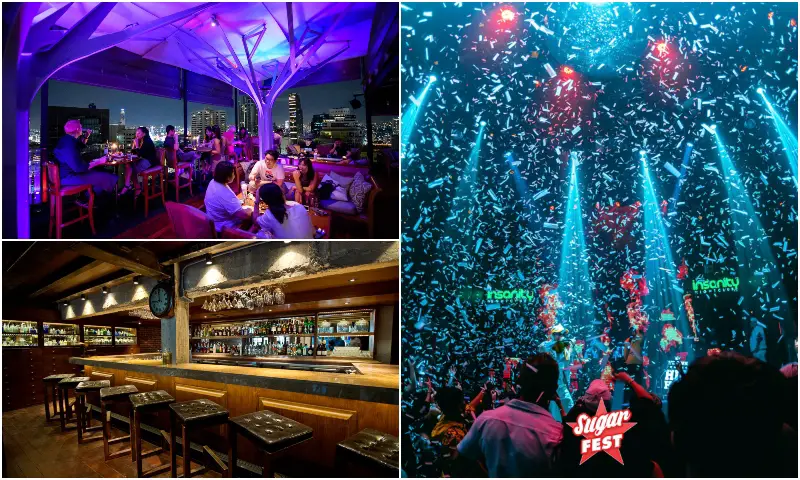 Sukhumvit Soi 11 is one of the most entertaining streets in Bangkok. 
Famous for its bar scene its full of nightclubs, bars, and pubs. 
You'll find everything from rooftop bars to live music venues. 
On Soi 11 you'll meet ex-pats and tourists from all over the world as well as locals. 
If you're planning a big night, it's best to get off at BTS Nana station which is only a short walk to Soi 11. 
Have a look at some of Soi 11's best choices: 
Levels – Levels is a rooftop bar, cocktail lounge, and nightclub rolled into one. With one of the best sound systems and top DJs, their dance music is the best in Bangkok. It's also a great place to meet Thai girls and freelancers.

 

Above Eleven – Above Eleven overlooks Soi 11 From the 33

rd

 floor of the Fraser Suites Hotel. They offer great city views, refreshing cocktails, and Peruvian Japanese cuisine.

 

Apoteka

 –

Apoteka

is the best live blues pub in Bangkok. They feature live music every night as well as beer spirits and Thai-style tapas.

 
---
RCA (Royal City Avenue)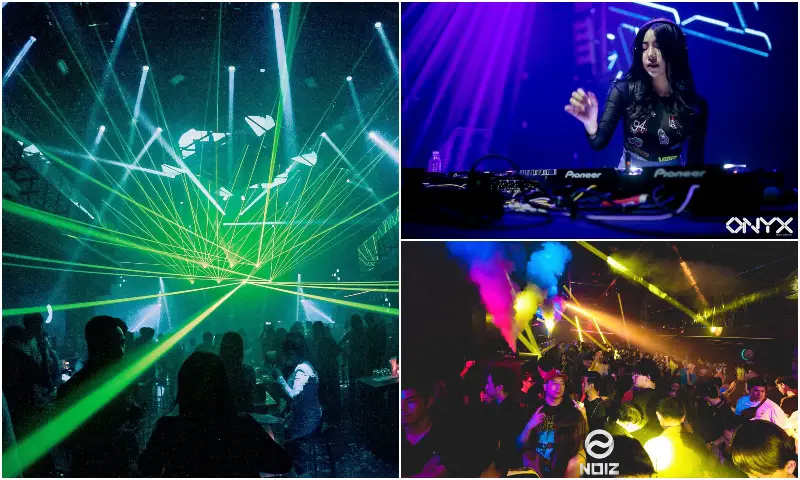 RCA is the center of the club scene in Bangkok, with some of the best dance floors in the city.
Here you'll find the best live artists and the best local and international DJs.
RCA is one of Bangkok's designated nightlife zones, so you can party till the wee hours. 
In RCA, you'll find a mix of affluent Thais, ex-pats, and tourists. 
RCA is just a short taxi ride from either BTS Asoke or Phrom Phong 
These are the hottest dance clubs in RCA: 
Route 66 – Route 66 is legendary for its wild weekend parties. They're open 7 nights a week and try to cater to all musical tastes. There's a 

300 baht

 entry fee for 

foreigners,

which can be redeemed for drinks inside.

Onyx – Onyx brings the European big club experience to Bangkok. With a capacity of 2000 and top-notch DJs rocking the house, it's one of a kind. Throw in a laser show and confetti bombs, and you've really got a party.

 
---
Khao San Road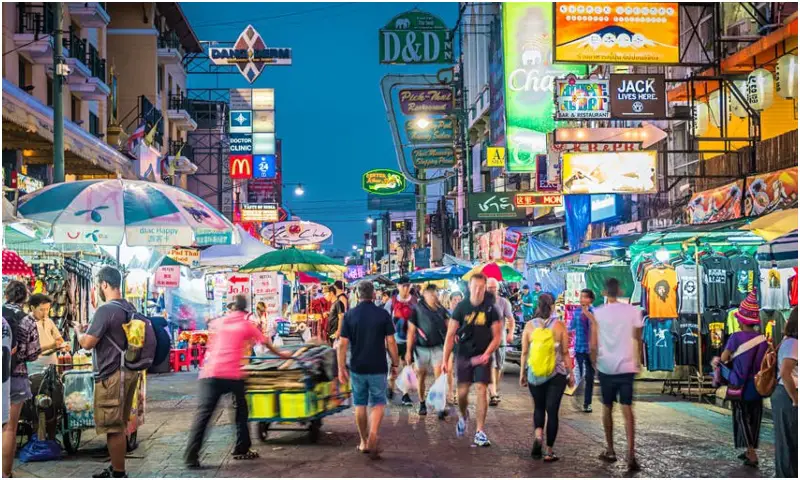 Khao San Road is Bangkok's most popular nightlife area for tourists on a budget. 
It's one kilometer of guesthouses, restaurants, bars, and clubs. 
There are upscale bars, nightclubs, street food vendors, and sidewalk cocktail stalls. 
There's even a night market with cheap souvenirs and t-shirts. 
You'll find a crowd mixed of locals, tourists, and backpackers all looking for a night of fun on Khao San Rd. 
These are some of Khao San Road's popular nightspots: 
The Club – This is the go-to late-night spot for real dance music. They feature a huge dancefloor, a JBL sound system, and a

state-of-the-art

laser show. It's popular with locals, so it's a great place to socialize.

 

Lava Gold – Lava Gold is a late-night dance club in the heart of Khao San Road. They have some of the best DJs, cocktails, and stunning laser show in the city. This is Bangkok's top hip-hop club, and the party doesn't stop until the early hours. 
Brick Bar – The Brick Bar is where the locals go on Khao San Road. The big draw is their talented Thai house band. The jazz, blues, reggae, and original tunes pack in the locals and the tourists.
---
Chinatown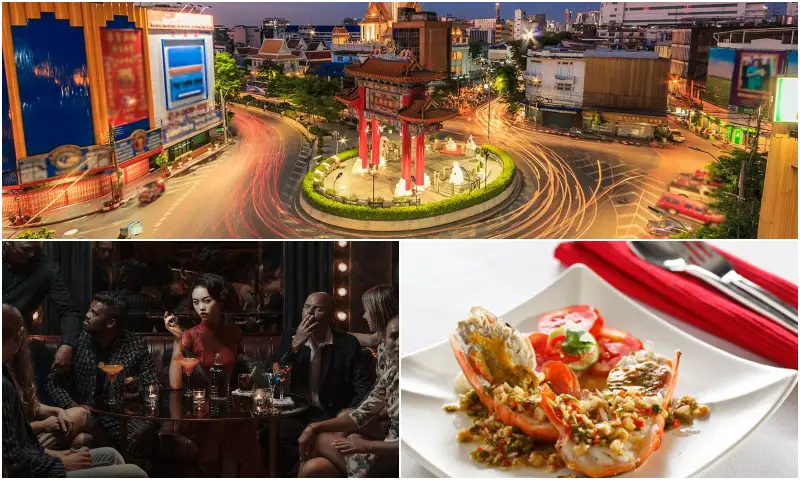 Bangkok is home to the world's largest Chinatown, and at night it becomes one big restaurant. 
After dark, Chinatown's streets are filled with a variety of different foods. 
If you love seafood, head to Chinatown's main street Yaowarat Road. 
Here you'll find everything from stir-fried squid and crab to sweet and sour shrimp. 
If you love sweets, don't forget to try the hot sesame dumplings and other baked treats. 
Chinatown is also home to some of Bangkok's best bars and restaurants. 
These are some of the local favorites: 
Fai Kaew – This seafood stall on 

Yaowarat

Road is full every night. Their stir-fried crab and squid are legendary. The cook is a real crowd-pleaser, shooting flames into the air as he cooks each seafood dish.

 

Sky View 360 – This rotating restaurant offers panoramic views of Chinatown. They serve Thai, European, and Chinese food with live piano music while you eat. On the top floor of the Grand China

Hotel, it's

 the perfect break from busy 

Chinatown.

 

Tep Bar – Tep Bar is famous for its potent cocktails made with Thai fruits, herbs, and spices. They also serve "

Ya

dong" Thai herbal whiskey, aka moonshine. Each night musicians play traditional, regional music from Central Thailand.

 
---
Summary
| | |
| --- | --- |
| Bangkok Nightlife Areas | Best Venues |
| Thonglor | Soul Food Mahanakorn, DND, Iron Fairies |
| Silom | Lebua Sky Bar, Maggie Choo, Club at Koi |
| Sukhumvit Soi 11 | Levels, Above Eleven, Apoteka |
| RCA | Route 66, Onyx |
| Khao San Road | The Club, Lava Gold, Brick Club |
| Chinatown | Fai Kaew, Sky View 360, Tep Bar |
Places to See
Rooftop Bars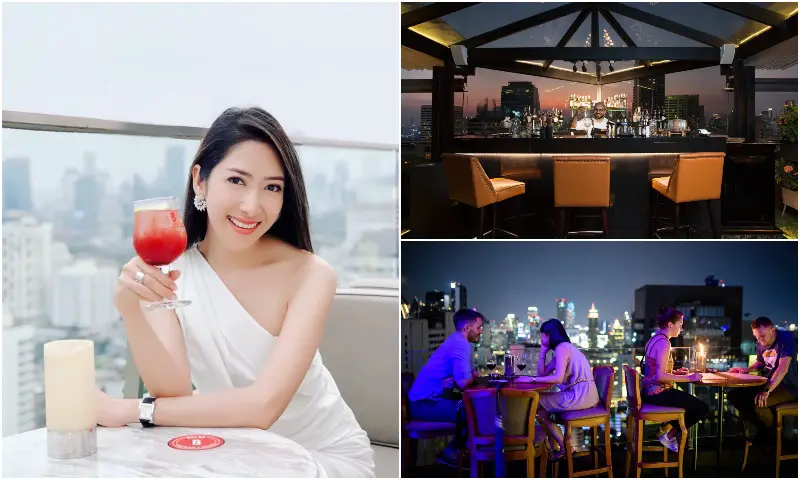 The best way to escape Bangkok's hot, busy streets is to relax in one of the city's many rooftop bars. 
There are literally hundreds of rooftop bars around the city. 
The best rooftop bars combine perfectly mixed cocktails with sweeping views of Bangkok's skyline. 
They're the perfect place to relax with friends or party the night away while the city's lights sparkle below. 
When you have so many options, it's hard to choose. 
So here are some of the best choices: 
Octave – Octave is more than a place to watch the sunset or have 

a romantic

 drink. On the 45

th

floor of Sukhumvit Marriot, it's one of the city's highest places for a party. No rooftop bar in Bangkok has a 360-degree view of the city to match Octave.

 

Cielo Rooftop Skybar – Located in Bangkok's W district, this out-of-the-way rooftop stands out from the crowd. Cielo features affordable drinks, a great view, and a front-row seat for amazing sunsets. Their pina coladas, mojitos, and

mai

 

tais

 are the best in Bangkok.

 

Red Sky at Centara Grand – Red Sky is the rooftop bar on the top floor of the Centara Grand Hotel. Enjoy the sunset and a martini while listening to their excellent jazz quartet. Red Sky offers 2 for 1 happy hour specials every day from 4 pm.

 
---
Cocktail Bars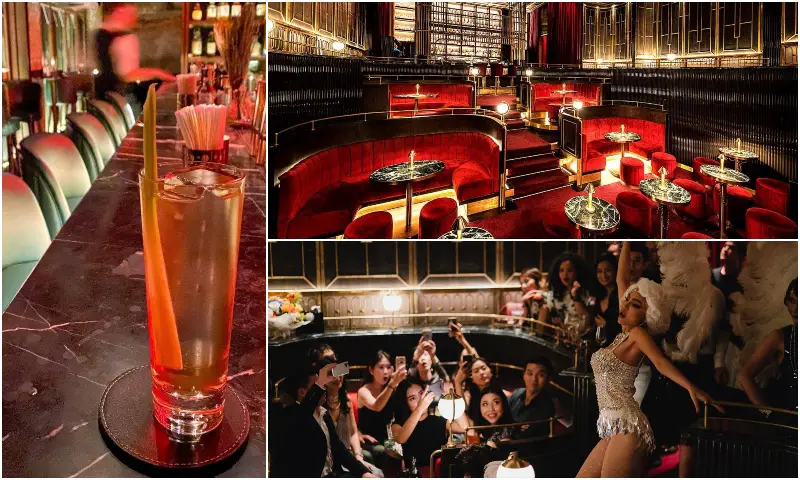 Bangkok is home to the hippest cocktail bars in Southeast Asia. 
You'll find American prohibition speakeasies hidden down alleys or behind wooden doors. 
Try cocktails made from recipes and ingredients over 100 years old. 
Bangkok's cocktail bars feature award-winning bartenders with their own signature drinks. 
You'll find cocktails made with Thai fruits and spices giving them a unique Thai flavor. 
In most Bangkok districts, there's a cocktail bar waiting for you. 
These are some of Bangkok's best: 
008 Bar – 008 is a speakeasy bar with 

cocktails inspired

by American Prohibition. Their signature cocktails feature ingredients not used since the 1920s. As part of their 1920's theme, they feature live jazz nightly.

The Bamboo Bar – Bamboo Bar on the first floor of the Mandarin Oriental Hotel is a Bangkok institution. Their cocktails, inspired by various regions of Thailand, use only Thai ingredients. If you like jazz, Bamboo Bar has live bands every night.

 

Thaipioka

 – 

Thaipioka

is a tropical cocktail bar. They serve traditional cocktails made from unique ingredients like black sesame and mangosteen. If you like hip hop, 

Thaipioka's

DJs play all your favorites until 2am.

 
---
Cigar Lounges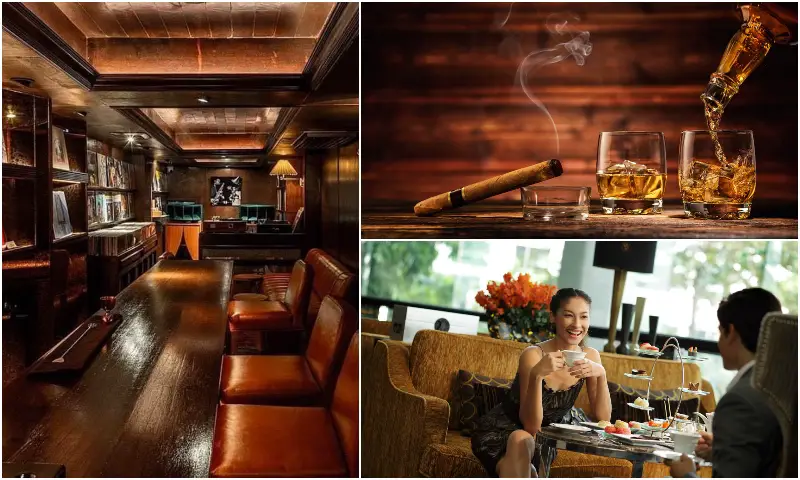 Cigars have always been a part of Bangkok's nightlife. 
Good whiskey, smooth jazz, and premium hand-rolled cigars are a perfect combination. 
Like all perfect combinations, they must be enjoyed in the perfect location. 
In Bangkok, the perfect location is a cigar bar. 
The city is home to some of Asia's best cigar lounges, with hand-rolled cigars, great music, and top-shelf whiskies. 
These three are the best of the best:
Whisgars – Whisgars is a whiskey and cigar bar with a large selection of single malt whiskies. They offer a large variety of cigars from Nicaragua, the Dominican Republic, and Honduras. With its live jazz band, it's a relaxing spot for a drink and a smoke.

 

Character – Character features the largest non-Cuban cigar menu in Bangkok. They offer smokers cigars from Nicaragua, Honduras, and even Jamaica. The bar serves only the best single malts, either by the bottle or by the glass.

 

Cigar One – Cigar One offers premium cigars, single malts, and signature cocktails. Smokers can choose from Cuban or other imported cigars. Master barman Khun Boonsri is famous for his Thai-

Jitos

 and Tom Yam martinis.

 
---
Brew Pubs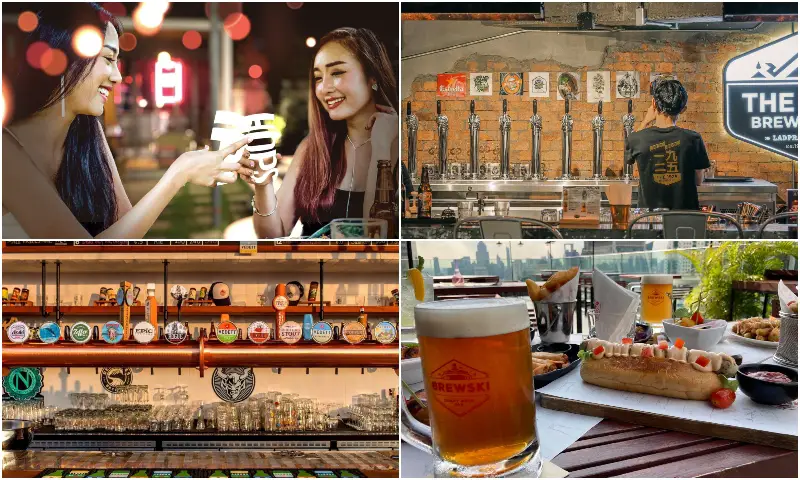 Bangkok has plenty of beer choices, thanks to the growing number of craft brewpubs. 
Craft beer is better than regular beer. 
It's brewed with the best ingredients and only in small batches. 
Thanks to the variety of craft beers available, you can try a different brew every night. 
Bangkok's brewpubs offer more than just beer though. 
Many feature great food, live sports, and bar games like pool and darts. 
Some even have live music.
You can start off at these pubs to get a real taste of nightlife in Bangkok.
Craft Sukhumvit 23 – Craft serves over 40 craft beers on tap and another 50 in the bottle. They also serve amazing bar dishes, like their signature pastrami sandwiches and burgers. Craft also has 4 big screens playing

all your

favorite sports.

 

Brewski – From the

 

30

th

 floor of 

the Radisson Blu Hotel, Brewski offers

a scenic

view of Sukhumvit. They feature 12 taps and over 100 bottles of different craft beers. They also serve delicious bar favorites, fish and chips, burgers, and tasty appetizers.

 

Beer Belly – Beer Belly is a beer lover's paradise, serving craft beers and seasonal brews. Their 20 taps rotate different brews daily. If you are looking for activities to enjoy with friends, there's a pool table, darts, and ping-pong.

 
---
Live Music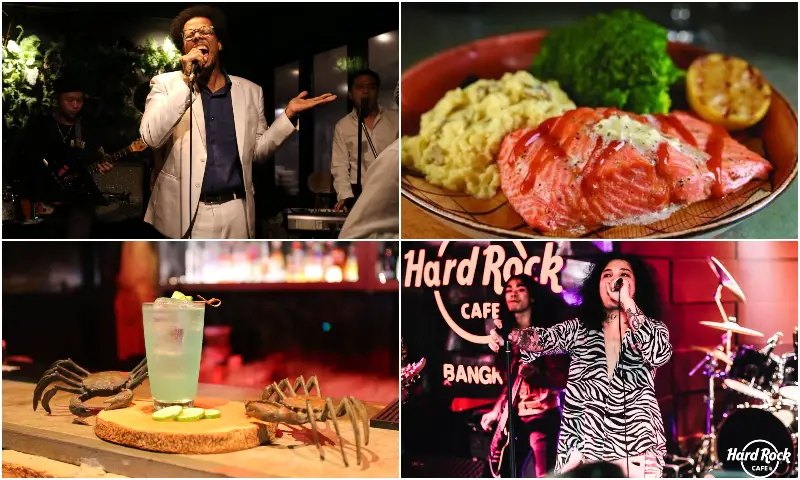 In a city with such a lively nightlife as Bangkok, cool live music bars aren't hard to find. 
Whether it's jazz, blues, rock, or hip hop, there's at least one bar in town playing live. 
Most of Bangkok's live clubs are easy to get to. 
They're all located close to the city center or other party streets like Khao San Road. 
There are plenty of clubs to choose from, but these are the ones to check out first: 
The Rock Pub – There aren't many clubs left playing live rock. There's one, and that's The Rock Pub. They cater to rockers with grunge, metal and hard rock acts every night. Thailand's famous rocker Lam Morrison performs frequently.

 

Black Cabin Bar – Black Cabin Bar is a must for lovers of original live music. Every night features a mix of contemporary jazz, blues, indie rock, and soul. The crowd is a cool mix of Thais and Ex-pats, so everybody's welcome.

Their signature drinks are award-winning.

Saxophone Bar – Saxophone Bar is one of Bangkok's oldest and 

best-known

jazz clubs. Live music is on the bill every night with a mix of jazz, blues, and soul. The music starts at 8pm and doesn't stop until the last call at 2am.

 
---
Nightclubs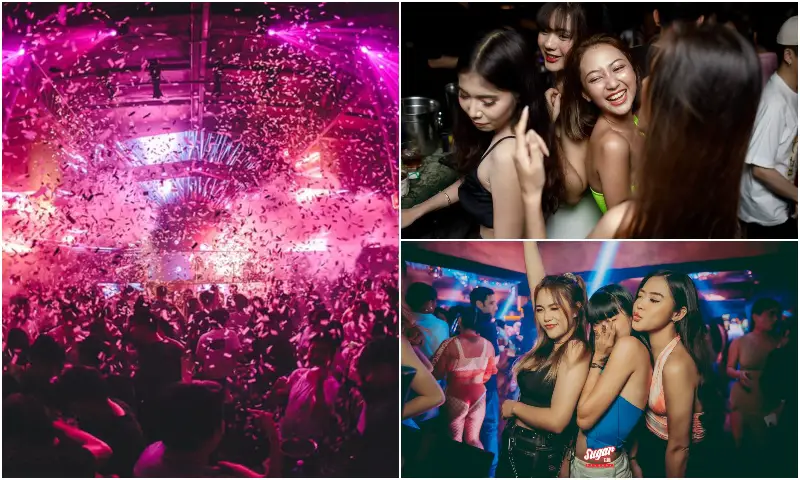 Bangkok's nightlife never stops. 
Seven nights a week, you'll find young fun-loving crowds and partiers from all over the planet. 
That's what makes Bangkok's nightclubs the hottest spots in Southeast Asia. 
The dance floors are full of hip young Thais, and affluent ex-pats. 
You'll find every type of club music hip hop, EDM, techno, and house. 
We've selected a few of the hottest clubs to get your party started: 
Insanity – Insanity nightclub is one of, if not the hottest night club in Bangkok. They host international DJs each week, along with outstanding dance shows. Expect to hear all types of music from EDM to hip hop.

 

Glow – Glow nightclub is Bangkok's top venue for underground dance music. They feature different guest DJs every week, spinning a mix of trance, house, and techno. On weekends expect to pay a

300 baht

 entry, but that includes one free drink.

 
---
Night Markets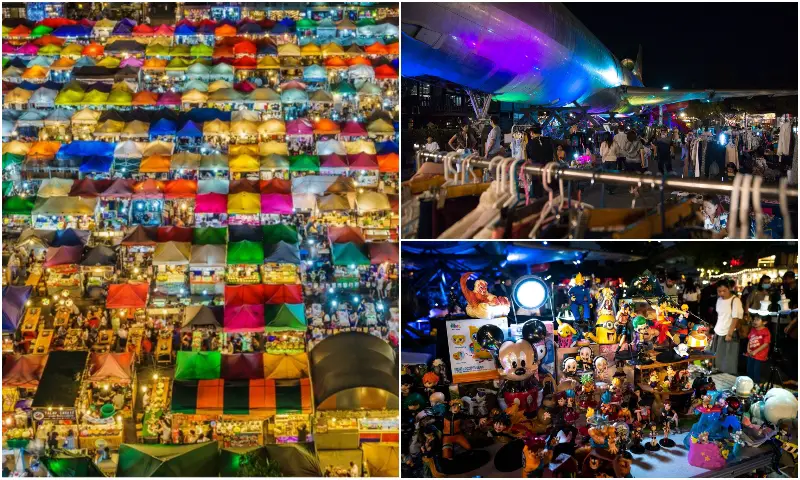 Night Markets in Bangkok offer great after-dark shopping opportunities. 
They're also an easy and enjoyable way to experience local life in Thailand's capital.  
They offer a wide range of inexpensive goods with prices that can go even lower if you know how to bargain.  
Not ready to hit the bars?  
Why not visit the night market for a few drinks and cheap eats.
There are lots of night markets all over Bangkok, and these are three you shouldn't miss.  
Train Night Market at 

Srinakarin

– This market features antique and vintage items. You'll find vintage cars, motorbikes, antique furniture, and other collectibles. At the entrance, you'll find bars, restaurants, and live entertainment.

 

Asiatique

 – 

Asiatique

 is a night market and high-end shopping mall. They offer a selection of designer brands instead of cheap souvenirs. They are known for their 

cutting-edge

fashions and electronics.

Chang Chui Plane Market – The market surrounds a restored L-1011 Tristar airplane. They have a nice selection of boutique fashions as well as trendy art pieces. There's also a variety of food and craft beers available.

 
---
Redlight Districts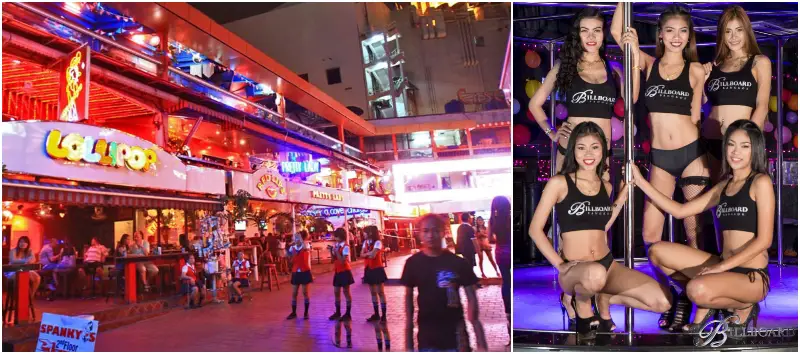 There are 3 main redlight districts in Bangkok. 
All have go-go bars, but each one is unique and offers a different experience.  
Soi Cowboy is Bangkok's brightest street, packed with over 24 go-go bars.  
Nana Plaza is the world's largest adult playground, with over 30 bars and clubs.  
Patpong is Bangkok's oldest redlight district, with 12 go-gos spread out over two streets.  
Here's a look at the best go-go bar in each district:  
Baccara (Soi Cowboy) – Baccara is the most famous go-go on Soi Cowboy. The bar has a double-decked dance floor, and the girls upstairs dance topless or nude. When you buy a bottle, they provide free ice and mixers.

 

Billboard (Nana Plaza) – Nana Plaza's Billboard is Bangkok's #1 go-go year after year. Every night 100 beautiful girls spin around on the stage or frolic naked in the Jacuzzi. I can see why they're #1.

 

Bada Bing (Patpong) – Bada Bing is by far the largest and most popular go-go in Patpong. The girls are friendly and easygoing, making for an enjoyable customer experience. With dozens of lovely ladies dancing nude or topless, it's no wonder it's a hit with ex-pats and tourists.

 
More Bangkok Redlight Districts
---
Gentlemen Clubs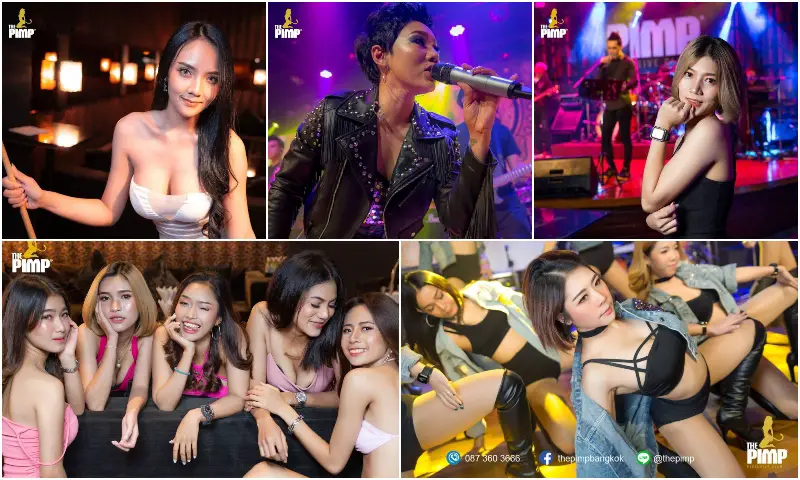 Bangkok's gentlemen's clubs feature a variety of VIP services.
They have dozens of beautiful Thai girls all waiting to keep you company.
They offer the best entertainment, live music, sexy dance shows, and lap dances.
If you have a bachelor party or special event, Bangkok's Gentlemen's clubs are the perfect spot.
Their VIP rooms come with pool tables, high-end sound systems, and karaoke machines.
So if you want a big party, there's one venue we'd definitely recommend.
The Pimp Club – The Pimp Club is Bangkok's premier gentlemen's club. They have over 200 beautiful dancers ready and willing to show you a good time. Pimp Club's VIP rooms are second to none. The larger rooms hold up to 30 people and come with a Jacuzzi and pool table. Perfect for birthdays and bachelor parties. Give the Pimp Club a call and they'll make all the arrangements.
---
Summary
| | |
| --- | --- |
| Bangkok Places to See | Best Venues |
| Rooftop Bars | Octave, Cielo, Red Sky |
| Cocktail Bars | 008, The Bamboo Bar, Thaipioka |
| Cigar Lounges | Whisgars, Character, Cigar One |
| Brew Pubs | Craft Sukhumvit 23, Brewski, Beer Belly |
| Live Music | Rock Pub, Black Cabin Bar, Saxophone Bar |
| Nightclubs | Insanity, Glow, Sing Sing Theater |
| Night Markets | Train Night Market Srinakarin, Asiatique, Chang Chui Plane Market |
| Redlight Districts | Baccara, Billboard, Bada Bing |
| Gentlemen Clubs | Pimp |
FAQs
What's the best time to go out at night in Bangok?

The best time to go out at night in Bangkok depends on where you're going.

If you're going to a bar or club, the best time to go out is after 10pm.

None of the clubs get going until 11pm or later.

If you're going to a night market 6pm or 7pm is the best time.

How much money should you bring for a fun night out?

If you're going to a club, bar, or go-go, bring at least 10,000 baht.

That way you're prepared for where ever the night takes you.

That covers drinks, transportation, and any other expenses that might come up.

Remember bars and clubs in Bangkok aren't cheap, especially when the alcohol starts flowing.
What's the best way to get around Bangkok at night?

If you can afford it, the best way around Bangkok at night is by limousine.

You know there's a driver waiting to take you wherever you need to go.

Alternatively, the next best option is a metered taxi.

For the safest and cheapest ride, insist they turn on the meter.