Once the sun goes down, Bangkok transforms into the liveliest city in Southeast Asia. Bangkok is full of great party streets, each one different from the next. There is plenty to see, swanky clubs, rooftop bars, night markets, live music, and go-go bars. With such a crazy nightlife in Bangkok, choosing where to go and what to do can be too much. So where do you start? We've put together a list of the best places to visit at night in Bangkok. From trendy clubs and bars to Bangkok's best night markets, we'll show you where to go. Let's start with the Bangkok areas with the most action.
---
Best Nightlife Areas
Thonglor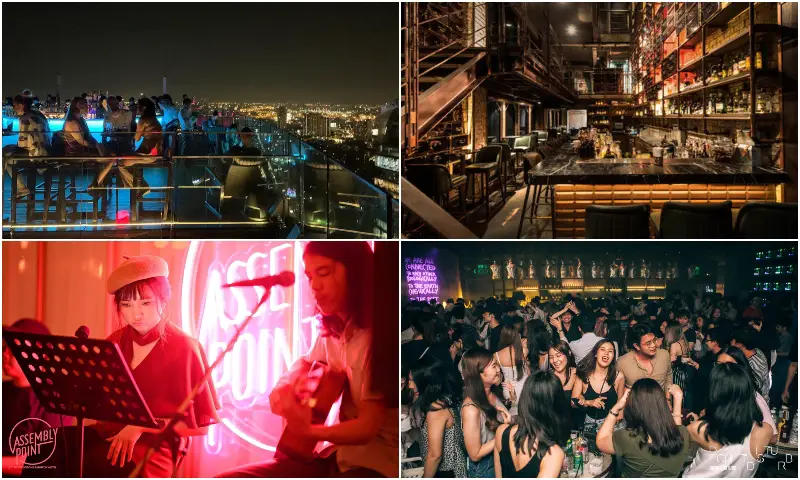 Thonglor is Bangkok's trendiest nightlife area, popular with Thais and Western visitors. Here you'll find the city's best restaurants, cocktail bars, and nightclubs, with dress codes to match. You need to dress to impress – flip-flops aren't allowed in Thonglor. Like many of Bangkok's party areas, Thonglor is near Sukhumvit Road. The bars and clubs are all accessible to BTS stations Thong Lo and Ekkamai. Here are some of Thonglor's most popular places:
---
Silom Road
By day Silom is the financial center of Bangkok.  At night it's one of the hottest spots in the city. Silom's nightlife is famous because of its red-light district Patpong. But there's more to do at night than go-go bars and strip clubs. You'll find a nice variety of rooftop bars, nightclubs, and cocktail bars. And they're all accessible to BTS stations along Skytrain's Silom line. These are some of Silom's well-known bars and clubs:
---
Sukhumvit Soi 11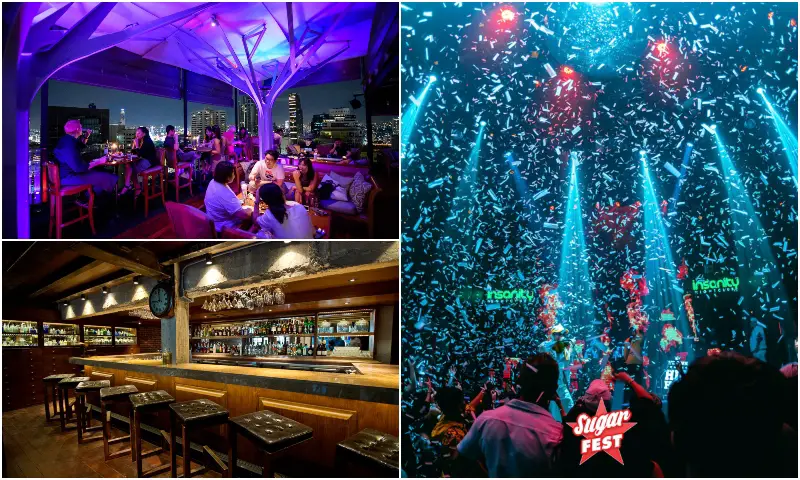 Sukhumvit Soi 11 is one of the most entertaining streets in Bangkok. Famous for its bar scene its full of nightclubs, bars, and pubs. You'll find everything from rooftop bars to live music venues. On Soi 11 you'll meet ex-pats and tourists from all over the world as well as locals. If you're planning a big night, it's best to get off at BTS Nana station which is only a short walk to Soi 11. Have a look at some of Soi 11's best choices:
---
RCA (Royal City Avenue)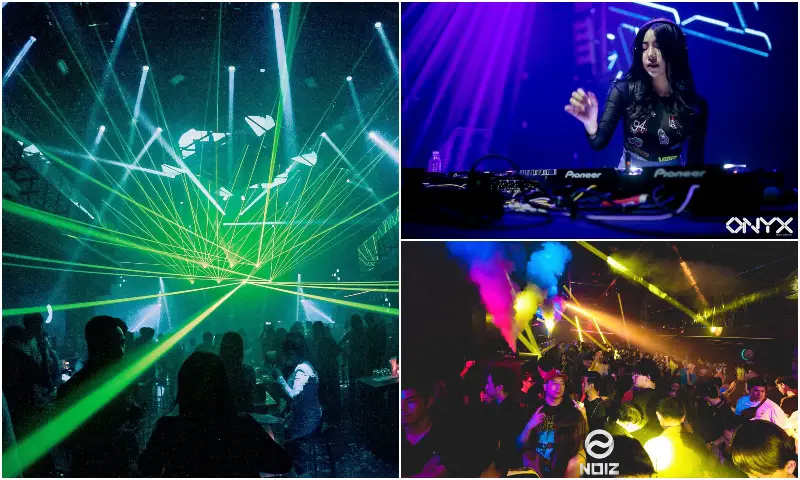 RCA is the center of the club scene in Bangkok, with some of the best dance floors in the city. Here you'll find the best live artists and the best local and international DJs. RCA is one of Bangkok's designated nightlife zones, so you can party till the wee hours. In RCA, you'll find a mix of affluent Thais, ex-pats, and tourists. RCA is just a short taxi ride from either BTS Asoke or Phrom Phong. These are the hottest dance clubs in RCA:
---
Khao San Road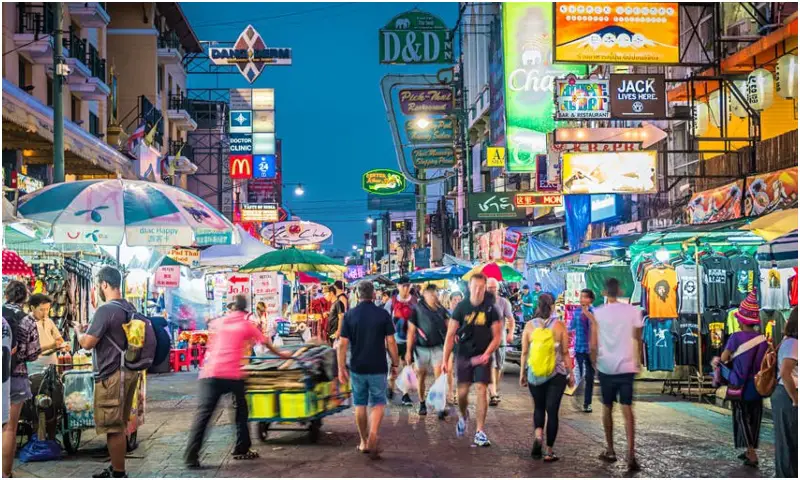 Khao San Road is Bangkok's most popular nightlife area for tourists on a budget. It's one kilometer of guesthouses, restaurants, bars, and clubs. There are upscale bars, nightclubs, street food vendors, and sidewalk cocktail stalls. There's even a night market with cheap souvenirs and t-shirts. You'll find a crowd mixed with locals, tourists, and backpackers all looking for a night of fun on Khao San Rd. These are some of Khao San Road's popular nightspots:
---
Chinatown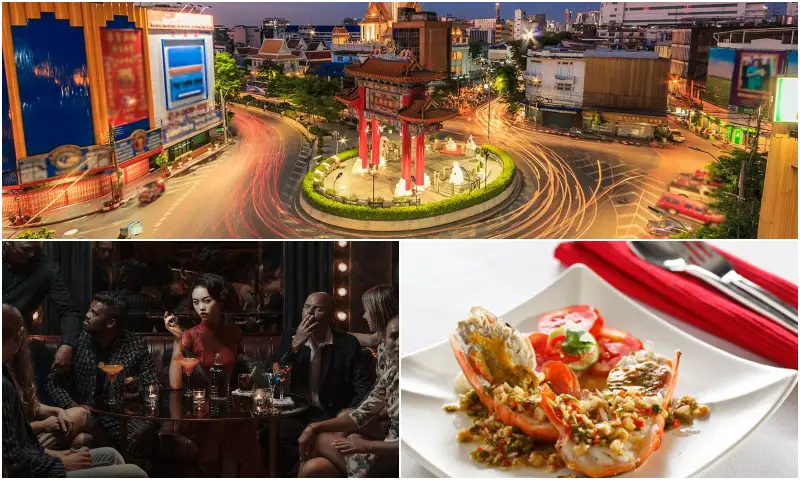 Bangkok is home to the world's largest Chinatown, and at night it becomes one big restaurant. After dark, Chinatown's streets are filled with a variety of different foods. If you love seafood, head to Chinatown's main street Yaowarat Road. Here you'll find everything from stir-fried squid and crab to sweet and sour shrimp. If you love sweets, don't forget to try the hot sesame dumplings and other baked treats. Chinatown is also home to some of Bangkok's best bars and restaurants. These are some of the local favorites:
---
Summary
| | |
| --- | --- |
| Bangkok Nightlife Areas | Best Venues |
| Thonglor | Soul Food Mahanakorn, DND, Iron Fairies |
| Silom | Lebua Sky Bar, Maggie Choo, Club at Koi |
| Sukhumvit Soi 11 | Levels, Above Eleven, Apoteka |
| RCA | Route 66, Onyx |
| Khao San Road | The Club, Lava Gold, Brick Club |
| Chinatown | Fai Kaew, Sky View 360, Tep Bar |
Places to See
1. Rooftop Bars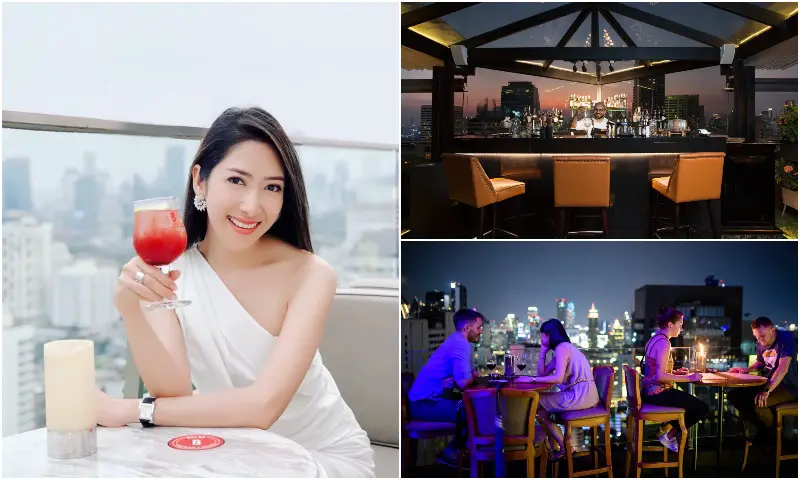 The best way to escape Bangkok's hot, busy streets is to relax in one of the city's many rooftop bars. There are literally hundreds of rooftop bars around the city. The best rooftop bars combine perfectly mixed cocktails with sweeping views of Bangkok's skyline. They're the perfect place to relax with friends or party the night away while the city's lights sparkle below. When you have so many options, it's hard to choose. So here are some of the best choices:
---
2. Cocktail Bars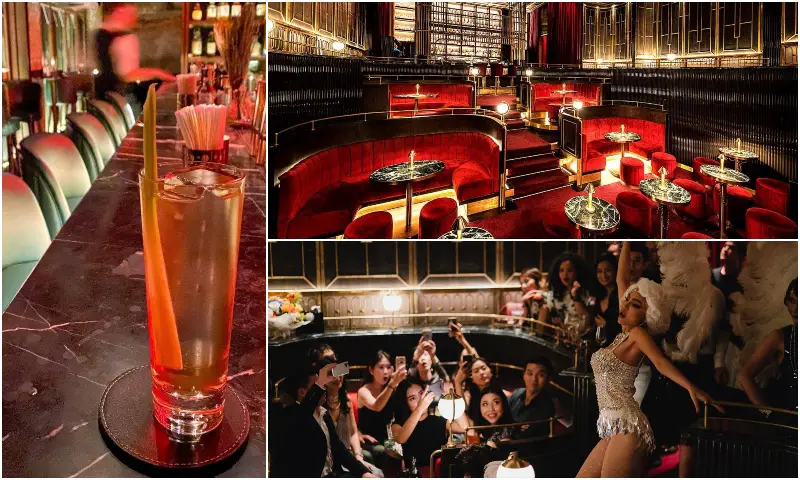 Bangkok is home to the hippest cocktail bars in Southeast Asia. You'll find American prohibition speakeasies hidden down alleys or behind wooden doors. Try cocktails made from recipes and ingredients over 100 years old. Bangkok's cocktail bars feature award-winning bartenders with their own signature drinks. You'll find cocktails made with Thai fruits and spices giving them a unique Thai flavor. In most Bangkok districts, there's a cocktail bar waiting for you. These are some of Bangkok's best:
---
3. Cigar Lounges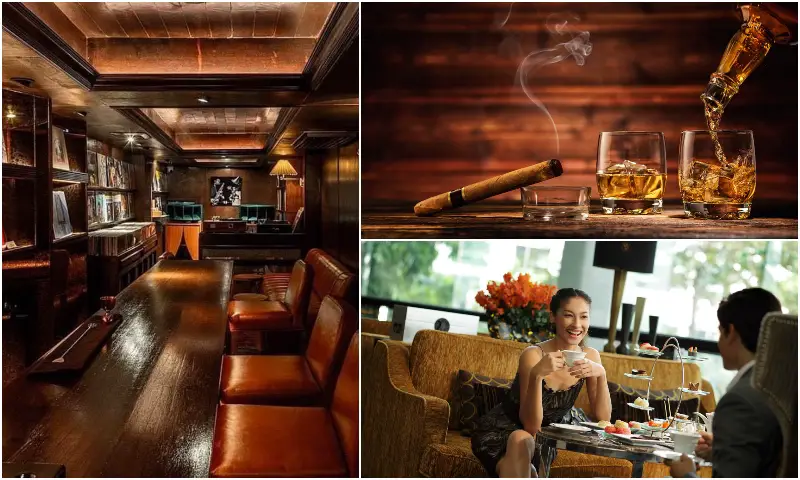 Cigars have always been a part of Bangkok's nightlife. Good whiskey, smooth jazz, and premium hand-rolled cigars are a perfect combination. Like all perfect combinations, they must be enjoyed in the perfect location. In Bangkok, the perfect location is a cigar bar. The city is home to some of Asia's best cigar lounges, with hand-rolled cigars, great music, and top-shelf whiskies. These three are the best of the best:
---
4. Brew Pubs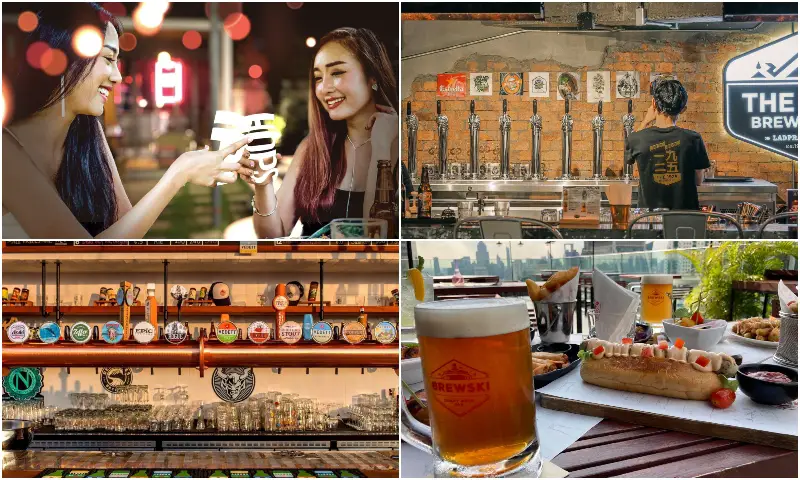 Bangkok has plenty of beer choices, thanks to the growing number of craft brewpubs. Craft beer is better than regular beer. It's brewed with the best ingredients and only in small batches. Thanks to the variety of craft beers available, you can try a different brew every night. Bangkok's brewpubs offer more than just beer though. Many feature great food, live sports, and bar games like pool and darts. Some even have live music. You can start off at these pubs to get a real taste of nightlife in Bangkok.
---
5. Live Music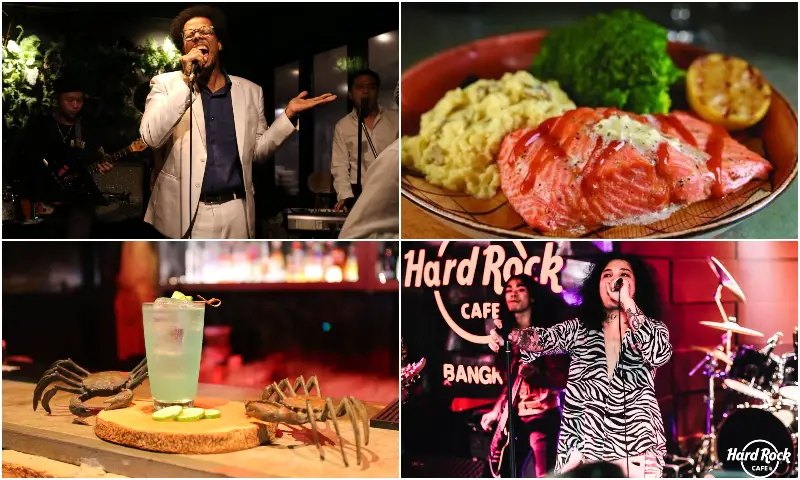 In a city with such a lively nightlife as Bangkok, cool live music bars aren't hard to find. Whether it's jazz, blues, rock, or hip-hop, there's at least one bar in town playing live. Most of Bangkok's live clubs are easy to get to. They're all located close to the city center or other party streets like Khao San Road. There are plenty of clubs to choose from, but these are the ones to check out first:
---
6. Nightclubs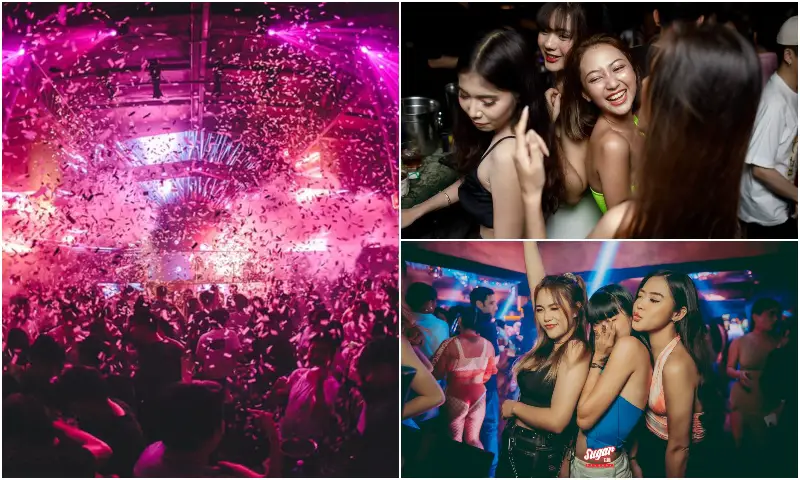 Bangkok's nightlife never stops. Seven nights a week, you'll find young fun-loving crowds and partiers from all over the planet. That's what makes Bangkok's nightclubs the hottest spot in Southeast Asia. The dance floors are full of hip young Thais, and affluent ex-pats. You'll find every type of club music hip hop, EDM, techno, and house. We've selected a few of the hottest clubs to get your party started:
---
7. Night Markets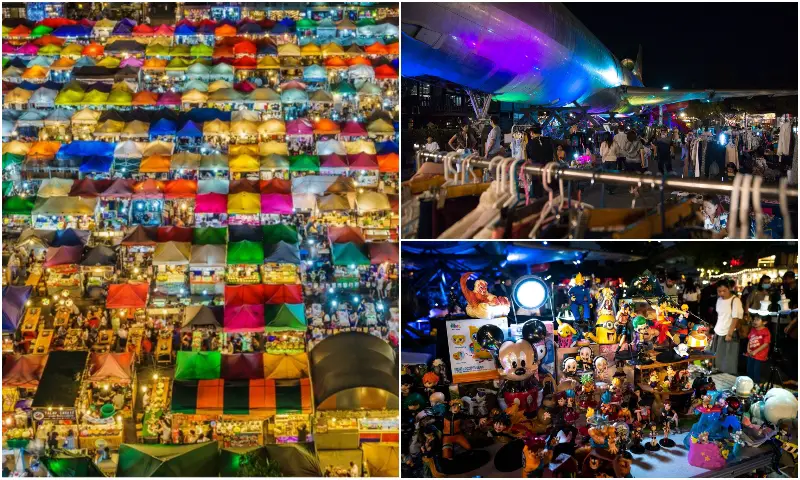 Night Markets in Bangkok offer great after-dark shopping opportunities. They're also an easy and enjoyable way to experience local life in Thailand's capital.  They offer a wide range of inexpensive goods with prices that can go even lower if you know how to bargain. Not ready to hit the bars? Why not visit the night market for a few drinks and cheap eats? There are lots of night markets all over Bangkok, and these are three you shouldn't miss:
---
8. Redlight Districts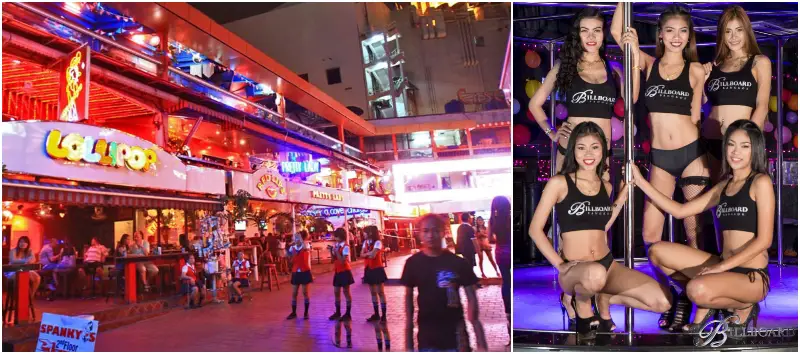 There are 3 main redlight districts in Bangkok. All have go-go bars, but each one is unique and offers a different experience. Soi Cowboy is Bangkok's brightest street, packed with over 24 go-go bars. Nana Plaza is the world's largest adult playground, with over 30 bars and clubs. Patpong is Bangkok's oldest redlight district, with 12 go-gos spread out over two streets. Here's a look at the best go-go bar in each district:
More Bangkok Redlight Districts
---
9. Gentlemen Clubs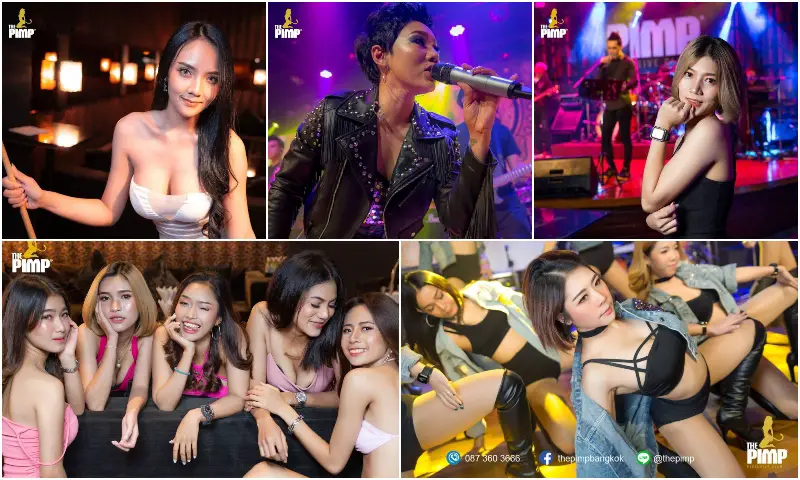 Bangkok's gentlemen's clubs feature a variety of VIP services. They have dozens of beautiful Thai girls all waiting to keep you company. They offer the best entertainment, live music, sexy dance shows, and lap dances. If you have a bachelor party or special event, Bangkok's Gentlemen's Clubs are the perfect spot. Their VIP rooms come with pool tables, high-end sound systems, and karaoke machines. So if you want a big party, there's one venue we'd definitely recommend.
---
Best Time To Go Out at Night
The best time to go out at night in Bangkok depends on where you're going. If you're going to a bar or club, the best time to go out is after 10pm. None of the clubs get going until 11pm or later. If you're going to a night market 6pm or 7pm is the best time.
---
How Much Money Should You Bring For a Fun Night Out?
If you're going to a club, bar, or go-go, bring at least 10,000 baht. That way you're prepared for wherever the night takes you. That covers drinks, transportation, and any other expenses that might come up. Remember bars and clubs in Bangkok aren't cheap, especially when the alcohol starts flowing.
---
Best Way to Get Around Bangkok at Night
If you can afford it, the best way around Bangkok at night is by limousine. You know there's a driver waiting to take you wherever you need to go. Alternatively, the next best option is a metered taxi. For the safest and cheapest ride, insist they turn on the meter.
---
Summary
| | |
| --- | --- |
| Bangkok Places | Best Venues |
| Rooftop Bars | Octave, Cielo, Red Sky |
| Cocktail Bars | 008, The Bamboo Bar, Thaipioka |
| Cigar Lounges | Whisgars, Character, Cigar One |
| Brew Pubs | Craft Sukhumvit 23, Brewski, Beer Belly |
| Live Music | Rock Pub, Black Cabin Bar, Saxophone Bar |
| Nightclubs | Insanity, Glow, Sing Sing Theater |
| Night Markets | Train Night Market Srinakarin, Asiatique, Chang Chui Plane Market |
| Redlight Districts | Baccara, Billboard, Bada Bing |
| Gentlemen Clubs | Pimp |