The walled city of Chester has Roman roots which are prevalent through the streets.
It is a city filled with history, culture, and natural beauty nearby, including the Lake District, home of Beatrix Potter.
There are plenty of attractions in Chester and its surroundings, including an aquarium, stately homes, and unique museums. 
Below are 33 fun things to do around Chester, which will keep your weekends busy for a while!
1. Treasure Hunt Chester
With so much to do in Chester, we're going to give you the best option first.
Explore this historic city and see all the best sites while playing Treasure Hunt Chester!
Ideal for couples, friends, and families, it's a great way to spend time together and have a fun day out in Chester
Older kids will love uncovering hidden gems while learning about the city too!
There's nothing to print: simply follow the maps and solve the clues sent to your phones.
Some of the top attractions you'll see are the City Walls, Chester Cathedral, Roman Amphitheatre, and Roman Gardens.
Rain, hail, or shine, this flexible private tour will showcase the best of Chester.
Departure Point: Chester Town Hall.
Departure Time: Flexible
Duration: 2-4 hours
---
2. Roman Walking Tour with Soldiers
Did you know Chester was the largest Roman fort in Britain?
Alongside the history and factual information, you will have plenty of fun on this tour.
Especially since your guide will be dressed as an authentic Roman soldier. 
Attractions include the Roman Amphitheater and tales of those who lived and died here based on archaeological evidence.
Next, learn more about the red sandstone city walls which reach 5 meters high in places.
Then head to Chester Roman gardens and see a reconstructed Roman hypocaust system.
Departure Point: Northgate St, Chester CH1 2HQ, UK
Departure Time: 12pm or 3pm
Duration: 1 hour 30 minutes
---
3. Private Chester Walking Tour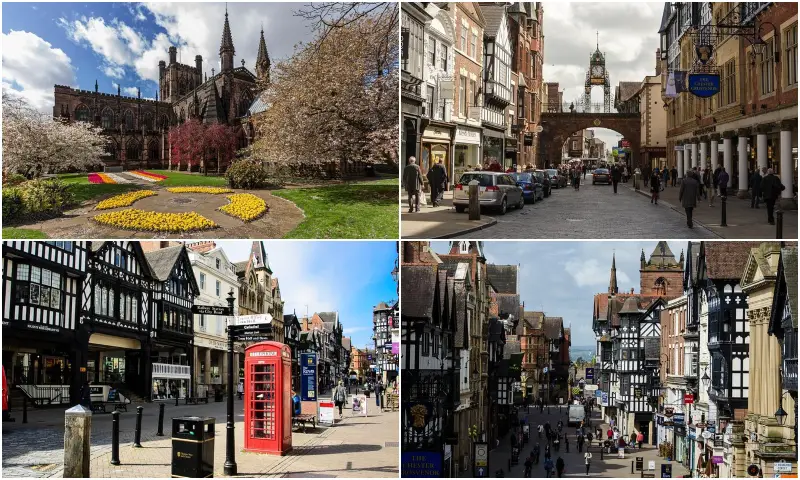 An excellent introduction to Chester. 
Discover many of the main attractions during a 2-hour private walking tour.
During your stroll, you will see 2000 years of history.
Attractions include the Roman walls, Roman Amphitheater, and Chester's 2 cathedrals. 
Also stop at the famous Eastgate clock, the most photographed clock in the UK after Big Ben.
After your stroll around the city, you will have plenty of time in the afternoon to revisit your favourite attractions.
Departure Point: 6 Eastgate St, Chester CH1 1LE, UK
Departure Time: 10am
Duration: 2 hours
---
4. Crocky Trail Outdoor Adventure Playground
Look no further than the Crocky Trail for a weekend of family fun.
The Crocky Trail is a mile-long trail with plenty of exciting rides and challenges to cross.
This is suitable for all ages, with different price bands depending on age. 
Rides to cross include giant slides and wobbly bridges.
Also, try the challenges including the barrel run and gladiator gauntlet.
Other activities include a maze, stepping stones, and wobbly bridges.
Address: Cotton Abbotts Waverton Chester
Opening Hours: Daily 10am-5pm
---
5. Lake District Tour from Chester
The Lake District is one of the most beautiful rural areas of the UK. 
During your day-long tour, you will enjoy scenic countryside, explore quaint country villages and discover more about Beatrix Potter.
Begin your tour at Hill Top Farm, the 17th Century cottage where Beatrix Potter wrote her famous children's books.
Then visit the medieval village of Hawkshead, famous for its connections with Beatrix Potter and William Wordsworth.
Afterward stop at Tarn Hows for stunning views of the mountains. 
Complete your tour with a scenic cruise on one of the picturesque lakes of the aptly named Lake District. 
Departure Point: Chester Station, City Rd, Chester CH1 3NS, UK
Departure Time: 8:30am
Duration: 10 hours
---
6. North Wales Sightseeing
North Wales has plenty to offer visitors, from historical castles, beautiful scenery, and mythical creatures.
See the highlights of North Wales in one epic day.
Sights include Snowdonia national park and Swallow falls.
Head to the Llandudno promenade and pier for examples of Georgian and Victorian architecture. 
Also see St. Tudno's Church, a 1,100 yr old Chapel with a unique mountain setting.
Continue to Conway and see the town walls, the quaint Quays, and Conway Castle. 
Marvel at the 'fairy glen' and sea serpent statue.
Finally, visit the Pontcysyllte Aqueduct, Thomas Telford's "stream in the sky".
Departure Point: Chester Station, City Rd, Chester CH1 3NS, UK
Departure Time: 9:30am
Duration: 9 hours
---
7. River Dee Cruise
The River Dee is a beautiful river meandering through Chester and the surrounding countryside. 
Enjoy a relaxing cruise and see Chester from a different viewpoint. 
During the 30 minute cruise, you can admire the buildings and cityscape of Chester.
Along the way, you are likely to see local wildlife, such as swans, cormorants, and maybe kingfishers.
The tranquil cruise is a great way to sit back and relax while still exploring Chester. 
Refreshments are available to purchase on the boat at an additional cost.
---
8. The Grosvenor Museum
The Grosvenor Museum is one of Chester's best attractions.
It houses exhibitions from Chester's history, arts, silver, Roman occupation, and natural history.
There is also a period house with rooms from the 1700s.
Temporary exhibitions include Wonderfull: Unseen marvels from the museum stores and Going the Distance: 480 years of racing.
It also holds several events such as the curated closet and cafe crafts.
Additional family-friendly events include making hobby horses and shiny beetle bags. 
If you're looking to stay nearby, Chester Townhouse is literally a stone's throw away, under 5 minutes by foot.
Address: Grosvenor Museum, 27 Grosvenor St, Chester CH1 2DD
Opening Hours: Daily 10:30am-5pm; Sunday 1pm-4pm
---
9. Chester City Walls
Chester's city walls should be on every visitor's radar.
The ancient walls are 2000 years old and still reach 5 meters high in places.
They were built by Romans to protect their fortress.
In addition, Chester city walls are the oldest, longest, and most complete in Britain.
Made from Red Sandstone they are impressive from the lower grounds and while walking them. 
The main access points are at the four main gates, so you can walk all or just a section of the walls. 
---
10. Chester Zoo
A day at the zoo is always great fun, even more so if you have a family.
Marvel at animals that are cute, strange, and fierce, including lemurs, orangutans, and crocodiles.
Chester Zoo has 27,000 animals living in 125 acres of zoological gardens.
It should be no surprise that it's the UK's most visited zoo, with nearly 2 million visitors each year.
Also, the zoo plays a strong part in conservation and education, helping protect our planet.
As well as animals, there are plenty of play areas for kids and other attractions too.
Check out the calendar for special events, including the wildlife connections festival and photography course.
Address: Chester CH2 1EU, United Kingdom
Opening Hours: Daily 10am-4pm
---
11. Blue Planet Aquarium
The Blue Planet Aquarium is more than just an aquarium.
There is plenty to see and discover, from the underwater shark tunnel, coral cave, and the flooded forest.
The Blue Planet Aquarium plays an important role in conservation and educating the next generation about our water wildlife. 
During your visit, you can watch different feeding sessions and shows at the spectacular aquatheatre.
In addition, you can have a close-up shark encounter, and enjoy diving with sharks' experience. 
Address: Cheshire Oaks, Longlooms Rd, Ellesmere Port CH65 9LF
Opening Hours: Monday to Friday 10am-5pm; Weekends 10am-6pm
---
12. Chester Racecourse
Chester Racecourse is a fun day out for the family.
Throughout the year, Chester racecourse hosts many horse races with different ticket options. 
Polo is also played there so make sure you check the website for the next dates before arrival.
It's not all about horses and racing, however, with plenty of other fun events held throughout the year.
These include Chester Comic-con, vintage fairs, Bierfest, and a Black tie ball amongst others. 
Address: The Racecourse, Chester, CH1 2LY
---
13. Tatton Park 18th Century Mansion and Grounds
Tatton Park has plenty to offer visitors and it's well worth taking your time and spending all day there.
With an impressive exterior and ornate interior, the Tatton mansion is a fantastic 18th century stately home. 
There are 50 acres of gardens, including a maze popular with kids, and a beautiful Japanese garden. 
Also for the kids is a farm, where you can pet several animals, play in the barn playground, and milk a cow.
The 'old hall' is a medieval building featured on tv's 'most haunted'.
Tatton Park also encompasses a deer park and the stables which are where the shopping and dining options are.
Throughout the year there are various events including the RHS flower show and plenty of child-friendly days.  
Address: Tatton Park Gardens, Mereheath Dr, Knutsford WA16 6SG
Opening Hours: Daily 10am-5pm; Closed Monday 
---
14. Dunham Massey Georgian House and Deerpark
Dunham Massey is one of many National Trust houses and areas of natural beauty throughout the UK.
The red-brick Georgian house is surrounded by beautiful gardens and a deer park. 
Step back in time as you explore the historical rooms and land.
During the year Dunham Massey hosts plenty of events including outdoor cinemas and seasonal events. 
The National Trust Charity plays an important role in conservation and preserving history. 
If you plan to visit several National Trust sights, it could be worthwhile to become a member.
Address: Altrincham WA14 4SJ
Opening Hours: Daily 10am-5pm 
---
15. Arley Hall and Gardens
Arley hall has been home to the Ashbrook family since the fifteenth century.
Inside, the ornate rooms are kept as they were when the hall was built between 1832-1845. 
Outside there are 8 acres of formal gardens and a woodland grove where you will discover the Chapel. 
Also, find the play zone and fun trails making it a family-friendly day out.
The Hall and grounds have also been used in many UK TV programs, including Peaky Blinders, Adventures of Sherlock Holmes, and Coronation Street.
You can easily spend a fun day out exploring Arley Hall and gardens, whatever the weather.
Address: Arley, Northwich CW9 6NA
Opening Hours: Daily 10am-4pm 
---
16. Beeston Castle and Woodland Park
Beeston Castle is lovingly maintained by English Heritage Charity.
The castle has one of the deepest wells in Britain.
It is rumored that King Richard II lost treasure is buried here, but nobody has found it yet. 
On the outskirts, beautiful native woodland surrounds the castle. 
A relaxing walking amongst the trees will give you an insight into how ancient Britain may have looked. 
Essentially, the Beeston Castle and Woodland Park is an exhibition that spans 4000 years of history, from the Bronze age to the modern-day.
Address: Chapel Ln, Beeston, Tarporley CW6 9TX
Opening Hours: Weekends 10am-4pm 
---
17. Birkenhead Priory
Birkenhead Priory was founded around 1150 by Benedictine monks.
The Chapter House still holds regular services today.
In addition, the Undercroft is a museum telling the story of Birkenhead's priory.
Also, visit the Refectory for a chance to dress up or make brass rubbings.
This is a great activity for kids.
Then climb 101 stairs of St Mary's tower for amazing panoramic views. 
With 850 years of history to discover, and events throughout the year, Birkenhead Priory is an interesting place to visit. 
Address: Priory St, Birkenhead CH41 5JH, United Kingdom
Opening Hours: Weekends 10am-5pm; Wednesday to Friday 1pm-5pm 
---
18. Norton Priory Museum and Gardens
One of the most excavated monastic sights in Europe, Norton Priory Museum is a great place to learn about the history of the region.
Visit 12th-century undercroft and priory ruins.
Then explore the Georgian garden with walls 2.5 meters tall.
Also, discover secret houses in the surrounding woodland.
Throughout the year Norton Priory holds many events, including 'Murder at the mansion' and a bat walk.
In addition, many family-friendly events are held such as a bear hunt and wildlife workshops for kids.
Address: Tudor Rd, Windmill Hill, Runcorn WA7 1SX
Opening Hours: Daily 10am-5pm 
---
19. Storyhouse theatre
Enjoy an evening or afternoon out at Chester's Storyhouse theater and cinema.
The boutique cinema is a unique experience and shows cult movies, new releases, and vintage films.
Alternatively, check the calendar for stage events and book a spot on the 3 tiered seats.
Stage performances include Shakespearean plays, Open Mic nights, music festivals, and theater shows. 
In addition, there are plenty of activities to do, especially during school holidays and weekends.
Activities include Spanish classes, arts and crafts for kids, and reading groups. 
Address: Hunter St, Chester CH1 2AR
---
20. Gullivers World Family Theme Park
Head to Gullivers World for a day of family fun.
Aimed specifically for families, it's a great treat for your kids and they will be able to go on most rides.
Rides include a log flume, roller coaster, dodgems, and carousel, so there is something for all ages.
In addition, there is a big soft play tent, climbing wall, pirates play area and sand play.
Also experience face painting, the fairy tale academy, or tractor driving school. 
Address: Shackleton Cl, Warrington WA5 9YZ
Opening Hours: Check dates on official site
---
21. Chester Cathedral
Chester Cathedral is a very impressive building that has multiple different appeals. 
It is both an architectural wonder and an ancient Abby.
There is a strong community that uses it as both a community hub and a place of worship.
Also, it is a centre of musical excellence with multiple choirs and a grand organ.
In addition, the gardens are beautiful and home to 10 species of birds of prey.
The cathedral also houses seasonal exhibits including 'the Deep' water-themed Lego exhibition.
Address: St Werburgh St, Chester CH1 2DY
Opening Hours: Daily 9am-5pm; Sunday 11:45am-4pm
---
22. Jodrell Bank Discovery Centre
The Jodrell Bank Discovery Centre is a UNESCO world heritage site.
Discover more about Space and see the giant Lovell telescope.
The Lovell telescope is an internationally recognized landmark to astronomers worldwide and can be seen for miles. 
There are three pavilions, dedicated to planets, stars, and space each housing family-friendly exhibitions.
Additionally, there is a 35-acre ground to explore, including an aviary, beehives, and a sculpture of a meteorite!
Address: The University of Manchester, Macclesfield SK11 9DL
Opening Hours: Daily 10am-5pm
---
23. Catalyst Science Discovery Centre
Catalyst Science Discovery centre is the only museum dedicated to exploring the link between chemistry and technology.
The family-friendly museum is great for budding scientists and curious kids.
The Scientific gallery has over 40 hands-on exhibits including creating big bubbles and generating electricity.
Continue to Alchemy Theater and Catalytic discovery lab which holds regular workshops and talks. 
Investigate how the Chemical industry has progressed from ancient times to the 1940s.
Finally, visit the observatory for more hands-on exhibits and learn about the heritage of Chester. 
Address: Mersey Rd, Widnes WA8 0DF
Opening Hours: Tuesday to Friday 10am-4pm; Weekends 10am-5pm; Closed Monday
---
24. Lion Salt Works
The Lion Salt Works is a restored historic site showcasing the extraction of salt.
Salt making was established by the Romans, who extracted salt from natural brine pits.
During your visit discover how salt was collected in the salt works, which eventually closed in 1986.
Also learn how the existence of natural salt has affected the area's heritage, both culturally and naturally.
In addition, kids will love the butterfly garden and play area. 
Address: Ollershaw Ln, Marston, Northwich CW9 6ES
Opening Hours: Daily 10:30am-5pm; Closed Monday
---
25. Anderton Boat Lift
The Anderton Boat Lift is an impressive feat of engineering. 
Nicknamed the cathedral of canals, it lifts boats and barges 50 ft between the river Weaver to the Trent and Mersey canal.
The hydraulic lift is a simple concept, two colossal tanks of water then raise or lower as they empty or fill.
At the visitor centre learn about the lift's design and the people who built and used it.
In addition, you can go on a walking tour onto the lift to see it close up. 
Address: Lift Ln, Northwich CW9 6FW
Opening Hours: Weekends 9:30am-4pm
---
26. National Waterways Museum
At the national Waterways Museum learn about the UK's unique canal and river system and heritage.
See historic boats and barges, to discover what life was like living on the canals.
Also, learn how the canals were built, and the impact they had on the industrial revolution.
Alongside historic buildings, you can take boat trips on the canal.
Step back in time and discover a huge part of the UK's history.
Address: S Pier Rd, Ellesmere Port CH65 4FW
Opening Hours: Daily 10am-4pm; Closed Monday
---
27. RAF Burton Wood Heritage Centre
RAF Burtonwood Heritage Center is based on what was once Britain's largest air force base. 
The RAF presence had a huge influence on the local area, with 70,000 people serving here over 54 years until it closed in 1993.
Learn about the lives of the soldiers who lived here and the stories they left.
Also discover what life was like for the soldier's wives and families, including how they met and historical wedding dresses. 
In addition, you will see planes such as the B17 flying fortress and P47 Thunderbolts. 
Address: c/o Gulivers Kingdom, Warrington WA5 9YZ
Opening Hours: Wednesday to Sunday 2:30pm-5pm; Closed Monday & Tuesday
---
28. Anson Engine Museum
One of  Britain's leading specialist museums, Anson Engine Museum has a lot of history on display.
Today the museum has a unique collection of over 250 gas and oil engines, many in full running order.
During your visit, learn how they work, how they were developed, and what they can do.
Additionally, see the steam engine section with two Robey engines and a Stott that powered a cotton wadding mill. 
The museum exists on a shoestring budget thanks to its hardworking, enthusiastic volunteers.
It is worth a visit to see the history of engines and their importance in shaping the industry. 
Address: Anson Rd, Poynton SK12 1TD
Opening Hours: Friday & Sunday 10am-4pm
---
29. The Silk Museum and Paradise Mill
Learn more then you might think at the Silk Museum.
You discover the origins of silk, and you will see how it's made.
Including the impressive Jacquard loom, and the mechanical process of making silk.
Discover the importance of silk in making parachutes during WWII.
Also see dresses and clothes made using silk maps used by soldiers, as they were more durable than paper and easy to conceal. 
Other exhibitions include Charles Frederick Tunnicliffe a wildlife artist and an Egyptian collection. 
Address: Park Ln, Macclesfield SK11 6TJ
Opening Hours: Monday to Saturday 10am-4pm
---
30. Robinsons Brewery
Enjoy a brewery experience and yeasty beverage at Robinsons brewery.
Robinsons have been opened since 1838 and is one of the oldest breweries in the UK.
During your tour, you will learn about how beer is made, including how the ingredients are chosen.
Then taste 3 different Robinsons beers or upgrade for your own glass gift set to take home.
In addition, you can meet Bobek and Mojo, Robinson's Shire Horses.
Shire Horses were traditionally used for moving bottles and casks between different stages of the brewing process and delivering ales.
Address: Lower Hillgate, Stockport SK1 1JJ
Opening Hours: Monday to Thursday 9am-5pm; Friday 9am-6pm; Saturday 10:30am-6pm; Sunday 10:30am-4pm
---
31. Lady Lever Art Gallery
The Lady lever Gallery hoses a fantastic art collection, ranging from Wedgwood jasperware to Pre-Raphaelite paintings.
With around 12,000 objects on display, there is plenty to see.
Collections include Chinese porcelain and jewelry, classical antiques such as Greek vases and masonic regalia.
Other collections are for antique furniture, erotic french sculpture, french and English tapestries, and 19th-century watercolors. 
In addition, the gallery hosts several events throughout the year, many of which are crafty or feature art history. 
Address: Port Sunlight Village, Lower Rd, Bebington, Wirral CH62 5EQ
Opening Hours: Daily 10am-5pm
---
32. Ice Cream Farm
Who doesn't love ice cream?
At the ice cream farm, you will discover all there is to know about ice cream.
With several play areas to choose from your kids will be kept busy for hours.
Play areas include honeycomb canyon indoor sand and water play, strawberry falls adventure golf, and fun factory soft play.
Indulge your taste buds at the world's largest ice cream parlor and choose from over 50 flavors of ice cream. 
Address: Drumlan Hall, Newton Ln, Cheshire, Chester CH3 9NE
Opening Hours: Daily 10am-5pm
---
33. Chester Oaks Designer Outlet

Cheshire Oaks Designer outlet village is the place to shop.
With 145 luxury and high street brands, you can shop until you drop.
Labels include Calvin Klein, Tommy Hilfiger, and Karl Lagerfeld. 
Then head to one of the boutique cafes or restaurants for refreshments before continuing your shopping spree.
Groups of 10 or more shoppers can receive a Fashion Passport for an additional 10% off in stores. 
Address: Kinsey Rd, Ellesmere Port CH65 9JJ
Opening Hours: Monday to Friday 9am-10pm; Saturday 9am-9pm; Sunday 10am-6pm
---
Chester is a cultural, historical, educational, family-friendly place to explore.
There are a wide variety of things to do in Chester if you're planning a short trip or brief weekend getaway.
Even better, many of them are free (or cheap) such as the museums.
You can spend a morning exploring a stately home, afternoon sightseeing, or an evening watching a show.
Alternatively, explore the Roman heritage of Chester, relax on a cruise, and enjoy a posh afternoon tea.
These are 33 of the best things to do in Chester.
How many will you do? 
Also read:
Find More Things to do in Chester