Kruger National Park is one of Africa's biggest and top safari destinations. Local tie-ins with private parks allow wider free-roaming of animals – including the Big Five. If you want to see wildlife, it's best to stay at a luxury lodge with safari drives and bush walks. At each lodge, we'll show you the top suites that have plunge pools, view bathtubs, and terrace Jacuzzis. There are also villas that come with services like chefs, butlers, and dedicated rangers. But before reviewing each safari lodge in Kruger National Park, here are our recommendations.
---
Best All-Inclusive Safari Lodges in Kruger National Park
Since most safari lodges are in secluded areas of Kruger, all-inclusive packages are common. The lodge rates generally include three meals a day, select beverages, snacks, bush walks, and game drives. Based on past guest experiences, these lodges have the best offers:
Jabulani Safari – This lodge is a standout compared to other properties in Kruger. They cover premium beverages, private dining, child-care programs, daily laundry, and a return road transfer to Hoedspruit Eastgate Airport.
Kapama Karula (photo above) – This is another great all-inclusive option. Most local and premium beers are included as well as meals. On arrival, there'll be an evening game drive, the 2 game drives per day during your stay. You'll also get free transfers to and from Hoedspruit Eastgate Airport.
---
Best Kruger Safari Lodges For Families
Jabulani Safari – One of the highest-rated hotels, check out the Three-bedroom villa is large enough for 6 people. They have a JabuJuniors program designed for kids. Through their fun programs and activities, they can learn more about Africa's wilderness. 
Jock Safari Lodge

(photo above)

– In terms of services and facilities, Jock Safari Lodge is the best for families. On arrival, kids will receive a small gift pack to kick off their safari experience. If you have a big family, there's the 3-bedroom villa with its own rock swimming pool. While the lodge does provide childcare, children as young as six can go on safari drives.
---
Romantic Safari Lodges in Kruger National Park
Pondoro Game Lodge

(photo above)

– As the highest-rated hotel on our list, couples will love this safari lodge. They have suites with private baths and Jacuzzi on decks with views of the river.
Jabulani Safari – If you like additional activities besides safaris, this is a great choice for couples. Romantic touches in suites include a heated plunge pool, fireplace, spa treatments, and additional honeymoon packages. The lodge also has acclaimed boutique-style dining. There are exclusive activities such as hot air ballooning over the Blyde River Canyon and helicopter tours.
---
1. Pondoro Game Lodge
Pondoro Lodge is in the Balule Private Nature Reserve which shares unfenced animal roaming with the Kruger Park. It's a small exclusive establishment with only 5 suites and 3 chalets. Luxury suites all come with an ensuite bathtub, outdoor shower, and built-in stone jacuzzi on the deck. You'll love the African interiors, tall beamed ceilings, and thatched roofing. Open-deck dining features traditional African and modern European cuisine. Since the Kruger can get really hot, games drives are early morning and into the evening. There's plenty of time to relax in between, especially at Serenity Spa with its glass-roofed sauna – or try an in-room massage. The lodge has luxuries like fine whiskeys, cigars, and select wines.
Guest Reviews: Spectacular setting with world-class service, a dream team of staff, and inspirational hands-on owners.
Star Rating: 5 stars
Best Rooms: Suites
Address: Balule Nature Reserve, off R40, 1380 Balule Game Reserve, South Africa
---
2. Makumu Private Game Lodge
Mukumu Lodge is in the Klaserie Private Nature Reserve – the largest and most exclusive Greater Kruger reserve. The lodge hosts up to 12 guests in 6 luxury suites all with view-bathroom tubs and a hammock on the wooden deck. Dining is an intimate kitchen and outdoor experience. The stone pool is a treat for the early morning or to cool off from the heat of the day. However, the key feature of the lodge is a sunken photographer's bunker. It's by the water hole with comfortable seating, additional amenities, and ground-level views of wildlife.  Typical early morning and late afternoon-evening game drives include 'open-fence' access to Kruger Park. The lodge has a lovely upper lounge with a viewing deck and a private therapist for in-room massages.
Guest Reviews: We had the best time of our lives. The food was delicious. The Safaris were exciting and adventurous.
Star Rating: 5 stars
Best Rooms: Suite
Address: Klaserie Private Nature Reserve, Kruger National Park, 1380 Klaserie Private Nature Reserve, South Africa
---
3. Klaserie Drift
Klaserie Drift is another exclusive luxury lodge within the Greater Kruger. The River View suites, looking over the Klaserie River, are the best choice for their view-bath plus indoor and outdoor showers. Garden View suites follow traditional rondavel design. For spectacular views of the typical bushy Kruger plains, nothing beats the infinity pool. Besides the spa, Klaserie offers 3-day yoga and wellness packages. For a little more exclusivity, try a private game drive, or get close up to nature on a safari walk. Klaserie Drift also caters to families with their engaging kid's club and junior ranger activities. For photographers, you can pre-order a wildlife camera and lens and go game 'shooting' accompanied by a pro photographer.
Guest Reviews: A truly immersive and memorable experience. Unbelievable being so close to the animals!
Star Rating: 5 stars
Best Rooms: Suite with river view
Address: Klaserie Game Reserve, Timbavati Road, 1380 Klaserie Private Nature Reserve, South Africa
---
4. Jabulani Safari
Jabulani is one of the more exclusive lodges in the Greater Kruger area. It's in the Kapama Private Game Reserve on the other side of the Klaserie River to the Klaserie luxury lodges. Jabulani grew from an orphan elephant program and you can personally meet some of their rescued herd. Suites all have a heated plunge pool and an indoor fireplace. However, their Zindoga Villa is one of the best luxury game experiences and includes a dedicated chef, butler, and game ranger. Additionally, Jabulani's restaurant is accredited by the luxury boutique group Relais & Châteaux. You can also relax at the Bush Spa while Jabu Juniors have activities for kids on Safari. Two great add-ons are hot air balloons or helicopter tours over the splendid Blyde River Canyon.
Guest Reviews: Trip of a lifetime. The staff was INCREDIBLE! Highly attentive, personalized service.
Star Rating: 5 stars
Best Rooms: Three-bedroom villa
Address: R40 between Hoedspruit and Klasserie, 1380 Kampama Private Game Reserve, South Africa
---
5. Kapama Karula
Kapama Karula is a sister Lodge to Jabulani, about 10 km to the south. Karula camp has 10 luxury villas, two family villas, plus a health and wellness center. Wooden villas have wide glass doors and windows with stunning views over the Klaserie River. Each has a heated plunge pool on the spacious wooden deck. In the Two-bedroom family suites, kids will enjoy the game console in the junior ensuite room. The wellness center's steam room has an ice plunge pool, a long jet-stream pool, and a gym. There are typical safari drives and bushwalks, but the photographer workshop tours are something special. An exclusive experience is a tour of their Pilatus PC-12 aircraft.
Guest Reviews: Everything we hoped it would be and WAY more! Game drives were stunning.
Star Rating: 5 stars
Best Rooms: Superior family suite
Address: Hoedspruit, 1380 Kampama Private Game Reserve, South Africa
---
6. Motswari Private Game Reserve by NEWMARK
Motswari is a private game park and lodge in the Timbavati area. There are 15 ensuite bungalows all done out in nostalgic luxury. For an additional fee, you can spend a night at the Giraffe's Nest which is a secluded luxury tree house. Dining is indoors or by the outside Boma campfire. There's a bar and a coffee lounge with snacks, also available before early morning game drives. There are two game drives per day, and the safari walk lasts for about 45 minutes or up to 6 km. Compared to other places, Motswari is more remote, and the experience is more intimate.
Guest Reviews: The game viewings were over my expectations, will definitely come back!
Star Rating: 4 stars
Best Rooms: Luxury Bungalow
Address: Enkhulu Gate, Argyle Road, 0001 Timbavati Game Reserve, South Africa
---
7. Kapama Southern Camp
This Southern Camp is one of the four lodges in the Kapama reserve. They have luxury suites with a private ensuite and patio, but there are also larger villas. Villas come with a lap pool and other luxuries, and the family villas have two bedrooms. There's also an excellent spa with couples' treatments as well as twin outdoor jacuzzies with a view over the water hole. At the main hub, you can cool off by the large pool and bar. For some quiet time, check out the comfortable lounge and reading room. Experiences on offer are similar to other camps. These include game drives and bush walks, or you can opt for their photography workshop safaris.
Guest Reviews: Service, facilities, and overall experience were exemplary. Safaris with knowledgable guides were a highlight.
Star Rating: 5 stars
Best Rooms: Luxury suite
Address: Hoedspruit, 1380 Kapama Private Game Reserve, South Africa
---
8. Lion Sands River Lodge
Lion Sands River Lodge is an exclusive lodge within Sabi Sands Game Reserve in the southern Kruger area. Sabi is the predecessor to the Kruger being South Africa's first game reserve. Due to an abundant water supply, Sabi has some of the best game viewing opportunities, especially leopard. You'll have ample off-road viewing opportunities on game drives with rangers. Lion Sands is fairly large for a luxury lodge with 18 exclusive suites, so it is more social and energetic. The River suites are the most secluded each with its own plunge pool. The Family suite is also by the river and has two ensuite rooms. Wooden walkways run through the lodge creating an enchanting romantic ambiance when lit by lanterns at night.
Guest Reviews: The staff is so welcoming and feels like family. Our guide Gino was phenomenal!
Star Rating: 5 stars
Best Rooms: Suite with river view
Address: Sabi Sand Game reserve, 1350 Sabi Sand Game Reserve, South Africa
---
9. Kruger Shalati – Train on The Bridge & Garden Suites
Shalati is the most unique place to stay in the Kruger area. The historic Shalati Bridge used to run safari trains over the Sabie River to the original Kruger Park. Here, you can choose from 24 luxury refurbished train carriage suites and 7 larger bridge house suites. Carriage suites have full front glass windows with panoramic views over the river and the animals below. Bridge House suites, along the edges of the river, have epic views of the train and bridge. Dining is at the Kruger Station Restaurant or the Riverside Restaurant. The train itself has a spa, a bar, a teahouse, and a deck pool.
Guest Reviews: The view from the train was awesome. Unique and breathtaking.
Star Rating: 4 stars
Best Rooms: Sunset suite with plunge pool
Address: Selati Bridge, 1350 Skukuza, South Africa
---
10. Hoyo Hoyo Safari Lodge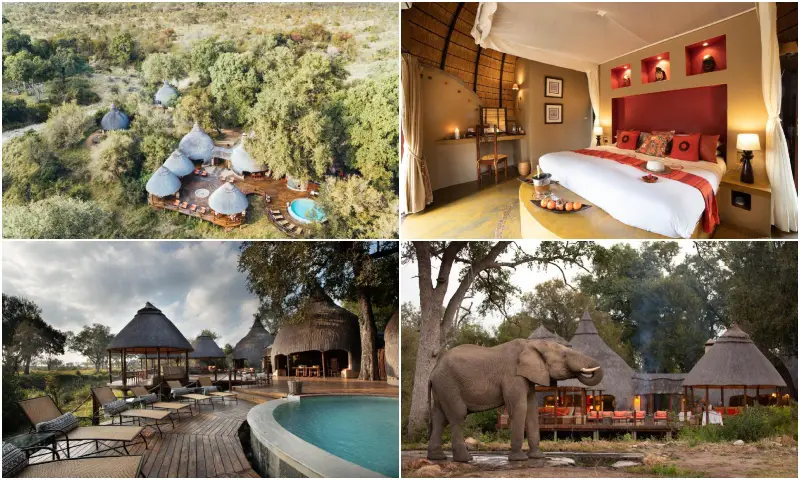 Hoyo Hoyo is in the provincial Manyeleti Game Reserve north of Sabie. There'll be no mobile or Wi-Fi services, but it'll be a luxury off-grid retreat you'll remember. The rondavel suites encapsulate Tsonga design and aesthetic throughout. Ochres, reds, and oranges define the luxury suites each with its own ensuite, private bathtub, and wooden deck. The lodge serves its own freshly baked goods every morning, and also for afternoon high tea. At Hoyo Hoyo, you can drive your own car or rent one to explore Kruger Park. There are also ranger-guided safaris, bush walks, and bird watching. During the afternoon, you can relax by the pool or enjoy spa treatments before you head out for the game drive.
Guest Reviews: Third visit to our favourite lodge. Friendly staff, amazing game drives, and excellent food.
Star Rating: 5 stars
Best Rooms: Standard double room
Address: Mluwati Concession, Kruger National Park 1350, South Africa
---
11. Jock Safari Lodge
Jock Safari Lodge is a private concession within the southern Kruger just south of Sabie. It's a conservation project funded by the family and trust fund of the late Sir Percy Fitzpatrick – author of Jock of the Bushveld. You can choose from 12 private and secluded thatched suites, each with a plunge pool. On the outdoor deck, there's also a daybed so you can relax amongst the lush greenery. Large groups or families can also book an exclusive private villa with its own rock swimming pool. At the Pilgrim's Rest Retreat, you can book spa appointments. Besides inclusive game drives, there are also bush walks and bird-watching tours. Children over six can go on game drives while child care is also available.
Guest Reviews: The food, service, friendly staff, and drives were fantastic.
Star Rating: 5 stars
Best Rooms: Villa
Address: Between Skukuza and Malelane Gates, Skukuza, 1320 Skukuza, South Africa
---
12. Lion Sands Narina Lodge
Narina is another Sabie lodge, but further east from Lion Sands River Lodge. It's a small lodge with only 9 suites and close-up views of the Sabie River. The suites are all stilted with a small plunge pool and interconnecting wooden walkways. Narina is enveloped by ancient trees with ample terrace shading and lounges giving it a special ambiance. The intimacy of the lodge also comes with outdoor, candle-lit dinners. At the spa, you can try a range of treatments or enjoy drinks in your plunge pool. Their evening game drives also include stops for star gazing.
Guest Reviews: Even better than the pictures! Amazing experiences, food, and hospitality. Highly recommended.
Star Rating: 5 stars
Best Rooms: Deluxe double room
Address: Skukuza, 1350 Sabi Sand Game Reserve, South Africa
---
13. AM Lodge
AM Lodge is a luxury spa in Hoedspruit just outside the Kruger not far from the Shalati bridge. It's one of the most acclaimed and luxurious safari spas in Kruger. At the heart of the small reserve is their 3-bedroom ensuite villa. For the ultimate family or group experience, the villa comes with its own chef, butler, and private vehicle. With views of the surrounding green landscape, you'll love relaxing in the large outdoor pool. Other accommodations are superior and luxury suites. At the main lodge, you'll find their spa with a hot tub, a heated pool, and a fitness center. There are various spa packages, and their traditional treatments are highly recommended.
Guest Reviews: Best experience on a vacation! All of the staff was incredible. We got to see all the Big 5 animals.
Star Rating: 5 stars
Best Rooms: Villa
Address: AM Luxury Private Reserve, Off R40, 1380 Hoedspruit, South Africa
---
14. Imbali Safari Lodge
Imbali Safari Lodge is about 5 km east of Hoyo Hoyo and part of the same private concession within Kruger Park. Imbali attempts to capture the atmosphere of a bygone era with additional modern comforts.  Their 12 African chalets are decorated in a sumptuous European style. Dinners are a more formal three-course d' hote menu while high tea has freshly baked goods. For something more intimate, you can dine privately on your own deck. Each suite has a thatched roof Sala on the wooden deck and a small plunge pool for cooling off. The small spa also includes locally inspired treatments. At Imbali, you can also choose to self-drive through the Kruger or go with the inclusive ranger package.
Guest Reviews: Lovely accommodation with every facility. the food was excellent. Wifi was very good too!
Star Rating: 4 stars
Best Rooms: Suite
Address: Mluwati Concession, Kruger National Park, 1350 South Africa, 1350 Mluwati Concession, South Africa
---
What's The Best Month To Visit Kruger National Park?
Generally, the months of May through to the end of September are the best months to visit the Kruger. These are the winter months when foliage is less and animals are easier to see. September is often recommended as the best month as temperatures warm up and tourist numbers are still low. July to October are also generally malaria-free months.
---
Kruger National Park Lodges Map
Also read:
Find More Lodges in Kruger National Park
---
Summary