The Poconos, or Pocono Mountains, are a stunning range in the state of Pennsylvania, popular for romantic trips.
In this region, you'll find charming creeks, waterfalls, and quaint historical towns.
The Poconos are also home to some of the best romantic B&Bs and hotels.
Below, you'll discover 11 hotels in this region that offer couples a cozy hot tub in the room.
We'll also show you which hot tub rooms have a fireplace or private balconies.
To add to your romantic stay, some also offer spa treatments!
1. The Inn at Jim Thorpe
Behind the red brick facade of this 19th-century inn, you'll find 45 guest rooms.
The Inn at Jim Thorpe contains both simple double rooms and more upscale suites.
Most rooms are decorated in Victorian style, with armchairs, vintage lampshades, and cast-iron balconies.
It's recommended to go for the mini-suites, as these have a whirlpool or soaking tub, plus a (seasonal) gas fireplace. 
Other standard room amenities in this architect's dream are a flat-screen cable TV and a coffee maker. 
Upon request, this hotel can provide some memorable wellness treatments during your vacation.
Go for a classic Swedish massage, a tantalizing foot massage, or an other-worldly body wrap.
Guest Rating: 9.1
Star Rating: 3 stars
Rooms: Suite with spa bath
Address: 24 Broadway, Jim Thorpe, PA 18229, United States of America
---
2. Great Wolf Lodge Poconos
Are you looking for a fun romantic trip to the Poconos?
The Great Wolf Lodge Poconos may be precisely what you're after.
With a waterpark on-site, this resort provides enough entertainment to keep active couples busy for days.
There are pools, slides, gaming rooms, and dining scattered over the property.
Some of their premium suites come with tubs, plus other pleasures like a small kitchenette and a separate living section.
The Whirlpool Fireplace Suite is the finest of residences, thanks to its massive jetted tub, private patio, and gas fireplace.
Great Wolf Lodge Poconos has a coffee bar, gelato venue, a fresh food market, and 5 restaurants for cravings.
Guest Rating: 8.6
Star Rating: 3 stars
Rooms: Whirlpool suite
Address: 1 Great Wolf Drive, Scotrun, PA 18355, United States of America
---
3. Brookview Manor Inn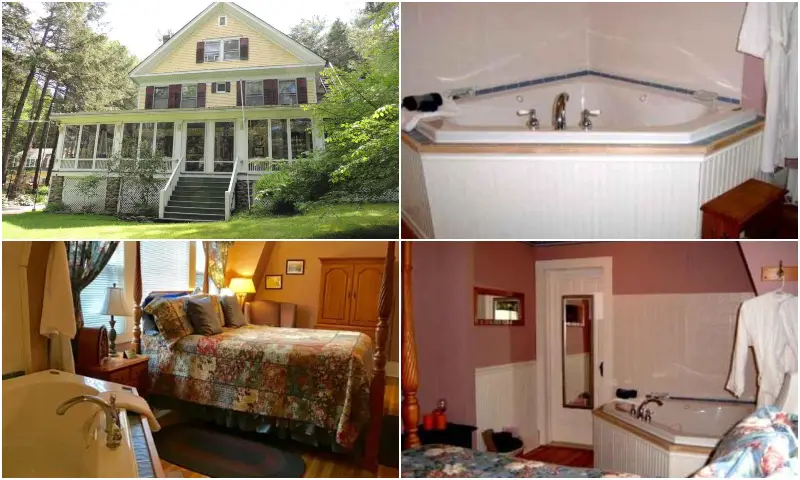 Settled on 5 acres of forest land is Brookview Manor Inn.
This homely hotel, located in the Canadensis community, opened its door to guests nearly 20 years ago.
Of all dwellings here, the Northwoods Room is the most alluring.
Along with a whirlpool tub for couples, you get to enjoy a freestanding fireplace and forest views from the windows.
Other amenities all rooms share are air conditioning, a TV, plush bathrobes, and a complimentary snack basket.
A neat feature of the Brookview Manor Inn is the common library with a seating area and an opportunity to curl up in front of a fireplace. 
The Manor's Restaurant is the atmospheric onsite eatery, where a free gourmet breakfast and a Western-style dinner are served.
Guest Rating: 8.6
Star Rating: 3 stars
Rooms: Queen rooms with spa bath
Address: 4534 Route 447, Canadensis, PA 18325, United States of America 
---
4. Settlers Inn
If you're into historic country houses, Settlers Inn may be a compelling pick in this region.
Behind the plastered front of the mansion, you make yourself at home in richly ornamented rooms.
Colorful wallpaper, carpeted floors, and the use of dark wooden furniture adds to the rustic environment.
Apart from lovely property views, most rooms have a whirlpool hot tub, a large TV, and a snug sofa for relaxing nights.
A home-cooked country breakfast is included in the room rate and is made with seasonal and locally sourced ingredients.
 In the garden, the Potting Shed gift shop invites you to browse for souvenirs.
Guest Rating: 8.5
Star Rating: 4 stars
Rooms: Most rooms
Address: 4 Main Avenue, Hawley, PA 18428, United States of America
---
5. Silver Birches Resort
The Silver Birches Resort is a stunning property based on the shores of Lake Wallenpaupack.
It's an enchanting experience to dine on the lake's banks, rent a boat, or borrow a kayak to explore the scenery around.
Silver Birches Resort is home to cozy rooms, suites, and cottages for a romantic trip.
Some of the luxury suites and cottages come with a spectacular whirlpool tub, along with a coffee machine and a private porch or balcony.
For outdoor-minded couples, the lakefront hotel has a seasonal swimming pool, a barbecue area, and several lawn games.
The onsite restaurant, The Dock on Wallenpaupack, welcomes diners to try their American cuisine paired with lake views.
Sitting by a crackling fire pit is the perfect way to end a day at this resort.
Guest Rating: 8.3
Star Rating: 3 stars
Rooms: All suites & deluxe king rooms
Address: 205 Route 507, Hawley, PA 18428, United States of America 
---
6. Hilton Scranton & Conference Center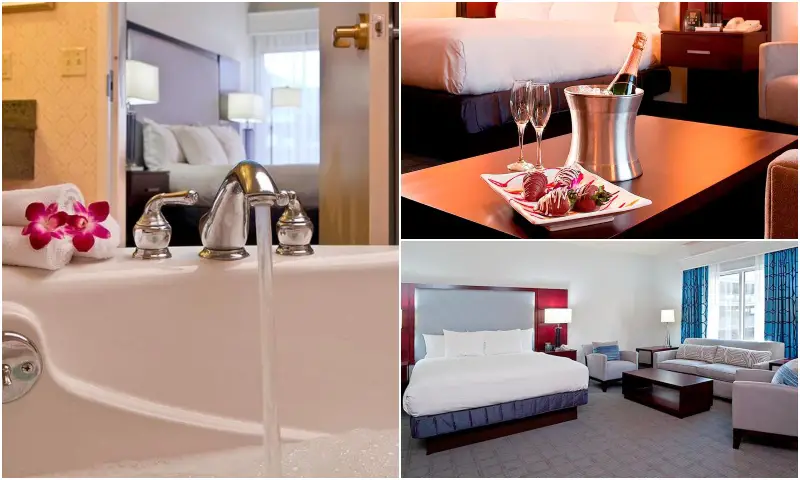 Situated in a forest setting in the town of Scranton is Hilton Scranton & Conference Center.
You'll find 193 guest residences within the main brick building, ranging from simple queen rooms to lush suites.
The king suite with whirlpool is a highlight due to its massive tub, separate seating section, and convenient mini-fridge.
For date nights, the TV in each of the rooms has premium movie channels.
Besides in-room entertainment, this hotel provides a fitness center, an indoor pool, plus a couple of dining venues.
Enjoy a satisfying breakfast at Casey's Corner, have your glasses poured at P.J.'s Pub, or sit down for coffee t at the onsite Starbucks.
Guest Rating: 8.3
Star Rating: 3 stars
Rooms: King suite with whirlpool
Address: 100 Adams Avenue, Scranton, PA 18503, United States of America
---
7. Stroudsmoor Country Inn
Soak up the romance only vacations can offer at the Stroudsmoor Country Inn.
This boutique hotel focuses on guests' well-being, from comforting wellness treatments to fine dining options.
Divided into several cottages, Stroudsmoor Country Inn offers rooms and suites designed with nothing but the guests' comfort in mind.
Some dwellings, including the Ledgemere Loft Suite, Cabin Suites, and Cedar House, come with private hot tubs in the ensuite bathroom.
Other typical amenities are ornamented four-poster beds, a private verandah or balcony, and a fireplace.
SCI is the hotel's own restaurant, where you can enjoy a filling breakfast, buffet feasts, and a-la-carte goodness.
The Spa and Wedding Salon is the spot for superior footbaths and body treatments.
Guest Rating: 8.3
Star Rating: 2 stars
Rooms: Ledgemere, Loft, Cabin Suites, Cedar House
Address: 257 Stroudsmoor Road, Stroudsburg, PA 18360, United States of America 
---
8. Mountain View Suites
Mountain View Suites sits in the gorgeous surroundings of the town of Jim Thorpe.
The roots of this historic inn go as deep as the year 1822 when the initial building was erected on the spot.
It offers remarkable rooms full of gold-leaf details, ensuite restrooms, and private balconies with exquisite views.
The queen suite with spa bath is the pinnacle of luxury at the Mountain View Suites property.
Here, an extra-large furnished balcony is paired with the spacious jetted tub for couples.
Common facilities in guest chambers include an LED TV and complimentary WiFi.
If you come here by car, the property has free parking spaces available.
Guest Rating: 8.2
Star Rating: 2 stars
Rooms: Queen suite with spa bath
Address: 626 Center St., Jim Thorpe, PA 18229, United States of America
---
9. Radisson Lackawanna Station Hotel Scranton
Based in a striking building in Scranton is Radisson Lackawanna Station Hotel Scranton.
As the name suggests, this hotel occupies a former train station, built in 1908.
This nostalgic story translates to the 146 guest rooms and suites that combine vintage details with modernities.
While most dwellings provide coffee and tea facilities plus luxurious toiletries in the bathrooms, the whirlpool suites are something else.
Not only does this room have a romantic hot tub for two, but it also gives couples marvelous city views.
Whether you crave a cup of coffee or a full-on food experience, this hotel has got you covered.
Carmen's 2.0 Restaurant & World Tour Menu sits in a stunning dining hall and is open throughout the day.
Station Cafe and Trax Bar + Kitchen are also good alternatives for small bites and beverages.
Guest Rating: 8.2
Star Rating: 3 stars
Rooms: King suites with whirlpool
Address: 700 Lackawanna Avenue, Scranton, PA 18503, United States of America
---
10. Paradise Stream Resort
Paradise Stream Resort is explicitly aimed at honeymooners looking for an intimate and romantic retreat.
Featuring 143 suites, the Paradise Stream Resort leaves you with plenty of choices.
Actually, all of the suites here have epic hot tubs.
You'll find heart-shaped tubs, and suggestive mirrors all around the bath.
There's even a unique wine-glass tub for couples looking for a quirky room.
On top of that, the residences are fitted with an enchanting log-burning fireplace and round beds.
For something extra, Diana's Oasis Suite has a small private pool within its walls.
Apart from 2 restaurants and 2 bars, Paradise Stream Resort has a nightclub with live-performing artists.
Services like parking and an internet connection are provided here as well.
Guest Rating: 8.1
Star Rating: 3 stars
Rooms: All suites
Address: 6213 Carlton Rd, Mount Pocono, PA 18344, USA
---
11. Pocono Palace Resort
Pocono Palace Resort is another honeymoon paradise.
It sits on the shores of a small lake in East Stroudsburg.
This estate is equipped with 188 suites that specifically offer services for couples.
Outside, you can delve into boat rides on the lake, fishing adventures, or plunge into the outdoor pool.
On the inside, you'll find spacious suites with modern facilities.
Like Paradise Stream Resort, all guest rooms have heart-shaped whirlpool hot tubs surrounded by mirrors.
Pocono Palace Resort hosts a tennis court, a minigolf course, and billiard tables for more entertainment.
With 2 restaurants and 2 bars onsite, you'll be able to enjoy the most romantic date nights.
In the spa center, various massages, facial treatments, and body wrap sessions can be arranged.
Guest Rating: 7.9
Star Rating: 3 stars
Rooms: All suites
Address: 206 Fantasy Road, East Stroudsburg, PA 18302, USA
---
Pocono Mountains Hotels Map
Find More Romantic Hotels in The Poconos
FAQs
Summary