Ubud is one of Bali's most beloved highland towns with exquisite natural scenery and famed local crafts.
Nestled in and around Ubud, among its terraced hillsides and river valleys, are numerous luxury resorts. 
Whether you're looking for a romantic getaway or a family retreat, Ubud is a top choice. 
For the utmost in luxury, there are comfy pool villas, some with a dedicated butler.
Those looking for a more modest stay can settle for a classy suite, or even try the latest in glamping!
Below, we'll uncover the best luxury resorts in Ubud, Bali.
---
1. Capella Ubud, Bali 
Capella Ubud is a luxury Bali Resort with a difference.
Accommodation includes twenty unique luxury tents, each with a private pool, harmonized with forest settings.
For something more conventional, there's a two-bedroom lodge with stunning forest views from the private pool.
Sustainable dining includes herbs and fresh vegetables from the resort garden and meat from surrounding farms.
Mads Lange serves international cuisine and Indonesian specials.
For signature dining, there's Api Jiwa which is a Robatayaki Asian grill.
During the day, you can try yoga, Jungle Bootcamp, or join guided outdoor activities.
Perhaps the best place to relax though is the Spa, where a range of body treatments are offered.
Guest Rating: 9.9
Star Rating: 5 stars
Best Rooms: The Lodge
Address: JI, Raya Delem, Banjar Triwangsa Desa Keliki, Kecamatan Tegallalang, 80561 Ubud, Indonesia
---
2. Mandapa, a Ritz-Carlton Reserve 
Mandapa is a luxury villa resort by Ritz-Carlton along the Ayung River.
The resort offers butler-serviced pool villas and suites, but the one-bedroom riverfront villas are the most popular.
For families or groups, there are two and three-bedroom pool villas with all rooms discretely separated by water ponds.
A key feature of all villas is a 24-hour in-room dining option.
For dining out, Suwah Terrace is a prime choice for cuisines across the Indonesian archipelago.
Alternatively, Kubu has a discreet romantic setting for Mediterranean dishes with a twist of Balinese ingredients.
For quiet moments, afternoon tea, or evening cocktails you can pop into the Library.
Unique offerings include energy healings, rituals, yoga, immersive culinary experiences, and wine tastings.
Guest Rating: 9.8
Star Rating: 5 stars
Best Rooms: Riverfront pool villa
Address: Jalan Kedewatan, Banjar Kedewatan, 80571 Ubud, Indonesia
---
3. Tanah Gajah, a Resort by Hadiprana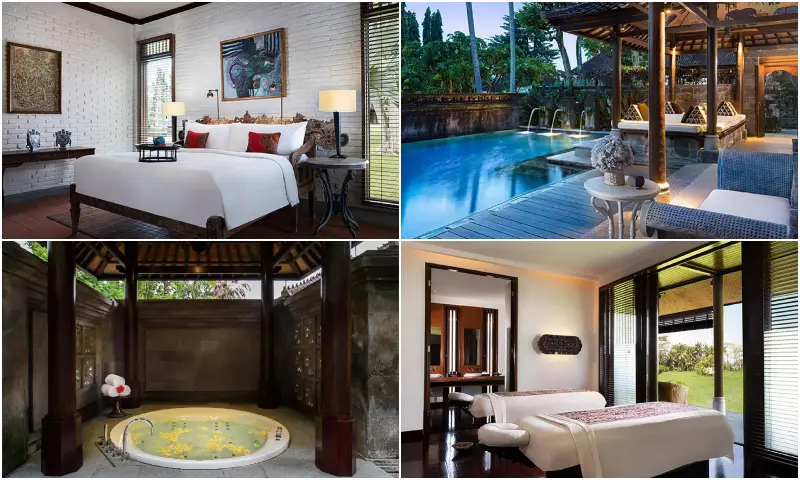 Tanah Gajah is a unique art experience resort of suites and villas. 
Once a private estate nestled among rice paddies, it's still home to one of Bali's most celebrated art collections.
One of the best rooms to stay in is the Hadiprana Villa, the original two-bedroom estate retreat.
It comes replete with fine paintings, antiques, and artifacts set in 570 square meters with an outdoor jacuzzi.
All villas have a butler service as do the seven art-filled Club Suites.
Overlooking the rice fields, you can dine at Tempayan – designed after a Balinese wantilan villa.
There's also a tapas lounge by the swan lake, afternoon tea, and sunset cocktails.
The estate additionally offers one-of-a-kind hot air balloon rides.
Guest Rating: 9.8
Star Rating: 5 star
Best Rooms: The Hadiprana villa
Address: JI, Goa Gajah, Tengkulak Kaja. 80571 Ubud, Indonesia
---
4. Kappa Senses Ubud 
Kappa Senses delights in quite a number of ways.
You'll have a relaxing time no matter which room you stay in, but the Deluxe pool villa is most impressive.
It has elegant wood vaulted ceilings and a large infinity pool looking over paddy fields.
A key resort feature is an additional riverside pool surrounded by jungle and serviced by the Lianas Cabana Bar.
Then, there's the 24-meter pool featuring alfresco Mediterranean dining at Kelapa Restaurant & Bar.
Furthermore, Bale Gourmet Lounge has freshly baked pastries, Arabica coffee, teas, tapas, as well as cheese and wine pairing.
Beyond the taste buds, Omtara Spa, in cooperation with Clarins, is an actual wellness center occupying over 1000 square meters.
It has 7 treatment rooms, a salon, vitality pools, and hammam, a vichy shower, and more.
Guest Rating: 9.7
Star Rating: 5 stars
Best Rooms: Deluxe pool villa
Address: Banjar Tanggayuda, Jalan Tamansari, Kedewatan, Kecamatan Ubud, Gianyar – BALI, 80571 Ubud, Indonesia
---
5. The Kayon Jungle Resort 
The Kayon is a resort that will keep you equally busy or relaxed. 
Pool villas come with inclusive experience packages.
While suites are more cosy and affordable, but just as luxurious.
The best exclusive villa is Royal Kayon, nestled within the jungle canopy and includes a jacuzzi. 
You also get access to the mini cinema, Wanna Jungle Pool and Bar, Sky Lounge, and other daily experiences.
For dining, Kepitu Restaurant features regular cuisine events, live music, and entertainment.
The resort also has an art museum and an excellent handicraft shop. 
Guest Rating: 9.5
Star Rating:5 stars
Best Rooms: Kayon royal pool villa
Address: Br. Bresela, Panyangan, Ubud, Gianyar, Bali, 80572 Ubud, Indonesia
---
6. Kuwarasan A Pramana Experience 
Kuwarasan is a luxury resort ideally suited for couples.
Rooms include pool or paddy-facing suites both with private balconies. 
But if you want the best, try the presidential suite with a private jacuzzi, dining room, and kitchenette.
By the main hub is the infinity pool with a sunken pool bar. 
Kemukus restaurant will serve you the best of Balinese and Indonesian cuisine in a casual setting. 
Tatami, on the other hand, is a traditional Japanese experience focusing on fusion dishes. 
To make your stay more special, Kuwarasan has packages for honeymoons, spas, and tours.
The resort also promises pop-up events and activities for a bit of spontaneity.
Guest Rating: 9.4
Star Rating: 5 stars
Best Rooms: One-bedroom pool villa
Address: JI, Cinta, Br. Penusuan, Tegallalang Ubud, Gianyar, 80561 Ubud, Indonesia
---
7. K Club Ubud 
K Club is a modern, upbeat, and stylish resort with luxury villas for groups and families.
It's most spacious villa has 5 rooms, a 21-meter swimming pool, a fully-equipped kitchen, and a butler service. 
There are also two, three, and four-bedroom villas – but for something different, there's also glamping!
Sustainable bamboo is used throughout with beautiful arched latticed ceilings, especially in the spa, yoga studio, and restaurant.
For fine dining, there's Akar Restaurant or BBQ grill.
But if you want something unique, check out their 3D dining experience.
Later at night, the Jungle Club is especially vibey and even features DJ's of international standing.
Guest Rating: 9.4
Star Rating: 5 stars
Best Rooms: Five-bedroom royal pool villa
Address: Jalan Raya Cebok, 80561 Ubud, Indonesia
---
8. Viceroy Bali
Viceroy is a resort of tamed and modern luxuries, including manicured lawns. 
All the luxury villas have private pools so you can cool down in the humid Bali weather.
You'll have incredible views of the forest on the outdoor terraces.
For couples, we recommend the Deluxe Terrace Villa, while the Viceroy Villa is more suitable for families
A highlight is the award-winning Apéritif Restaurant & Bar and a 1920's art-deco creation.
Its fine dining menu is exceptional with generous vegan and vegetarian menus.
Cascades, for casual dining, has European and Indonesian creations.
The resort also has wellness and spa packages if you want to relax during the day.
Guest Rating: 9.4
Star Rating: 5 star
Best Rooms: Viceroy pool villa
Address: Jalan Lanyahan, Br. Nagi, 80571 Ubud, Indonesia
---
9. Chapung Sebali
Chapung Sabeli has beautiful one and two-bedroom pool villas, suitable for both couples and families.
Equally attractive though, are the deluxe suites overlooking the valley.
You'll find the furnishings are not the ultimate in luxury, but stylish and comfortable nonetheless.
For terraced dining, Jungle Fish is an open-air split-level restaurant with fantastic views. 
Its pool surrounded by lush greenery is also a great spot to relax, particularly by the swim-up bar.
Other dining venues onsite include the Upper Deck Restaurant and the Blind Pig Lounge & Bar.
Make sure you check out Chapung Spa too for massages and spa facilities.
Guest Rating: 9.4
Star Rating: 5 stars
Best Rooms: Luxury residence with private pool
Address: JI, Raya Sebali No.5 Keliki, Tegalalang, 80561 Ubud, Indonesia
---
10. Komaneka at Bisma Ubud 
Komaneka resort in Bisma is close to the center of Ubud.
For large groups, its three-bedroom pool villa has three free-standing master-bedroom pavilions with wrap-around glass walls.
You'll have the best views of the forest on all sides, particularly in the private pool.
Other choices are one and two-bedroom pool villas and suites, including a family suite. 
For traditional dining, try Seneng Kitchen set over the lovely paddy fields.
And by the river, you'll find the peaceful Wana Jiwa Spa. 
Other activities during the day include art classes, wood carving, dance lessons, and even kite-making for kids.
Guest Rating: 9.4
Star Rating: 5 stars
Best Rooms: Three-bedroom pool villa
Address: JI, Bisma, Ubud, 80571 Ubud, Indonesia
---
11. Tejaprana Bisma 
Tejaprana Bisma is a short walk from Ubud close to the boutique shopping area and Monkey Park.
It's award-winning design captures numerous elements of traditional Balinese motifs.
Each villa has a private plunge pool and a spacious terrace area.
If you're traveling with friends or family, have a look at the two-room villa.
Dine in a calm setting at Kalyana Restaurant or explore the boutique cafes along Jalan Monkey Forest road.
Or just chill in their lounge when the days are too hot.
For the most soothing body treatments, drop in Pejamata Spa.
Guest Rating: 9.4
Star Rating: 5 stars
Best Rooms: Two-bedroom villa with infinity pool
Address: Jalan Bisma, Gianyar, Bali 80571, Indonesia, 80571 Ubud, Indonesia
---
12. Padma Resort Ubud 
Padma Resort is nestled in a pristine river valley overlooking the forests of Payangan.
Onsite, they have activities like animal feeding, fishing, archery, and golf.
There are 149 rooms and suites to choose from so there should be availability throughout the year.
The gorgeous One-bedroom suites are perfect for couples.
You'll have a luxury spa bath right on the balcony to go with the serene views.
If you have kids, you can connect to a Premier Club Twin Room so you'll still have privacy.
For dining, make sure you check out their F&B programs, like floating breakfast or romantic date nights. 
Lastly, make sure you dip in their magnificent free-form heated infinity pool and enjoy the sunken pool bar. 
Guest Rating: 9.3
Star Rating: 5 stars
Best Rooms: One-bedroom suite
Address: Banjar Carik, Desa Puhu – Payangan, 80572 Payangan, Indonesia
---
13. COMO Uma Ubud 
Uma Como Resort is only a 5-minute shuttle ride or a short walk into Ubud center.
There are 46 rooms, suites, and villas with amplified natural lighting. 
For families, check out the two-room Como Pool Villa.
While couples may find more suitable options in the Luxury Pool Villa and Suites.
At night, try local dishes at Kemiri Restaurant or Italian at Uma Cucina.
Private, semi-private, and terrace dining are also available for special occasions.
The resort is also highly-rated for its spa treatments at Shambhala Retreat.
Guest Rating: 9.3
Star Rating: 5 stars
Best Rooms: Como villa
Address: JI, Raya Sanggingan, Banjar Lungsiakan, Kedewatan, Bali, 80571 Ubud, Indonesia
---
14. Natya Resort Ubud 
Natya Hotels have various properties throughout Bali, but their Ubud Resort is one of their latest and most unique offerings.
One of the more popular options is the Royal pool Villa.
It's a spacious two-story villa with beautifully decorated Balinese rugs and local crafts. 
Although the other villas are just as luxurious but with different bed configurations.
At the resort center, you'll find is a large infinity pool overlooking a forested area below.
Although, most guests come here for Natys Restaurant since most villas already have private pools
During the day, enjoy full relaxation at the Mahayana Spa.
They use products featuring indigenous plants, herbs, and other natural elements.
Guest Rating: 9.1
Star Rating: 5 stars
Best Rooms: Villa with private pool
Address: JI, Kelaband Moding, Suweta, 80571 Udud, Indonesia
---
15. Four Seasons Resort Bali at Sayan 
The Four Seasons stylish and modern Sayam Resort has a lot to offer.
As you cross the suspension bridge, you'll notice the incredible rice-bowl architecture.
With a huge lily pond on the roof, overlooking the serene forest, this is the most picturesque on site.
During your stay, large families will enjoy the River-view two-bedroom villa which can sleep up to 6 people.
Although couples may have a hard time picking from 1-bedroom villas.
They're all very luxurious fitted with beautiful teak wood furnishings, some with private pools too.
For breakfast, lunch, and dinner, head to Ayung Terrace for Sattvic and vegan menu options.
Other arrangements are available like in-room dining or riverside picnics.
Guest Rating: 9.0
Star Rating: 5 stars
Best Rooms: River-view two bedroom villa
Address: Sayan, 80571 Ubud, Indonesia
---
Ubud Resorts Map
---
FAQs
Summary