Canggu, with its Bohemian undercurrents, is popular with surfers, foodies, and digital nomads. Its low-key vibe is also loved by honeymooners and families. Since it's generally hot and humid in Bali, a Canggu pool villa will be the perfect choice for any trip. We've picked out beachfront properties, spa resorts, and boutique hotels to whet your appetite. Read on for all the best Canggu villas with private pools.
---
1. The Cali Villas Canggu 
The Cali pool villas are delightful for their clean-line, vibrant, and relaxing décor schemes. Ideal for families, they have a range of two to three-bedroom pool villas. Inside, you'll see calming accents of blue and green with cacti creating the impression of an oasis. Each villa has unique schemes such as the Paloma with a California dessert feel or the Rosa with a touch of feminine coral pink. The villas are completely self-contained with no food and beverage services except for the in-room snack and mini bar. Nelayan beach is 500 m down the road and it's about a fifteen-minute walk around to Batu Bolong or Canggu beaches. You can arrange for a car or bicycle rental from the villa.
Guest Reviews: Our villa was great for two couples. Very spacious, and we loved the pool and outdoor area.
Star Rating: 4 stars
Best Rooms: Three-bedroom villa
Address: 36 Jalan Nelayan, 80361 Canggu, Indonesia
---
2. Blossom Eco Luxe Villas by Ekosistem 
Blossom Eco Luxe Villas are only a three-minute walk to Batu Bolong Beach. What makes this property different is its belief in sustainability and nature. For instance, bathroom amenities are all plant-based, greywater is recycled, and each villa has solar power. For every booking made, Eco Luxe Villas will plant one tree. Their one-bedroom pool villas each have a tropical garden and poolside day beds. It's a lovely space designed for couples. For breakfast, choose from vegetarian, Halaal, gluten-free, and Asian dishes.
Guest Reviews: Our villa was big and comfortable. Loved having our own pool, it was really indulgent.
Star Rating: 5 stars
Best Rooms: One-bedroom villa
Address: Jalan Pantai Batu Bolong, 80361 Canggu, Indonesia
---
3. Kharista Villas & Retreat by Ekosistem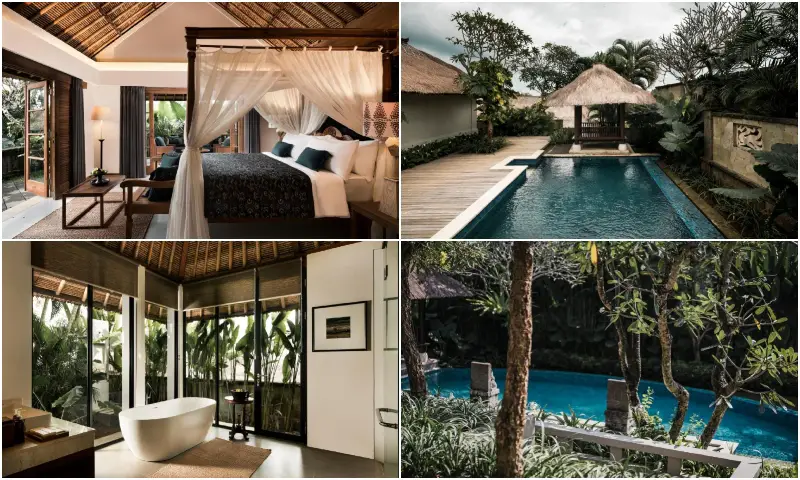 Kharista Villas & Retreat is neatly tucked away about 1.1 km from the center of Canggu. One and two-bedroom pool villas are all walled within a lush garden. The villas are thatch-roofed with dark wood tones complementing deep earthy colors. The two-bedroom villa is the most luxurious and has two separate bathrooms. Additionally, the open-plan terrace has a day bed by the pool. An a la carte breakfast is served to your room each morning as well as a daily fruit offering. Nearby, especially along Jl. Pantai Batu Mejan, has numerous cafes, restaurants, shops, and beach clubs. Batu Bolong Beach is 2.7 km from the villa and Pererenan Beach is 2.9 km.
Guest Reviews: Our two bedroom villa with private pool was amazing. The breakfasts were delicious and the service was excellent.
Star Rating: 5 stars
Best Rooms: Two-bedroom pool villa
Address: No. 21 Jalan Pantai Batu Mejan, 80351 Canggu, Indonesia
---
4. Ametis Villa 
Close to Batu Bolong beach, the exquisite Ametis villas have a range of one to three-bedroom villas. They all have open living spaces and extra large pools trimmed with sections of manicured lawn. The three-bedroom villa, in particular, is exceptional. It has upstairs living quarters, a luxurious dining and sitting area, and an elevated pool. Ametis is perhaps more exceptional for its dining. The Billy Ho restaurant directly sources its menu from the notebooks of Master Chef Will Meyrick. On special request, you can curate a four-course candlelit dinner or arrange a private barbeque. For relaxation, check out the Ruby Spa for treatments like Reiki and therapeutic massages.
Guest Reviews: Amazing villa, close to the beach, trendy shops, and restaurants. Delicious food and a lovely spa.
Star Rating: 5 stars
Best Rooms: Grand three-bedroom pool villa
Address: Jalan Pantai Batu Bolong, 80361 Canggu, Indonesia
---
5. Theanna Villa and Spa Canggu 
Theanna Eco Village &Spa is a modest 4-star villa concept. Its premium offering is a two-bedroom pool villa. It has a long pool and two separate ensuites, each with an outdoor shower. The Royal one-room pool villa has the additional luxury of a pool-facing hot tub. At the villa hub, you'll find Ketela Eatery situated alongside the large common pool. The restaurant serves an all-day breakfast and lunch menu with vegetarian options. You can also relax at the spa featuring locally sourced organic products. The town center is about 1km away and the Canggu beach is around 2km.
Guest Reviews: Amazing villas in a great location. The food is delicious and there's a free shuttle to the beach.
Star Rating: 5 stars
Best Rooms: Kirana two-bedroom villa
Address: Jalan Pantai Batu Bolong No. 25A, 80361 Canggu, Indonesia
---
6. YUCCA villas 
Yucca Villas consists of three private pool villas located uptown 2km from Pererenan beach. There is a one-bedroom villa and a couple of two-bedroom villas each with a fully-equipped kitchen. The décor is light and vibrant mixed with rough woods to give it a cultural feel. Each room has a large double bed and luxurious ensuites. Besides the pool outside, you'll find a spacious covered patio, sun loungers, and a dining area. The yard cobblestones offset with decorative palms and cacti create the ambiance of a private oasis. Out of the three villas, Yucca 2 is the best one. There is no breakfast service and only a few nearby cafés, so you'll need a car or scooter to get around.
Guest Reviews: Our villa was excellent. We loved the full kitchen, the private pool, and the outdoor shower.
Star Rating: 5 stars
Best Rooms: Yucca 2
Address: Jalan Dalem Gede, 80361 Canggu, Indonesia
---
7. Villa Sally 
Villa Sally has nine luxury pool villas all with a fully-equipped kitchens. The four-bedroom imperial villa, ideal for families or groups, has several unique features. One is a private cinema room that opens up onto the pool terrace. Additionally, there's a traditional wood and Joglo spa for in-villa massages and spa treatments. The villa overlooks rice fields and a manicured lawn with sun loungers around the large pool. For romantic couples, the one-bedroom premium villa is ideal. They also have a honeymoon package that includes a spa treatment. No breakfast is provided, but there are quite a number of restaurants and cafes within walking distance.
Guest Reviews: Our pool villa was lovely. We enjoyed the spa treatments and the delicious breakfasts.
Star Rating: 5 stars
Best Rooms: Four bedroom imperial pool villa
Address: JI. Tegal Sari, Banjar Tega Gundul, Tibubeneng, 80361 Canggu, Indonesia
---
8. Komea Villa 
Komea has cosy villas in traditional Balinese design with contemporary comforts. While couples will love the one-bedroom layout, the two-bedroom villa offers just as much privacy. Inside this villa, the two rooms lie on opposite sides of the pool. In the master room, you'll have access to a poolside jacuzzi, while the other room has an outdoor bath. Breakfast is served in-villa plus there are a number of special dining options. One is a candlelit, personally curated, three-course in-villa meal with a butler. The other options are a traditional Balinese or a mixed-type barbecue, also in-villa. You can also request relaxing spa services in the privacy of your villa. 
Guest Reviews: The villa was perfect for our group. The pool, jacuzzi, and outdoor shower were all a nice touch.
Star Rating: 5 stars
Best Rooms: Two-bedroom villa
Address: JI. Subak Sari No. 7, Br. Tegal Gundul, Ds. Tibu Beneng, 80361 Canggu, Indonesia 
---
9. La Paradis Villa 
La Paradis Villa is a contemporary villa complex close to Pererenan Beach. The design is modern, clean, and practical with all convenient amenities. What's more impressive are their services like 24-hour check-in, free bikes, laundry, and babysitting on request. They have plenty of one and two-bedroom pool villas for guests. But for large groups, there's only one three-bedroom pool villa so you'll have to book early. This is their most spacious villa with ensuites in all rooms. Breakfast is provided each morning and in-villa spa services are available on request.
Guest Reviews: Having our own pool was really special. It was close to the beach and many delicious restaurants.
Star Rating: 4 star
Best Rooms: Three-bedroom villa
Address: Jalan Pantai Pererenan No.129 Pererenan Mengwi Badung Bali, 80351 Canggu, Indonesia
---
10. Astera Canggu 
Astera villas are located on the quieter side of Canggu. All are one-bedroom villas, but the pool villas with an outdoor hot tub are the most enticing. Each villa is enclosed with a tall wall and lush vegetation. There's no kitchen but there's a minibar, a microwave, and a dining area. For honeymooners, make sure you book the Royal Villa. Various romantic packages are available to make your stay more memorable. In the morning, there's an a la carte breakfast but there are plenty of cafes nearby if you prefer something different.
Guest Reviews: We loved the private pool and hot tub. Breakfast was fresh and plentiful.
Star Rating: 5 stars
Best Rooms: Royal one-bedroom
Address: Jalan Padang Lingjong, 80361 Canggu, Indonesia
---
11. ZIN Canggu Resort & Villas 
Zin Canggu Resort has four teak pool villas rebuilt from antique Joglo houses. The dark wood tones and deep colors create a sophisticated ambiance. For a lighter more carefree vibe, you can book one of two bamboo pool villas. Villas are best for couples, but there is an additional sofa bed if needed. For breakfast, the onsite restaurant features Western cuisine. Situated right next to the resort is Zin Cafe – one of Canggu Beach's most popular co-working spaces. Nearby, Zycle is famous for its hi-tech in-door bikes and trainers, while ZinFit has a private gym for hotel guests. If you're looking for a massage, head to the River or Bamboo spa onsite.
Guest Reviews: Our villa was gorgeous and very private. The spa was excellent and the food was great for every meal.
Star Rating: 4 stars
Best Rooms: Villa with private pool
Address: Jalan Nelayan No,78, 80361 Canggu, Indonesia
---
12. Shore Amora Canggu 
Located close to Pererenan beach, Shore Amora is geared towards young travelers. They have spacious Urban suites with hot tubs, but the Nomad pool villas are the most popular. Circling around the resort paddy fields, each villa has a front deck with a plunge pool. A continental or American breakfast is served in the main building. Boheme restaurant serves a range of popular favorites as well as health-based dishes. You can meet new friends and socialize at the rooftop lounge, the pool, or Atlas bar. There's also a coworking and meeting space. Various community activities are on offer such as pottery or perfume workshops, surfing, yoga, and boxing classes.
Guest Reviews: Our villa with the private pool was amazing. The food is delicious and it's a short walk to the beach.
Star Rating: 4 stars
Best Rooms: One-bedroom villa
Address: Jalan Pantai Pererenan, 80351 Canggu, Indonesia
---
13. Mayana Villas 
Mayana is a collection of fully-serviced boutique pool villas. It's just off the main road where there are many restaurants and boutique shops. For large families, the three-bedroom pool villa is one of the most homely places to stay in Canggu. It has a very open floor plan with its living and dining spaces blending into the backyard. For couples or small families, their one and two-bedroom villas are just as luxurious. All rooms have an ensuite bathroom with marble soaking tubs and rain showers. Breakfast is served at your villa every morning.
Guest Reviews: We stayed in a spacious 3-bedroom villa. The private pool and large outdoor area were ideal for our two kids.
Star Rating: 5 stars
Best Rooms: Three-bedroom villa
Address: Jalan Pantai BerawArjuna No.1, 80361 Canggu, Indonesia
---
14. Hotel Tugu Bali 
Hotel Tugu is a true cultural designer experience for the travel connoisseur. Each room is personally crafted with historic and legendary motifs telling stories through art, crafts, and antique artifacts. Only two villas and two suites are available creating an exclusive and intimate setting. Highly appraised is one-bedroom Puri Le Mayeur Villa which stands above a lotus pond. Apart from antique luxuries, it has a private plunge pool and a large partly open-air copper tub. What makes this property stand out though, are the dining venues and experiences. You can dine in a museum setting, watch cultural shows, or arrange a private candlelit dinner. At the spa, you can unwind to original techniques and royal treatments, some full-day programs.
Guest Reviews: Beautiful Balinese-style villa. It was close to the beach, and the rooftop restaurant was awesome.
Star Rating: 5 stars
Best Rooms: Puri Le Mayeur
Address: JI Pantai Batu Bolong, Canggu Beach, 80361 Canggu, Indonesia
---
15. Aradhana Villas by Ekosistem 
Aradhana is a secluded boutique escape just minutes away from the lively action around Berawa Beach. There are one-bedroom and two-bedroom luxury pool villas to choose from. The two-bedroom villa is a perfect family retreat or a place for friends to come together. The master room opens onto the pool, while the second room is upstairs with a balcony. For couples, the one-bedroom villa is the perfect romantic space. You'll love the private pool surrounded by lush greenery and water trickling from the side pots. Breakfast is served in-villa and a butler service is available until late evening. As part of the Ekosistem group, Aradhana has various sustainable practices and plants a tree for each booking.
Guest Reviews: We enjoyed swimming in our villa's private pool. Delicious breakfasts were delivered to our villa every morning.
Star Rating: 5 stars
Best Rooms: Two-bedroom pool villa
Address: JI. Pemelisan Agung, 80361 Canggu, Indonesia
---
Canggu vs Seminyak
Both Canggu and Seminyak are popular destinations in Bali, each offering its own experience. Canggu is a more laid-back, quiet area known for surfing, yoga, and wellness. It's rural and relaxed, with rice paddies, beaches, trendy cafes, bars, and restaurants. But, Seminyak is more cosmopolitan with a vibrant nightlife and upscale shopping scene. It's ideal for those who like the finer things, like high-end boutiques, restaurants, and clubs. So, where you stay in Bali depends on your own personal preferences and travel style.
---
Best Areas To Stay In Canggu
Batu Balong – This is the main area of Canggu, close to Batu Balong Beach, one of Bali's famous beaches. It's known for great surfing, surf shops, wellness studios, and beachfront restaurants. Pool villas at Ametis Villa and Blossom Eco Luxe Villas are the best options here.
Berawa Beach – This area is known for its long sandy beach and excellent surfing conditions. It has a laid-back vibe, with beachfront bars and restaurants serving delicious food and drinks. There are plenty of luxury resorts close to the beach, but Aradhana Villas is one of the better options for pool villas.
Pererenan – This area is scenic and peaceful with rice paddies and coconut palms lining the shore. The beach is popular for swimming and surfing, with some beachfront bars and restaurants. Both Shore Amora Canggu and La Paradis Villa are close by, offering luxurious pool villas.
---
Best Time To Visit Canggu
If you're planning a trip to Canggu, you'll want to avoid December to February. This is the heaviest part of the rainy season, with high humidity and lots of mosquitoes. From May to September, it's cooler and drier, making it ideal for outdoor activities like surfing and yoga. If you don't mind the occasional rain shower, plan your trip for fall or early spring. The heat and humidity may be higher, but the hotel rates are lower, and it's less crowded. And it would be the perfect time to make the most of your villa's private pool.
---
Best Canggu Beach Clubs
Finns Beach Club – Set on a popular beach, Finns features swimming pools, watersports, plus several bars and restaurants. They regularly host DJs and live music events, making it a favorite spot for locals and tourists. 
Atlas Beach Fest (photo above) – Next to Finns Beach Club, this beachfront entertainment area is the biggest beach club in Bali. Enjoy pools, watersports, and beachside bars, plus the best DJs and live music in Asia. Aradhana Villas and Villa Sally are the closest hotels with private pools to this club. It's worth staying at these villas if you want to visit both Finns Beach Club and Atlas Beach Fest.
The Lawn – Located on Batu Balong Beach, the Lawn is a popular bar and restaurant featuring cocktails, cold beer, and fresh seafood. Their beach parties, live music events, and sunset views make the Lawn a favorite of both tourists and locals. Relaxing pool villas are within walking distance at the Blossom Eco Luxe Villas and Hotel Tugu.
La Brisa – La Brisa is a beach club and restaurant on Echo Beach, known for stunning sunset and ocean views. Featuring a bohemian rustic décor, the club has an infinity pool with a daybed area. The relaxing beachfront lounge is lovely as well. The Shore Amora Canggu is about a 12 minute walk from here.
---
Best Places To See In Canggu
Tanah Lot Temple – One of Bali's most popular landmarks, this Hindu Temple sits on a rock in the sea. Popular for its intricate carvings and stone sculptures, it's possible to walk to the temple during low tide. The area features several other attractions, including restaurants, souvenir shops, and cultural performances.

Shops – The shops and markets of Canggu offer everything from surf gear to Bohemian clothing and accessories. Make sure you stop by  Love Anchor Canggu Bazaar, a market-style bazaar selling stylish clothing, arts, and homewares. Nearby, Deus Ex Machina features surf and motorcycle gear from Australia. There's also an onsite café and bike workshop.
Beaches – Canggu's beautiful beaches feature some of the best surfing in Bali. Both Echo and Neleyan Beach have laid-back vibes and are popular surf spots. Perenan Beach has the best sunsets while Berewa Beach is quiet and relaxed. If you're out for the nightlife, Batu Balong is the most vibrant.
Rice Fields – Canggu's rice fields are a popular attraction, offering a look at what life is like in Bali. Visitors can watch farmers tend to the fields and even try their hand at planting and harvesting. These lush green paddies stretch as far as you can see, a peaceful escape from busy resorts.
---
Best Canggu Villas With Private Pools For Families
The Cali Villas Canggu – With accommodations for four to six people, Cali Villas two and three-bedroom villas are ideal for families. Each villa has plenty of space, with living and dining areas and a full kitchen. Outside is a furnished deck and private pool that the whole family will enjoy.
Ametis Villa – Offering a spacious layout, the Three-bedroom villa is ideal for a family vacation. There's a larger living area, a kitchen, and a large outdoor terrace with a private pool. If you don't want to cook, you can arrange a full-course family dinner or BBQ.
Villa Sally (photo above) – Villa Sally's fully equipped two, three, and four-bedroom villas are ideal for families of all sizes. The four-bedroom imperial villa ticks all the boxes with a large outdoor pool and a private cinema. While the kids enjoy the pool and a movie, the adults can relax with a massage in the private spa.
---
Best Canggu Villas With Private Pools For Couples
Blossom Eco Luxe Villas – The one-bedroom pool villas at Eco Luxe Villas were designed with couples in mind. It's your own romantic sanctuary, with a private entrance, garden, and courtyard. The private pool and the intimate poolside lounge are ideal for enjoying romantic days and nights.
Astera Resort Canggu (photo above) – If you're looking for a couples getaway in Bali, Astera Resort Canguu is a perfect choice. Their Royal villa offers an intimate outdoor area with a private pool, cozy daybeds, and a jacuzzi. You'll love the privacy with its high walls and a secluded location surrounded by rice paddies.
ZIN Canggu Resort & Villas – For a romantic couple's trip in Canggu, the private pool villas at Zin Canggu Resort are a great choice. Each villa features a comfortable king bedroom that opens onto a private pool and garden. It's the ideal spot to get away and enjoy a romantic holiday.
---
Canggu Villas Map
Find More Canggu Villas with Private Pools
---
Best Canggu Pool Villas