Do you have plans to venture for the sun-drenched beaches of Thailand?
Then we'd recommend you checking out the province of Krabi.
This is one of Thailand's most favoured beach destinations, thanks to splendid rock formations, peaceful islands, and perfect strips of sand.
To travel in style, book one of the island's ritzy resorts, and soak up the dreamy scenery surrounding you.
We have done the research, and found the best romantic resorts in Krabi, where the beach lies at your feet.
1. Phulay Bay, A Ritz-Carlton Reserve
This classy resort overlooks the magnificent islands in Phang Nga Bay and offers limitless luxury to those lucky enough to spend time here.
Reside in a pavilion or elegant villa, all of which are decorated with Thai artworks, dark hand-carved furniture, and marble bathrooms. 
Pick the Royal Andaman Sea Villa and surprise your partner with a private infinity pool.
You'll also have a private garden, and a complimentary intimate dining experience at the beachside.
Pamper your palates with the Mediterranean dishes from Jampoon, feel the magical atmosphere at the 'floating' restaurant Lae Lay, or enjoy the Western fare at the poolside.
If you opt for an unwinding treatment in the spa, you'll be rewarded with excellent views of the lush gardens.
The local experience here is complete with a Batik painting class, Thai cooking class, or language lessons.
Guest Rating: 9.6
Address: 111 Moo 3 Nongthalay, Muang, 81000 Tab Kaek Beach, Thailand
---
2. Pimalai Resort & Spa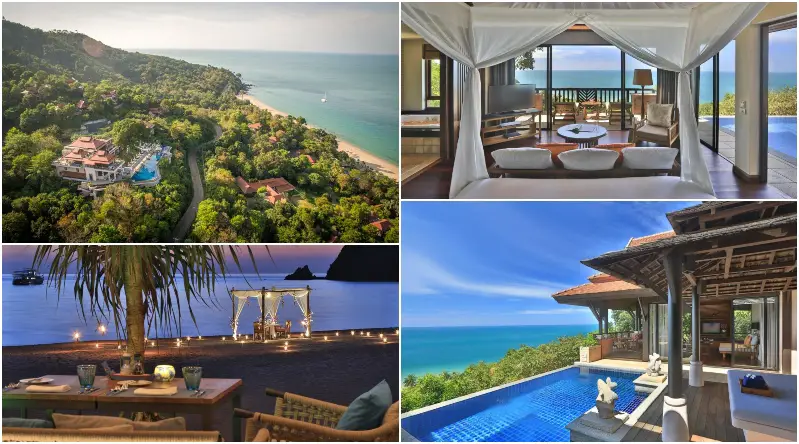 Soak up the serenity of tropical vegetation and the crystal blue Andaman Sea at the Pimalai Resort & Spa.
Situated in a 40-hectare paradise, this 5-star resort boasts luxurious rooms, suites, and villas at the island Koh Lanta. 
The style of the dwelling can be described as contemporary Thai, with bright colours, beams on the ceilings, and wooden floors.
Are you travelling with your lover?
Choose the Hillside Private Pool Villa to get comforts like a hot tub, large balcony with sea views, and your own lap pool.
Undergo a relaxing spa treatment, or bring the knowledge of the masseuse home through a complimentary spa class.
Spice up the romance here with a beach dinner for two, a Thai cooking course, or learn how to dive in the spellbinding reefs around.
Guest Rating: 9.5
Address: 99 Moo 5, Ba Kan Tiang Beach, Koh Lanta, Krabi, 81150 Ko Lanta, Thailand
---
3. Layana Resort & Spa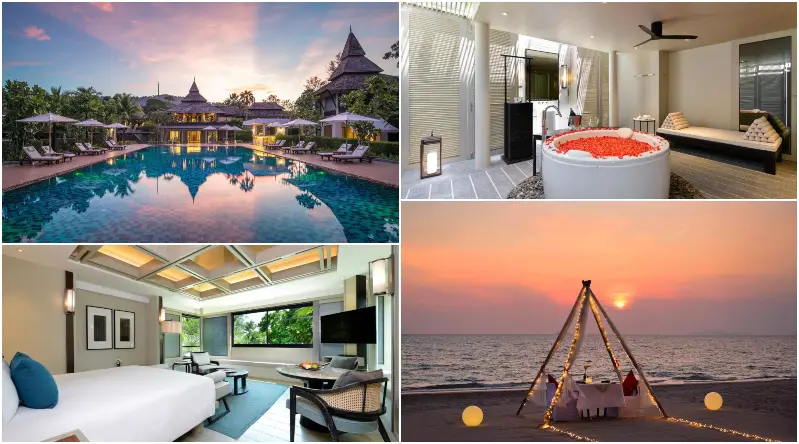 Layana Resort & Spa is an oasis of tranquillity near the beloved Long Beach and Pra-Ae Beach, on the island of Koh Lanta.
This upscale resort treats its guests with spacious king rooms and villas.
If you choose a villa, you'll have a brilliant circular hot tub and 100 square metres of living space. 
All of the rooms come with a TV, iPod dock, an en-suite bathroom, and a private balcony.
Bring your partner to the Linger Longer Spa, a highly-praised wellness centre where you can indulge in massages, a sauna, beauty treatments, and a salt spa.
Overlook the sea with a plate of Thai or Mediterranean food at SeaSky, or propose a toast in the Sundowners Bar and Lounge.
To escape the tropical heat of southern Thailand, jump into one of the hotel's many pools, or sit down under an umbrella at the beach.
Guest Rating: 9.5
Address: 272 Moo 3, Saladan, Krabi, 81150 Ko Lanta, Thailand
---
4. Koh Jum Beach Villas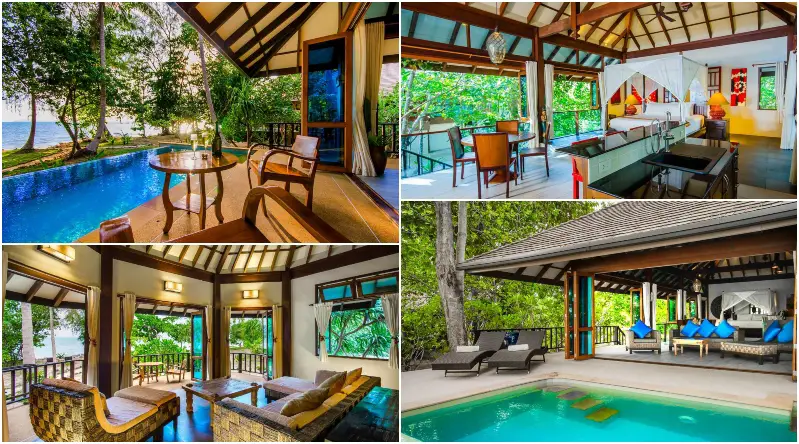 Koh Jum Beach Villas is a small 5-star resort on the island of Koh Pu, with 19 beachside villas.
For an amorous getaway, arrange the 1-bedroom villa with a beach-facing bed, outdoor shower, and private gardens for hanging out.
All of the villas face the shoreline, resulting in outstanding views and a cool breeze reaching your balcony.
Take your partner out for an evening meal at the poolside, where you can pair exquisite Thai food with the finest wines. 
Alternatively, have the food delivered in your villa and enjoy an intimate dining experience alone with your other half.
A cool feature of this hotel is the organic garden, where the chefs have you sample fresh fruits and vegetables they use in the restaurant.
Guest Rating: 9.4
Address: 320 M.3 T. Koh Sriboya, Nua Klong, Krabi, 81130 Ko Jum, Thailand
---
5. Rayavadee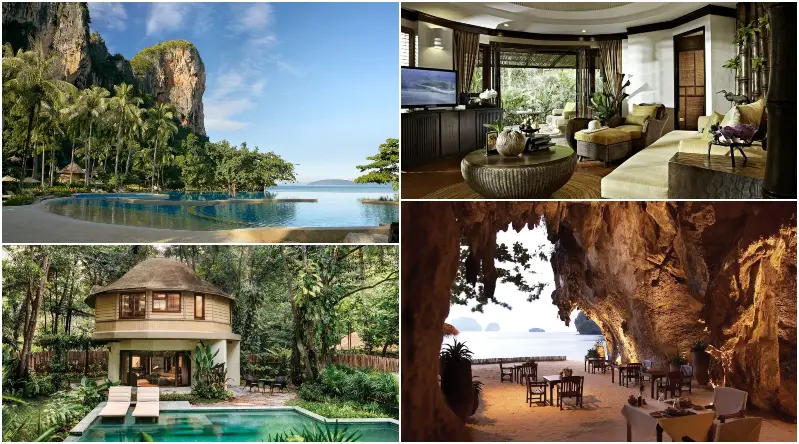 In terms of design and location, Rayavadee is a unique and highly Instagrammable resort near Krabi town.
Nestled amidst limestone cliffs and tropical greenery, this resort houses elegant pavilions with incredible wooden details and hand-crafted furniture.
As a couple, it's recommended to settle for the Pool Pavilion.
It has a 8×3 metre private pool, maximum privacy, and a beautiful garden for yourself.
Beyond the incredible residences, Rayavadee provides guests with unforgettable experiences, such as eating out in The Grotto under a limestone cliff.
The hotel also organises activities like a Thai cooking class, and tours in the surrounding area, such as a local market experience and sea cruises.
In the spa, you can pamper yourself with a treatment based on traditional Thai healing methods, or have your hair and nails done in the salon.
Bring home some memories from the on-site boutique shop, which has items ranging from jewellery to woven textiles.
Guest Rating: 9.3
Address: 214 Moo 2 T. Ao Nang, Muang, Krabi, 81000 Railay Beach, Thailand
---
6. The Tubkaak Krabi Boutique Resort
Along the striking Tubkaek Beach sits The Tubkaak Krabi Boutique Resort, a premium boutique resort crowned with 5 stars.
Whether you wish to spend the night in a charming double room or the splendid Tubkaak Suite, you'll always have a minibar, large TV, and a private patio at your disposal.
You won't quickly get bored within the property, as you can make yourself comfortable with a book at the library, or do your workout routine in the gym.
Alternatively, lay down for a spa treatment, or plunge in the hotel's outdoor pool.
Do you want to celebrate an anniversary?
The Tubkaak Krabi Boutique Resort can arrange a beach dinner for two upon request.
Otherwise, sit down for Italian and Thai fare at the Di Mare and The Arundina restaurants, overlooking the sea and the amazing rock formations in the bay.
Guest Rating: 9.1
Address: 123 Moo 3, Tumbol Nongtalay, Amphur Muang, Krabi, 81180 Tab Kaek Beach, Thailand
---
7. Dusit Thani Krabi Beach Resort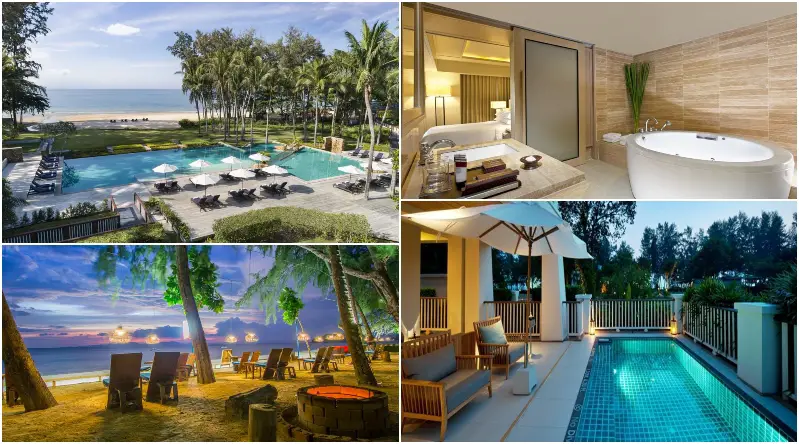 Roughly 20 kilometres west of Krabi town, you'll find the luxurious Dusit Thani Krabi Beach Resort.
This resort has 240 guest rooms and suites, all within a green setting of tropical gardens.
The rooms have a modern Thai design and comforts.
These include a private balcony or patio, coffee machine, separate bathtub, and a designated dining area.
Upgrade to the Club Premium Suite for extra goodies like daily in-room fresh fruits, a selection of newspapers and magazines, and complimentary all-day refreshments.
Remain fit during your holiday with yoga sessions or more uptempo Muay Thai boxing classes.
Finish the day in style in one of the resort's 5 restaurants and bars, where you can delve into international cuisines and play games until the early hours.
Guest Rating: 9.0
Address: 155 Moo 2, Nong Thale, Muang, 81180 Klong Muang Beach, Thailand
---
8. Rawi Warin Resort And Spa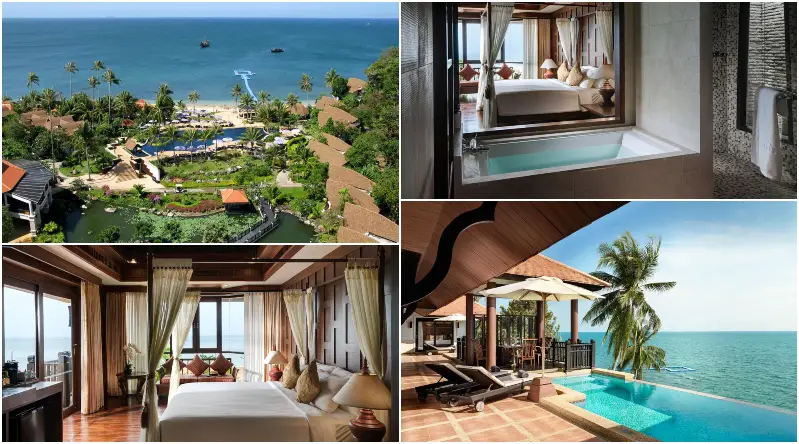 This 5-star seaside resort on enchanting Koh Lanta lets its guests choose from 185 rooms, suites, and villas. 
Admire the sunsets from your own room, as each of them has floor-to-ceiling windows and a sea-facing lounge area or bed.
It's easy to make yourself at home, as every dwelling comes with bathrobes, a bathtub for some relaxing soaking, and coffee making facilities.
You won't ever have to leave this resort to be entertained.
Rawi Warin Resort and Spa provides an endless list of leisure rooms and facilities.
Play billiard or table football in the game room, read a book in the library, work up a sweat in the boxing room, or jump into one of the 4 pools located within the resort.
Be one with the natural environment at the spa, where skin therapies, massages, and aromatic scrubs transport you to a blissful world. 
Start the day with breakfast at The Golden Pond, or bask in 7 other eateries and bars.
Guest Rating: 9.0
Address: 139 Moo 8 Lanta Yai Island, Krabi, 81150 Ko Lanta, Thailand
---
9. Zeavola Resort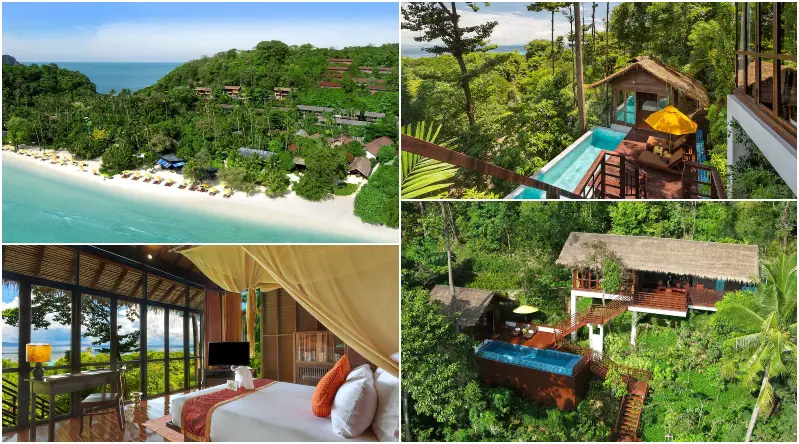 Zeavola Resort is based on Koh Phi Phi, a magical archipelago in the Andaman Sea.
Footsteps away from the fine sand beaches so typical for Koh Phi Phi, you'll find epic suites and villas to meet all of your vacation needs.
Appreciate the complete privacy of the Pool Villa Suite.
Its a magnificent building with a private swimming pool, or poolside dayroom to relax in, and a large lounge deck.
The resort organises diving trips in the region, but if you wish to stay at the property, the Zeavola Spa and swimming pools are excellent alternatives.
A long list of services includes boat transfers, a tour desk, a boutique shop, and opportunities to exchange foreign currencies.
Dining here is the icing on the cake, with the impeccable Mediterranean and Thai cuisine to treat your tastebuds.
Guest Rating: 9.0
Address: 11 Moo 8 Laem Tong, Ao Nang, Krabi, 81000 Phi Phi Don, Thailand
---
10. Phi Phi Island Village Beach Resort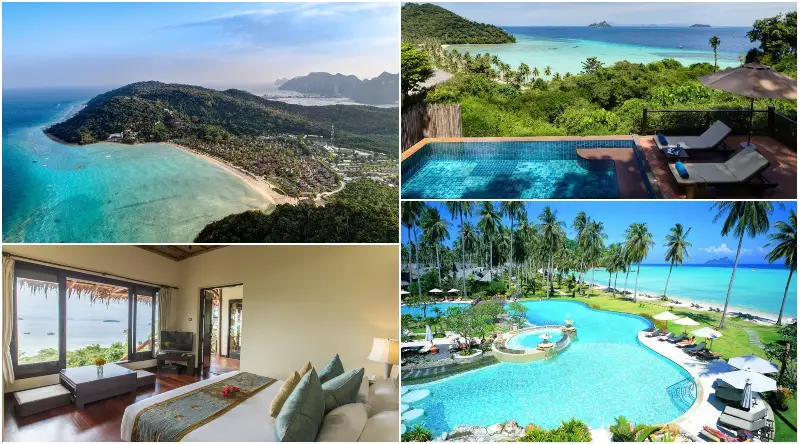 Along an 800-metre stretch of private beach sits Phi Phi Island Village Beach Resort.
With a backdrop of the region's typical limestone rocks, the bungalows, suites, and villas sit in a wondrous setting.
The pinnacle of comfort for couples is the Hillside Pool Villa.
This comes with a welcoming fruit basket, daily turndown drinks and treats, and a complimentary in-room high tea.
Every residence on this resort is fitted with a balcony or terrace with lounge chairs, and a huge bathroom.
You can easily slap on the bathrobes and slippers then go for a stroll.
From the resort, it's fun to join a sightseeing trip by boat, as you get to discover nearby caves, beaches and bays at a relaxing pace.
For your entertainment, this hotel has large outdoor pools with bars at the side, a spa centre, and a gift shop.
Kick-off your day with a buffet breakfast, delve into freshly grilled food at the grill house and pick from authentic Thai dishes at the Ruan Thai Restaurant.
Guest Rating: 8.9
Address: 49 Moo 8, Phi Phi Island, Ao Nang, Amphoe Muang, 81000 Phi Phi Don, Thailand
---
11. The ShellSea Krabi
The ShellSea Krabi is located just outside Krabi town on Thailand's mainland and offers modern rooms at the beachside. 
In the middle of a leafy environment, The ShellSea Krabi presents 72 rooms, 12 villas, and 1 Grand Pool Villa.
Hit the jackpot and book yourself the Grand Pool Villa.
You'll get a large personal pool, private hot tub, a spacious lounge, and long-lasting memories after you've left.
Spend the day at the pool, where you can enjoy the massaging hydro jets and drinks on the side in the Fin Bar.
Drop by the fitness centre for a personal workout or join a yoga class with one of the resort's instructors.
In the artsy setting of the Cerulean Restaurant and the more casual Azure Bar, the food and drinks are at a high level.
Guest Rating: 8.9
Address: 999 Moo 6, Sai Thai, Muang, Krabi, 81000 Ao Nam Mao, Thailand
---
12. Amari Vogue Krabi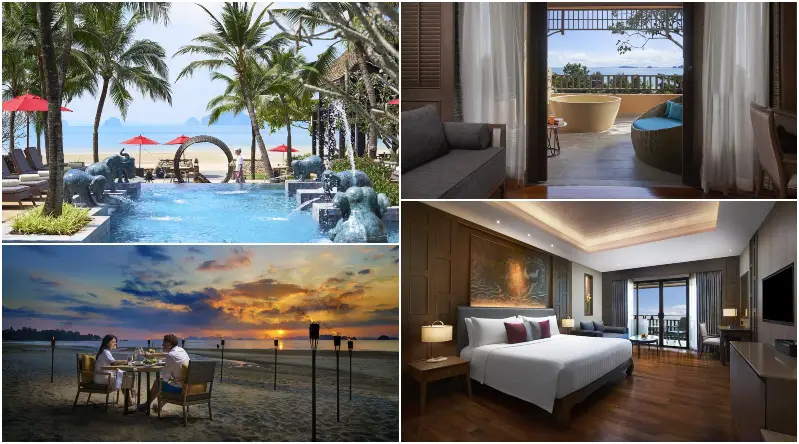 Amari Vogue Krabi is based in a complex that resembles traditional Thai temples, including pointy roofs and rich decorations.
Pick from king rooms or private pool villas fitted with the comforts to facilitate your ideal holiday.
You'll love the secluded balconies and private hot tubs.
Step inside a world of luxury, and choose from an extensive spa menu, do your laps in the ocean-facing outdoor pool, or follow a cardio program in the resort's gym.
The Voyager Lounge is an extraordinary open space, perfect for reading a book, playing board games with your partner, or watching TV.
In the morning, dive into a luscious breakfast buffet at the Lotus Restaurant.
Or sit down at the beachfront for an Asian or Mediterranean meal at the romantic Marco's Restaurant and Bar.
If it's an anniversary, opt for the Couple Celebration Package that includes a set menu for dinner, a romantic setup of your room, and complimentary sparkling wine.
Guest Rating: 8.3
Address: 149 Moo 3, Tambon Nongtalay, Amphur Muang, Krabi, 81180 Tab Kaek Beach, Thailand
---
13. Centara Grand Beach Resort & Villas Krabi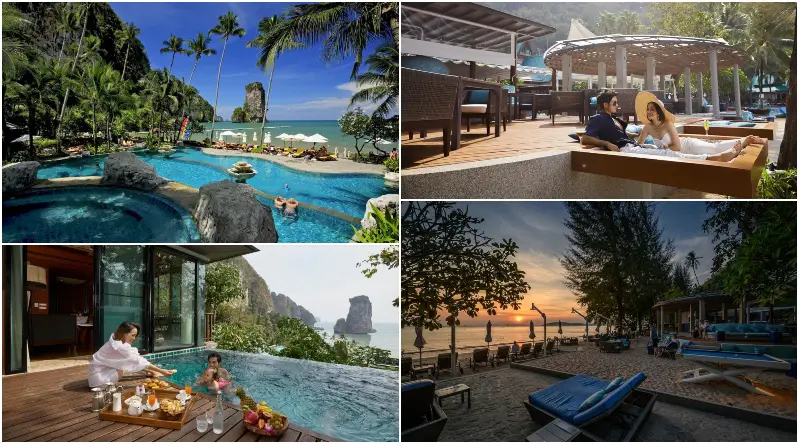 Centara Grand Beach Resort & Villas Krabi is conveniently located within walking distance from the striking Ao Nang Beach.
With such awe-inspiring natural surroundings, it's easy to enjoy the deluxe rooms and villas.
From your furnished balcony or comfortable bathtub, you can overlook the tranquil gardens of the resort without a care in the world.
Straight from the beachfront, you can go out for a sea kayaking adventure, a snorkelling session, or a diving trip organised by the hotel.
The true magic of this resorts happens in its 4 restaurants, that sit amidst ponds with lotus flowers and the fine white sand of the private Pai Plong Beach.
Are you looking for a different dining setting?
Choose in-room dining, or have the table set at the beach to enjoy a 3-course meal with your feet in the sand.
Guest Rating: 8.3
Address: 396-396/1 Moo 2, Ao Nang, Muang, Krabi, 81000 Ao Nang Beach, Thailand
---
14. Sofitel Krabi Phokeethra Golf and Spa Resort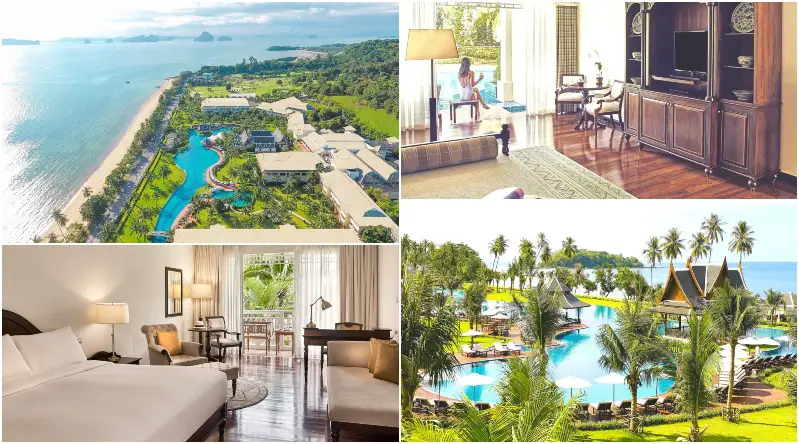 Blessed with fantastic bay views and a strip of golden sand, the Sofitel Krabi Phokeethra Golf and Spa Resort is a sweet spot to settle down for a romantic holiday.
In this enchanting ambience, 276 rooms and suites welcome guests with colonial styling and modern facilities.
Treat yourself and your partner with a stay in the Pool Suite.
You'll have a separate living room, furnished balcony, and your own pool.
In case you're ever planning to leave the comfort of your suite, the hotel's got your back with a video game room, Thai dance lessons, cooking classes, and language classes.
While you seek to cool down from the warm weather, head to the Explorer Bar for fantastic cocktails, or sample some homemade ice cream at Le Glacier.
For your well-being, the hotel has a gym, spa facilities, swimming pools, and a private beach where you can catch the sea breeze.
Guest Rating: 8.2
Address: Klong Muang Beach T. Nongtalay, Krabi, 81000 Klong Muang Beach, Thailand
---
15. Banyan Tree Krabi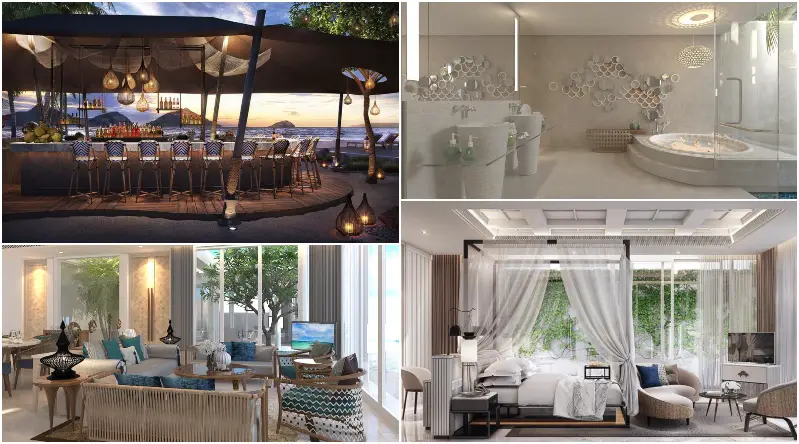 Reside in the middle of a rainforest at the Banyan Tree Krabi, an affluent property that borders Phang Nga Bay.
No matter which of the 72 suites and villas you pick, you'll be rewarded with your own pool, an outdoor dining area, marble bathroom, and a Chromecast to stream all your favourite shows.
The interior of the residences is modern, with lots of light tones, minimalist furniture, and dark timber details.
Dine at the beach while the sun sets, find a table in one of the 4 chic restaurants, or take the finger-licking food with you to the suite.
Conclude your holiday in the Kredkaew Bar, where you can indulge in tapas and refreshing drinks with sea views.
For a romantic setting, you can have your suite or villa set with relaxing music, fragrant oils, and a bathtub full of flowers.
Guest Rating: Brand new hotel. No ratings yet
Address: 279 Moo 3 Tambon Nongtalay Amphoe Muang Krabi, 81180 Tab Kaek Beach, Thailand
---
Map of 5-Star Krabi Resorts on the Beach
Krabi has some beguiling resorts to spoil yourself and your partner with luxury.
Rayavadee is one of our favourites, as the design of the villas and dining settings are genuinely unique.
The Sofitel Krabi Phokeethra Golf and Spa Resort is another contender, thanks to a long menu of activities combined with generous pool suites.
Anyway, there's no going wrong with any of these getaways, as all of the listed resorts offer the best facilities for a romantic getaway.
Also read:
Find More Romantic 5-Star Hotels in Krabi
FAQs
Summary