Thailand has over 100 tropical islands across the Andaman Sea and the Gulf of Thailand. But, with so many popular destinations, which islands are best for honeymoon couples? They all have their unique vibes so you can choose the place that suits your taste. In this article, we'll highlight the most secluded beaches, attractions, and bustling nightlife at each destination. More importantly, all these islands have luxury romantic resorts and hotels. But before we cover the top Thailand islands, here are our tips so you can make the most of your honeymoon.
---
Tips for Best Islands in Thailand
Best Island in Thailand for Snorkeling – The best island for snorkeling in Thailand is Koh Tao. Koh Tao is famous for its colorful coral reefs. There's also plenty of marine life, including sea turtles and whale sharks.
Best Island in Thailand for Parties – For a crazy getaway, check out Koh Phangan. Its Full Moon Party on Haad Rin Beach is one of the world's most famous beach parties. Each month thousands of tourists come to the island to drink and dance on the beach.
Best Island in Thailand for Older Couples – The best island for older couples in Thailand is Phuket. Because it's Thailand's largest island it's more accessible than other islands.

Phuket has more of the amenities older couples are used to.

These include luxury resorts, fine dining, entertainment, shopping, and a variety of activities.
Best Island in Thailand for Honeymoon Resorts – While all islands have their share of amazing resorts, Koh Samui stands out as one of the best for couples. There are many luxury 5-star resorts to choose from. A number of them are on the beachfront or hillside with dramatic ocean views. Look for rooms with private pools and spa baths.
---
1. Phuket
Phuket is Thailand's largest island and is one of the most popular tourist destinations in Thailand. Honeymooners come to Phuket for the sandy beaches, casual vibes, and fun nightlife. In Patong, you'll find Phuket's longest beach. But if you want a more quiet location, check out Karon Beach. The white sands and clear water are perfect for a nice swim or snorkeling. At night, there are plenty of restaurants and shopping as well. For some real entertainment, don't miss Phuket Fantasea, a huge fantasy show perfect for a fun night out.
---
2. Koh Samui
Koh Samui is Thailand's second-largest island and the largest in the Gulf of Thailand. Long white beaches surrounded by coconut palms make it the perfect honeymoon retreat. Chaweng Beach is Samui's longest beach with lots of water sports, dive boats, and snorkeling tours. It's also the island's nightlife center with plenty of bars, pubs, and nightclubs. Couples prefer Samui's other beach, Lamai Beach, for its relaxed and laid-back vibe. Here you'll find boat tours, rainforest hikes, as well as intimate resorts and restaurants. Venture inland from Lamai Beach and discover Koh Samui's jungle paradise. Hike through a tropical rainforest to enjoy the island's three spectacular waterfalls.
---
3. Koh Lanta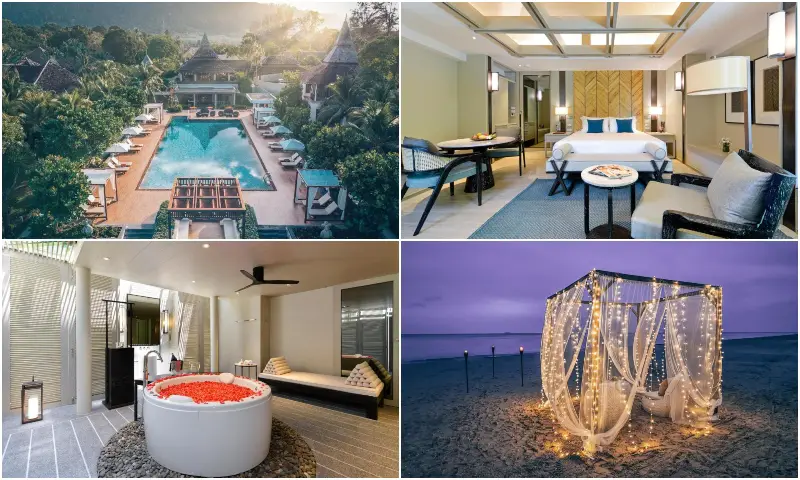 Koh Lanta is a series of islands on Thailand's Andaman coast. Its scenic limestone formations and coral beaches make it a popular honeymoon destination. The main island Koh Lanta Yai has several different beaches to suit every taste. First, check out the west side of the island where you'll find luxury resorts, restaurants, and plenty of nightlife. You'll love Long Beach, as it's rarely crowded. There are plenty of secluded spots for couples to swim, sunbathe, and relax. Two of Koh Lanta's most popular attractions are snorkeling and diving. The island's waters are home to colorful coral reefs and Thailand's largest population of whale sharks. For something different, visit Koh Lanta Old Town on the east side of the island. It's a quaint place with wooden houses, markets, and interesting local food.
---
4. Phi Phi Island
The Phi Phi Islands are a group of six islands, with two main islands Phi Phi Don and Phi Phi Leh. Just 90 minutes from Krabi, the islands are among the best places in Thailand for a honeymoon. You'll find plenty of water activities. At night, couples can enjoy dinners on the beach, fire shows, and Muay Thai exhibitions. Or, join a catamaran cruise or shark-watching snorkeling tours. With six islands, Koh Phi Phi features several spectacular beaches. Featured in the movie The Beach, Maya Bay is one of the most beautiful spots in Thailand. If you don't want to join a tour, head to Maya Beach and Secret Beach for some of the best snorkeling in the Andaman Sea.
---
5. Ko Phangan
Ko Phangan is an island off Thailand's Gulf coast known for its natural beauty and infamous parties. The Full Moon party is the world's biggest beach party and the reason why many couples visit Thailand. Each month, Ko Phangan welcomes thousands to dance and drink on the shores of Haad Rin beach. It's also the island's biggest beach, with many resorts, bars, and clubs. For a more relaxing area, go to Rin Nai Beach where you'll find white sands, clear water, and lush rainforests nearby. Besides Full Moon parties, Ko Phangan offers many water sports and outdoor adventures. The island has some of the best snorkeling and diving experiences in the Gulf of Thailand. There are also sailing, windsurfing, and rainforest treks to several scenic waterfalls.
Best Beaches: Haad Rin Beach, Rin Nai Beach
Best Attractions: Full Moon party, snorkeling, scuba diving
---
6. Ko Tao
Ko Tao is Thailand's smallest island and is one of Thailand's top snorkeling and scuba diving destinations. There is plenty of exotic marine life, including turtles and whale sharks. Even though it's famous for diving, there's plenty of nightlife with beach bars, fire shows, and clubs. One of the more popular beaches is Sairee Beach, surrounded by restaurants, guesthouses, and shops. But if you prefer a more intimate setting, go to Haad Tien Beach – it's much cleaner and not as crowded. It's also where you'll find 5-star resorts that cater to couples.
---
7. Ko Lipe
Ko Lipe is a Thai island that's part of the coral-rich Tarutao National Marine Park. It's a paradise for honeymooners with long white beaches and clear blue waters. Pattaya Beach is one of the island's best beaches, close to Walking Street and all the bars and clubs. Or, relax at Sanom Beach, another quiet spot ideal for couples. There are no crowds, the water's clear, and it's the perfect spot to swim. A long-tail boat tour of the National Park is one of Ko Lipe's most popular attractions. These traditional boats take visitors on tours to explore the marine park. Under the water, you'll find a variety of marine life and gardens of purple and soft white coral.
---
8. Koh Chang
Koh Chang is one of the most beautiful islands in Thailand. White beaches, cascading waterfalls, and coral reefs make it a popular honeymoon destination. White Sand Beach is the most well-known beach with resorts, restaurants, and shops. For something more lively, Lonely Beach features a backpacker party scene with lots of cheap drinks and loud music. But for real peace and quiet, Kai Bae Beach is the best on the island. You can enjoy the views from Kai Bae's viewpoint or hike to the beach's hidden waterfall. The most enjoyable activities in Koh Chang are the snorkeling tours to the coral reefs.
---
9. Koh Samet
Koh Samet is an island in the Gulf of Thailand, famous for its white sandy beaches. It's another honeymoon island with lots of sun, sand, watersports, and nightlife. Most visitors gather near Sai Kaew Beach where there are more restaurants, bars, clubs, and resorts. A number of island sightseeing tours depart from this area too. For a more private experience, stay near Ao Phrao. You'll find a quiet beach, calm waters, and more upscale resorts. It's a great area for swimming, snorkeling, and catamaran sailing.
---
10. Koh Kood
Koh Kood is an island in the Gulf of Thailand famous for its beaches, jungles, and waterfalls. There are very few cars on Koh Kood, so the roads are deserted. You'll only see a few motorbikes and local taxis. Most visitors stay near Klong Chao Beach, the island's tourist center. There's a mix of luxury resorts and budget bungalows. This stretch of white sand has some excellent beachfront restaurants as well as lively beach bars. The horseshoe bay and clear waters at Bangbao Beach make it a popular spot for swimmers and snorkelers. At Koh Kood, there are a variety of outdoor adventures to choose from. One of the best adventures is a hike through the rainforest to Khlong Chao waterfall.  You can swim in the waterfall's crystal-clear pool but keep in mind the water is ice cold.
---
11. Kho Yao Yai
Kho Yao Yai is an island in the Andaman Sea between Phuket and Krabi. It's not crowded and touristy like other islands, so it's best for couples who prefer more privacy. You'll find a laid-back paradise of sandy beaches, beautiful sunsets, and colorful sea life. Loh Paret Beach on the island's west coast is the busiest beach, with only three resorts. At Loh Jark Beach, there are more snorkeling tours to the island's coral beds. The best way to get around Kho Yao Yai is by motorbike or bicycle. In fact, hopping from beach to beach via motorbike or bicycle is one of the island's top activities.
---
12. Koh Yao Noi
Koh Yao Noi is an island in Phang Nga Bay halfway between Phuket and Krabi. Its unspoiled scenery has made it a popular destination for honeymoon couples. Most of the resorts, restaurants, and bars are on the island's southeast coast. If you're looking for the best beach, go to Pasai Beach, a secluded stretch of white sand perfect for swimming or relaxing. Klong Jark Beach is another secluded area with great views, and it's close to bars and restaurants. Yao Beach is not as secluded, but it offers panoramic views of the surrounding islands. You won't find much partying on Koh Yao Noi, as drinking alcohol is frowned upon by the locals.
Best Beaches: Pasai Beach, Klong Jark Beach, Yao Beach
Best Attractions: Phang Nga Bay boat tours, scuba diving, snorkeling
Best Resorts: TreeHouse Villas, Six Senses Yao Noi