Eagle Beach is one of the best places to stay in Aruba with white beaches and marine life. To make your stay memorable, there are a few luxury resorts just steps from the water. There are hotels with spas, casinos, and some offer all-inclusive packages. On top of the onsite facilities, we'll also highlight the most spacious suites for couples and families. Here are the best Aruba resorts and hotels on Eagle Beach.
---
1. Bucuti & Tara Boutique Beach Resort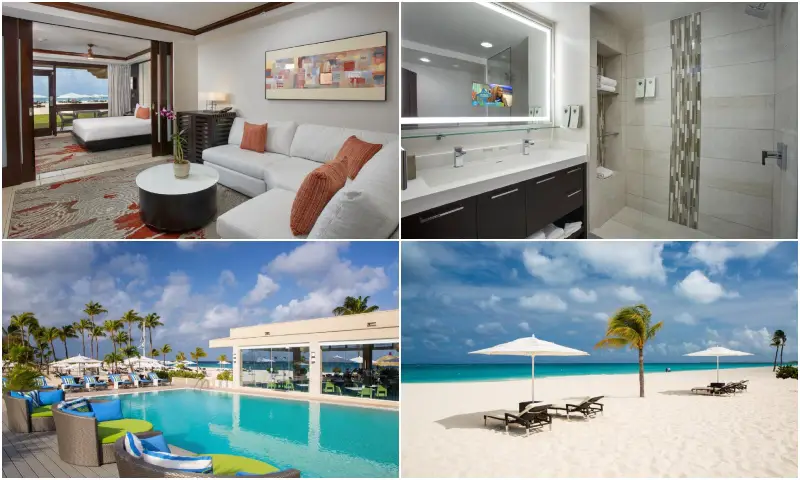 Bask in love and romance at this award-winning beach resort. Bucuti & Tara is an adult-only resort, perfect for couples looking for a romantic honeymoon. Amenities include several intimate restaurants, an outdoor pool, and a spa. Other popular activities include sunset sailing cruises and movies under the stars. The most appetizing meals will be served at Elements Restaurant. For the best stay, check out the Tara Suite for its views and elegant living spaces. You'll love the stunning Caribbean Sea views from the private balcony.
Guest reviews: Everything was great, we had exactly the vacation we wanted. The beach was perfect and the food was exceptional.
Star Rating: 4 stars
Best Rooms: Tara Suite
Address: L.G. Smith Boulevard #55B, Palm-Eagle Beach, Aruba
---
2. Manchebo Beach Resort and Spa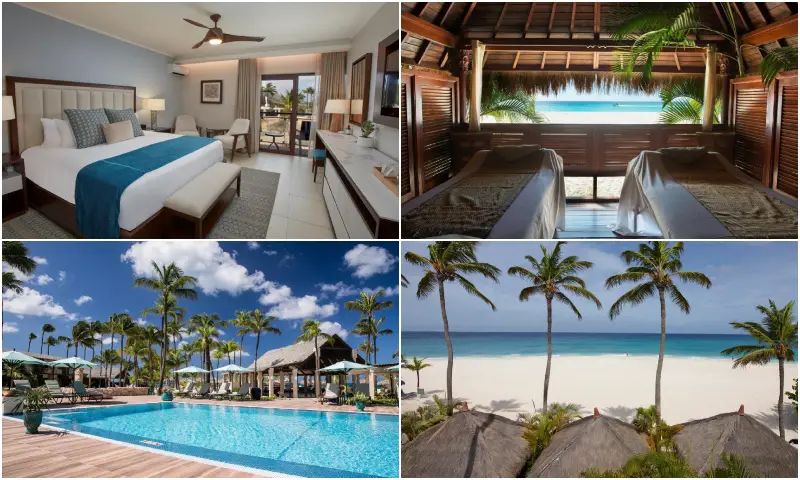 Located right on Manchebo Beach, this resort is popular among honeymooners and wellness enthusiasts. The open-air Spa del Sol is a necessity for every spa holiday. They also have daily yoga and pilate classes complimentary for their guests. Featuring 4 on-site restaurants, you'll never go hungry here. While they're all classy venues, Ike's Bistro is more popular with its casual vibes and indoor-outdoor dining experience. For guests looking for the most relaxing stay, we recommend the Deluxe Double Rooms. Decorated with wood finishes, you'll be surrounded by lush greenery and flowers.
Guest Reviews: Our room was superb and the beach was beautiful and private. We especially enjoyed dinner at the Steakhouse.
Star Rating: 4 stars
Best Rooms: Deluxe double room
Address: J.E. Irausquin Blvd 55, Palm-Eagle Beach, Aruba
---
3. Divi Village Golf and Beach Resort 
Well-known for its all-inclusive amenities, this beachfront resort offers a complete luxury experience. While there are just 3 restaurants onsite, you can visit the other Divi properties nearby for more variety. The most popular hangout spot is Seabreeze Sports Bar where you can enjoy cocktails and beers. For the best food, Windows on Aruba is the best venue. Other facilities onsite include pools with slides and a 9-hole golf course, The Links. Check out the one-bedroom Golf Villa suites if you want a comfortable stay. Sleeping up to 4 guests, these suites are huge, with full kitchens and spacious balconies.
Guest Reviews: Our suite was comfortable and spacious. We loved the pool and the food was very good as well.
Star Rating: 4 stars
Best Rooms: Golf villa one-bedroom suite
Address: J.E. Irausquin Blvd. 93, Palm-Eagle Beach, Aruba
Check Rooms All-Inclusive Official site
---
4. Amsterdam Manor Beach Resort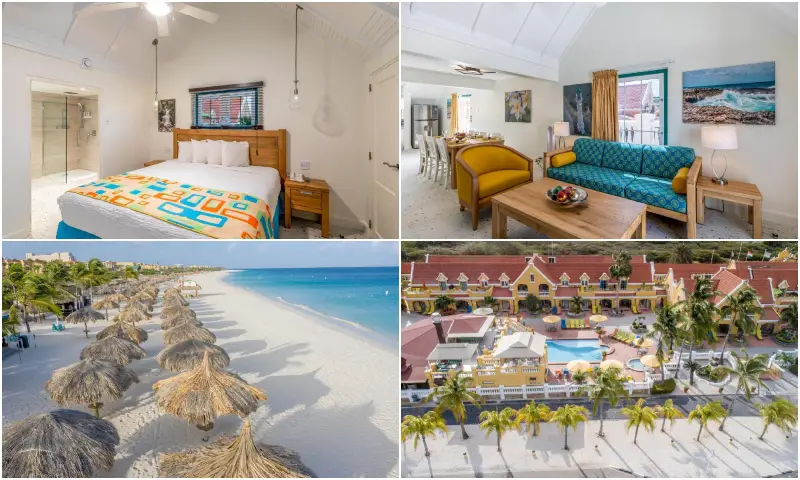 The bright yellow exterior of this resort always puts guests in a happy mood. Amsterdam Manor has rooms for both couples and families. Newly renovated, the suites have a cozy atmosphere with colorful accents. For families, the two-bedroom suites are most suitable. They're fitted with separate bedrooms, a modern kitchen, a dining room, and a private balcony. During the day, you can relax by the pool or head to the beach. If you want to plan a romantic date night, sample delicacies at Passions on the Beach Restaurant. On Thursdays, attend the Manager's Cocktail Party for free snacks and cocktails.
Guest Reviews: Our suite was perfect for our family of five. It was a short walk to the beach and the pool was very nice.
Star Rating: 4 stars
Best Rooms: Two-bedroom suite
Address: J.E. Irausquin Blvd 252, Palm-Eagle Beach, Aruba
---
5. MVC Eagle Beach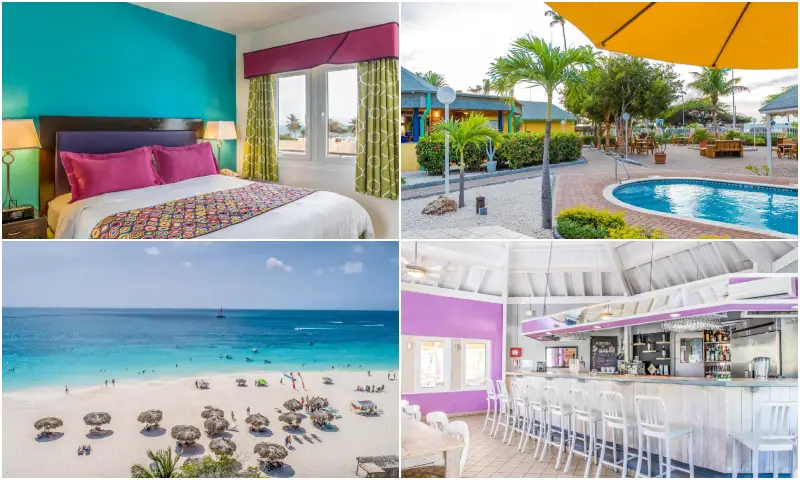 If you're looking for something affordable, then MVC Eagle Beach is the best hotel. It only has 19 rooms, so it'll be a quiet, relaxing, and stress-free vacation. Besides the beach outside, they have a plunge pool, tennis court, and plenty of lounge space to relax. For meals onsite, check out Tulip restaurant which serves international cuisines. Their nearby sister property, Amsterdam Manor Beach Resort, also has some dining options. Rooms are very simple with configurations for both couples and families. While they're not as luxurious as other resorts, the rooms are very clean. Most guests stay at MVC Eagle Beach because it's cheap and has the perfect location.
Guest Reviews: The quadruple room was perfect for our family. Our kids loved the included breakfast. 
Star Rating: 3 stars
Best Rooms: Quadruple room
Address: J.E. Irausquin Blvd 240, Palm-Eagle Beach, Aruba
---
6. Divi Dutch Village Beach Resort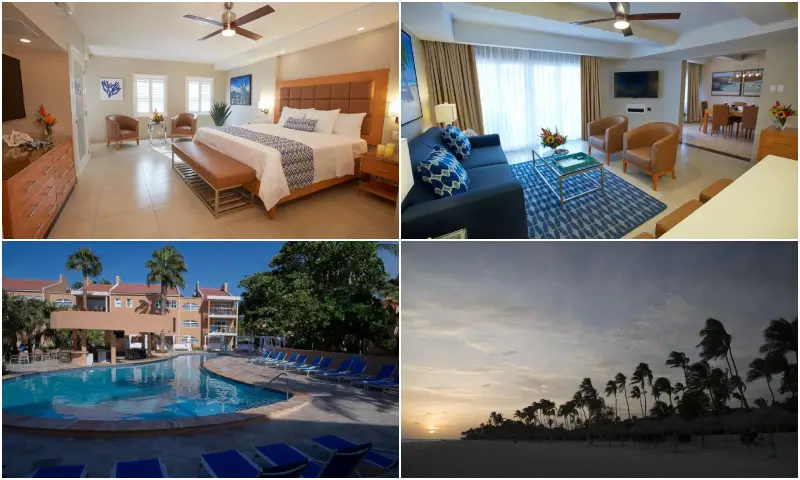 Another all-inclusive resort, booking Divi Dutch Village means you'll have access to their other properties too. But most guests stay here for Tiki Pool Bar, a swim up bar where you can order the best cocktails. For food, they have casual dining at Tiki Grill and Beach Bar. During the day, you can cool off by the pool or at the beach. Other onsite activities include rock climbing, tennis, as well as Spa time if you just want to relax. The one-bedroom suites are the most spacious with their own dining area, kitchen, and balcony. But if you're going out every day, the Studio suites will be more than enough. 
Guest Reviews: Our suite was clean and very spacious. Breakfast and lunch were great and the pool was very nice.
Star Rating: 4 stars
Best Rooms: One-bedroom suite
Address: JE Irausquin Blvd #47, Palm-Eagle Beach, Aruba
Check Rooms All-Inclusive Official site
---
7. Eagle Aruba Resort & Casino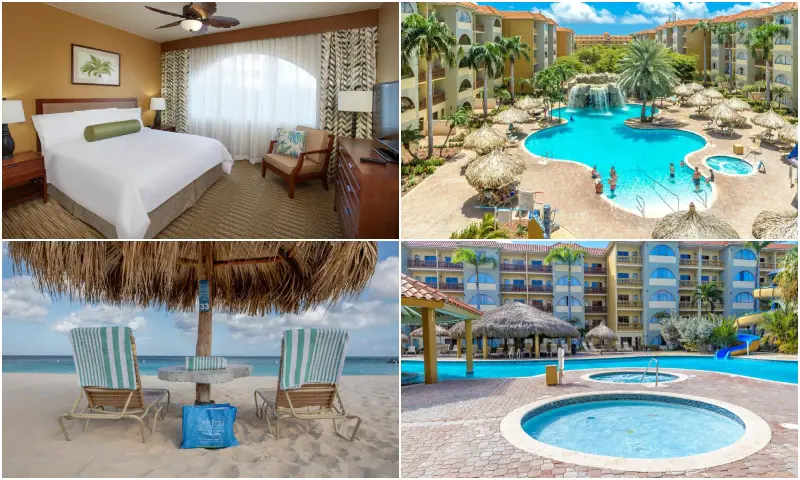 Eagle Aruba Resort & Casino is one of the better options for small families. All the suites have sofabeds so the kids can stay in the lounge. But if you want more space, the two-bedroom premium suites are perfect. Well-furnished, the suites have luxurious bathrooms, open living spaces, and full kitchens. Outside, the adult pool is one of their best features. Sunbeds and tables integrated into the pool will make this the most relaxing spot. Meanwhile, the kids can enjoy their time in the splash pool and waterslide. Other on-site facilities include several restaurants and bars, a market, and a casino. The highlight of your trip will be the Carnival shows happening every Wednesday.
Guest Reviews: Our suite was nice with plenty of room. We loved the three outdoor pools and the daily live entertainment.
Star Rating: 4 stars
Best Rooms: Two-bedroom premium suite
Address: J.E. Irausquin Blvd #248, Palm-Eagle Beach, Aruba
---
8. La Cabana Beach Resort & Casino
Located right next to Eagle Aruba Resort & Casino, you'll have more fun and games if you stay at La Cabana Beach Resort. It's popular among couples looking for extended stays and nightlife. All rooms are apartment-style, with equipped kitchens, lounge space, and private balconies. But with Glitz Casino onsite, you might be spending more time here than in the room. For sunset dinners, Las Ramblas Restaurant is the most romantic spot. A large grocery store is also within walking distance if you prefer to cook in your room. During the day, enjoy their other onsite facilities including pools, hot tubs, a spa, and watersports by the beach.
Guest Reviews: Our apartment was amazing! Great location, close to the beach and watersports.
Star Rating: 3 stars
Best Rooms: One-bedroom apartments
Address: JE Irausquin Blvd 250, Palm-Eagle Beach, Aruba
---
Eagle Beach Vs Palm Beach
Eagle Beach and Palm Beach in Aruba are both popular areas with distinct differences. Eagle Beach offers a serene and relaxed atmosphere. You'll find a wider beach, clear waters, and intimate resorts. It is ideal for those seeking tranquility and privacy. On the other hand, Palm Beach is known for its lively and vibrant ambiance. The beach is more narrow, but there are more water sports and beachfront bars. It caters to visitors looking for an active and social experience. Eagle Beach attracts couples, honeymooners, and families, while Palm Beach appeals to a broader range of travelers. This includes groups of friends and partygoers. Ultimately, the choice between the two depends on personal preferences.
---
Best Things To Do In Eagle Beach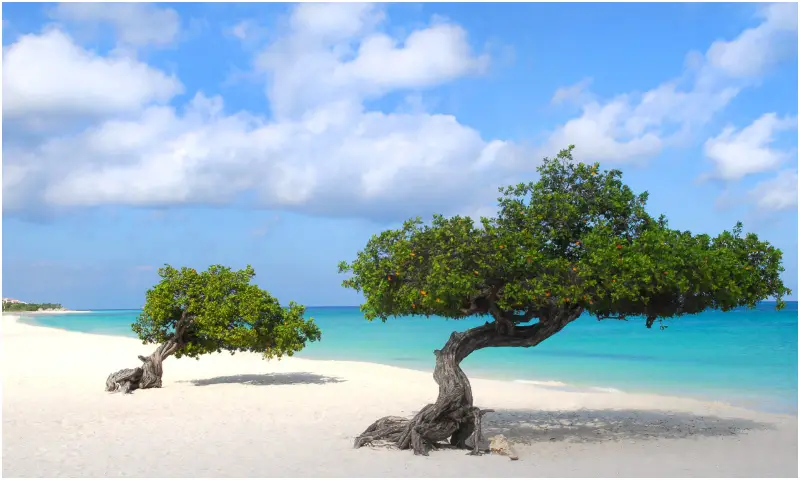 Snorkeling & Scuba Diving – Experience the Caribbean marine life up close and personal. Discover magnificent coral reefs and bright colorful fish. Aruba's famous shipwreck, the Antilla, can be viewed depending on which tour you book. The clear waters make this activity ideal for both snorkelers and divers.
Catamaran Sailing & Cruises – There are a number of Catamaran and cruise tours near Eagle Beach. Dive into the crystal-clear Caribbean waters for a swim or a snorkel. Indulge in the drinks and snacks offered on board, which adds an extra touch of luxuriousness. Lounge on the sundeck and take in the magnificent views.
ATV Tours – Enjoy the freedom the ATV offers, and go on a sightseeing adventure around Aruba. Travel the Islands' rugged terrain and discover different landmarks and hidden Carribean gems. Take the reins by renting your own ATV and enjoy the flexibility of going at your own pace. Alternatively, take a guided tour.
Visit Divi Divi Trees – The Divi Divi trees are iconic natural landmarks. Most tours will stop by picturesque landscapes where these trees reside. You'll see their bent trunks that have been shaped by the constant trade winds across the islands. It's a common photo moment for travellers so have your cameras ready!
---
Best Time To Visit Aruba
Eagle Beach Aruba is a popular destination, known for its clear turquoise waters and white sand breaches. If you're planning a visit, the timing of your trip can really make a difference. Here's a guide to the best times to visit one of Aruba's most beautiful beaches.
Shoulder Season (April to August) – These are some of the best times to visit Eagle Beach. The weather is generally warm and pleasant. Plus, you'll find fewer crowds and lower rates. It's the ideal time for snorkeling, scuba diving, and a variety of water sports.
Peak Season (December to March) – If you're looking for a vibrant cultural experience, and don't mind crowds, you'll love peak season. January and February are Aruba's Carnival Season and it's quite a show. It's non-stop fun, with colorful parades and extravagant costumes. There'll be lively parties, music, and lots of dancing.
Avoiding the Rainy Season (September to November) – Aruba experiences its heaviest rains from September to November. If you don't want to experience long rainy periods or tropical storms, avoid visiting during this time.
Weekdays – Even during peak season, you can make the most of your visit to Eagle Beach. Go on weekdays rather than weekends. There are fewer people, it's more relaxed, and the wait times for activities and attractions are shorter.
---
Best Way To Get Around Eagle Beach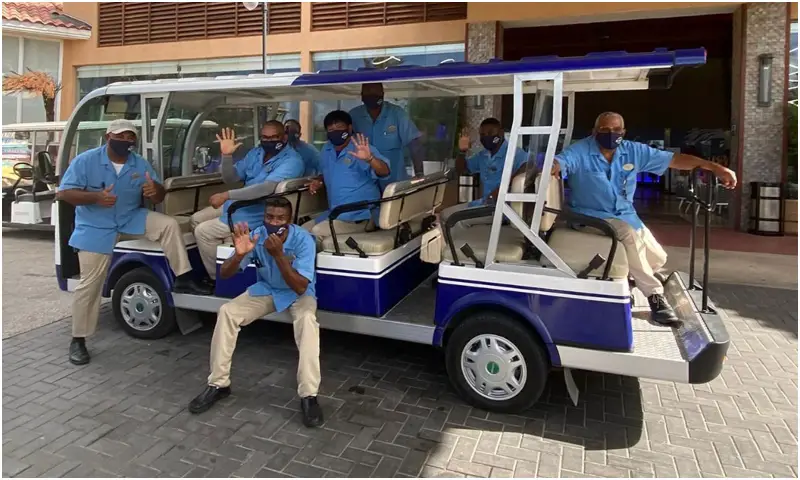 Travel around Eagle Beach safely, conveniently, and hassle-free. There are different types of transport you can take to get around Aruba, and at different costs. Here are the different types of transportation you can use in Aruba:
Rental Cars – Enjoy the freedom of exploring the Island in a rental car. This can be a more cost-effective way to get around the island since taxis can become pricey. Costs vary depending on the type of car you use and the company you rent from.
Taxis – Taxis provide reliable and convenient ways to get around the island. You will be able to access taxis at airports, hospitals, and popular tourist areas. Taxi rates are fixed which makes it hassle-free and transparent. There is an option to hire taxis by the hour at a set rate.
Arubus – The Arubus transportation system is the primary public transport in Aruba. They have regular schedules to popular destinations. It's one of the more convenient and popular options for tourists. Each bus is equipped with air-conditioning and comfortable seating. The buses are modern, and the fare is affordable.
Bicycles – If you're looking for an eco-friendly way to get around the Island then travelling by bicycle is the way to go. Take a leisurely bike ride along Eagle Beach and tourist destinations at your own pace. The flat landscape makes it easy to ride and accessible to everyone. A number of shops are available across the island for bike rentals.
Hotel Shuttles – Divi Dutch Village Beach Resort and Divi Village Golf & Beach Resort offer shuttle services between their properties. They also make a stop at Alhambra Casino which is close to the beaches. If this is the main area you'd like to explore, both resorts are great options. The other resort with a complimentary shuttle is Eagle Aruba Resort & Casino. While the beach is within walking distance, they do have a shuttle for guests. It runs from 9am to 5pm daily.
---
Best Aruba Resorts on Eagle Beach with Casinos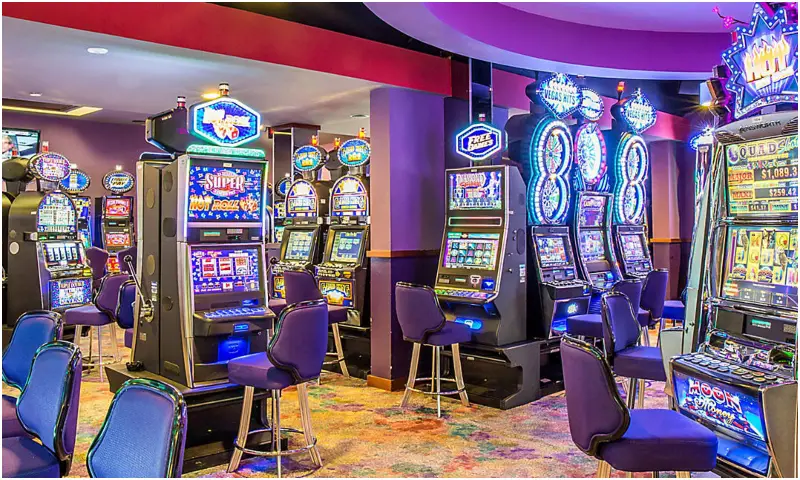 La Cabana Beach Resort & Casino – The social atmosphere of the La Cabana Casino keeps guests entertained for hours. The casino has table games like poker and plenty of slot machines. During the week, guests can be entertained by the live events. With its elegant interiors, you'll be impressed with its casino.
Eagle Aruba Resort & Casino – This casino has a large floor with different table games, like blackjack and poker. Guests can enter the casino at the resort, where they can also access facilities like dining, swimming pools, and a spa. Since it's a short walk to the beach, the casino is a popular choice amongst locals.
---
Best All-Inclusive Aruba Resorts on Eagle Beach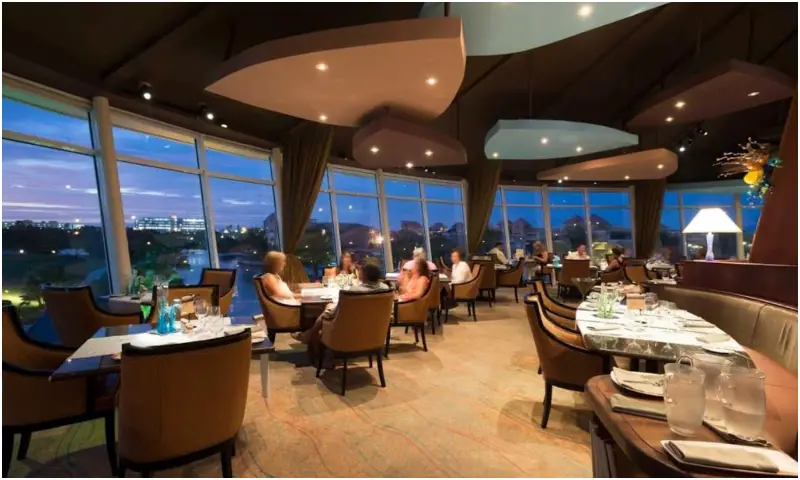 Divi Village Golf & Beach Resort – The all-inclusive package is great for tourists wanting a hassle-free experience. Food and drinks (including alcohol) will be covered at their onsite restaurants. But more importantly, you'll also have access to their sister properties too. This includes Divi Dutch Village Beach Resort, Divi Aruba, and Tamarijn Aruba. Basically, you can dine and drink at all their 14 restaurants and 12 bars! There's more of an adults vibe here, with restaurants like Windows on Aruba and the Coffee Corner. You'll also have access to all their pools and golf course, but only before 3pm. Other services and facilities include Wi-Fi, parking, and shuttles to the beach.
Divi Dutch Village Beach Resort – Being part of the Divi group, the all-inclusive option is available here too. It's much more casual here with Tiki Pool Bar being the most popular hangout spot. You can easily spend the whole day drinking alcohol while relaxing in the pool. However, they only have one dining venue onsite – Tiki Grill. You'll have to catch the shuttle to the other properties for more food and drinks. 
---
Best Aruba Resorts on Eagle Beach for Families
Eagle Aruba Resort & Casino – Take the whole family to this luxurious resort situated just a short walk from Eagle Beach. Kids can have fun in the splash pool, or enjoy games at the playground. Use the babysitter service, and have a romantic dinner for two at one of the restaurants. For families of four, the 2-bedroom Premium suite will be the perfect stay.
Amsterdam Manor Beach Resort – This resort offers a peaceful environment for families to enjoy quality time together. They also have a kid's pool area and fun activities for little ones. Book their 2-bedroom suites which have a lounge area and full kitchen. Both rooms have huge TVs so parents and kids can watch their own shows. No need to fight over the remote!
---
Best Aruba Resorts on Eagle Beach for Couples
Bucuti & Tara Boutique Beach Resort – Stay at the number 1 rated hotel in the Caribbean with your partner. Dine under the palapa, have a couples massage, or enjoy a picnic on the beach. Try to book the Tara Penthouse Suite. It has a bathtub with a walk-in shower, and a large balcony overlooking the sea. Its oceanic views are great for romantic nights.
Manchebo Beach Resort & Spa – Spoil you and your loved one to an unforgettable romantic experience. Enjoy the couples massage services, or a romantic dinner under the stars. Get active by starting your day off with a yoga class together. For the most intimate stay, check in to the Deluxe one-bedroom suite. You'll love the private balcony, living room, kitchenette, and king-sized bed.
---
Eagle Beach Hotels Map
Find More Resorts on Eagle Beach, Aruba
---
Best Eagle Beach Rooms