Barcelona offers a unique blend of modern trends with local traditions. It's easy on the eye, with the Balearic Sea and the local food scene being sensory treats! The city's beautiful architecture makes it a favorite destination for couples, especially for date nights. Plus, attractions like cruises, flamenco shows, and other fun things to do make for an intimate getaway. Barcelona comes alive at night, buzzing while still being very safe to explore. If you want to surprise your partner, here are the most romantic date ideas in Barcelona at night.
---
1. Sunset Cruise & Sailing
What's more romantic than sailing on the Mediterranean waters during sunset? As a coastal city, Barcelona offers unlimited options to sail with your better half. Some cruises offer live guitar or jazz music, allowing you to experience more culture. If sipping wine while on deck is more your thing, check out cruises with light snacks and an open bar. For adventure lovers, a catamaran cruise is a natural choice. Or head out in a luxury private yacht with just the two of you on deck. Most of the cruises start from the two main ports of Barcelona, Port Vell and Olympic Port. It's best to book the cruise in advance to ensure that your romantic evening goes smoothly.
Duration: 1-2 hours
Tour times: Daily from 5:30pm
---
2. Tapas and Wine
Experience the Barcelona bar scene by stepping out for tapas and wine! Tapas started as appetizers and has evolved into a sophisticated cuisine. Barcelona boasts endless options for a relaxed evening with tapas and wine. No matter your budget, you will find tapas bars serving delicious food and wine. Bar del Pla and El Quim de la Boqueria are authentic Tapas bars for couples to try out. For the freshest food, stick to the traditional Spanish time for tapas, from 8:30pm to 10:30pm. For a more immersive experience, sign up for walking tours with tapas and local wine sampling.
Duration: 3 hours
Tour times: Daily from 6pm
---
3. Cooking Class
Dip your toes into the Spanish culture by taking up a cooking class. Couples will find many fun cooking classes with local chefs. You can also choose how complex you want the class to be to suit your skills. Some classes are designed for cooking a four-course meal, while some are for basic tapas. The Paella Club and Paella Cooking Experience are popular for their cooking classes. If you want to enjoy bottomless wine while cooking, The Paella Club is the best choice for couples. For a gastronomical experience, choose classes offering market trips in addition to cooking.
Duration: 3-4 hours
Class Times: Daily from 5pm
---
4. Flamenco Shows
A trip to Spain would be incomplete without watching a Flamenco show! Treat your loved one to an evening of passionate dance and music at one of the many Flamenco bars of Barcelona. Flamenco is an art form that started in Andalusia and became famous all over the world. Barcelona attracts the best Flamenco performers from across Spain. Tablao Flamenco Cordobes is a crowd favourite for Flamenco shows. The audience is seated close to the stage, giving a very intimate experience. Tablao de Carmen and Gran Gala Flamenco are also known for their shows. Most Flamenco bars offer packages with drinks and dinner options.
Duration: 1-3 hours
Tablao Flamenco Cordobes: Daily from 6pm
Teatre Poliorama: Daily from 6:30pm
Tablao de Carmen: Daily from 6pm
Gran Gala Flamenco: Daily from 6:30pm
---
5. Magic Fountain
Barcelona's iconic Magic Fountain is much sought after by locals and tourists alike. This gigantic structure was built in 1929 to celebrate the International Expo. The fountain's sound and light show is ideal for an intimate evening with your partner. With more than 7,000 million combinations of light and water, The Magic Fountain is a sight to behold. From cartoon soundtracks to Spanish classical music, the fountain boasts many stunning choreographies. What's more, these shows are completely free! The timings of the show vary throughout the year, so double-check show times before you go!
Show Times:  Thursday to Sunday from 9pm
Duration: 30 minutes
Address: Pl. de Carlos Buigas, 1, 080038 Barcelona, Spain
---
6. La Pedrera Night Experience at Casa Mila
Spend an evening revelling in decadent Spanish architecture with your loved one. Casa Mila is an architectural marvel located in Passieg de Gracia, Barcelona's most luxurious avenue. Its construction was completed in 1912 by the renowned architect Gaudi. Casa Mila is also known as La Pedrera, meaning a stone quarry, and is named that because it resembles one. This spectacular building is best visited at night for its famous nocturnal guided tour. The tour will take you to the famous Flower Courtyard, Gaudi Exhibition, and the Warrior Rooftop. Cava, a Spanish sparkling wine, comes with the tour and will elevate your date night! Book ahead to avoid any last-minute surprises.
Opening Hours: Daily 8:30pm-11pm
Duration: 1 hour 30 minutes
Address: Pg. de Gracia, 92, 08008 Barcelona, Spain
---
7. Casa Batlló Light Show
Add an edge to your romantic evening by watching the light show at Casa Batllo. Casa Batllo is a masterpiece of the architect Antoni Gaudi, who has a few buildings in the city. Every year, its facade is lit up with colorful lights accompanied by music. The light shows are only available during December, so plan your visit accordingly. A light show starts every 30 minutes and lasts for 3 minutes. Each show is unique, celebrating the building's quirky exterior. You can access Casa Batllo's exterior facade from the street, so there is no need to book ahead.
Opening Hours: Sun-Thurs 5:30pm-10pm; Fri-Sat 5:30pm-11pm
Duration: 3 minutes
Address: Pg. de Gracia, 43, 08007 Barcelona, Spain
---
8. Explore Gothic Quarter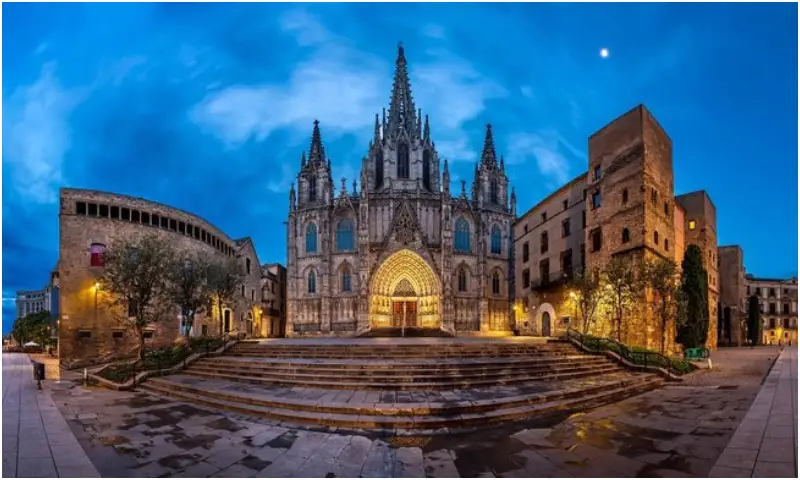 Stepping into the Gothic Quarter is like traveling back to the Middle Ages! The Gothic Quarter has it all – local markets, tapas bars, history tours, and more. You won't be short on dating ideas if you visit this area at night. Visit the majestic Catedral d'Barcelona at the highest point of the Gothic Quarter. It is home to Portal d'Angel, one of Europe's busiest pedestrian streets. Plus, La Boqueria, one of Europe's oldest markets, is a perfect place to buy gifts and souvenirs. The Roman Temple, nestled behind the cathedral, is also worth visiting. Or you can simply stroll through the cobbled alleyway on a romantic walk with your partner.
Duration: 1 hour 30 minutes
Tour Times: Daily from 6:15pm
Address: La Rambla & Via Laietana
---
9. Spanish Village (Poble Espanyol)
Experience all of Spain in this open-air architectural museum! You will find no less than 117 buildings styled in different regions of Spain. On arrival, you will find interactive screens displaying information about the museum. Thanks to state-of-the-art technology, you can immerse yourself in five distinct regions of the country. With typical landscapes, sounds, and scents, this is an experience for all your senses. When done, you can take a break from the sensory overload at the nicely laid out, romantic picnic area. Art lovers should head straight to the Museum Fran Daurel, which houses over 300 artworks by Picasso, Salvador Dali, and Joan Miro. It's better to book tickets in advance for this super busy gem of Barcelona.
Opening Hours: Tues-Sun 10am-12am; Mon 10am-8pm
Duration: 1 to 4 hours
Address: Av. de Francesc Ferrer i Guardia, 13, 08038 Barcelona, Spain
---
10. Walk Inside Sagrada Familia
Celebrate your love at Sagrada Familia, the most visited landmark in all of Spain. This last masterpiece of Gaudi is the only unfinished Roman Catholic church in the world. The high columns inside the cathedral are reminiscent of trees in a forest. Witness the story of Christ cast by light passing through the stained glass windows. Or, explore the on-site museum, which offers a peek at the architect's creative process. You can choose tour packages from basic entry tickets to guided tour packages. Book tickets online to skip waiting in long queues. There are three entrances here, but couples should head to the General Entrance.
Opening Hours:  Daily 9am-8pm 
Duration: 1 hour 30 minutes
Address: C/ de Mallorca, 401, 08031 Barcelona, Spain
---
11. Barcelona Aquarium
Treat your partner to a sliver of the Mediterranean at Europe's largest aquarium. The aquarium houses 35 Mediterranean ecosystems for you to explore. Get up close and personal with the many sharks at the aquarium. Or, to further pump up your adrenaline, you could dive with the sharks! End the tour at the aquarium's permanent interactive exhibitions: Planet Aqua and Explora. Meet the Humboldt penguins, jellyfish and piranhas at Planet Aqua! Indulge your inner marine nerd with the immersive submarine experience at Explora. The aquarium is a busy destination, so book your tickets online to avoid long queues.
Opening Hours: Mon-Fri 10am-7pm; Sat-Sun 10am-8pm
Duration: 1 hour
Address: del Port Vell, Moll d'Espanya, s/n, 08039 Barcelona, Spain
---
12. La Boqueria Market
This humongous market located in the heart of Barcelona is a food-lovers paradise. La Boqueria translates to "a place where billy goat meat was sold," but you can now find much more here. In the mornings, you will see the top chefs in Barcelona pick up the freshest ingredients. On your visit, indulge your tastebuds in delicious Jamon and local cheeses. As well as this, La Boqueria is also known for its rich, melt-in-the-mouth ham. As a great food market, it's natural that it will be accompanied by great dining options. Sample local food and drinks at the many restaurants and bars inside La Boqueria. The best time to visit this busy market is early morning, but it still makes a great evening location with a date.
Opening Hours: Monday to Saturday 8am-8:30pm
Duration: 2 to 4 hours
Address: La Rambla, 91, 08001 Barcelona, Spain
---
13. Romantic Walk in Ciutadella Park
The Ciutadella Park is popular with couples, built to emulate the Luxembourg Gardens. Ciutadella Park is an oasis of calm and peace in the middle of a buzzing city. The park is a favorite picnic spot, both for travelers and locals. A walk through this relaxing environment makes for a perfect romantic evening. With a boating pond, a beautiful fountain, and many paths, this park is a great place to unwind after a long day. The fountain is illuminated at night, making for a stunning view.
Opening Hours: Daily 10am-10:30pm 
Duration: 1 to 4 hours
Address: Passeig de Picasso, 21, 08003 Barcelona, Spain
---
14. Icebarcelona
Head over to Icebarcelona to enjoy a drink at ice-cold temperatures! Located on the beach of all places, this is the only ice bar in Barcelona. Icebarcelona features an intimate ice room decorated with gorgeous ice sculptures. A perfect place for couples to huddle together with a delicious cocktail! If you're here on a date, they offer special packs with cocktails, a chocolate tray, and a bottle of Cava. This unique bar is currently only taking online reservations, so book ahead. You don't have to worry about carrying warm clothing as they provide jackets and gloves.
Opening Hours: Daily 12pm-3am 
Duration: 30 to 59 minutes
Address: Entrada por la Playa, C/ de Ramon Trias Fargas, 2, 08005 Barcelona, Spain
---
15. Football at Camp Nou
Football is a huge part of life in Barcelona. Visit Camp Nou, the home stadium of FC Barcelona, to experience the city's football frenzy! Plan an adrenaline-charged date night at Europe's largest football stadium. You can book tickets online to any of the many football matches that this iconic stadium hosts. While here, visit the Barca Cafe to immerse yourself in the Blaugarana atmosphere. If no games are on, they have packages with tours of the stadium. The all-inclusive tour package is popular with couples.
Opening Hours: Daily 9:30am-7:30pm daily; Match times vary each week
Duration: 1.5 to 4 hours
Address: C. d'Aristides Maillol, 12, 08028 Barcelona, Spain
---
Romantic Date Ideas In Barcelona For Free
There are many free things to do in Barcelona at night. But to make it an eventful date night, here are a few recommendations:
Magic Fountain – You can watch the spectacular sound and light show at The Magic Fountain in Montjuick.
Ciutadella Park – Huge park for a lovely stroll. The fountains are beautiful when they're lit at night.
Gothic Quarter – A buzzing area of Barcelona, the street La Rambla is the best place to go for a walk.
---
Best Places to Propose in Barcelona
If you're ready to take the next step, it can be difficult to decide where to propose. Barcelona has many beautiful locations. To make this a memorable date, these are some of the places we've seen people propose:
Sunset Cruise – Without a doubt, a sunset cruise is one of the most romantic places to declare your love! Book a private yacht for a more intimate experience. Pick a cruise with your favourite wine or the Spanish Cava to celebrate your engagement. But please…be super confident that the answer will be "Yes"! Otherwise, it'll be an awkward night.
Magic Fountain – Whether you propose during or after the light show, the Magic Fountain backdrop makes this a memorable location.
Casa Mila – Like the Magic Fountain, the rooftop light show is the perfect setting to propose. 
---
Is it safe to walk around at night in Barcelona?
Yes, most parts of Barcelona are safe to walk around at night. It can be a bit busy, with many people always on the streets. The southern part of Las Ramblas can get shady at night. Avoid this part of the city if you're staying out late.
---
Where To Stay In Barcelona
If you're looking for a place to stay overnight in Barcelona, there are plenty of romantic hotels to choose from. But there are a few that are well positioned near the date ideas we've mentioned. Here are some of the best hotels designed for an intimate night.
Kimpton Vividora Hotel, an IHG Hotel – Centrally located in the Gothic Quarter, Kimpton Vividora is one of the best 5-star hotels in Barcelona. All its Suites have private bathtubs so you can relax after a long night out.
Sofitel Barcelona Skipper – Just a 5-minute walk from IceBarcelona, this is the best hotel to stay overnight if you've had too many drinks. They have plenty of romantic suites available. Check out the Presidential suite if budget isn't an issue.
W Barcelona – Located right on the beach, you'll have the most stunning views from W Barcelona. Make sure you book the Marvelous Suite which has a private hot tub on the balcony. Aquàrium Barcelona is also close by. 
---
Barcelona Map
Find More Date Ideas in Barcelona
---
Summary