Are you planning a relaxing trip to London?
Then you're going to want to start coming up with an itinerary!
Although it's one of the biggest, most fast paced cities in the world, there are plenty of ways to relax in London if you know where to look.
From taking a stroll through Hyde Park to cruising down the River Thames, keep reading to discover the 15 most relaxing things to do in London.
Where to Stay
As a start, you need the right place to stay as your base for a relaxing holiday.
We've had a look at hundreds of hotels, checking their facilities, pricing, services, activities and on-site dining.
Inhabit Hotel London would be our best recommendation for the most relaxing stay.
The work shops and wellness activities at Inhabit Hotel London will compliment all the relaxing things to do we found in London.
Check out their rooms and see how they can add value to your next London getaway.
Once you've organised your hotel, you can decide on the most relaxing activities when you arrive in London.
---
1. Stroll Around Hyde Park
Walking through Hyde Park is a must while in London.
This urban park in central London is one of four royal parks in the city.
The park is divided by the scenic Serpentine River, which you can even swim in during the summer months.
Beyond swimming, Hyde Park is an idyllic place to go for a stroll through gardens.
Check out the famous monuments as you explore the park or even have a picnic.
Despite being right in the city centre, the large size of the park makes it easy to find some alone time.
It also hosts events and festivals throughout the year, and is only a short distance from Inhabit Hotel London.
Opening Hours: Daily 5am-12pm
Nearest Stations: Queensway, Lancaster Gate, Hyde Park Corner, Knightsbridge
---
2. Kensington Gardens
A walk around Kensington Gardens is just what you'll need after a busy day of sightseeing.
Kensington Gardens is located just west of Hyde Park, so you could even see both at the same time if you like.
The gardens span 275 acres and are one of London's most historic royal parks.
Kensington Gardens is made up of Serpentine Lake, as well as a round pond and a Dutch garden that dates back to the 18th century.
There are also multiple notable statues within the gardens, such as the Albert Memorial and the Roman sculpture known as 'The Arch.'
Enjoy the beautiful flowers and fountains of Kensington Gardens in all seasons throughout the year.
Opening Hours: Daily 6am to dusk
Address: London W2 2UH, United Kingdom
---
3. Regents Park
Regent's Park is yet another royal park that is a great option if you're looking for a relaxing activity.
It is located in north west London and is typically a bit quieter than the more central Hyde Park.
The park was founded in 1811 and today is over 410 acres.
Park highlights include Queen Mary's Gardens, the boating lake, and Hanover Gate treehouse playground.
In addition, Regent's Park is also home to the Regent Park Zoo and Regent's University London.
It is also surrounded by some of the most upscale flats in London.
Opening Hours: Daily
Address: Chester Rd, London NW1 4NR, United Kingdom
---
4. Kew Gardens
Visit one of the most famous botanical gardens in the world while in London.
Kew Gardens is a leisurely attraction great for people of all ages, as well as large groups.
It is also easily accessible via the tube (there is a tube station called Kew Gardens).
The park itself is 120 hectares in size, and is one of the oldest parks in the UK.
It also happens to house the largest number of living plant species on the planet.
Kew Gardens is divided up into sections, such as the Japanese Garden and the Palm House.
It also has a treetop playground and rotating interactive exhibits.
Opening Hours: Daily 10am-6pm
Location: Richmond, United Kingdom
---
5. Afternoon Tea
Afternoon tea is a must while in London.
And in addition to being ultra tasty, it's also a very relaxing activity.
Simply sit down with your friends or family and enjoy some delicious treats and freshly brewed tea.
There are plenty of afternoon tea opportunities in London.
Many of the oldest hotels in the city offer it in a historic tea room setting.
But there are also specific tours that include afternoon tea on an iconic double decker bus or afternoon tea in Westminster Abbey.
No matter what you choose, you can expect savoury finger sandwiches, delicate pastries, and of course, scones with jam and clotted cream!
More reading:
---
6. Cruise on the River Thames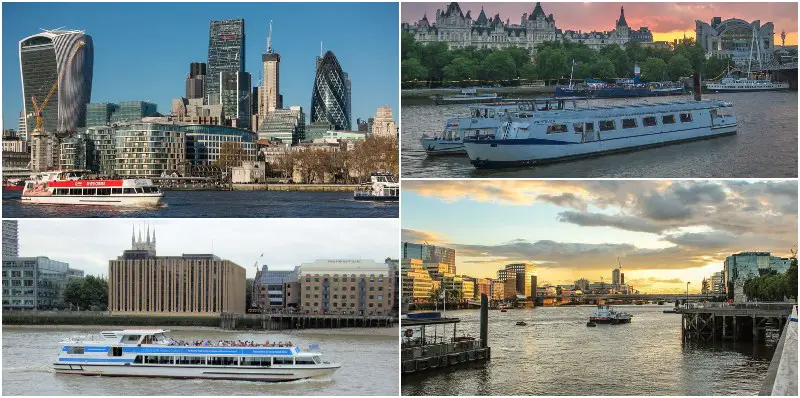 Can you think of anything more relaxing than cruising down the River Thames?
Walking along the river can be extremely busy, especially during rush hour.
That is why we recommend getting away from the hustle and bustle by floating along the river on a state of the art river cruise.
There are plenty of cruising options available in London, whether you're looking for a sunset experience or a lunch or dinner cruise.
No matter which you choose, you can bet it will be relaxing.
You will also have a unique vantage point when it comes to spotting some of London's most famous attractions.
---
7. London Eye
See London from the comfort of a private pod on the London Eye.
This attraction first opened in 1999 and since then, has quickly grown to become one of the most popular sites in the city.
It is made up of 32 pod capsules that can accommodate a total of up to 800 people.
One trip around the wheel takes roughly half an hour, meaning you will have plenty of opportunities to snap photos of all the best sites.
The London Eye is the fourth tallest structure in the city so you can bet that the view is incredible.
You can even book private pods with food or champagne if you wish to experience the magic alone with your loved ones.
Opening Hours: Monday to Friday 11am-6pm; Saturday to Sunday 10am-8:30pm
Address: The Queen's Walk, Bishop's, London SE1 7PB, United Kingdom
---
8. London Shard Viewing Platform
Enjoy the city from above at the London Shard Viewing Platform.
The Shard is one of the most iconic buildings in London's skyline.
Located in the City of London, this all glass building is a sight to behold.
But taking the elevator up to the viewing platform and seeing the city from above is even more spectacular.
The structure stands 1,016 feet tall and took over 12 years to create.
The Shard is 72 floors and looks right down on the River Thames.
Be sure to bring your camera!
Opening Hours: April to October 10am-10pm; November to March 10am-7pm
Address: 32 London Bridge St, London SE1 9SG, United Kingdom
---
9. ZSL London Zoo
Spend time with some of the cutest, most exotic animals in the world at the ZSL London Zoo.
The London Zoo was established in 1828.
It was originally intended as a scientific zoo where animals would be studied, but eventually opened to the public in 1847.
The zoo is located in Regent's Park and today it contains over 800 species of animals.
Their resident animals today are located in enclosures that mirror their natural habitats.
For example, there is a newly built Tiger Territory and a Gorilla Kingdom.
For a leisurely stroll and relaxing time, the London Zoo is the ideal place to visit.
Opening Hours: Daily 10am-5pm
Address: Outer Cir, London NW1 4RY, United Kingdom
---
10. Sea Life London Aquarium
Explore the ocean at the Sea Life London Aquarium.
This family-friendly attraction is conveniently located in central London.
That means you won't have to travel far to get up close and personal with penguins, fish, and more.
Sea Life London houses one of Europe's largest collections of marine animals.
You will find everything from Gentoo penguins to Sand Tiger Sharks here.
There are over 500 species of marine animals in total and over 14 zones for visitors to explore.
In some zones, it's almost a zen-like experience with music playing in the background while sea creatures swim by peacefully in their habitats.
Opening Hours: Monday to Friday 10am-4pm; Thursday 11am-4pm; Saturday 9:30am-6pm; Sunday 10am-5pm.
Address: Riverside Building, County Hall, Westminster Bridge Rd, Bishop's, London SE1 7PB, United Kingdom
---
11. London Natural History Museum
Enjoy a relaxing afternoon at one of the most famous museums in the world, the London Natural History Museum.
The huge museum dates back to 1881 and has been a staple of the posh Kensington area since then.
Not only is the building itself stunning, but people of all ages will enjoy its many exhibits.
Stroll through the London Natural History Museum and you will come across everything from dinosaur skeletons to a creepy crawlies gallery.
The museum houses over 70 million specimens in total, however, not all are on display.
Whatever you do, be sure to check out the Diplodocus skeleton and the animatronic T-Rex in the Dinosaurs Gallery.
Opening Hours: Daily 10am-5:50pm
Address: Cromwell Rd, South Kensington, London SW7 5BD, United Kingdom
---
12. Watch a Live Show
London is home to the West End, on par with Broadway when it comes to live shows.
Thus, seeing a play or a musical while in London is a great activity to participate in!
It's also very relaxing as all you need to do is sit down and enjoy the show.
You will find some of the most famous musicals performed in the West End, such as The Lion King, Wicked, School of Rock, and Les Miserables.
If these big musicals don't appeal to you, there are also other types of live events, such as seeing a Shakespeare play at the Globe Theatre.
---
13. London Shopping
Calling all shopaholics!
If you need a break from all the sight seeing, why not indulge in a little retail therapy?
After all, London has some of the best shopping in the world.
From the iconic Harrods to London's many markets, like Borough Market and Camden Market, there are shopping opportunities at every turn.
There are even official shopping tours you can take that will transport you to some of the best shopping areas.
Whether you prefer to shop alone or in a tour group, don't miss out on all the incredible finds available in London.
More Reading:
---
14. Bike Riding Around London
Give you feet a rest by renting a bike and exploring the city on two wheels.
There are plenty of official bike tours, as well as bike rental places for visitors to use.
You can even rent city bikes by the half hour or hour.
Bike through Hyde Park, along the River Thames, or all over the city.
Whatever you decide, you will love exploring the city in this leisurely manner.
There are even tours that combine buses and biking if you need a rest.
---
15. Food Tasting in London
As one of the biggest cities in the world, London is also the most diverse.
This has made for an extremely unique melting pot of culture inspired by countries all over the world.
This melting pot also translates to food, which is why you can find almost any type of cuisine in London.
Exploring the city's food scene is a must if you're looking to relax while dining.
From delicious Indian curries to Moroccan stews, you can find it all here.
There are also plenty of tours, like market tours, chocolate tours, and more, that will allow you to explore a particular part of the city's food scene.
More Reading:
---
We hope you've come to see that there are plenty of opportunities to relax in London.
From strolling through a royal park to exploring a historic museum, this bustling metropolis has plenty of leisurely activities for visitors.
Find More Relaxing Things to do in London