Just behind Tokyo, Osaka is a very popular city for first-time visitors. With a mix of attractions all over the city, there's something for everyone to enjoy – even kids. We'll show you popular theme parks, museums, shopping areas, and landmarks. There are things to do in all seasons, particularly in spring when the cherry blossoms come to life. Read on to discover the best places to visit in Osaka, Japan.
---
1. Osaka Castle
Osaka Castle is one of Japan's most historically significant castles. It was built by Toyotomi Hideyoshi, one of Japan's great unifiers, to rival Azuchi Castle of another unifier, Oda Nobunaga. By 1615, the castle fell in the Siege of Osaka. The castle went through many more tumultuous events and reconstructions. It fell into neglect after Word War 2, however, by 1997 a modern reconstruction restored Osaka's pride. Today, you can take an elevator to the top and explore the modern museum inside. The surrounding Osakajo Park is fun to explore with some cafes near the Morinomiya Subway Station entrance.
Opening Hours: Daily 9am-5pm
Address: Japan, 540-0002 Osaka, Chuo Ward, Osakajo
---
2. Universal Studios Japan
Tokyo may have Disney World, but Osaka has Universal Studios Japan (or USJ). No matter when you go, it will be busy so try to plan ahead. Some of the more popular attractions are Super Nintendo World, Harry Potter, Minion Park, Water World, and Jurassic Park. There are also rides and play zones for young children. During the day, there are street parades and live shows too. Use the smartphone app to check waiting times so you can hit all the rides faster. It might even be worthwhile to buy express passes to save time on the best rides. As a major regional attraction, many tour agents have ticket and package deals.
Opening Hours: Mon-Fri 10am-7pm, Sat-Sun 9am-7pm
Address: 2 Chome-1-33 Sakurajima, Konohana Ward, Osaka 554-0031, Japan
---
3. Osaka Aquarium Kaiyukan
The Osaka Kaiyukan is one of the most unique aquariums in the world. As you enter through an 'ocean tunnel', there'll be different zones to experience. You'll see marine life like otters, puffins, sea lions, penguins, and tons of fish. The highlight is the huge Pacific Ocean tank which is 9 meters deep and 34 meters long. Besides the stunning shoals of fish and stingrays, you'll see an impressive whale shark. To avoid a long wait, you can buy a timed-stamped entry ticket online. Nearby is the Tempozan Harbor Village, a Legoland center, the Tempozan Ferris Wheel, and a sailing ship.
Opening Hours: Daily 10:30am-8pm
Address: 1 Chome-1-10 Kaigandori, Minato Ward, Osaka 552-0022, Japan
---
4. Tennoji Zoo
Tennoji Zoo has been a staple of Osaka for a long time. They have a diverse range of animals from all over the world. You'll see various birds, grazing animals, reptiles, and the popular petting zone. They also have giraffes, zebras, and a hippo house in the Safari section.  Allow a couple of hours to see all the animals at Tennoji Zoo. The best time to go is on a weekday when there are fewer visitors. Keitakuen Garden is also nearby so you can relax here after the zoo.
Opening Hours: Tues-Sun 9:30am-5pm
Address: 1-108 Chausuyamacho, Tennoji Ward, Osaka, 543-0063 Japan
---
5. Shitenno-ji Temple
Osaka's Tennoji Ward is actually named after its historic Shitenno-ji Temple. The name derives from the four (shi) heavenly kings (tenno) worshipped in Mantra Yana Buddhism. The origins of the temple date to Prince Shotoku of the Asuka Period (592 to 710). It was Japan's first officially recognized temple. On the East Gate, you'll see a fusion between Shinto and Buddhist styles – the oldest of its kind dating back to 1294. At the Spring equinox, the sun sets directly between the West Gate during the Jissokan festival. There are various treasures, ancient and modern, to see at the temple. One is the Dragon Well, the recently restored Eirei-do Hall, and the Gokuraku-Jodo Paradise Garden. Visitors are free to walk around, but a couple of areas require a small entry fee between 200 to 400 yen. 
Opening Hours: Daily 8am-4pm
Address: 1-11-18 Shitennoji, Tennoji Ward, Osaka, 543-0051 Japan
---
6. Sumiyoshi Taisha
Sumiyoshi Taisha can be considered the spiritual heartland of Osaka City. This Shinto shrine, in the south of the city, traces its origins to the earliest days of Osaka as a trading port. Its legends go back 2000 years to the Empress Jingū of the 3rd century, and it also worships three sea gods, the Sumiyoshi Sanjin. The midsummer Sumiyoshi Matsuri is also one of Osaka's biggest festivals. But there are other key festivals throughout the year to enjoy as well. No matter when you visit, we're sure you'll enjoy its wide precincts and abundance of nature.
Opening Hours: Daily 6:30am-5pm
Address: 2 Chome-9-89 Sumiyoshi, Sumiyoshi Ward, Osaka, 558-0045 Japan
---
7. Osaka Museum of Housing and Living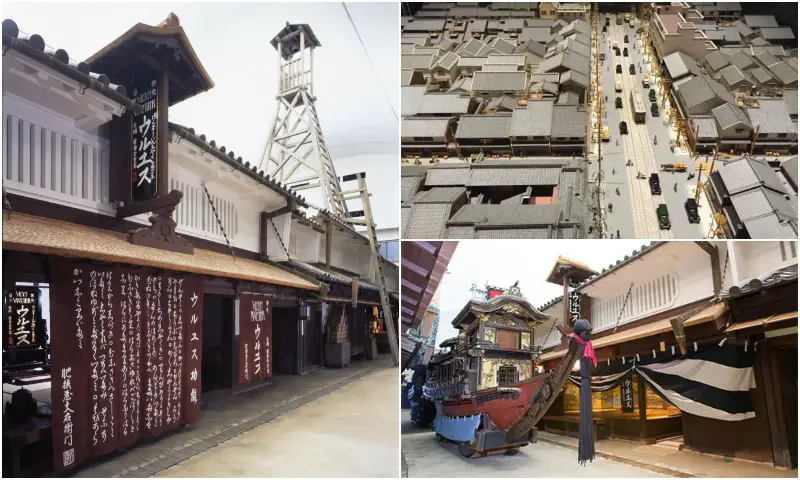 Housing takes on a particular interest in a country of dense urban living. At the Osaka Museum of Housing and Living, you'll discover how Osaka City evolved. In the Edo Period exhibition, you can wander streets restored to this era. You'll see merchant houses and traditional storefronts. Other exhibits have intricate scale models with English audio guides. Temporary exhibitions, however, may not always have English support. Also on display are collections of household appliances, objects, and ornaments. The museum is a short walk from Yodo River and one subway stop from Kids Plaza Osaka.
Opening Hours: Wed-Mom 10am-5pm
Address: Japan, 530-0041 Osaka, Kita Ward, Tenjinbashi, 6 Chome 4-20
---
8. Spa World
Japan is a country famous for its natural hot springs known as 'onsen'. Spa World, in Tennoji, takes things up a notch with onsen and spa concepts from around the world. In the European Zone, there are themed baths resembling ancient Greece, Rome, and even Atlantis. The Asian Zone has Persian, Japanese, and Bali baths plus a Hammam. Men and women are separated but the zones do alternate each month. On the 8th floor, there are international stone saunas for both sex, but swimsuits are required. Keep in mind, spas do not allow entry to those with tattoos, small or large. The complex also has a swimming pool, gym, game rooms, dining, souvenir shop, and hotel rooms.
Opening Hours: Daily 10am-8;45am (closed from 8:45am-10am for cleaning)
Address: 3 Chome-4-24 Ebisuhigashi, Naniwa Ward, Osaka, 556-0002 Japan
---
9. Tempozan Ferris Wheel
The Tempozan Ferris Wheel is only a 5-minute walk from the Osaka Kaiyukan Aquarium. It sits in front of the Tempozan Harbor Village shopping and entertainment complex.  This giant wheel is over 112 meters high with a diameter of 100 meters. As one of the biggest Ferris wheels in the world, the views of Osaka are incredible, particularly at night. On a clear day, you can see Mount Ikoma to the east, Akashi Kaikyo Bridge to the west, and Kobe's Rokko mountains to the north. The ride takes roughly 15 minutes so there'll be plenty of time for photos. Combine this with a visit to Osaka Aquarium to make it a fun night out.
Opening Hours: Mon-Fri 11am-9pm, Sat-Sun 10am-10pm
Address: 1 Chome-1-10 Kaigandori, Minato Ward, Osaka, 552-0022 Japan
---
10. Umeda Sky Building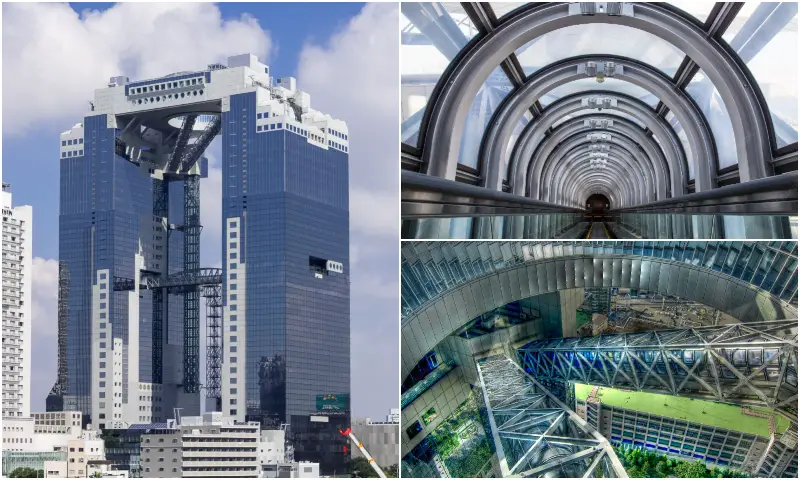 Osaka has never quite dazzled like its eastern rival Tokyo, at least in terms of architecture. However, over the years, many avant-garde constructions have helped transform the cityscape. One of these is the Umeda Sky Building in north Osaka. Its key attraction is the Kuchu Teien Observatory or the Sky Building Floating Garden Observatory. Running between the Twin Towers are the world's highest escalators. It's supported by a glass and metal bridge, which leads to the observation deck. You'll also find cafe Sky 40 if you want to enjoy a drink while admiring the views.
Opening Hours: Daily 9:30am-10:30pm
Address: 1 Chome-1-88 Oyodonaka, Kita Ward, Osaka, 531-6023 Japan
---
11. Tsutenkaku Tower
Big cities like to boast their magnificently tall towers, but none are as eclectic as Tsutenkaku in Tennoji Ward, Osaka. Getting to the tower is half the fun if you go along Shinsekai Street. When you come out of JR Shinimamiya Station you'll see an exit sign for Tsutenkaku Tower.  This really colorful street has giant decorations like squid, octopus, blowfish, lanterns, and noisy pachinko parlors. Food like sushi, takoyaki, kushikatsu, and okonimiyaki, are all cheap and good. Tsutenkaku Tower itself has an altar to Billiken – an American 'charm doll' and mascot of St. Louis University. The tower and surrounding areas are very lively at night.
Opening Hours: Daily 10am-8pm
Address: 1 Chome-18-6 Ebisuhigashi, Naniwa Ward, Osaka, 556-0002 Japan
---
12. Abeno Harukas
The Abeno Harukas is another new architectural gem to have recently graced the skies of Osaka. In fact, it's the tallest building in Japan. The top 60th floor is a 360° glass-enclosed observation deck, while the floor below is a novelty goods shop. The 58th floor is an outdoor arboretum with wood flooring, two 'Twin Towers', and a cafe. You'll have incredible views on all the floors – even the restrooms have stunning views. The Kintetsu Department Store occupies 16 floors and there's also a small art museum. Make the visit even easier by staying at Osaka Marriott Miyako Hotel, which occupies floors 19 to 57.
Opening Hours: Daily 9am-10pm
Address: 1 Chome-1-43 Abenosuji, Abeno Ward, Osaka, 545-6016 Japan
---
13. Shinsaibashi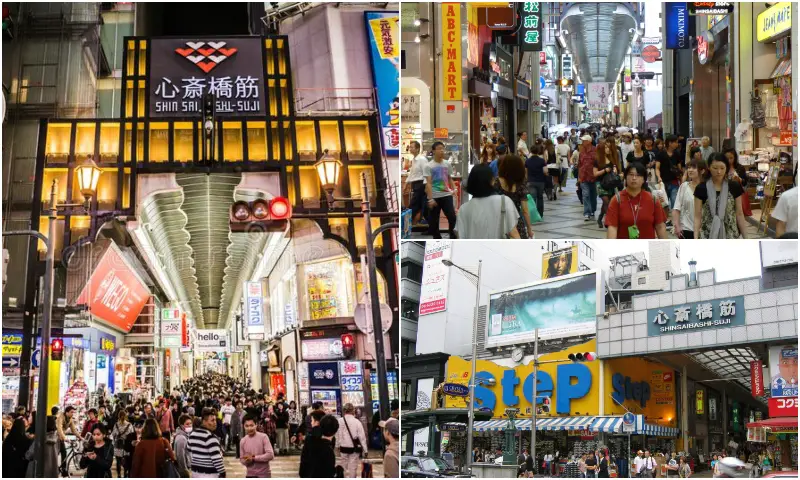 Shinsaibashi is the mid-town of Osaka between the Dotonbori River in the south and the Yodo River in the north. It's a shopping area by day with entertainment at night. The main area stretches east from Midosuji Avenue two blocks across reaching north to Shinsaibashi Station.  Shinsaibashisuji arcade shopping street, or 'shoutengai', is the main strip with many mid-ranged brand stores. Along the side streets are cafes and sweet shops. Later at night, the bars and restaurants attract city workers. High-end brand stores and department stores are along Midosuji Avenue. On the west side, across Midosuji Avenue, is the trendy youth culture district of Amerika-Mura. If you love food, shopping, and lively vibes, this is a must-visit in Osaka. 
Opening Hours: Daily 10am-9pm
Address: 1-2 Shinsaibashisuji, Chuo-ku, Osaka, 542-0085 Japan
---
14. Kuromon Ichiba Market
Kuromon Ichiba (Market) is an old-style local shopping arcade. It's an arcade street that zigzags through the lower downtown Namba to the Nipponbashi area. The way there is out Exit 10 from the Kintetsu Nipponbashi Station and straight down the road. It's popular for fresh-off-the-boat seafood, especially good sushi. There are casual eateries with delicacies such as crab, shrimp, oysters, scallops, sea urchins, and eels. Many stores offer street food takeaways and there are stand-up eateries with beer. You can find quite a few interesting shops here, bargain goods, Japanese 'wagashi' sweets, and souvenirs.
Opening Hours: Mon-Sat 9am-5pm
Address: 2 Chome Nipponbashi, Chuo Ward, Osaka, 542-0073 Japan
---
15. Dotonbori
The Dotonbori, Osaka's most iconic and recognizable area, includes Dotonbori Street, Ebisubashi Bridge, and Tonbori Canal. Its flashing neon signs and giant screens captivate day and night. The revamped canal now features a wooden boardwalk with restaurants and food kiosks. People still flock for pictures at the iconic Glico Man billboard and the nearby crab restaurants. Another popular attraction is the Namikiza Museum, showcasing Bunraku and Kabuki theater. At the Kukuru Takoyaki shop (giant octopus above) you can join Osaka food workshops. In the south-side backstreets, there are narrow cobbled alleyways. You can catch a 20-minute cruise along the canal outside the Don Quiijote discount store with its landmark Ferris wheel. A longer 'Jazz Cruise' starts from Minatomachi Wharf which is another revamped river area with outdoor dining and shopping. If you really want to know this area well, there are local guides who can show you all the highlights.
Opening Hours: Daily 24 hours
Address: 1 Chome Dotonbori, Chuo Ward, Osaka, 542-0071 Japan
---
Best Areas To Stay In Osaka
---
Best Time To Visit Osaka
Osaka During Summer
During the months of mid-June into September, Osaka gets pretty hot and sticky. Fortunately, there are plenty of shopping arcades or underground malls. Particularly around Shinsaibashi, Namba, and Kuromon Market. On hot days, you can head to indoor attractions like the Kayukan Aquarium. Or visit breezy viewing spots like Abeno Harukas and the Umeda Sky Building. Summer is best for traditional festivals like the Yodo River Tenjin Matsuri or Sumiyoshi Taisha. You can try all the unique Japanese cuisines at food stalls and enjoy the festivities into the night.
Osaka During Autumn
Osaka is cool and pleasant during the months of autumn or fall. The weather is perfect for outdoor attractions, especially if you're visiting historic sites. Recommended places are Shi Tennoji Temple, Sumiyoshi Taisha, and the Museum of Housing & Living. Although the Kaiyukan Aquarium is good anytime, the nearby Tempozan giant Ferris wheel is great views before winter sets in. Shinsekai near Tennoji Tsutenkaku Tower has lots of heart-warming Osaka fast foods to enjoy amid a colorful vibey atmosphere.
Osaka During Winter
Although Osaka gets pretty cold into late December through March, there are usually only a few snowy days. Underground shopping in the Umeda uptown or Shinsaibashi midtown will keep you nice and warm. For something more relaxing, try Spa World in Tennoji with its numerous onsen, world spas, and stone saunas. Romantic sky-high dining awaits at Abeno Harukas or the Umeda Sky Building. Universal Studios Japan might be a bit cold outdoors, but the crowds are less in winter.
Osaka During Spring
Spring is a delight anywhere in Japan with cherry blossoms blooming. Osaka may not have the best autumn leaves, but cherry blossoms are breathtaking along the river banks. Osaka Park and Osaka Castel are both popular places during spring. The Museum of Living & Housing is only a 15-minute walk to the Yodo River and Sakuranomiya Park areas. If you're on a date, outdoor riverside dining by the Minatomachi Wharf is a good choice. Or go on a Jazz Boat cruise along the Tonbori River.
---
Best Ways To Get Around Osaka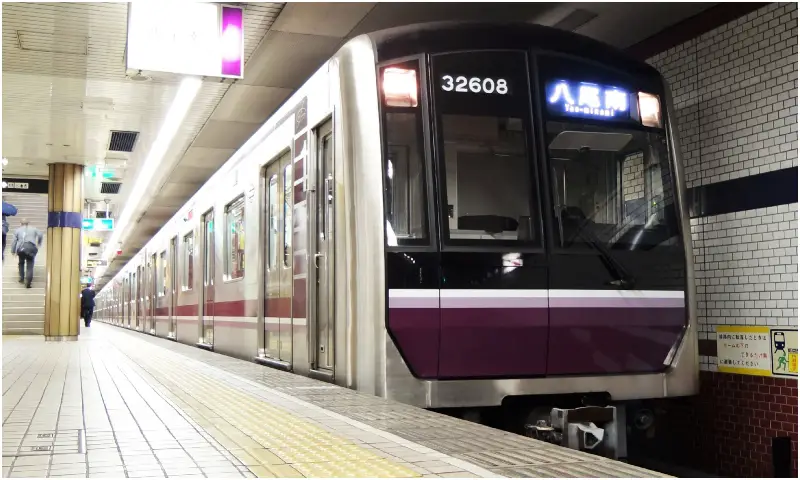 Getting around Osaka is relatively easy and efficient. It's all thanks to the city's well-developed public transportation system. Here are some of the best ways to get around Osaka.
Osaka Metro – Consisting of several subway lines, it covers most parts of the city. It's a fast and convenient way to travel between neighborhoods and major attractions.
JRWest Railway – This is a circular train line that connects major stations around the city. It's useful for accessing popular areas within the city center.
Osaka Wonder Loop Bus – A hop-on-hop-off bus service, it takes visitors to major attraction sites. The English signage onboard is easy to understand too. It provides a convenient way to explore the city's highlights.
Taxis – These are readily available in Osaka. But they can cost more than public transportation. They are a good option for late-night travel or when convenience is a priority.
Bicycles – Osaka is a bike-friendly city, with many rental stations everywhere. Biking can be an enjoyable way to explore local neighborhoods and parks at a leisurely pace.
---
Best Places To Visit In Osaka For Families With Kids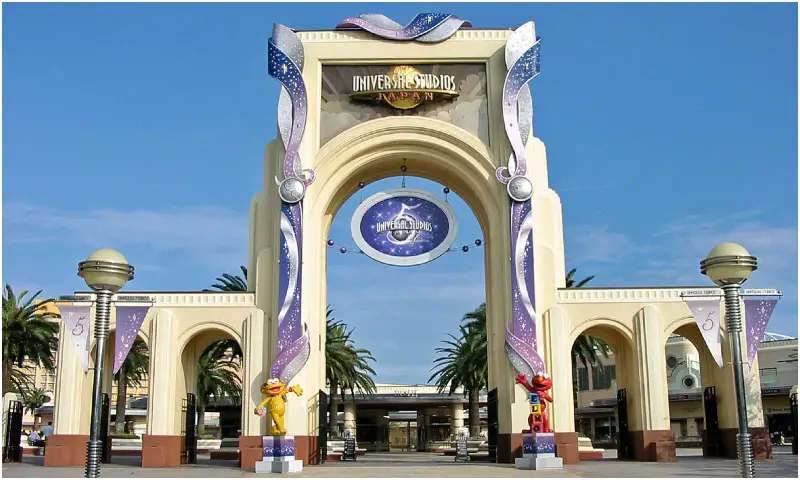 Universal Studios – This is a must-visit theme park with a variety of attractions based on popular movies and TV shows. From thrilling rides to family-friendly experiences, there's something for everyone.
Tennoji Zoo – For families or animal lovers, this zoo is a popular attraction. It is one of Japan's oldest zoos and houses a diverse range of animals.
Osaka Castle – It's a great place for families to explore and have a picnic. Kids can run around the spacious grounds. The castle itself offers historical insights and beautiful views from the top.
---
Best Places To Visit In Osaka At Night
Tempozan Ferris Wheel – Located near the Osaka Aquarium Kaiyukan, riding this provides panoramic city views. This is an exciting experience, especially at night.
Osaka Kaiyukan Night Aquarium – It is one of Japan's largest and most impressive aquariums. It features a massive tank displaying the Pacific Ocean's marine life.
Dotonbori – Perhaps the most iconic nightlife spot in Osaka, Dotonbori is a bustling street. It is filled with colorful neon lights, giant signs, and a variety of dining options. Try the famous Glico Running Man sign, explore the food stalls, and soak in the lively atmosphere.
---
Best Places To Visit For Couples In Osaka
Spa World – Relax and rejuvenate as a couple at Spa World. It's a unique onsen theme park with various pools and baths from different countries. It offers a relaxing and indulgent experience.
Tombori River Cruise (Dotonburi River) – Cruising along the river definitely speaks of a romantic date. Couples traveling to Osaka should not miss this experience while in the city.
Harukas 300 Observatory (Abeno Harukas)  – Located on the top three floors of Abeno Harukas, it provides stunning views of Osaka. The breathtaking scenery creates a romantic setting for couples to enjoy together.
---
Osaka Map
---
Osaka Attractions Opening Hours