Is there anything more romantic than having a delicious meal while cruising along the Hudson River, and watching New York sights glowing in the night?
Not many activities can compete with that.
However, if the term "romantic cruise" sounds cheesy, you should know that reality is more alluring than you can imagine.
Cruising can be a memorable experience for you and your loved one, but choosing the right cruise line can be a challenge.
Don't worry, we've got you covered.
Here are 7 most romantic dinner cruises in New York City.
1. Bateaux New York Dinner Cruise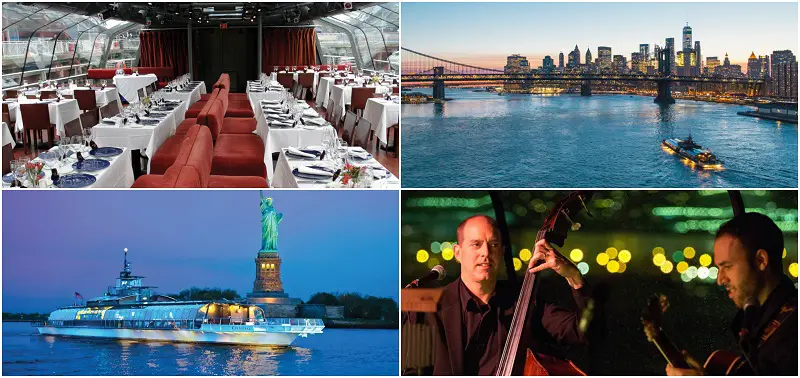 Head to the Chelsea Piers and board the luxurious Bateaux dinner cruise.
Departure is at 7 pm, but you should come at least half an hour before that.
Marvel unobstructed views of the Empire State Building, Brooklyn Bridge, Statue of Liberty and Battery Park from the fully-glass enclosed cabin or head to the viewing decks for the fantastic experience.
You can upgrade to Romance Dinner, and enjoy at a private table with your beloved one.
Half-dozen roses and a bottle of champagne will make this magical evening memorable.
You'll also get to keep two souvenir Champagne flutes.
For the ultimate luxury experience upgrade to First Class, sip drinks from the premium open bar and make the cruise genuinely exceptional.
Keep in mind that most guests choose elegant or dress-casual wardrobe.
Take this opportunity and dress up.
Casual wear of any kind is discouraged.
Children under 6 are not permitted aboard.
After dinner, live entertainment performed by talented musicians continues, and dancing is encouraged.
Dance cheek to cheek with your honey to the music and gaze at the water.
The cruise ends at 10 pm.
Highlights
A three-hour cruise along Hudson and East River.
Panoramic views of the NYC skyline, including sights like the Empire State Building, Brooklyn Bridge, Statue of Liberty, One World Trade Center and more.
Acoustic trio with a vocalist and grand piano.
Inclusions
Gourmet 3-course meal; Coffee, hot tea, iced tea; Live musical entertainment; Service charge and taxes; Alcoholic beverages (if option selected).
---
2. Spirit of New York Dinner Cruise with Buffet
If you want to experience the city like a real New Yorker, jump aboard Spirit of New York.
It departs from Chelsea Piers at 7 pm every day except Sunday when the departure time is at 6 pm.
Admire the moonlight and the magnificent New York skyline including Statue of Liberty, One World Trade Center, and Brooklyn Bridge from climate-controlled decks.
Dress casually stylish and choose nice pants, button-down shirts, skirts or sundresses.
T-shirts, casual jeans, shorts, and sneakers are strongly discouraged.
While waiting for dinner, you can explore the ship.
Your waiter will invite you to the dinner buffet.
You can choose a little bit of everything or just your favorite food.
After dinner hit the dance floor and enjoy the music.
If competitive romance is more your thing, challenge your companion to a game of Jenga or shuffleboard.
Choose First Class upgrade and enjoy a private table with window seating, palate teaser and an open bar.
With Romance on the River upgrade, you'll also get a half-dozen roses and a bottle of Champagne with two souvenir champagne flutes.
Highlights
A 2-3 hour cruise on the Hudson and East Rivers.
Entertainment: Live DJ, dance floor, and games (giant Jenga, shuffleboard, foosball, etc.).
The best views of New York City's iconic skyline, including world-famous sights like the Empire State Building, Brooklyn Bridge, Statue of Liberty, One World Trade Center.
Inclusions
2-3 hour event; Buffet dinner; Service charges; Taxes; Unlimited coffee, hot tea, iced tea, and water.
---
3. Horn Blower New York City Lights Dinner Cruise
Head to Manhattan's Hudson River Park and aboard the Horn Blower decadent three-course meal dinner cruise.
Boarding is at 6:30 pm and the vessel departures at 7 pm.
Try appetisers served during the reception and gaze out the panoramic windows.
After dinner, you can either hit the dance floor and dance to the music ranging from the oldies to the newer pop selections or head outside.
Use this chance to get up close and personal with Lady Liberty, and other iconic landmarks.
Don't forget to take fantastic photos.
Treat your loved one to a private window table with a complimentary bottle of Champagne.
Make this a night you will both remember for the rest of your lives.
The cruise ends at 10 pm, back at Pier 40.
You can choose to celebrate other holidays cruising and turn an already grand occasion into memorable events.
Enjoy a delightful Thanksgiving buffet, magnificent views from the main deck and a glass of sparkling wine or apple juice.
Also, you can discover unrivalled views of the Fourth of July fireworks from the East River.
You'll be treated to a six-course dinner and an open bar with the finest drinks.
Highlights
3-hour dinner cruise around the city.
Live DJ entertainment & after-dinner dancing.
Photo-ops of Statue of Liberty, Ellis Island, Governors Island, Brooklyn Bridge & more.
Inclusions
Hors d'oeuvres (appetiser); 3-course à la carte dinner; Non-alcoholic beverages; Port fees and taxes; Window Seat and Sparkling Wine (if option selected).
---
4. Horn Blower Hybrid New York City Party Cruise
If your idea of romantic experience means taking your loved one to a party, the Horn Blower Hybrid is the right cruise for you.
Leave the crowds on land and head to the water for his exclusive night-out. Your party boat departs from Manhattan's Pier 15, at 9 pm, but boarding starts half an hour earlier.
You have to be at least 21 years old to embark this cruise.
Have fun as your party cruise goes along the East River toward New York Harbor.
This is more than a booze cruise – it is an ultimate night out.
Show off your moves on the dance floor.
Music ranges from live local bands to DJ entertainment or live radio station broadcasts.
Go to the outer deck for the outstanding views of the Chrysler Building, the Freedom Tower and the Empire State Building.
Don't forget to take a selfie with these sights as a backdrop.
Have in mind that you have to pay extra for food and drinks, and you can purchase that on board.
Upgrade and try out signature cocktails, or beer and wine.
It is a perfect way to start your night.
Highlights
3.5-hour party cruise.
Live band or DJ onboard.
Watch illuminated Manhattan skyline.
Inclusions
Onboard music; Beer, wine and soda (if option selected); Premium open bar (if option selected); Port fees and taxes.
---
5. Private Sailing Charter
If you prefer to go sailing rather than cruising, take this opportunity to escape the city and relax.
It is an excellent option for a quick getaway.
More importantly, it can also be a romantic private getaway since the maximum number of guests is 6.
Board the classy yacht at Pier 25, on the West side of Manhattan.
You'll sail south down the Hudson River, around lower Manhattan, and admire the fantastic views of Governor's Island, Brooklyn Bridge and Brooklyn Heights.
Prepare for an up-close and personal view of Lady Liberty.
While you're enjoying the views, bring your food, beer, wine and create a memorable experience.
Relaxed ambiance on the yacht can only enhance the romance.
Enjoy each other's company, stargaze or soak in the views.
You can sail in the morning, afternoon, or in the evening.
There are plenty of packages to choose from so take your time and pick the best sailing option.
---
6. Hudson's by World Yacht New York Dinner Cruise

Make your way to Pier 81 and 41st Street Marina to board the classy Hudson's by World Yacht for this New York dinner cruise.
Cruise sails 7:00 pm-9:00 pm, however, you should arrive at 5:45 pm.
After one hour of Champagne and appetisers, dinner and sailing start.
Business casual style is preferable, but jeans are acceptable.
Nonetheless, sneakers and flip-flops are not permitted on board.
Cruise around the tip of Manhattan, up the East River to midtown and back.
Admire the views from one of three decks, while listening to live DJ music.
The menu features fresh, seasonal Hudson Valley ingredients in dishes.
Meals are prepared on board.
If you upgrade, you'll get wine pairings or an open bar.
Don't miss the opportunity to taste the selection of wines suggested by the in-house sommelier.
There is also a VIP option which, in addition to an open bar, includes window seating.
Rekindle the romance as you enjoy dinner and drinks.
After dinner, spend your evening dancing, or you can take in the views of Manhattan skyline.
Spend the perfect night under the stars and lights of Manhattan.
The boat returns to the departure point at 9 pm.
You can also book Thanksgiving cruise, and spend your holiday while soaking in beautiful Manhattan skyline.
Highlights
A two-hour cruise along Hudson and East River.
Live DJ.
Big Apple's legendary landmarks (Empire State Building, Chrysler Building and United Nations).
Inclusions
4-course dinner; Open bar (if option selected); Window seating (if option selected); Local taxes; Gratuities.
---
Which New York Cruise Should you Choose?
No matter which cruise you choose, it will give you a chance to see New York City from a different perspective.
It's easy to rekindle the romance at a candlelight dinner while dancing under the moonlight.
Sailing and the serene setting certainly inspire romance.
Step outside your usual routine and make your date different.
Also read: