Are you planning a trip to London with a few active kids?
With so many historic landmarks, cultural attractions and points of interest in London, that most grown ups would appreciate, you'd be forgiven to think there aren't many options for kids.
There are plenty of kid activities plotted around London and we've come up with recommendations that you'll surely love as well. Some may require a bit more spending to please the kids but there are also a few options that are entirely free.
Here are the 20 best London attractions for families with kids.
1. National Maritime Museum
Probably the largest maritime museum in the world, The National Maritime Museum in London is an invitation for children of any age into the adventurous history of Great Britain.
Having the most important items of the history of Britain at sea (including forms of art, instruments for navigation and astronomy, and different manuscripts), the Museum is today included in Royal Museums Greenwich (together with the Royal Observatory, Greenwich, the Cutty Sark and Queen's House).
For toddlers, there are special activities like days dedicated to learning history through dance, music, and stories.
Teenagers will enjoy the Ship Simulator, the Children's Gallery, and the Pirate Ship Shooting Down game.
The National Maritime Museum is a must-visit on your list.
Opening Hours: Monday – Sunday: 10am – 5pm
Price: Free
Address: National Maritime Museum, Greenwich, London SE10 9NF
---
2. Warner Bros. Studio Tour London – The Making of Harry Potter
Every child loves the magical Harry Potter movies and there's no better way to bring this fantasy to life than visiting Warner Brothers Studio London – The Making of Harry Potter.
See colorful sets, props, and costumes used in the movies. Your kids will be amazed by how movie magic happens while learning about special effects.
Interactive activities will keep everyone occupied on this 3.5-hour tour.
Try to arrive 20 minutes before your allocated time and don't forget to buy your kids a special wand!
Opening Hours: Daily 9:30am-10pm
Price: Adults £41; Child £33
Address: Studio Tour Drive, Leavesden WD25 7LR, UK
---
3. ZSL London Zoo
The oldest scientific zoo in the world, London Zoo is home for more than eight hundred species of animals, being by far the most diverse zoological garden in the United Kingdom.
Sometimes referred to as Regent's Zoo (because it is situated in Regent's Park), London Zoo is a great day out for any family with a few kids.
Besides the enormous range of animals and insects that can be seen in such areas as the Aquarium, the Penguin Pool, Gorilla Kingdom, Butterfly Paradise, Rainforest Life and Nightlife, the Reptile House, and so many others.
London Zoo also attracts children to the area that is primarily dedicated to them: Animal Adventure.
The water fountain, the numerous playgrounds, and the tunnel where kids can enter in order to directly observe elements of the wildlife, will make a pleasant day out for the whole family.
Opening Hours: Summer 10am-5pm; Winter 10am-4pm
Price: Adult £27.00; Child £20.25; Concession: £24.95
Address: Outer Circle, Regent's Park, London NW1 4RY
---
4. Madame Tussauds
One of the most popular tourist attractions in London, Madame Tussauds wax museum is a place where you can take hundreds of photos of your kids with recognised figures and celebrities around the world.
Known for recreating life-size wax statues of important celebrities (such as movie and music stars, cultural and political figures, sports athletes, and members of the Royal Family), the famous museum was founded by the 18th-century sculptor Marie Tussaud.
Offering a wide range of activities suitable for any member of the family, the museum is an interesting place for toddlers and teenagers as well.
Not only can they see life size statues of their favourite singer or movie star, but they can also touch their beloved superheroes.
Opening Hours: Off Peak 9:30am – 5:30pm; Peak 9am – 6pm; Super Peak 9am – 7pm
Price: Adult: £30.00; Child: £25.80
Address: Madame Tussauds, Marylebone Road, London NW1 5LR
---
5. Horniman Museum & Gardens
At Horniman Museum, your kids will get to explore some of the most important elements of the natural and cultural world.
Based off the lifelong passion of the Victorian tea trader John Horniman, the museum has a collection of almost thirty thousand elements of the natural history and world culture.
The legendary Totem Pole, the Humanity in the House of Circumstance neoclassical mosaic mural, the aquarium, the gigantic walrus, and the wonderful galleries and displays are only some of the most popular attractions of the Horniman Museum the kids will love.
Apart from an annual pass for the aquarium, the museum is free to visit.
Opening Hours: Daily 10:30am-5:30pm
Price: Free
Address: 100 London Road, London SE23 3PQ
---
6. Coram's Fields
Situated in the London borough of Camden, Coram's Fields is a large open space that could easily be known as children's dream land.
There are very strict rules that forbid adults (meaning any person older than 16) to enter unless they are accompanied by children since all activities offered at Coram's Fields are entirely dedicated to kids.
With various attractions such as the pets' corner (with friendly goats, bunnies, pigs, kittens and others), the paddling pool, sand pits, football pitches, tennis and basketball courts, it is hard to find a child that would refuse a day spent in this amazing natural environment.
However, the adults have not been forgotten: they can spend a comfortable and relaxing time by enjoying a snack and a nice cup of tea while keeping an eye on their children.
Opening Hours: Daily 9am-dusk
Price: Free
Address: 93 Guilford Street, London WC1N 1DN
---
7. Legoland Windsor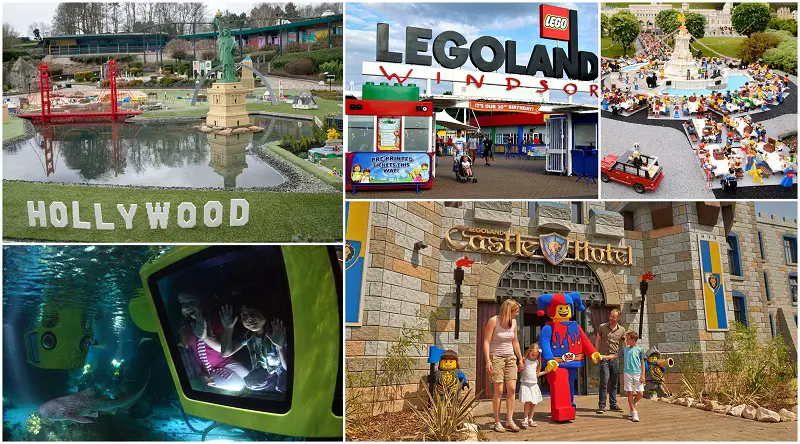 The wonderful Legoland theme park and resort is a popular child-oriented tourist attraction.
However, it would be wrong to say that the range of activities and facilities offered here are only suitable for kids; it also provides a great source of creativity and imagination for the Lego fans of all ages.
Functioning since 1996 on the place of the former Windsor Safari Park, Legoland Windsor is today one of the most visited theme parks in Europe.
The theme park is divided in eleven different areas: The Beginning, Imagination Centre, Land of the Vikings Duplo Valley, LEGO City, Miniland, Adventure Land, Traffic, Pirate Shores, Knight's Kingdom and Kingdom of the pharaohs.
Often organizing live shows, workshops, Lego cars driving lessons, Legoland has enough daily activities to outlast the most active kids.
Opening Hours: March – November, daily 10am – 5pm/7pm
Price: Adult: £34.00; Child: £24.00; Concession: £24.00
Address: Winkfield Road, Windsor SL4 4AY
---
8. Surrey Docks Farm
If you feel overwhelmed by the highly urbanized and technological environment we live in today, or if you do not want your children to lose connection with the beautiful aspects of the life in a country side farm, Surrey Docks Farm is a great option for a kids day out.
Occupying a vast territory on the south bank of the River Thames, the farm gives kids an opportunity to learn more about how animals are raised, how the plants and trees are grown, or about the incredible ways of blacksmithing.
The interactive farm experience can serve as an important lesson that no book or technological tool could teach them.
Opening Hours: Summer 10am – 5pm; Winter 10am – 4pm
Price: Free or Donation £3.00
Address: Surrey Docks Farm, London SE16 5EY
---
9. Chessington World of Adventures
Situated only a few miles southwest of Central London, Chessington World of Adventures is a popular theme park and zoo.
With a tempting slogan as Britain's Wildest Adventure, Chessington Zoo would be the ideal place for adventurous teenagers who enjoy thrill rides.
However, the Park also has many wonderful areas that are strictly dedicated to smaller children, thus being the perfect choice for the entire family.
Chessington World of Adventures is split into three main parts: Chessington Zoo (with more than one thousand animals), Chessington World of Adventures Park (split into various zones: Transylvania, Market Square, Mystic East, Land of Dragons or the famous spinning coaster Dragon's Fury) and the Resort Hotels (Safari Hotel and Azteca Hotel).
With such a huge variety of activities, Chessington World of Adventures would require more than a day to experience the entire theme park.
Opening Hours: Peak Times 10am – 6pm; Off Peak Times 10am – 5pm; Winter Times 10am – 3pm
Price: Adult £46.00; Child £42.00
Address: Leatherhead Road, Chessington KT9 2NE
---
10. Battersea Dogs & Cats Home
Among so many fun, adventurous and exciting places to visit, it is also recommended to include at least some elements that would teach the children, in a nice and comfortable way, a real-life lesson.
This is why Battersea Dogs & Cats Home is worth visiting on your travels: it is the best way to help children understand the responsibility of growing a pet and about the compromises that they would have to make if they want a dog or a cat as a devoted companion.
Battersea Dogs & Cats Home was established in 1860 and is the United Kingdom's oldest home for dogs and cats.
Besides providing a shelter for stray cats and dogs, the home also helps owners find their lost pets and abused animals overcome behavioral problems.
Opening Hours: Daily 10.30am – 5pm
Price: Adult £2.00; Child £1.00; Concession £1.00
Address: 4 Battersea Park Road, Battersea London SW8 4AA
---
11. Diana, Princess of Wales Memorial Playground
The famous Diana Memorial Playground is important for London' culture for two distinct reasons.
it is a real children's wonderland on one hand and a wonderful tribute to the People's Princess, who was always characterized by her immense love for children and the innocent period of childhood in general.
The free playground is situated near her Kensington Palace home, on the site of Peter Pan's playground.
Perfect for a day out in nature, Diana Memorial Playground attracts children of all ages with the wooden pirate ship, which can be explored by the most adventurous kids, and with all the other facilities: swings, slides, sculptures, and sand pits.
The playground has a special area designated for children with disabilities where they can play, socialise and learn at the same time.
Opening Hours: Daily 6am – Dusk
Price: Free
Address: Kensington Gardens London W2 2UH
---
12. London Dungeon
Although some might consider it less appropriate for children because it was originally intended as a museum of macabre history, London Dungeon consists of activities and various shows that are precisely aimed at teenagers and younger adults.
Founded in 1974 by Annabel Geddes, the Dungeon offers visitors an exciting and sometimes frightening experience.
The team of twenty, very talented, actors organize daily shows and performances that are meant to give the visitors the impression that they are taking part in some of the most popular horror scenes.
With many new surprises each time, the London Dungeon is a place for braver kids.
Opening Hours: Mon-Wed & Fri10am-5pm; Thur 11am-5pm; Weekends 10am-6pm
Price: Adult: £25.20; Child: £19.80
Address: The Queen's Walk, London SE1 7PB, United Kingdom
---
13. London Transport Museum
Parents who choose London Transport Museum as a place to visit have two main reasons for doing it.
First, it provides a wonderful experience for the kids to observe closely the famous British forms of transportation.
Secondly, it is a great opportunity for them to learn about the history of Great Britain and industrial developments that took place starting with early 19th century.
Among the most popular attractions are the well-known red London buses, trams, double-decker coaches, rail vehicles and trolleys, and even the first underground electric train.
Opening Hours: Mon-Thu; Weekends: 10am-6pm; Friday 11am-6pm
Price: Adult: £13.50, Child (under 16): Free
Address: Covent Garden Piazza, Covent Garden, London WC2E 7BB
---
14. V&A Museum of Childhood
One of the branches of Victoria and Albert Museum, the Museum of Childhood was founded in 1872, but only in the 1920s began to concentrate primarily on children.
With an enormous collection of childhood objects, the Museum successfully fulfils its mission of giving everyone the opportunity to explore the wonderful ways of the designated world.
The unique exhibitions, galleries of toys (older and newer) and entertainment programs prepared for children will definitely get them prancing around.
Opening Hours: Daily 10am – 5.45pm
Price: Free
Address: Cambridge Heath Road, London E2 9PA
---
15. Hamleys Toy Store
One of the most popular shops in London, Hamleys Toy Store, cannot be ignored if you are planning a London vacation with your children.
Being the oldest shop entirely dedicated to toys and childhood objects, Hamleys was founded in 1760 by William Hamley.
It was, for a long time, the favorite toy store of the nobility and royalty.
Today, the store attracts more than five million visitors per year.
You'll find wonderful toys, games, and other childhood souvenirs for sale.
Throughout the day, there are various demonstrations, fairy-tale scenes, and other exciting games organized by staff.
Opening Hours: Monday – Wednesday: 10am – 8pm; Thursday – Friday: 10am – 9pm; Saturday: 9.30am – 9pm; Sunday: 12pm – 6pm
Price: Free
Address: 188-196 Regent Street, London W1B 5BT
---
16. Sea Life London Aquarium
Being the largest aquarium in London and including hundreds of marine species, it is easy to understand why the Sea Life London Aquarium is such a popular tourist attraction for families with kids.
Besides the wonderful exhibitions, Sea Life Aquarium is also a great educational place, having two classrooms that are intended to be used for education campaigns.
Kids will have the opportunity to closely observe sea life including ferocious sharks, piranhas, seahorses, rays, starfish and penguins.
Opening Hours: Daily 10am – 7pm
Price: Adult £24.95; Child £16.50
Address: County Hall, Westminster Bridge Road, London SE1 7PB
---
17. Thorpe Park
Thorpe Park Resort is a theme park situated between the towns of Chertsey and Staines, within the Greater London Urban Area.
It is popular among adrenaline-loving teenagers and young adults for its wide range of roller coasters and thrill rides.
Some of the major attractions are Nemesis Inferno, Colossus, Stealth, The Swarm or SAW – The Ride and X (the first backwards in the dark rollercoaster).
If teenagers can easily be attracted by such adventurous ways of spending their time, the parents and smaller kids have not been forgotten.
They can spend a wonderful time by visiting different demonstrations or by relaxing in one of the many cafés.
Opening Hours: Daily 10am – 5 / 7pm
Price: Adult: £29.00; Child: £19.00
Address: Staines Road, Chertsey Surrey KT16 8PN
---
18. British Museum
The British Museum, founded in 1753, was originally consisting almost entirely of the collections from Sir Hans Sloane, who was a physician and scientist.
Today, the Museum has a permanent collection of more than eight million items, including works and documents from every corner of the world.
It is a great opportunity for kids to know more about the history and cultures of the world through the themed departments.
These include Department of Ancient Egypt and Sudan, Department of Greece and Rome, Department of the Middle East, Department of Asia, Department of Africa, Oceania and the Americas, and many others.
Opening Hours: Daily 10am – 5:30pm; Friday open til 8:30pm
Price: Free
Address: Great Russell Street, London WC1B 3DG
---
19. Science Museum
With more than three million visitors annually, the Science Museum is an attraction most kids get excited about in London.
Situated on Exhibition Road in South Kensington, the Science Museum was initially intended to include the objects that had been shown during the Great Exhibition held in the Crystal Palace.
Among the favorite attractions of children are Puffing Billy (the oldest steam locomotive), Stephenson's Rocket, some of the first steam engines, and the documentation of the first typewriter.
The Museum, being publicly funded, has all the permanent displays accessible for free.
Opening Hours: Daily: 10am – 6pm
Price: Free
Address: Exhibition Road, London SW7 2DD
---
20. London Eye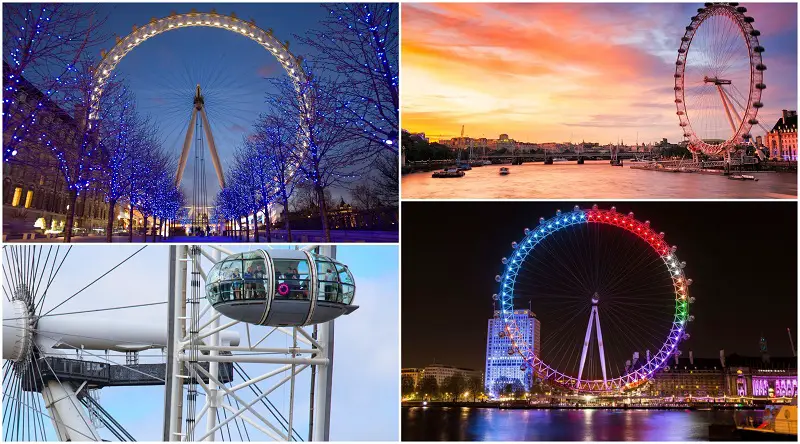 The London Eye, the most popular paid tourist attraction in the entire United Kingdom, is an enormous Ferris wheel situated on the South Bank of the river Thames.
From each of the thirty-two capsules, visitors can see up to forty kilometers away in each direction.
Due to the slow rotation, the London Eye is completely safe for smaller children (and everyone else), providing spectacular views of London both during the day and night.
Opening Hours: 1 Oct-31 Mar:10am-8.30pm; 1 Apr-30 Jun:10am-9pm; 1 Jul-30 Sep:10am-9.30pm
Price: Adults: £19.20; Child: £12.30
Address: Riverside Building County Hall, Westminster Bridge Road, London SE1 7PB