The city of Sydney, often referred to as Australia's Coastal Capital, is a mecca for shoppers from all over with world.
The central business district, as well as the surrounding areas, are home to thousands of shops and endless shopping opportunities, no matter what you're looking to buy.
Although, there are certain areas that specialise in particular products and suit specific shopping habits.
Here are our recommendations for the best shopping areas in Sydney.
1. Queen Victoria Building
The Queen Victoria Building (or QVB) is a nineteenth-century building located in Sydney's CBD.
Originally intended to serve as a local marketplace, the centre fills one entire city block, and is home to a large number, and variety, of retail outlets.
With well over 100 retail outlets contained in the QVB, shoppers will find everything from high fashion to fine dining, art galleries and gourmet foods.
The Queen Victoria Building is centrally located in Sydney, and easily accessible via walking and public transport.
The building is famed for its gorgeous architecture, and free wifi is available inside.
Shopping Guide
Tip: Shops are definitely more expensive here. Go to the underground floor for more affordable selection of shops.
Transport: Visitors can access the Queen Victoria Building by travelling on the inner city line and alighting at Town Hall Station, which is directly below the building.
Opening Hours: 9am – 6pm (11am – 5pm on Sundays)
Nearest Station: Town Hall
---
2. Sydney Tower Westfields

Sydney Tower Westfields, is one of the Sydney CBD's main shopping locations.
The centre, located on the corner of the Pitt Street Mall and Market Street, consists of six floors with some 280 fashion, food and lifestyle outlets.
These include big names like Calvin Klein, Chanel, Christian Louboutin, Gucci, Prada, Mulberry and Versace, as well as typical Australian retailers like JB Hi Fi, Sportsgirl, Supre, Cotton On and Dotti.
The upper floors of the tower feature prominent Sydney attration the Sydney Tower Eye.
Within Westfields visitors will also find a range of convenient food options inside the centre, with both snacking and meal options available.
Shopping Guide
Tip: Shops are more upper class and catered to rich business people and tourists. Not exactly the best place to by souvenirs if you're on a budget.
Transport: To visit Westfields, alight from the train at St James and walk through Hyde Park to Elizabeth Street, and onwards to Market Street.
Opening Hours: 9:30am – 7pm (Sun 10am – 7pm, Thurs 9pm closing
Nearest Station: St James
---
3. Pitt Street Mall
The Pitt Street Mall is located in the middle of Sydney's bustling central business district.
It is right next to Sydney Tower Westfields and is one of Australia's busiest shopping precinct.
The pedestrian mall fits in just two city blocks, but is home to more than 600 specialty stores, as well as individual shopping centres and arcades.
These include the Sydney Arcade, Strand Arcade, Westfield Sydney, Glasshouse, Mid City Shopping Centre and more.
The Pitt Street Mall also hosts the likes of David Jones and Myer, alongside a range of big and small industry names.
This makes it easy for shoppers to find exactly what they're looking for, at the right price for them.
Shopping Guide
Tip: Buskers are common at Pitt Street Mall. Some acts aren't great, but occasionally there are some real surprise packages. The mall is also located right outside Sydney Tower Westfields.
Transport: To get to the Pitt Street Mall alight from your train at St James and head across Hyde Park, down Elizabeth Street and along Market Street.
Opening Hours: Varies, 9am – 5pm most common
Nearest Station: St James
---
4. Darling Harbour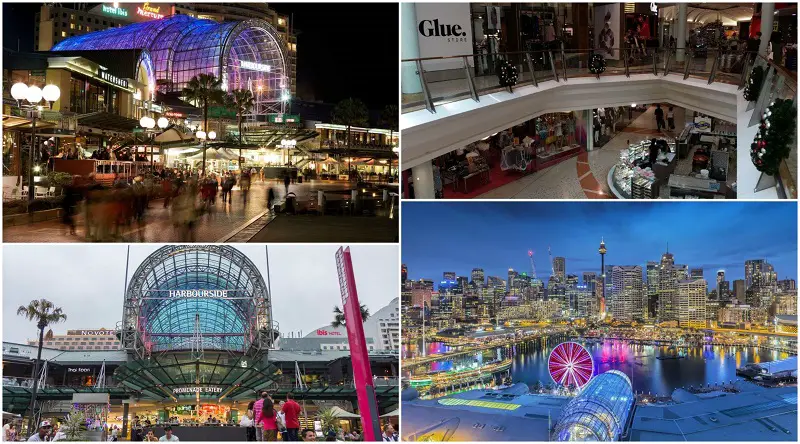 Darling Harbour is one of Sydney's finest destinations for those looking to soak up the atmosphere of this city by the sea.
It's also home to the Harbourside Shopping Centre, a three-storey shopping precinct.
The centre contains around 100 unique stores, offering shoppers a variety of retail options.
Harbourside also offers a bowling alley, laser skirmish centre, and a wide range of food, beverage and snacking options.
After a few hours of shopping, visitors can explore the rest of the Darling Harbour precinct.
You'll find the Australian National Maritime Museum, WILDLIFE Sydney Zoo and SEALIFE Sydney Aquarium.
Shopping Guide
Tip: a number of bars and nightclubs are also located here. Don't go shopping if you're planning a big night out.
Transport: If you're arriving by train, alight at Town Hall and exit onto Bathurst Street for a downhill walk to the Darling Harbour Precinct. Alternatively take a ferry and alight at Pyrmont Bay Wharf.
Opening Hours: 10am – 9pm
Nearest Station: Town Hall
---
5. Sydney's Paddy's Markets & Market City
Visitors looking to get the cheapest deals on the best quality produce that Sydney has to offer should visit Paddy's Market.
Although the market site in Flemington is much larger, it is the Haymarket site of Paddy's Market, with its flea market atmosphere, that attracts the crowds.
Visitors will find a range of local produce and fresh seafood on offer.
There are impressive discounts offered every afternoon, in the lower floors of the market.
The higher floors, Market City, are given away to a variety of different stalls, selling clothing, jewellery and souvenirs at competitive prices.
You'll also find factory outlet stalls, homewares and other knick knacks, along with the best Asian supermarket in Sydney: Thai Kee IGA.
Shopping Guide
Tip: This is proabably the only place in central Sydney where you can bargain with shopkeepers. Use the same bargaining skills that you would apply if you were in Asia.
Transport: Paddy's Market is a short walk from Central Station, so alight there and head down the Devonshire Street tunnel and onto George Street.
Opening Hours: Wednesday – Monday 10am – 6pm
Nearest Station: Central Station
---
6. The Rocks Market
The Rocks Market, located inside popular historic tourist precinct The Rocks, is a bi-weekly gathering of Sydney's artisan creators and market lovers.
More than 200 stalls set up at The Rocks on Saturdays and Sundays, selling an immense variety of products from homewares to arts and crafts.
Alongside this, visitors can enjoy a range of food and beverage options, both from the temporary stalls, and the surrounding cafes and restaurants that The Rocks is famed for.
The Rocks Market is an ideal way to soak up the unique atmosphere of the area, as well as pick up some unique gifts and souvenirs.
Shopping Guide
Tip: For photographers, the Rocks Market is located directly opposite the Sydney Opera House. This is one of the best areas to take a scenic photo of the Sydney landmark.
Transport: Whether you're on the train or catching a ferry, alight at Circular Quay and walk towards the Sydney Harbour Bridge.
Opening Hours: Saturday and Sunday, 10am – 5pm
Nearest Station: Circular Quay
---
7. Strand Arcade
The Strand Arcade is a shopping arcade located in the centre of Sydney's central business district, right between George Street and the Pitt Street Mall.
The Victorian-style arcade has been a part of Sydney's history since 1892, and is the only arcade that has maintained its original glory.
Inside visitors will find almost 80 retail stores, with products ranging from designer clothing to specialist body and beauty products.
There are also a small number of food outlets in the arcade, including the famed Haigh's Chocolates.
The Strand Arcade's location makes it easy to visit a few other Sydney shopping institutions afterwards, such as the Pitt Street Mall and Westfields Shopping Centre.
Shopping Guide
Tip: George St also has a number of souvenir shops, and probably much cheaper compared to The Strand Arcade and the nearby Pitt Street Mall & Sydney Tower Westfields.
Transport: The Strand Arcade is a 7 minute walk from St James Station via Market Street.
Opening Hours: Mon, Tues, Wed, Fri 9am – 5:30pm; Thurs 9am – 8pm; Sat 9am – 4pm; Sun 11am – 4pm
Nearest Stations: St James
---
8. Chinatown
Australia's largest Chinatown, this Sydney locality is situated in the southern part of the city's central business district, in Haymarket.
It is more popular for the food and restaurants located in this area.
They have also recently extended the food options across Goulbourn St, so if you're after authentic Asian food, you definitely won't be short on options.
The surrounding streets offer a wide range of shopping options, including the Chinatown Night Market, which is held on Dixon Street every Friday from 4pm.
Shopping Guide
Tip: There are a number of Chinese restaurants offering special meal deals along Chinatown. You can easily walk down the area within 15 minutes and see what's on offer.
Transport: Chinatown sits right between Darling Harbour and Central Station, so alight at Central and have a look around the area.
Opening Hours: Varies, 9am – 5pm most common
Nearest Stations: Central
---
9. Glebe Markets
One of Sydney's best known local markets, the Glebe Market, located in the inner-city suburb of the same name, runs every Saturday.
This popular shopping attraction consists of some 200 stalls, selling everything from original clothing designs, to second-hand items, books, records, art and craft, jewellery and more.
Glebe Markets is particularly known as one of Sydney's top vintage markets, and is a regular stop off for shoppers looking for retro clothing and accessories.
Visitors will also find a number of multicultural food stalls scattered around the market, with seating available on the grass, and regular music entertainment.
Shopping Guide
Transport: The nearest train station to Glebe Markets is Central Station, but it is a 20 minute walk from the markets. Many George Street buses (412, 413, 431, 433, 436, 438, 439, 440) stop close to the market.
Opening Hours: Saturday 10am-4pm
Nearest Station: Central
---
10. Newtown (Bonus Shopping tip!)
All Australian locals know Newtown as the hip and somewhat queer area of Sydney, but this is what makes this area such a unique shopping experience.
There are streets of unique graffiti art, quaint cafes, indigenous handicrafts, and odd souvenir shops.
To learn more about Newtown, its best to follow a guide.
Shopping Guide
Tip: The shops all run along King St so it's fairly easy to navigate.
Opening Hours: Daily 9am til late
Nearest Station:  Newtown
Enjoy a 3 hour morning tour with a local guide and learn about the history and shopping precinct of Newtown. Along the way, you can try a delicious cake, gelato, refreshing coffee and Aussie beer.
These are just some of the more popular locations to go shopping in Sydney.
You're bound to bump into a variety of shops while walking in the Sydney CBD.
If you have other Sydney shopping suggestions, let us know in the comments below.
Check more Shopping Tours in Sydney