Bukit Bintang is the entertainment district of the Malaysian capital, Kuala Lumpur.
Situated right in the heart of the city, this area features shopping malls for all tastes and budgets.
There are stylish cafes, groovy bars, night clubs, flea markets, cinemas and lots of Hawker eateries as well as lavish restaurants.
The combination of old, new and large variety of things to do attract 2.5 million tourists every month.
1. Berjaya Times Square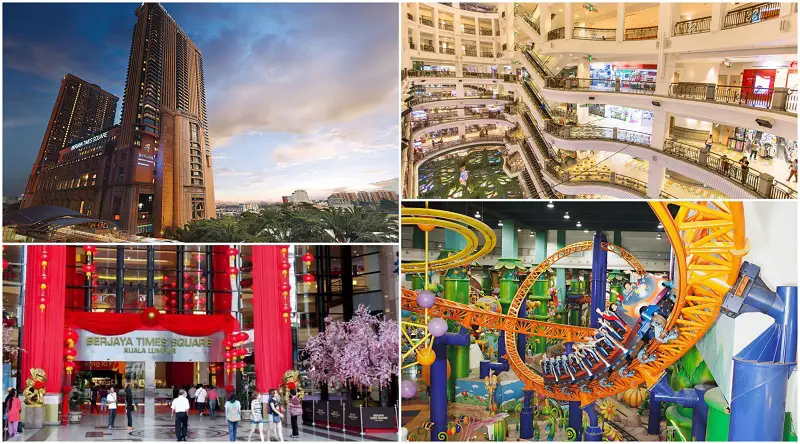 Berjaya Times Square is a huge shopping and entertainment complex in the heart of Kuala Lumpur.
The 48-storey complex comprises of a hotel, a shopping center, and a twin tower.
Berjaya Times Square is built on a New York theme, with sectors named after attractions from the Big Apple.
For example, you'll come across a zone called Central Park where there are fashion, beauty and health stores.
The kids will also love this shopping mall since the largest indoor theme park in Malaysia is here.
Berjaya Times Square Theme Park has loads of rides including a huge rollercoaster, virtual reality rides and a dedicated kids section.
2. Sungei Wang Plaza
Sungei Wang Plaza generally sells luxurious merchandise.
Because of this, they are known as "The River of Gold".
The shopping Mall's construction began in 1972 and opened its gates in 1976.
The 7-stories shopping mall now has over 800 stores and counting.
Types of shops include fashion, jewellery, souvenirs, entertainment, electronics, and restaurants.
Sungei Wang Plaza offers numerous events for its visitors, such as special promotions and fairs.
On occasion, they even have dance and beauty competitions.
3. Lot 10
Lot 10 is an upper-middle class shopping mall in Bukit Bintang.
It opened its gates in 1990 and it was meant to be an upper-class mall.
However, over the years, more stores opened inside the shopping mall offering merchandise for medium-income people as well.
Aside from the fashion outlets, you can also find entertainment and cultural venues, such as the National Geographic store.
If you're visiting Lot 10, take plenty of photos of the modern architecture as the bright green design is an attraction itself.
4. Suria KLCC
Suria KLCC is the hottest, newest shopping center located in the Golden Triangle of Kuala Lumpur, right below the famous Petronas Towers.
The luxurious 6-level center houses top brands such as Armani and Prada, and the first Chanel shop in Malaysia.
Aside from high fashion, there are also retail stores for medium-income customers.
There is also a wide range of culinary experiences you can get at food courts or at fancy restaurants.
You could easily spend the whole here since there are other major attractions within Suria KLCC.
For example, you can learn about sea life at Aquaria, have fun at the science center Petrosains, and of course, get stunning views from Petronas Twin Tower.
5. Plaza Low Yat
Plaza Low Yat is the place to go for the latest gadgets and IT trends.
The Low Yat Group constructed the building in 1999.
In 2009, Plaza Low Yat won the prize for the largest IT mall in Malaysia and made the country's Book of Records.
This seven-storey shopping mall is now well known for the wide range of electronics as well as fashion boutiques, dining areas and relaxation venues.
Plaza Low Yat also hosts a lot of diverse events like IT carnivals, international cuisine shows and contests with gadget prizes to promote the mall.
6. Fahrenheit 88
Fahrenheit 88 is one of the most recent additions to the Bukit Bintang entertainment district catered to the younger generation.
Fashion stores dominate the 5-level shopping mall.
However, there are also a number of gadgets, home decor, entertainment stores and restaurants.
Most items are retailed at reasonable prices.
Some popular brands include Rip Curl, The Body Shop, New Balance, and Focus Point.
Fahrenheit 88 has major sales periods and events organized each month.
There is also a tourists card with various discounts available at the concierge counter on the ground floor.
You will have to show your passport as proof to obtain a card.
7. Pavilion
The Pavilion is a shopping mall showcasing mid-range fashion items.
It was built in 2003, on the site of the oldest school in the capital, the Bukit Bintang Girls' School, which was relocated.
The official opening took place in 2007, 
This took place together with the inauguration of an office tower, a hotel and 2 residential buildings.
Pavilion now houses 500 stores as well as a wide variety of food and entertainment venues.
They are categorised into different zones which are Couture Pavilion, Center Court, Connection, Gourmet Emporium, Home, Tokyo Street and Seventh Heaven.
8. Starhill Gallery
Starhill Gallery is a luxury shopping mall in Bukit Bintang.
The center has become an attraction in itself because of its edgy design which had it listed in an architectural competition.
One of the highlights of the construction is the Time Tunnel that connects it to JW Marriott Kuala Lumpur.
The gallery houses high fashion shops famous for designs and luxurious restaurants with quality food.
You'll also find beauty and health venues on Level 2 which is known as the "Pamper Floor".
There are plenty more areas in Bukit Bintang but we think these are the best malls to start your explorations.
If you want to learn more about this shopping paradise, join one of the many tours on offer.