Believe it or not, natural hot springs can be found all over the United States. Arizona is one such state that is home to these geothermal wonders. There are a number of hot springs in Arizona that provide an incredible outdoor experience for travelers. Whether you want to relax after a long day at Arizona Hot Springs or simply marvel at the beauty of Pumpkin Spring, Grand Canyon State is the place to do it. Check out these 9 best natural hot springs in Arizona.
---
1. Arizona Hot Springs, Lake Mead National Recreation Area
Arizona Hot Springs is number one on this list for a reason. It is the most famous and most popular hot spring in the state. The natural hot springs themselves are a great place to relax. But the journey to the springs is in itself quite incredible. The springs are located along the Colorado River near the Hoover Dam. So in order to reach them, travelers must hike through a colorful canyon. You can bet you'll want to take photos at every turn! If you prefer a guide to lead the way, there are tours from Las Vegas that will take you to the amazing Arizona Hot Springs. 
---
2. El Dorado Hot Springs, Tonopah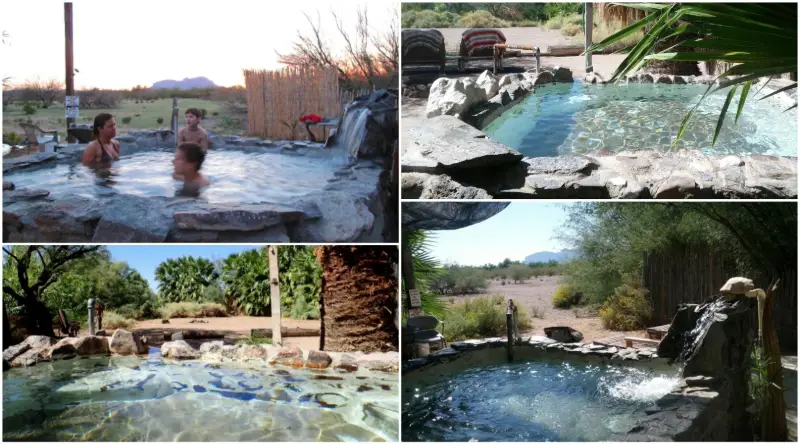 El Dorado Hot Springs are the definition of a desert oasis. This Tonopah, Arizona hot spring pool is heated naturally and typically sits at a temperature of 107 degrees. There are multiple pools on-site. Pools can even be reserved and enjoyed privately. Some pools overlook the desert and Saddle Mountain (we recommend soaking in these pools at sunset). Facilities on-site include showers, lounge areas, fire pits, and a fish pond.
Facilities: Showers, lounges, fire pits, hot spring pools.
Address: 41225 Indian School Rd, Tonopah, AZ.
---
3. Roper Lake State Park Hot Springs, Safford
Roper Lake State Park Hot Springs lies just three hours from Phoenix. This natural bathtub can be found in the middle of the desert, in an extremely serene location. The springs are easily accessible to visitors and open all year. Aside from the springs, there are lots of activities available in the park. These include hiking, fishing, and swimming. Further, Roper Lake State Park has lots of amenities, such as cabins, RV hookups, and campsites for tents.
Facilities: RV hookups, hot spring soaking tub, cabins for rent
Address: 101 E Roper Lake Rd, Safford, AZ.
---
4. Castle Hot Springs, Phoenix
Let your stress melt away at Castle Hot Springs. This Phoenix hotel is most famous for its multiple hot spring pools. The pools reach temperatures of up to 120 degrees, making this the hottest non-volcanic water in the world. Soak in the pools and let the mineral water relax your entire body. Hotel accommodations range from standard rooms to cabins, cottages, and bungalows. There are also all types of activities that can be arranged on-site, including yoga, meditation, and horseback riding.
Facilities: Hot springs pools, gourmet restaurant, luxury spa.
Address: 5050 East N Castle Hot Springs Rd, Morristown, AZ.
---
5. Essence of Tranquility, Safford
Rejuvenate your soul at Safford, Arizona's Essence of Tranquility. This natural hot springs site is equipped with six soaking tubs. Five of the tubs are private and clothing optional. One is communal and clothing is required. There are tent and casita camping options, as well as a few cabins for rent. Select spa treatments are also available, including massages, reflexology, ear coning, and essential oil therapy.
Facilities: Hot springs soaking tubs, select spa treatments, cabins.
Address: 6074 S Lebanon Loop Rd, Safford, AZ.
---
6. Verde Hot Springs, Yavapai County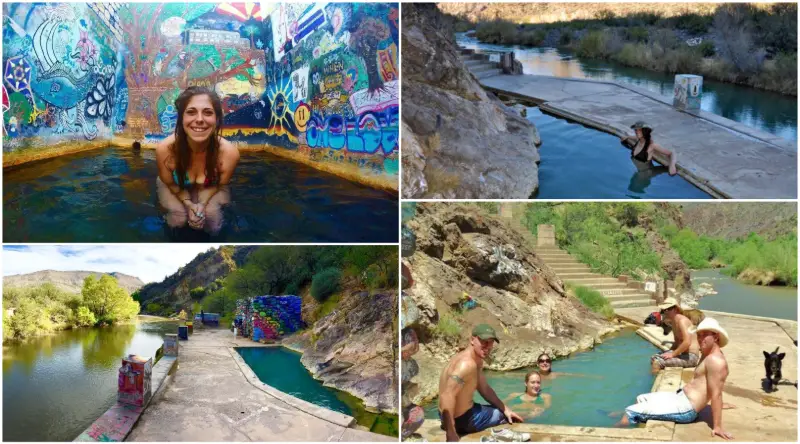 Become one with nature at Verde Hot Springs in Yavapai County, Arizona. Verde Hot Springs dates back to the 1920s and is the site of an abandoned hot spring resort. The resort burned down in the 1960s and only the pool and foundation stones remain. There are two natural hot spring pools available to visitors. A small hike that includes a river crossing is required to reach the pools. Once there, they're all yours to relax in.
Facilities: Two hot springs pools, campfires permitted.
Address: Arizona 86322.
---
7. Hot Well Dunes Hot Springs, Bowie
Hot Well Dunes is one of the most unique outdoor areas in all of Arizona. It has a natural hot spring pool that visitors can soak in free of charge. You'll also see 2,000 acres of sand dunes, which are ideally suited to ATVs or dirt bikes. Where else can you play on sand dunes and then relax in a hot spring pool all in one day? Finally, Hot Well Dunes Hot Springs are conveniently located by a campsite where visitors can pitch tents or park RVs. The nightly rate for camping is just $3.
Facilities: Hot springs tub, campsite for tents and RVs.
Address: Safford, AZ 85546.
---
8. Kachina Mineral Springs, Safford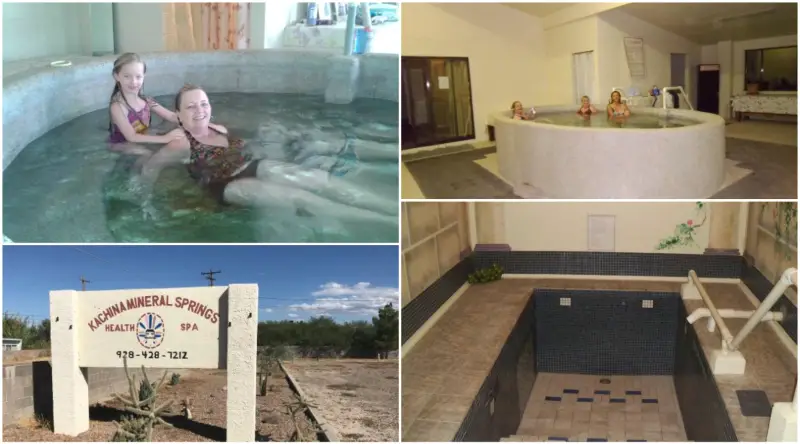 Unwind at Kachina Mineral Springs. This natural hot spring facility has two baths on-site where travelers can reap the benefits of the mineral water. The spring water comes from between the Pinaleño Mountains and Roper Lake. In addition to the baths, there are also many spa services offered on-site. You can treat yourself to a massage, sweat wrap, essential oil session, or reflexology session all under one roof. When you leave Kachina Mineral Springs, you're guaranteed to feel more relaxed.
Facilities: Full-service spa, hot springs pools.
Address: 1155 W Cactus Rd, Safford, AZ.
---
9. Pumpkin Spring, Grand Canyon
Looking at the pictures, you can probably guess where Arizona's Pumpkin Spring gets its name. This natural hot spring looks like a giant orange pumpkin overflowing with water from the outside. But on the inside, it contains a concoction of lead, zinc, copper, and arsenic. Thus, please note that although it might be tempting, Pumpkin Spring is for viewing only. Absolutely no swimming or drinking is allowed here as the water is highly poisonous. It is easily accessible from the road, making it the perfect stop while on a road trip.
Address: Supai, AZ 86435.
---
As you now know, Arizona is not just home to the Grand Canyon. There are over a dozen natural hot springs in the state that can be enjoyed by visitors. Take advantage of this once-in-a-lifetime opportunity and experience relaxation like never before. We hope this list will inspire any travelers planning a trip to Arizona. Also read:
Find more Things to do in Arizona