London, one of world's most visited cities, has always been associated with grand tourist attractions. Maybe less famous to the rest of the world, are London's natural spaces and wildlife, offering the best alternative for the tourists who prefer to spend a peaceful time far from the agitated city life. For those who prefer to stay central, you'll still be able to find some top London attractions with integrated natural greenery that supply a breath of fresh air.
Find more Natural Attractions in London
---
1. WWT London Wetland Centre
Voted in 2012 as Britain's Favourite Natural Reserve, WWT London Wetland Centre is an oasis of natural wildlife placed right in the heart of London. Managed by Wildfowl and Wetlands Trust, this idyllic wetland reserve is located in a loop of the Thames and occupies more than 100 acres of land. Home to a significant number of unique species of birds, insects, amphibians and other wildlife representatives, the Wetland Centre represents a real natural wonder. The perfect place for a relaxing walk along the impressive gardens, lakes, meadows, London Wetland Centre offers all the necessary conditions for you to spend a comfortable day in nature.
Address: Queen Elizabeth's Walk, Barnes, Richmond, London SW13 9WT.
Opening Hours: Summer: 9.30am – 6pm; Winter: 9.30am – 5pm.
Prices: Adult: £9.95; Child: £5.50; Family: £27.75; Concession: £7.40
---
2. RSPB Rainham Marshes Nature Reserve
Being part of the Royal Society for the Protection of Birds, Rainham Marshes offers one of the few medieval landscapes that were preserved in London. This nature reserve is situated on the upper parts of Thames Estuary, being a popular visitor centre. Different programmes are carefully prepared to accommodate the large variety of wetland plants, bird species and insects.
Address: New Tank Hill Road, Purfleet RM19 1SZ
Opening Hours: Daily: 9.30am – 4.30pm
Prices: Adult: £3.00; Child: £1.50; Family: £9.00
---
3. Epping Forest
Epping Forest, an extensive area of ancient woodland stretching for about nineteen kilometres in the north-south direction, is one of the three Special Areas for Conservation in London. Being a Site of Special Scientific Interest, Epping Forest has always attracted large number of visitors through the numerous leisure activities including horse riding, mountain-biking, orienteering, walking or running.
Address: Epping, IG10 4AF.
Opening Hours: Opens daily. Free public entry.
---
4. Thames River
Probably the best known natural attraction in London, Thames River is of an extreme importance for London's history, economy and cultural identity. Being the longest river in England, the Thames passes through most tourist sites in London. Taking a cruise along the river is one of the best ways to get an overview of London, seeing its architectural landmarks and various points of interest along the way. On the river, you'll also find people rowing, kayaking, canoeing and sailing. You may also witness a more exciting atmosphere during special annual events such as Henley Royal Regatta and The Boat Race.
---
5. Green Park
Located in central London, the area known as Green Park makes the connection between Hyde Park and St. James's Park. Being part of the Royal Parks of London, Green Park is the only park that is not interrupted by man-made buildings or other modern inventions. With only vast areas of haughty old trees, the park is the ideal place for spending a relaxing afternoon, jogging, walking or taking a breath of fresh air in the middle of the crowded London city.
Address: Green Park, London SW1A 2BJ
Opening Hours: Opens daily. Free public entry.
---
6. Kensington Gardens
One of the Royal Parks of London, Kensington Gardens was, in the beginning, part of Hyde Park and it was originally intended to serve as a hunting ground. However, since Queen Caroline desired to transform it into a fashionable garden, it became an important attraction for the culture of London. Forming a continuous open space with Hyde Park, Green Park and St. James's Park, Kensington Gardens is part of the green oasis situated in the centre of London. The Albert Memorial, Speke's monument, the Serpentine Gallery, Diana's Memorial Playground, Peter Pan's Statue and the Elfin Oak – the 900-year old tree – are only some of the great attractions in the Gardens.
Address: Kensington Gardens, London W2 2UH
Opening Hours: Daily: 6am – Dusk; (4pm-9.45pm depending on season)
---
7. St. James's Park
Smaller than the other green open spaces in the heart of London, St. James's Park is surrounded by other important tourist spots:
Buckingham Palace
St. James's Palace
Birdcage Walk
and Hose Guards
Originally purchased by Henry III, the park was completely transformed by James I, who wanted it full of exotic animals and birds. Since then, the aspect of St. James's Park suffered further modifications, but it continues to be a significant part of London's identity. Keep an eye out for the many activities organized for children, the unique scenery with West Island and Duck Island in the background, and the wonderful colonies of bird life.
Address: St. Jame's Park London SW1A 2BJ
Opening Hours: Daily 5am – 12am. Free public entry
---
8. The Regent's Garden
One of the most valued natural treasures of London, The Regent's Park, is shared by the City of Westminster and the London Borough of Camden. Nearby attractions include London Zoo, Regent's University London, the Open Air Theatre, London Central Mosque, Primrose Hill and the famous Queen Mary's Gardens. However, most visitors enjoy the park for it's relaxing environment and other recreational activities.
Address: London NW1 4NR
Opening Hours: Daily 5am – 5pm. Free public entry.
---
9. Greenwich Park
The largest natural green area in South East London, Greenwich Park is special not only for the park's historical ancestry but also for the Greenwich Meridian line, which runs right through the middle of it. The first to be included in the Royal Parks of London, Greenwich Park is an important landmark of the British culture in general. In the park, you will find a herb garden, a boating lake, a rose garden, a cricket pitch, many tennis courts, a children's playground and multiple cafés.
Address: London SE10 8QY.
Opening Hours: Daily 6am – 6pm.
---
10. Hyde Park
The place where the Great Exhibition of 1851 was situated, Hyde Park represents a traditional natural landmark of London. The largest from the continuous series of parks that form the so-called London's green lung, Hyde Park was created in 1536 by Henry VII and it was originally intended to serve for hunting activities. Even today, the park remains full of history and cultural symbols. Among these, are the Grand Entrance or Queen Elizabeth Gate, Speakers' Corner, Diana, Princess of Wales memorial, the Holocaust Memorial, the 7 July Memorial, amazing flower gardens and the Weeping Beech – the "upside-down tree".
Address: Hyde Park, London W2 2UH
Opening Hours: Daily 5am – 12am
---
11. Bushy Park
Designated in September 2014 as a Site of Special Scientific Interest, Bushy Park represents an enormous open natural space. The second largest of London's Royal Parks, Bushy Park is unique through its historical heritage and the large number of outdoor activities that it grants.  When visiting Bushy Park, you'll have the opportunity to enjoy activities such as fishing, horse riding, hockey, rugby, cricket or simply relaxing in a comfortable café. On occasions, you may even spot a red and fallow deer.
Address: Teddington, Middlesex TW11 0EQ.
Opening Hours: Daily 6.30am – 7pm. Free public entry
---
12. Virginia Water
A small town on the boundary of London, Virginia Water is considered to take its name from the Virgin Queen, Elizabeth I. A famous tourist attraction even from the 18th century when it was created, Virginia Water is part of the Royal Landscape. The Virginia Water Lake, which lies on the inside of the Windsor Great Park, is one of its main features. Especially famous among the fans of popular movies, such as Harry Potter or Robin Hood, which had many scenes filmed on its shores, the lake is also appreciated for the tumultuous history which it witnessed or for the amazing images that it creates with its biodiversity.
Address: Berkshire, Surrey GU25 4
Opening Hours: Opens daily. Free public entry.
---
13. Eel Pie Island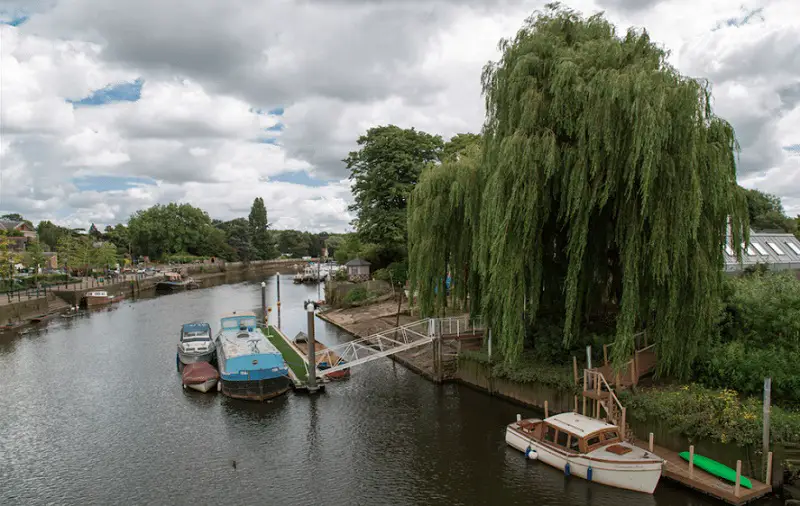 A small island on the River Thames, Eel Pie Island has a splendid landscape, wildlife scenery and cordial inhabitants (only around 120). Only reachable by boat, Eel Pie Island is popular among sport fans due to two important English clubs: Twickenham Rowing Club and Richmond Yacht Club. The island is also famous for the Eel Pie Island Hotel, which hosted many musical and dancing events where important figures made their name known.
Address: Twickenham, Middlesex TW1 3DY
Opening Hours: Open daily. Free public entry.
---
14. Lee Valley Park
Stretching beyond Greater London's boundaries to regions like Hertfordshire and Essex, Lee Valley Park contains a multitude of different attractions including heritage sites, nature reserves, lakes, countryside and urban areas. Visitors can enjoy numerous activities such as golf, camping, boating, cycling, horse riding, ice skating and bird watching. From 2005 to 2012, Lee Valley Park was modified to become the Olympic Park for the 2012 Summer Olympics and 2012 Summer Paralympics.
Address: Stubbins Hall Lane, Waltham Abbey, Essex EN9 2EF.
Opening Hours: Open daily. Free public entry.
---
15. Highgate Wood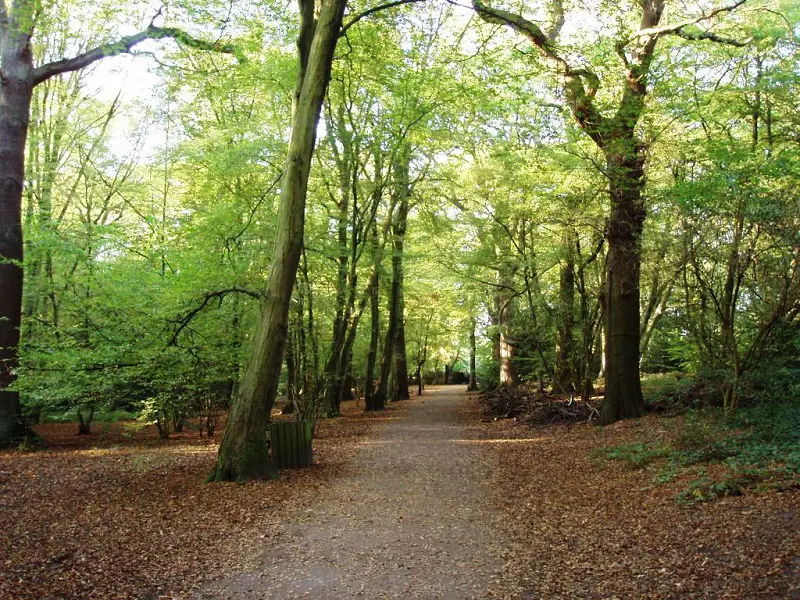 Situated in North London, Highgate Wood is one of the four ancient woods of the London Borough of Haringey (together with Queen's Wood, Coldfall Wood and Bluebell Wood). Containing an impressive variety of trees and shrub species, the Highgate Wood is the home for many foxes, and grey squirrels, as well as multiple species of birds, bats, butterflies and spiders. Besides the fact that it was included among the eight Green Heritage Sites in London, Highgate Wood also attracts visitors with its recreational facilities like children playgrounds, cafés, walking trails and sporting fields.
Address: Highgate Wood, London N10 3JN.
Opening Hours: Daily 7.30am – Dusk. Free public entry
---
16. Chislehurst Caves
The Chislehurst Caves is mainly a tourist attraction, but it did play an important role in the history of London. Up until the 19th century the caves were intensely used for mining but during the two World Wars, they had a different purpose. It was used as an ammunition depot in WWI, air raid shelter for about 15 thousand inhabitants, an emergency hospital and some sections were converted to a chapel. Today, the caves are also famous among music fans from all around the world due to important bands performances including The Rolling Stones, Jimi Hendrix, Pink Floyd, and Led Zeppelin.
Address: Old Hill, Chislehurst BR7 5NB.
Opening Hours: Wed-Sun: 10am-4pm.
Price: Adult: £6.00; Child: £4.00; Concession: £3.00
---
17. Chelsea Physic Garden
Established in the second half of the seventeenth century by the Worshipful Society of Apothecaries, the Chelsea Physic Garden is one of the oldest botanical gardens in England. Included among the London Museums of Health and Medicine, this botanical garden has some unique features that attract tourists interested in botany. Noteworthy mentions are Britain's largest fruiting olive tree and the world's most northern grapefruit that grows outdoors.
Address: 66 Royal Hospital Rd, Chelsea, London SW3 4HS, United Kingdom
Opening Hours: April – October, Tue – Fri and Sun: 11am – 6pm
---
18. Queen's Wood
Queen's Wood is one of the four ancient woods in the London Borough of Haringey. Today it is situated very close to Highgate tube station, but Queen's wood was originally part of the Forest of Middlesex that spread over the largest part of London. Despite its closeness to the crowded city, the wood succeeded to preserve the largest part of its natural habitat, with a rich flora and fauna: different species of grasses, trees, shrubs, birds (three species of woodpecker), and insects. For this reason, Queen's Wood was declared a Site of Metropolitan Importance for Nature Conservation and a Local Nature Reserve.
Address: Muswell Hill Road, London N10 3JP
Opening Hours: Opens daily. Free public entry.
---
19. Railway Fields
Railway Fields was first established as a nature park in 1986. Originally, the area functioned as a goods yard, or a freight station, on the Tottenham and Hampstead Junction Railway. It was declared a local nature reserve in 1990 and, since then, it has become an open space area where children can learn directly about nature; there is even a classroom in the centre.
Address: Railway Fields, London N4 1SB
Opening Hours: Opens daily. Free public entry.
---
20. Brockwell Park
Situated in the region of South London, Brockwell Park is 50-hectare ground with a number of recreational facilities. Activities and facilities at the park include a miniature railway, a paddling pool for children, a café, a walled garden, greenhouses, duck ponds, and sporting areas.
Address: Herne Hill, London SE24
Opening Hours: Daily: 7.30am – Dusk. Free public entry
---
Find more Natural Attractions in London