Let's be honest – who doesn't love relaxing in a hot spring?
Natural hot springs are the greatest geothermal wonders of the world.
They have incredible relaxation and healing powers that people all across the globe wish to enjoy.
However, few people know that the state of Montana is home to its very own hot springs.
We've searched all over the state and found plenty of hot springs (and even hot spring hotels) all over Big Sky Country.
Continue reading for a list of the 19 best natural hot springs in Montana.
1. Norris Hot Springs, Norris
Norris Hot Springs can be found in Montana's stunning Madison River Valley.
This hot springs pool is one of the largest communal hot springs, at 30 feet wide by 40 feet long.
The water sits around 106 degrees Fahrenheit in the winter and just below 100 degrees in the summer.
There is a campground located right nearby Norris Hot Springs where tents and RVs are welcome.
Further, Norris has a year round restaurant on-site.
It even has a tented stage where it hosts musical acts throughout the year.
Facilities: WiFi, campsites, RV hookups, hot spring pool, live music, on-site restaurant open year round.
Address: 52 MT-84, Norris, MT.
---
2. Yellowstone Hot Springs, Gardiner
Yellowstone Hot Springs in Gardiner, Montana offers 4,000 square feet of pristine hot springs.
This natural wonder is located just 10 minutes from Yellowstone National Park.
It is one of the newest natural hot spring locations opened to the public, only opening in 2018.
Unwind in multiple pools while enjoying panoramic views of the Paradise Valley mountains.
Yellowstone Hot Springs are open year round from Friday to Sunday.
Reservations are not necessary and the cost of admission covers the entire day.
Facilities: Multiple hot spring pools (hot and cold), towels available for rent, landscaped grounds.
Address: 24 E Gate Rd, Gardiner, MT. 
---
3. Alameda's Hot Springs Retreat, Hot Springs
If it's a quirky hot spring experience you're after, look no further than Alameda's Hot Spring Retreat.
This retreat, located in Hot Springs, Montana, is a vintage spa-motel that dates back to the 1930s.
You'll feel like you've been transported back in time when you step foot into Alameda's.
This will allow you to truly unwind during your stay.
Suites include private hot spring baths, living rooms, bedrooms, sun porches, and kitchens.
The only hot spring pools at Alameda's are the private baths, which makes this a great spot for couples or solo travelers. 
Facilities: Private hot spring baths, full-size suites with sun porches, pet-friendly, hosts workshops throughout the year.
Address: 308 N Spring St, Hot Springs, MT.
---
4. Spa Hot Springs Motel & Clinic, White Sulphur Springs
Relax in the peaceful waters of Spa Hot Springs Motel & Clinic.
This family-friendly hot spring lodge is located in the town of White Sulphur Springs, Montana.
The motel has two outdoor hot spring pools and one indoor.
Pools are drained nightly and range from 98 degrees Fahrenheit to 105 degrees.
The hot springs are open year round and are free to guests.
There are poolside motel room options and they all come with televisions, refrigerators, microwaves, and leather recliner chairs.
Facilities: Three hot spring pools (indoor and outdoor), motel rooms with TVs and kitchenettes, murals by Mike Mahoney, on-site clinic.
Address: 202 W Main St, White Sulphur Springs, MT.
---
5. Boiling River, Yellowstone National Park
The thermal waters of Gardiner River and Mammoth Hot Springs meet in Boiling River.
This natural hot spring site in Gardiner, Montana is one of the most sought-after spots in the state.
That is because it can be difficult to soak here, as there is only a small window of time each year when the water reaches an optimal temperature.
But getting to relax in Boiling River is an experience like no other.
It is located right inside Yellowstone National Park, meaning natural beauty surrounds you.
If you go on a private tour to Yellowstone, the Boiling River will be one of the main attraction stops.
Tour inclusions: Lunch, binoculars, soda/pop, bottled water, air-conditioned vehicle.
Address: N Entrance Rd, Gardiner, MT.
Yellowstone Tour Official Site
---
6. Chico Hot Springs Resort and Day Spa, Pray
Escape to nature at Chicago Hot Springs Resort and Day Spa.
This Pray, Montana resort lies in the heart of Paradise Valley.
The resort dates back over 100 years and is a popular destination for travellers all over the United States.
There are two open-air mineral hot spring pools on-site.
This allows guests to swim, soak, and play all day long if they wish.
Amenities include multiple restaurants, a full-service day spa, and luxury cabins.
Facilities: Luxury day spa, two hot spring pools, multiple restaurants, luxury cabins for rent, picturesque gardens, disc golf course.
Address: 163 Chico Rd, Pray, MT.
---
7. Bozeman Hot Springs, Bozeman
Bozeman Hot Springs is a Montana institution.
Indoor and outdoor hot spring pools are both on-site.
There are childcare services available in the pools, as well as swimming lessons.
In addition, there is a full-service spa with a sauna and a fitness center.
There is also a campground nearby where visitors can pitch a tent, hook up their RV, and even rent a cabin.
Keep an eye on Bozeman Hot Springs website as they host events throughout the year, such as live outdoor concerts.
Facilities: Indoor and outdoor hot spring pools, swimming lessons, daycare services, fitness center, spa and sauna, campground with cabins and RV hookups, events.
Address: 81123 Gallatin Rd, Bozeman, MT.
---
8. Quinn's Hot Springs Resort, Paradise
Hot springs, fine dining, and plenty of accommodation options – Quinn's Hot Springs Resort has it all!
This Paradise, Montana resort has 100% geothermal pools that range from 89 degrees to 106 degrees.
There is also an ice plunge pool to improve circulation.
In terms of accommodation, the resort consists of two lodges with cabins available to guests.
Some cabins even have canyon or river views.
To top it off, Quinn's Hot Springs Resort is home to Harwood House Restaurant, which has been recognized by Wine Spectator Magazine.
Facilities: Hot spring pools, ice plunge pool, cabins with river and canyon views, gourmet restaurant, casual bar/restaurant.
Address: 195 Quinn's Canyon Rd Route 135, Plains, MT.
---
9. Lolo Hot Springs, Lolo
Lolo Hot Springs is your one-stop destination in Lolo, Montana.
This hot springs resort features a mixture of indoor and outdoor hot springs pools for guests to unwind in.
Beyond the hot spring pools, Lolo has plenty of on-site entertainment to keep their guests happy.. 
There is a bar and restaurant on-site, as well as a casino, game machines, free WiFi, and free parking.
When it comes to accommodation, there are full-size cabins available for rent, as well as RV and tented campsites. 
Finally, there are all types of activities you can indulge in, including golfing, horseback riding, cross-country skiing, and fishing.
Facilities: Hot spring pools, game machines, golf course, horseback riding, cabin rentals, RV hookups, free WiFi, free parking, bar and restaurant, casino. 
Address: Montana 59847.
---
10. Sleeping Buffalo Hot Springs, Saco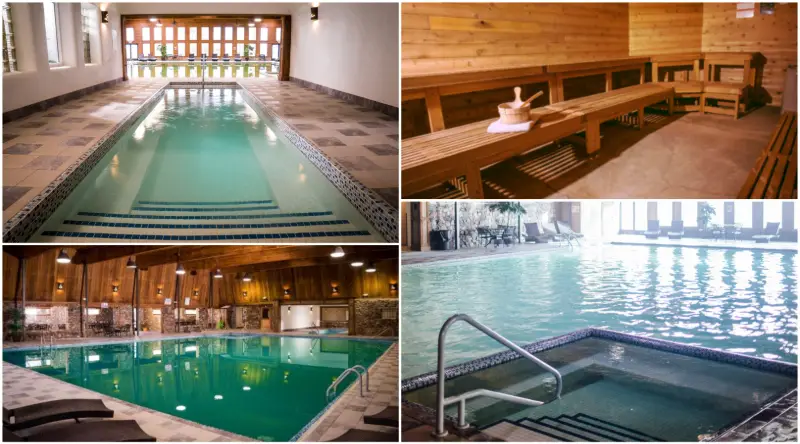 Swim, soak, and stay at Sleeping Buffalo Hot Springs in Saco, Montana.
This resort originally opened in the 1920s as a health resort.
Today, it is one of the most-visited hot spring resorts in the state.
There are multiple indoor pools on-site that are filled with natural mineral water on a daily basis.
There is also a sauna.
An RV park with cabins available for rent is conveniently located nearby.
Facilities: Indoor hot spring pools, RV hookups, cabins for rent, private room available for birthday parties/events.
Address: 669 Buffalo Terrace, Saco, MT.
---
11. Broadwater Hot Springs, Helena
Broadwater Hot Springs is the only natural hot spring in Helena, Montana.
It has an easy to access location, just 10 minutes from downtown Helena.
There are four pools, including a hot springs pool and a hot springs tub.
There is also a cold soaker pool that sits at a temperature of 58.7 degrees.
Although the hot springs are enticing, you'll love the on-site grill, called The Springs Taproom & Grill.
It serves delicious meals made with local ingredients and craft beer on the daily.
Facilities: Hot springs pools and tub, on-site bar and grill, live music events throughout the year, group fitness classes.
Address: 4920 W, US-12, Helena, MT.
---
12. Boulder Hot Springs Inn and Spa, Boulder
The Boulder Hot Springs Hotel is a national treasure.
In fact, it is even listed on the National Register of Historic Places.
This historic inn is located on over 300 acres of pristine nature.
B&B-style rooms and luxurious suites are available for rent.
Meanwhile, the main attraction are the resort's geothermal waters.
There are indoor plunge pools, outdoor communal pools, and natural mineral steam rooms on-site.
Facilities: Hot springs plunge and communal pools, mineral water steam room, full-service spa, dining room serving international cuisine, workshops and classes in art, meditation, yoga, and more.
Address: 31 Hot Springs Rd, Boulder, MT.
---
13. Potosi Hot Springs, Pony
For a hot spring experience in nature, look no further than Potosi Hot Springs.
Located less than 7 miles from Pony, Montana, you will be surrounded by forest at this hot spring pool.
Beyond the hot spring pool, there are lots of incredible spots nearby for hiking and fishing.
What could be better than relaxing in a hot spring after a day hike?
There are also rustic log cabins available for rent through Airbnb.
Beautiful scenery awaits at Potosi Hot Springs.
Facilities: Hot spring pool, nearby hiking and fishing, four log cabins for rent.
Address: Montana 59721.
---
14. Elkhorn Hot Springs, Polaris
Elkhorn Hot Springs in Polaris is one of the best hot spring resorts in southwestern Montana.
Located in Grasshopper Valley, Elkhorn Hot Springs are actually quite near the border of Idaho.
They have been in business since 1918 and since then, have established themselves as a leading hot springs resort in the area.
Elkhorn has natural hot spring pools with different temperatures, from 92 to 106 degrees depending on the time of year.
There is also a restaurant on-site serving home-style meals.
Accommodation options range from standard lodge rooms to modern cabins.
Facilities: Hot spring pools, restaurant with home-style meals, cabins and standard rooms.
Address: Polaris, MT 59746.
---
15. Jackson Hot Springs, Jackson
Experience the true western way of living at Jackson Hot Springs.
The natural hot spring pool is open daily and is the best place to relax and refresh.
After you're done soaking in the pool, head on over to Hot Springs Grill.
There, you can indulge in a delicious locally-made meal or drink.
Back in your room, you'll find your very own fireplace, microwave, refrigerator, and coffee maker.
Certain rooms are even pet-friendly.
Facilities: Hot springs pool, on-site grill and bar, pool and shuffle board, pet-friendly rooms, kitchenettes.
Address: 108 Jardine Ave, Jackson, MT.
---
16. Lost Trail Hot Springs, Sula
Lost Trail Hot Springs has been operating since 1941. 
There is an outdoor hot springs pool open year round (there is a cover put over it in the winter).
A campground with RV hookups and tent sites is open throughout the year.
But there is also lodging available in cabins of varying sizes.
Be sure not to miss the restaurant, which serves up wood fired pizzas all through ski season.
Plus, since this hot springs resort is located at the base of Bitterroot Valley, there are plenty of options for bird watching, hiking, fishing, and biking nearby.
Facilities: Hot spring pool, dining room, private bathrooms.
Address: 283 Lost Trail Hotsprings Rd, Sula, MT.
---
17. Fairmont Hot Springs Resort, Anaconda
The Fairmont Hot Springs Resort is one of the most luxurious hot springs resorts in Montana.
The resort features two mineral water soaking pools, as well as an Olympic-size swimming pool with an enclosed water slide.
The water slide even uses hot springs water to operate.
Rooms at the Fairmont Hot Springs Resort are modern and elegant.
They come with televisions, private bathrooms, coffee makers, microwaves, and mini fridges.
There are a select number of larger suites available.
To top it off, there is a full-service spa, golf course, and three restaurants on the property.
Facilities: Natural hot spring pools, water slide, suites available, golf course, luxury spa, three restaurants.
Address: 1500 Fairmont Rd #9409, Anaconda, MT.
---
18. K Bar L Ranch and Medicine Springs, Augusta
Immerse yourself in Montana ranch life at K Bar L Ranch and Medicine Springs.
This property is located along the Sun River, beside the Bob Marshall Wilderness Complex.
Truly in wilderness, the K Bar L Ranch is 7 miles from the nearest road.
This allows guests to fully escape the hustle and bustle of daily life.
Medicine Springs is the property's own private hot springs pool, that sits at a temperature of 86 degrees.
Cabins are for rent and activities at the resort including hiking, fishing, and horseback riding.
Facilities: Hot spring pool, private cabins, outdoor restrooms and showers, on-site restaurant, gift shop.
Address: 108C, Sun Canyon Rd, Augusta, MT.
---
19. Nimrod Warm Springs, Missoula
Nimrod Warm Springs in Missoula, Montana is somewhat of a hidden gem.
This hot spring is definitely off the beaten path.
It is as natural as it gets with no facilities whatsoever.
That said, it's still an incredible place to visit, with a massive hot spring pool at the base of a sloping rock formation.
It is completely undeveloped, which means travelers swim at their own risk.
There is a short walk from the nearest parking lot to the springs, but it is well worth it!
---
Whether you're looking to soak in a plunge pool or spend time with your kids in a communal hot spring, there are plenty of options in Montana.
For all those planning a trip to this natural playground, we hope this list has convinced you to visit a hot spring!