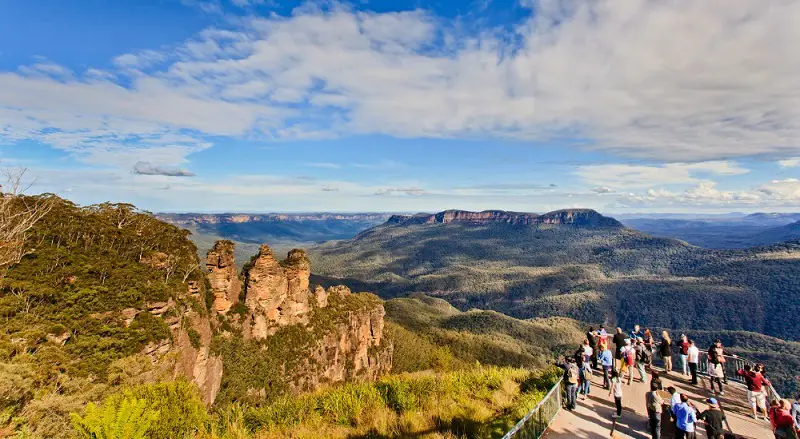 The Blue Mountains National Park is a region full of stunning scenery. It's one of the most popular attractions for travellers to Sydney, famous for its blue haze emanating from many eucalyptus trees.
There are many tours to the Blue Mountains. Most of them are similar, offering you to experience some of the well-known attractions. If you are having trouble deciding which attractions you should see, we made a list to make things easier for you.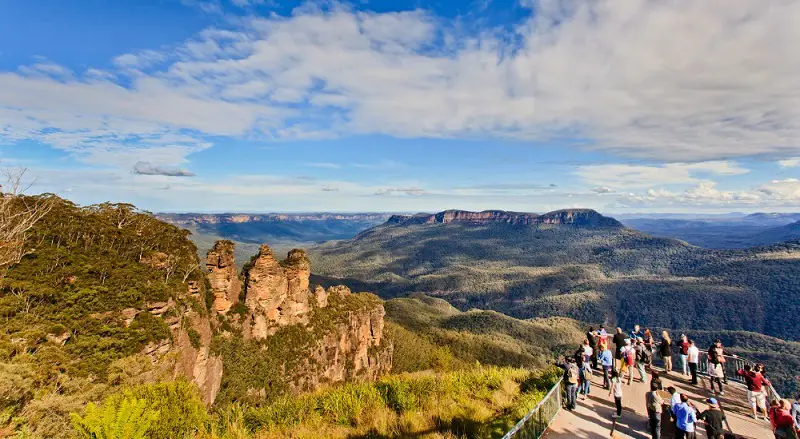 Attractions You Could See on Tours to Blue Mountains
1/ Echo Point Lookout and Three Sisters
Echo Point is practically a must stop for tours to the Blue Mountains. At the lookout, you can enjoy the view of the popular Three Sisters rock formation, and the beautiful Jamison Valley. It is, also, the gateway to some of the best hiking trails. Take an easy path to the famous rock formation or go to the Giant Stairway that includes more than 800 steps carved from the mountain, descending down to the valley floor.
A legend about Three Sisters says that sisters Meehni, Wimlah and Gunnedoo, members of Katoomba tribe, fell in love with three men from Nepean tribe. The tribal law forbade the marriage, so men decided to capture them by force. Their attempt caused a battle. An elder turned sisters to stone to protect them but died in the battle, so they remained like that.
2/ Scenic World
Visiting the Blue Mountains wouldn't be complete without visiting private tourist attraction – Scenic World. It has four attractions: Scenic Railway, Scenic Skyway, Scenic Cableway and Scenic Walkway. Adrenaline rush, fresh air, and breathtaking views are included too.
Scenic Railway is, in fact, the steepest railway in the world. Glass-roofed carriages offer spectacular views of the rainforest. If that's not fun enough, you should ride the glass-floored Skyway. It travels between the cliff tops located approximately 270 meters above the valley floor.
You can, also, enjoy picturesque views over the Jamison Valley from the Cableway in a 545-meter journey. It gently descends into the valley and returns to the top. If you are afraid of heights, you can wander through Jurassic rainforest on an elevated Walkway.
3/ Katoomba
There is more to Katoomba than Scenic World and the famous Three Sisters. The town offers many cafes, restaurants, and galleries.
Visit the Edge Cinema and watch a 40-minute documentary titled "The Edge" on one of the largest movie screens in the southern hemisphere. The movie will take you to places in the Blue Mountains that are hard or impossible to access.
If you go along Cliff Drive you can find several lookouts. Wander through the Yosemite Park and relax by the Mini Ha-Ha Falls. The Explorers Marked Tree is perfect for history lovers. It has the initials of famous explorers dated 1813. The starting point of the Six Foot Track that will take you to Jenolan Caves is also in the vicinity.

4/ Featherdale Wildlife Park
Featherdale Wildlife Park is an attraction stop on the way to the Blue Mountains (or on the way back, depending on the tour itinerary). It is home to more than 260 species of Australian native animals and birds. You can feed kangaroos, pet koalas and meet emus and wombats. The Park is home to some endangered species such as Tiger Quoll and Yellow Footed Rock Wallaby, but you can also see a Tasmanian Devil and the largest bird collection in Australia. With more than 1,700 animals, you can be sure that visiting Featherdale would be fun and educational, especially for kids.
5/ Leura and Sublime Point Lookout
The town Leura has been given the name "The Jewel in the Mountains Crown" and there is a good reason for that. It is a picturesque small town with many pristine gardens, privately owned but open to the public. Fine coffee shops, restaurants, galleries and golf courses are just a part of what you can see here.
This town hosts one of the finest Toy and Railway Museums within Leuralla mansion. Everglades Gardens, perfect at any time of the year, offers beautiful Australian landscaping. If you love the outdoors, you can relax in the Leura Cascades, and from there walk to several waterfalls and lookouts.
You shouldn't miss Sublime Point Lookout, located at 900 meters above sea level. In order to get to the platform, you'll have to cross a bridge over a dramatic ravine. You'll feel like you are on the edge of the world while soaking up the wilderness.
6/ Waradah Aboriginal Centre
If you would like to know more about Aboriginal culture, be sure to visit the Waradah Aboriginal Centre. You can witness traditional Aboriginal dance and interactive didgeridoo performances or see other shows featuring Aboriginal dancers or musicians in traditional costumes. Also, this place offers you the opportunity to learn more about Australia's first people and their heritage.
Genuine Aboriginal paintings can be seen in the art gallery. If you wish to buy something, the Centre's shop has a large collection of totem statues, glass-work, and didgeridoos which are more affordable.
7/ Jenolan Caves
If you like cave walks you should definitely visit Jenolan Caves, one of Australia's national treasures. Jenolan Caves with its dazzling formations and underground rivers are said to be among the world's oldest caves.
There are many different caves to explore as well as several different routes to suit your fitness level. The Cathedral Chamber, a part of the Lucas cave, is said to have the perfect acoustic and often hosts weddings. Enjoy a unique light show in the Baal cave, or see the Orient, which is considered to be one of the most beautiful caves.
If you are looking for a challenge, try Adventure Caving, climbing and squeezing through undeveloped caves or a ghost tour.
8/ Wentworth Falls
Wentworth Falls is an idyllic town that offers possibly most spectacular walks and views. Take a picnic basket and relax at Ingar Picnic Ground. The area is known as Kings Tableland, and it's recognized as the ancient Aboriginal site. Visit the Wentworth Falls Lake for a BBQ, take a swim or just watch wild ducks on the lake.
If you are a nature lover, take the Charles Darwin Walk that starts in Wilson Park. Follow the Jamison Creek to the top of the Wentworth Falls, and enjoy a scenic cascade of crystal clear water.
Many more natural attractions are nearby, including Princess Rock Lookout, Queens Cascades, and Empress Falls.
9/ Anvil Rock and Pulpit Rock Lookout
Head to the Blackheath if you love panoramic views. Follow the signs to Anvil Rock lookout, which is considered to be a warm-up before visiting Pulpit Rock.
This lookout offers an amazing view of the Gorse Valley area. The Anvil Rock lookout got its name because it resembles an anvil. On the top, you can see an actual anvil weighing over 300kg that has been bolted to the rock.
Then, head to Pulpit Rock lookout. Gorgeous views of the Grose Valley will be waiting for you. There are several lookouts so you can get almost a 360 degrees panorama across the cliff lines. You can have a picnic far from the hustle and popular spots. This is, also, a great starting point for a walk along the cliff tops to other lookouts like Boyd and Horseshoe Falls.
10/ Govetts Leap
If you continue your walk from Pulpit Rock Lookout, you'll get to Govetts Leap, one of the most famous lookouts. It is named after William Govett, the first European who has enjoyed this view. Bridal Veil Falls, the tallest single-drop waterfall is what makes it unique. If you aren't mesmerized by this, surely you'll be by stunning views of the Grose Wilderness.
You can find several hiking trails, some of them leading to the Barrow lookout where you can see the waterfall Govetts Leap and to the Evans lookout that offers breathtaking views of the Grose Valley and sandstone cliff walls.
11/ Mt Tomah Botanic Gardens
Despite Mount Tomah being a small town, it hosts one of the major attractions. Mt Tomah Botanic Garden features thousands of species of plants from all over the world on the 28-hectare estate. The plants are arranged geographically, so you can walk among the greenery of different regions, and there is, also, a jungle section.
You can see a dinosaur tree or a Wollemi pine, trees over a 100 years old, and learn how plants are used as medicine. It's located at 1,000 meters above sea level, which means there are beautiful views of the surrounding mountains.
The garden is heritage-listed, and although it's known as Mt Tomah Botanic Garden, the name was actually changed to Blue Mountains Botanic Garden.
12/ Mount Victoria
Step back in time as you enter this heritage-listed town. This village is actually at the top of the Blue Mountains and hosts many historic buildings. Visit an old-fashioned local cinema, Mount Vic Flicks which is a complete opposite of the Edge cinema in Katoomba.
Relax by Victoria Falls, go to "One Tree Hill", the highest point in the Blue Mountains or explore Mount Victoria's Pulpit Rock and Mout Piddington Lookout to enjoy the views of the Kanimbla Valley. Nearby you can find several other lookouts as well as caves to explore.
Blue Mountains Tours
Blue Mountains Day Trip and River Cruise

Experience the beauty and tranquility of the Blue Mountains on a full-day, small-group, family friendly tour from Sydney.

Tour includes:

Luera
Echo Point
Three Sisters
Scenic World
Wentworth Falls
Featherdale Wildlife Park
Parramatta River

 
2-Day Combo: Sydney City Tour, Sydney Harbour Lunch Cruise and Blue Mountains Day Trip

Spend one-day sightseeing in Sydney and Sydney Harbour luncheon cruise and another day exploring the Blue Mountains (within seven days of your Sydney city tour).

Tour includes:

Bondi Beach
Sydney Harbour
Leura
Scenic World
Three Sisters
Echo Point
Featherdale Wildlife Park
Parramatta River

Blue Mountains Nature and Wildlife Day Tour from Sydney

Discover the beautiful wilderness on Sydney's doorstep on a day trip to the World Heritage-listed Blue Mountains. Tours duration is 9 hours 30 minutes approximately and all entrance fees are included in the price.

Tour includes:

Scenic World
Three Sisters
Leura
Featherdale Wildlife Park

Blue Mountains Day Tour Including Three Sisters, Scenic World and Wildlife Park

Enjoy a tour with flexible duration, and an ideal choice for families. Take in the spectacular views and have a close encounter with wildlife.

Tour includes:

Wentworth Falls
Leura
Scenic World
Echo Point
Three Sisters
Waradah Aboriginal Centre
Featherdale Wildlife Park
Parramatta River

Small-Group Blue Mountains Day Trip from Sydney with River Cruise

Leave the city behind and head for the hills. Enjoy the tranquility of the UNESCO World Heritage-listed Blue Mountains on this small-group day trip.

Tour includes:

Featherdale Wildlife Park
Echo Point
Three Sisters
Wentworth Falls
Scenic World
Katoomba
Parramatta River

Jenolan Caves Blue Mountains and Caves Tour from Sydney

Experience the tranquillity of the Blue Mountains and the limestone crystal formations within Jenolan Caves. Enjoy a day away from the hustle and bustle of the city.

Tour includes:

Katoomba
Echo Point
Three Sisters
Jenolan Caves

 
Blue Mountains Day Tour Including River Cruise and Wildlife Park with Optional Scenic World Upgrade

Depart Sydney and enjoy a Blue Mountains day tour. Perfect for all ages and skill level and ideal for families.

Tour includes:

Wentworth Falls
Leura
Scenic World
Echo Point
Three Sisters
Featherdale Wildlife Park
Parramatta River

Blue Mountains Private Tour from Sydney

Spend a day in the World Heritage–listed Blue Mountains at a pace and style tailored to suit you on this 9-hour private tour. The itinerary can be as active or as relaxed as you prefer.

Tour includes:

Three Sisters
Echo Point
Scenic World
Jenolan Caves
Featherdale Wildlife Park
Pulpit Rock

Private Tour: Blue Mountains Day Trip from Sydney with Featherdale Wildlife Park

Choose the luxury option and take a private tour of the Blue Mountains World Heritage region. Lunch is included.

Tour includes:

Featherdale Wildlife Park
Govetts Leap
Katoomba
Three Sisters

Blue Mountain Small-Group Day Hikes from Sydney

Escape the hustle and bustle of Sydney to walk through the lush rainforest, hike along bush tracks and travel over escarpments to reveal unparalleled views of the countryside. Choose from two different hikes to suit all levels of fitness. 

 
Private Blue Mountains Day Trip by 4WD from Sydney or the Blue Mountains

Enjoy this private Blue Mountains Day departing from both the Blue Mountains and Sydney. Your itinerary can be customized to your own preferences.

Tour includes:

Katoomba
Wentworth Falls
Sublime Point Lookout
Echo Point
Three Sisters
Scenic World
Anvil Rock Lookout

Blue Mountains Deluxe Small Group Eco Tour from Sydney

Head for the hills and experience the natural beauty of the Blue Mountains. This unique small group tour offers the most amazing experience to the Blue Mountains National Park.

Tour includes:

Featherdale Wildlife Park
Eaglehawk Lookout
Three Sisters
Govetts Leap
Mt Tomah Botanic Gardens

Blue Mountains and Jenolan Caves Motorcoach Day Tour

Admire the otherworldly beauty of the Jenolan Caves on this day tour from Sydney.  Squeeze through chambers and crawl through cavities on an adventure experience you'll never forget!

Tour includes:

Katoomba
Echo Point
Three Sisters
Jenolan Caves
Blue Lake
FAQs
How to get to the Blue Mountains by train from Sydney?
You can catch a train at Central Railway Station to Katoomba station (closest stop to Echo Point). Trains run every hour, or more frequently during peak travel times. The journey is approximately 2 hours.
If your starting point is Sydney airport, there is a rail link that will take you directly to the Central Railway Station.
How to get to the Blue Mountains by car from Sydney?
Go west on the main road "Great Western Highway" and follow the signs towards Parramatta. Along the Great Western Highway, you will see a couple of exit roads leading to the "M4" motorway. There may be some heavy traffic on the Great Western Highway, but once you get onto the M4, it should be a smooth drive all the way to Katoomba.
If you want to enjoy scenic views, you can drive from Richmond to Mount Victoria via Bell's Line of Road.
You can also enter the Blue Mountains in Hartley if you are traveling from the outer west. You just have to follow the signs to Lithgow.
How long does it take to get to the Blue Mountains from Sydney?
If you are going by train, it takes 2-3 hours to get to the Blue Mountains. Of course, that depends on where you want to depart and stop. Common stops are Leura station and Katoomba station which are approximately 2 hours from Central station.
By car, it is a 50-minutes drive from Sydney to Lapstone in the Blue Mountains. But, if you want to reach popular tourist destinations like Leura or Katoomba it takes up to 90 minutes.
Bring some water, snacks and a camera. Don't forget your sunscreen. If your lunch is not included in the tour, take some money with you. Keep in mind that there are a tourist's hot spots with high prices and average menus.
Packing for the tour largely depends on where are you going. If you are going to or staying in a smaller town (like Blackheath) it would be a good idea to pack some food considering there aren't many shops. That doesn't apply to towns like Leura or Katoomba.
The temperature in the Blue Mountains is pleasant most of the time: it goes from 10 degrees Celsius (50 degrees Fahrenheit) to around 22 degrees (71 degrees Fahrenheit). That being said, there may be some variations at different elevations.
If you are visiting during summer wear shorts or something comfortable. If you are coming in the winter, bring a jacket. You can wear comfortable walking shoes or hiking boots (not required). Don't forget to consult the weather report for this region few days before the tour.
How to get around the Blue Mountains if you're not on tour?
If you are not on tour, the best way to visit the Blue Mountains is the hop-on-hop-off bus which stops at 29 locations. A pass is valid for three days with buses running every 30 minutes during the day. Create your own itinerary and spend the day visiting whatever you like. The bus is departing from Katoomba Railway Station.
Many Blue Mountains tours end with a relaxing cruise along the Parramatta River. Return to Sydney gliding past suburbs, travel under the iconic Sydney Harbor Bridge, and take in the stunning scenery. This could be the perfect way to end an exciting day you spent exploring the Blue Mountains.