Tokyo is one of the most lively and unique cities in Japan.
If this is your first time visiting, you'll want explore the best places and attractions.
We'll highlight the train stations near the top temples, gardens, and theme parks.
If you're interested in culture, there are plenty of areas with unique experiences too.
And if you prefer nightlife, we'll show you the areas with bars, restaurants, and shops open til late.
Whether you're on a family trip or honeymoon, there'll be something for you.
Here are the best Tokyo places to visit.
---
1. Meiji Shrine and Yoyogi Park
Meiji Shrine is a large shrine surrounded by a beautiful forest and located in the scenic Yoyogi Park.
You will embark upon a 20-minute peaceful stroll from Harajuku station.
As you head to the shrine, you'll see trees as tall as buildings flanking you on either side.
The temple itself is a massive complex with the biggest torii gate you'll ever see in Japan.
Have your fortune read here and enjoy a brief break in nature before you go back to the action of Tokyo.
Opening Hours: Daily 5:40am-4:40pm
Train Station: Harajuku Station
Address: 1-1 Yoyogikamizonocho, Shibuya City, Tokyo 151-8557, Japan
---
2. Harajuku
Just outside of Meiji Jingu is Harajuku, a hub of teen fashion in Japan.
The streets are lined with trendy shops, cafes, and diners.
It's a popular area for the young Japanese community.
The main area itself is called Takeshita Dori and has given birth to countless fashion trends in Japan and Asia.
Just a short walk away, you can find Omotesando.
Usually called the Champs Elysees of Japan, it's a wide avenue with high-fashion boutiques and restaurants.
Opening Hours: Daily 24/7
Train Station: Harajuku Station
Address: Harajuku, Japan
---
3. Shibuya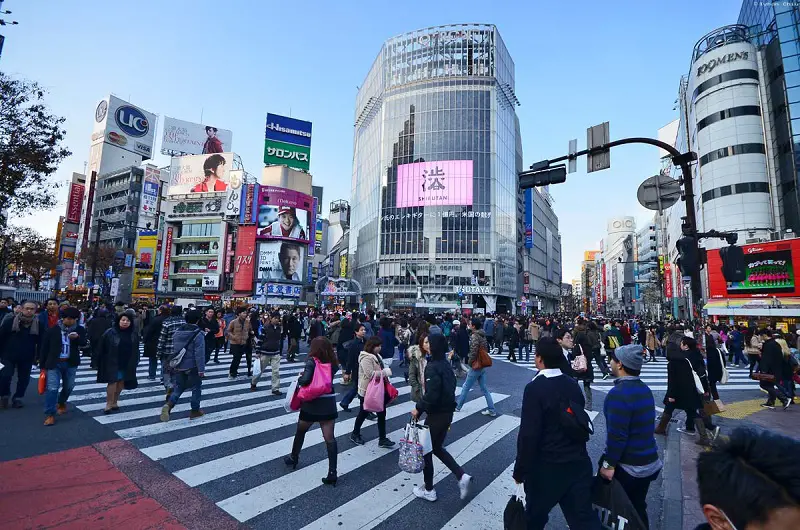 Shibuya is known for having the busiest intersection in the world.
It's located just outside Shibuya Station.
Whether it's peak or off-peak hours, there are always hundreds of people crossing on the green signal.
You'll find the Hachiko statue here too, a faithful dog that waited for its late owner for years.
Also, take a stroll through its winding streets and experience the lively bars, clubs, and restaurants.
If you're looking for something more romantic, there is a hill dedicated solely to love hotels.
Couples can "rest" for a few hours on their long trip, or even stay overnight.
Opening Hours: Daily 24/7
Train Station: Shibuya Station
Address: Shibuya, Japan
---
4. Shinjuku
Shinjuku is the busiest railway station in the world.
It's one of the best entertainment hubs in Tokyo, particularly at night.
There are towering skyscrapers everywhere with karaoke rooms, bars, restaurants, and nightclubs.
There's also Kabukicho, the largest red-light district in Japan.
Late at night, you can wrangle some food in Omoide Yokocho, a street full of quick and easy snacks.
But if you're visiting during the day, explore the beautiful Shinjuku Gyoen National Garden.
The best time to go is cherry blossom season or autumn.
Opening Hours: Daily 24/7
Train Station: Shinjuku Station
Address: Shinjuku, Japan
---
5. Odaiba

Odaiba is an island in Tokyo Bay with malls and museums.
It's a lovely place to go for a walk, particularly in the park areas.
You may come across a miniature Statue of Liberty and the huge Unicorn Gundam statue.
One of the more popular places to visit is the National Museum of Emerging Science and Innovation.
It's a must-visit for those interested in technology.
Or, if you have active kids, stop by Tokyo Joypolis, Legoland, and Trick Art Museum. 
They're all located in the same shopping mall.
Opening Hours: Daily 24/7
Train Station: Odaiba-kaihinkōen Station
Address: Odaiba, Japan
---
6. Hanayashiki
Hanayashiki is the oldest amusement park in Japan and has a bunch of fun rides.
It's just a 5-minute walk from Asakusa Station.
Most of the rides are catered to toddlers like the classic merry-go-round.
There are only a handful of rides suitable for adults including the roller coaster and Disk "O".
A few restaurants are located onsite too if you stay for lunch.
Opening Hours: Daily 10am-6pm; Tuesday closed
Train Station: Asakusa Station
Address: 2 Chome-28-1 Asakusa, Taito City, Tokyo 111-0032, Japan
---
7. Senso-ji Temple

Senso-ji temple is where everyone goes when they visit Asakusa.
On the way to the temple, you'll go through a buzzing market.
You'll see traditional souvenirs and local desserts like matcha ice cream.
If you like a buzzing atmosphere, visit during the day on weekends.
But if you're there to capture the best photo, visit at sunset. 
The back alleys of Asakusa are also littered with boutique izakaya bars.
Opening Hours: Daily 6:30am-5pm
Train Station: Asakusa Station
Address: 2 Chome-3-1 Asakusa, Taito City, Tokyo 111-0032, Japan
---
8. Tokyo Skytree

Tokyo Skytree is the tallest building in Japan and offers an unrivaled view of the city at night.
Guaranteed, there will be many more couples visiting at this time.
The cheaper ticket will grant you access to Tembo Deck on the 350th floor.
For a bit extra, you can head up to the Tembo Galleria on the 450th floor.
There's a chance you'll see Mount Fuji on clear days.
If you have time, visit the shopping mall and Sumida Aquarium on the lower floors.
Opening Hours: Daily 10am-9pm
Train Station: Tokyo Skytree Station
Address: 1 Chome-1-2 Oshiage, Sumida City, Tokyo 131-0045, Japan
---
9. Imperial Palace
Built in 1888, this is the residence of the imperial family of Japan.
It's on a huge property surrounoded by moats and stone walls.
There are guided tours of the palace in the morning and afternoon.
You'll see some of the inner grounds, but you can't enter any of the buildings.
Tickets can be booked on the day although its best to prebook online.
Alternatively, you can explore the East Gardens which is always open to the public.
If you time it right, there are 2 days of the year where you can see the imperial family.
On the 2nd of January and Emporer's Birthday.
Opening Hours: Tuesday to Satruday 9am-11:15am, 1:30pm-2:45pm; Sunday & Monday closed
Train Station: Tokyo Station
Address: 1-1 Chiyoda, Chiyoda City, Tokyo 100-8111, Japan
---
10. Akihabara
Akihabara is the tech, animation, and manga paradise of Tokyo.
It is one of the most unique places you'll see in Japan.
There are arcades, accessories, electronics, and shops filled with pop culture.
Towering buildings will be plastered with cartoon characters and colourfull billboards. 
Try dancing simulators in the arcades or dining at a sexy maid cafe.
For grownups, you're bound to spot the odd sex shops with adult toys.
Also, don't be surprised to see locals on the streets dressed up as manga characters.
Opening Hours: Daily 24/7
Train Station: Akihabara station
Address: Akihabara, Japan
---
11. Ueno
Ueno is another lively area where you can easily spend 2-3 days exploring.
On one side, there are alleys of cheap shops, restaurants, and even pachinko outlets.
And on the other side at Ueno Park, you'll find museums, temples, and the popular Ueno Zoo.
As you walk through the main pathway, cherry blossoms line the parks so its best to visit in season.
Perfect for picnics, this is a very peaceul area for family outings.
Kids will love the swan boats on the lake.
Museums generally open daily from 9:30am-5pm
Later at night, head over to the other side of Ueno station for late night shopping vibes.
Opening Hours: Daily 24/7
Train Station: Ueno station
Address: Ueno, Japan
---
12. Tokyo Dome City
This is almost a city on its own and you can easily spend the whole day here.
It might even be better to stay overnight since there's a hotel here too.
Just outside the baseball stadium, there's an amusement park.
Make sure you try the Thunder Dolphin, a roller coaster that goes straight through the LaQua building.
If the thrills too much, relax at the natural hot springs in Spa LaQua.
But make sure you're ready to get butt naked.
Nearby, you'll also find the beautiful Koishikawa Korakuen Gardens.
Opening Hours: Daily 10am-9pm
Train Station: Suidobashi Station
Address: 1 Chome-3-61 Koraku, Bunkyo City, Tokyo 112-0004, Japan
---
13. Roppongi
Roppongi is widely known for it nightlife scene.
You'll find clubs, bars, or kareoke rooms open until the early hours of the morning.
There's a good mix of locals and travelers in the area so its a great place for gatherings.
During the day, go to the observation deck at Tokyo City View.
Then see trendy instalments at the Mori Art Museum.
For exhibits at a much bigger scale, visit The National Art Center.
Opening Hours: Daily 24/7
Train Station: Roppongi station
Address: Roppongi, Japan
---
14. Tsukiji Outer Market
This is the best place in Japan to get your hands on some fresh sushi.
The best time to go is in the morning, since most shops will close by early afternoon.
Besides eating the freshest seafood, you can learn a lot about the culinary culture.
Some locals may even show you how to cut fish properly.
With over 400 small stalls lining the outside allys, it's a unique place to go shopping.
If you have time, visit Toyosu Market which is the new location of the wholesale market.
From the observation windows, you'll see the auctions of tuna and other fresh produce.
Opening Hours: Daily 8am-2pm; Sundays closed
Train Station: Tsukijishijo station
Address: 4 Chome-16番2号 Tsukiji, Chuo City, Tokyo 104-0045, Japan
---
15. Tokyo Disneyland
If you only have time for 1 theme park, it's best to visit the classic Disneyland.
Afterall, it's the iconic Cinderella Castle that everyone wants to see.
There are seven themed zones to explore so it might be difficult to see everything.
Unless you plan you plan carefully of course.
Make sure you arrive early and rush to the Fastpass ticket booths first. 
Try to get one of these rides: Pirates of the Caribbean, Big Thunder Mountain, Splash Mountain, Space Mountain, or Star Wars.
Also, walk by the castle during the day.
You'll see many visitors dressed as their favourite manga characters, superheroes, and princesses.
Opening Hours: Daily 9am-9pm
Train Station: Tokyo Disneyland station
Address: 1-1 Maihama, Urayasu, Chiba 279-0031, Japan
---
16. Tokyo Disneysea
As the name suggest, this themepark has a sea theme.
At night, the fireworks take place in large lake with the towering volcano in the background.
Like Disneyland, make sure you get the Fastpass so you can enjoy more rides.
The most popular rides are Soaring: Fantastic Flight, Tower of Terror, Indiana Jones® Adventure, Raging Spirits, and Journey to the Center of the Earth.
In terms of themed zones, the Mermaid Lagoon is the most stunning.
Even though there are a lot of water-themed rides, you shouldn't get wet.
Opening Hours: Daily 9am-9pm
Train Station: Tokyo Disneysea station
Address: 1-13 Maihama, Urayasu, Chiba 279-8511, Japan
---
Where to Stay in Tokyo
There are a number of neighborhoods that are conveniently close to major attractions in Tokyo.
Any of the following areas would be suitable places to stay for your next trip to Japan:
---
Tokyo Map
Find More Tokyo Places to Visit
---
FAQs
What's the best place to visit in Tokyo at night?

Visit Shibuya, Shinjuku, or Roppongi at night.

They all have a lively buzz once the sun sets.

You'll find plenty of restaurants, clubs, bars, and shops open til late.

For night views, go to Tokyo Skytree, Tokyo Tower, or Tokyo City View in Roppongi.
What's the best place to visit in Tokyo for families?

Disneyland and Disneysea are definitely the best places to visit in Tokyo for families.

Especially if you have young kids.

With all the colorful mascots walking around, fun rides, and live shows, kids will be happy all day.

Set aside 1 full day for each theme park.

It might even be easier if you stay overnight at one of their hotels.
What's the best place to visit in Tokyo for couples?

Most places in Tokyo are great for dates.

For a ful day of fun, go to Disneyland or Disneysea.

If it's just half day, go to Tokyo Dome city, then stroll around Koishikawa Korakuen Gardens.

At night, you can take your partner to Sumida Aquarium, then head up to Tokyo Skytree.

You'll have the most incredible views of the city.
Summary