Are you planning a trip to Bangkok and looking for the perfect itinerary?
If you're a bit confused on things to do, what to see and where to go in Thailand's capital, you're not alone.
Bangkok is a buzzing city life, unlike some of Thailand's other cities.
It has beauty, modern architecture, exotic weather, great shopping, authentic local food, charming neighbourhoods, and of course historic temples.
So where do you start?
Have a look at our 5 day itinerary in Bangkok which will give you plenty of things to do in this busy city.
Day 0 – Arriving in Bangkok
6pm Suvarnabhumi Airport
Suvarnabhumi Airport is about 30 km away from downtown Bangkok.
Your best bet after arriving is either taking a cab for around 400 THB or taking the airport rail link for around 50 baht.
The airport itself is neatly organised and signs are everywhere to guide you to your preferred transport option.
Private Arrival Transfer: Bangkok Airport to Hotel
Where ever you're coming from, it's usually a tiring trip and it's much easier to have transport pre-booked.
Book a private English speaking driver who will meet you at the airport.
They will be holding a sign up with your name and will assist with your luggage before driving you to your hotel.
---
8pm Arrive at Hotel – Where to stay in Bangkok
There are a lot of great hotels in Bangkok that are very reasonably priced when you consider the value you're getting (usually 30-50 USD a night).
However, if you want the convenience of reaching several Bangkok attractions while having nearby services, here are a few areas we suggest:
Sukhumvit
Siam
Silom
Pratunam
Riverside
Chinatown
Old City
For more information about Bangkok night activities, read our guide 28 Best Things to do in Bangkok at Night.
---
Day 1 – Exploring Bangkok's Magnificent Temples
10am Grand Palace (Wat Phra Kaew)
I've been to the Grand Palace around 3 times in my life and it's never failed to impress.
The artwork and decoration on the temple is absolutely exquisite and it looks like a shining gem in the sunlight.
The overall palace complex is actually quite large so you'll be walking around extensively.
Bring your best camera because this place is prime photo shoot area.
Definitely make sure to visit the Emerald Buddha here as that's the star attraction.
I was travelling with my Thai girlfriend the first time I was there and she taught me how to properly pray.
It was physically quite taxing but definitely a great cultural experience.
Tip – When it comes to visiting temples or basically any official/formal environment: make sure you're covered up. No knees, no thighs, no shoulders and no chest/cleavage. The security guards will literally not allow you to enter. If you're walking around all day in your jeans is somehow too hot for you, there are stores around the Grand Palace that offer rental pants. It just takes some time to line up for them.
---
12pm Wat Pho
Wat Pho is a just a short walk away and is the younger brother to the Grand Palace.
It's smaller, less fancy but has a certain rustic charm about it.
Also it's the home to a giant reclining Buddha.
You'll need to take your shoes off when entering the temple  but it's a great feeling to feel the cool stone floor after the heat outside.
Wat Pho is also known as the place where Thai massage was developed and they have the services available at certain times.
People usually say that the real Thai massage is pretty painful but these Wat Pho monks will pretty much break you into little pieces and put you back together again.
I have to say, it was pretty good.
---
2pm Wat Arun
Wat Arun is right across the river from Wat Pho so you just go to the river front and take a ferry for 20 baht.
Wat Arun is a unique temple in Thailand in that it actually boasts a Khmer style architecture rather than the typical Siamese style.
Basically, it looks like a mini Angkor Wat.
The walk up to the top can be a bit harrowing for some as the steps are narrow and very tall.
But that's part of what makes visiting this temple so fun.
There are a lot of street food options right outside Wat Arun if you're after a quick snack.
---
3pm The Golden Mount
You'll need to take a taxi to get to this temple but it's absolutely worth it, in my opinion.
The steps that lead to the top are surrounded by beautiful trees delicately letting the sunlight in through its leaves.
Once you get to the temple at the peak, you'll be greeted with a beautiful view of old Bangkok with its old fashioned buildings and winding streets.
Best of all, there aren't a lot of tourists here making this my personal favorite temple in Bangkok.
Tip – If it's your first time taking a tuk tuk, by all means go right ahead. Just remember that tuk tuks are notorious for cheating customers with their exorbitant prices and for randomly taking you to jewellery stores hoping they'll get some commission. They're paid by those stores to bring you there and you'll need to be firm with the driver on where you want to go. Also, haggling with a tuk tuk driver isn't really worth it as you won't save more than 5 USD anyway.
---
6pm River Cruise
There are a number of river cruises available in Bangkok.
The cruise will take you down the Chao Phraya river, the lifeblood of Bangkok, showing you familiar sights such as the Grand Palace and Wat Arun in spectacular lighting.
I went on the Princess cruise myself and there was international cuisine served and live music available.
There are no rules in terms of dress code which is a nice change after seeing all the temples.
---
9pm Khao San Road
I'm not sure if there's a backpacker in the world who hasn't visited this famous street.
It's pretty much backpacker heaven.
Dirt cheap hostels, a cornucopia of services for visas, documents, tours, bars, pubs, clubs, restaurants, massage parlors, and shops that sell Bob Marley t-shirts.
You name it, they probably have it.
Either way, it's a pretty good place to go for a drink.
Personally I always enjoyed going to a bar right in the middle of it called D&D.
Tip – A quick tip on Bangkok taxis: anyone that quotes a price is cheating you. It's illegal and they know it. However, in places like Khao San, that's the only kind of taxi you'll find. You could always walk down the road and get a normal, respectable cab but that's up to you.
---
Day 2 – Local Life and Culture
7am Damnoen Saduak Floating Market
Damnoen Saduak floating market is about a hundred kilometers away from Bangkok.
It is a great spot for lazily drinking sugar cane juice, eating local cuisines, getting a massage and just watching people sell their wares in their boats.
Instead of going to Damnoen Saduak, you can also go to Ampawa.
Both of them have river tours but Ampawa has a tour where you can see fireflies.
No guarantees though.
I went to Damnoen Saduak on my tour but I also checked out Ampawa when I came later.
They were both very good.
There are other floating markets within the vicinity of Bangkok like Talin Chan but they're much smaller.
---
2pm Phahurat
Sometimes called Little India, Phahurat is pretty much the only place in Bangkok where you can get good cheap Indian food.
Personally, I'm a big fan of the 10 baht samosas.
If you have time to spare, you can take a cab to Sri Mariamman temple, one of the few Hindu temples in Bangkok.
It's definitely a sight to behold with its intricate figures adorning the whole temple.
Stroll around the Phahurat markets and see if you can grab some bargain souvenirs.
---
6pm Bangkok Night Foodie Tour in Chinatown
If you want to try real authentic Thai food, Chinatown is the place to go.
Join a local guide on this fun 3 hour tour, but make sure you come hungry.
First you'll visit a local temple to get an introduction about Thai culture and origins, which will help you fully appreciate the food you're about to taste.
Your guide will then lead you to the heart of buzzing Chinatown where you'll be tasting 7-8 different types of food including Thai Suki soup, Pad thai, fried donuts and other delicious sweets.
One of the main highlights is the oyster omelette.
Classed as a Michelin dish, the juicy fresh oysters will be bursting in your mouths as you bite into the freshly made omelette.
Definitely a main course you'll never forget!
---
Day 3 – Downtown Bangkok
10am Central World & Platinum Fashion Mall
Central World is probably the biggest mall and definitely my favourite place to watch movies because of its modern and clean facilities.
Watching movies in Thailand is also a cultural experience.
Before the movie starts, you will need to stand up and watch a one minute clip of the King.
I'm not kidding! Make sure you stand up to show respect.
---
Platinum is a mall where you go to if you want to buy cheap and in bulk.
Roving bands of young girls looking for the next best deal are a common sight.
Right outside these two malls is Baiyoke 2, one of the tallest buildings in Thailand, and Erawan shrine, a beautiful shrine in the middle of downtown.
---
12pm Siam Paragon and Siam Center
Siam Paragon is the high end mall with all the various luxury goods available.
Also the walkway between Siam Paragon and Siam Center is a great place to relax and take photos with its fountain and, occasionally active, stage.
Right opposite these malls though is a small area called Siam Square and in there, you can find some of the best papaya salads in a restaurant called Som Tam Nua.
Also there's a wonderful mango ice cream bar in the middle of Siam Square.
Right next to it is the Scala theater, a classic Hollywood style cinema offering very cheap tickets.
If you're still looking for that fantastic pad thai, I'd recommend you to visit Black Canyon Coffee in any of the major malls you drop by.
---
2pm Madame Tussauds and Bangkok Art and Culture Center
Madame Tussauds is a great place to break up all the shopping.
Take photos with wax figures of your favourite international and local celebrities.
It's a small place but there are enough life like celebrities to enjoy an easy 1-2 hours of fun.
BACC especially is perfect for checking out the latest in what Thai artists have to offer.
Right opposite is the notorious mall, MBK, where they sell all kinds of clothes and electronics for dirt cheap prices.
---
4pm Dinosaur Park and Benjasiri Park
I love dinosaurs.
I basically go to everything dinosaur related whenever I travel but I have to admit the Dinosaur Park was a bit disappointing.
Small, a bit on the barren side when it comes to fossils and the exhibits weren't very fun.
However, Benjasiri Park more than made up for it
Situated cloeby, it has beautiful forests and is surrounded by a wonderful Bangkok skyline.
A lot of the families in this fancy part of town come here to unwind and it's definitely a great place to catch a sunset.
Also they play the national anthem at 6 pm so make sure to stand up while they do it!
---
6:30pm Soi Cowboy and Nana Plaza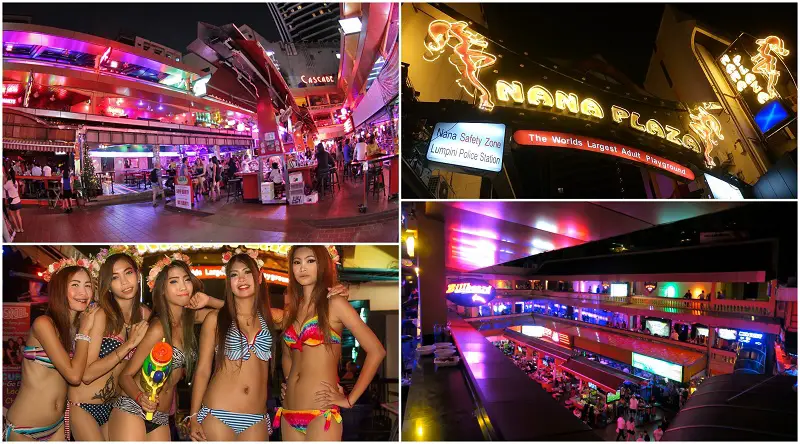 Just 10 minutes away from Benjasiri Park is Asok, a busy business district known for its great variety in food and shopping.
At night though, Asok comes to life, as visitors head to bars and clubs at Soi Cowboy for adult entertainment.
15 minutes from there is Nana Plaza, a 3 story complex fully reserved with more adult entertainment.
We had someone go there to share insights on Nana Plaza.
---
Day 4 – Shopping and Chilling
10am Chatuchak Weekend Market
Of all the markets, I went to in Thailand, Chatuchak (or JJ market) is definitely my favorite.
It's so big that they literally had to build a mall just to serve as its outlet and it's very easy to get lost in its labyrinthine streets.
However, you can spend literally hours here enjoying food, sights, clothes, art, and antiques.
They also have open air bars with live music in case you want to relax.
Tip -There's a reason this place is called a weekend market. Plan accordingly.
---
4pm Massage
By this time of the trip, I'd already experienced a number of massages but I wanted to treat myself to something special after all the walking at JJ market.
So I went to Health Land, a massage parlor chain, that has both great value and consistently great service.
It's 550 baht for a 2 hour Thai massage (100 baht as a tip to the masseuse) and I just basically napped through the entire thing.
There are cheaper and more local places, but you just can't beat this place for sheer value.
---
6pm Octave Rooftop Bar
I've been to a number of rooftop bars in Bangkok over the years but Octave stands above the rest for me.
It has a full 360 panoramic view and offers great music and service.
Catching a sunset here is a must.
---
8pm RCA
Here, we come to the last of our great party areas: RCA.
It's about a 15 minute cab ride from Octave depending on the traffic and it's a street with a lot of clubs lined on either side.
The most famous of them probably being Route 66 and Onyx.
If you're looking for one last fun night in Bangkok, this is a great spot to be.
---
Day 5 – History and Nature
10am Jim Thompson House
Jim Thompson was an American businessman that had a pretty big role in revitalising Thailand's silk industry back in the 50s.
He also went mysteriously missing and has been the fascination of many a conspiracy theorist.
But his house in downtown Bangkok is definitely worth a visit as a serene sanctuary away from the hustle and bustle of Bangkok.
It's a series of traditional Thai houses made of teak and just exude that old world exotic charm.
if you are interested in buying silk, this is the perfect place for it.
---
1pm Lumpini Park
This one is probably the largest parks in Bangkok and is a wonderful place for a stroll with family and loved ones.
Located very close to Silom and Hua Lamphong, you can easily spend an hour or two simply enjoying the nature of Thailand without the actual hassle of going to the nature of Thailand.
The sunsets at the lake front are also definitely not something to scoff at.
---
Recommendations and thoughts after my Bangkok trip
Pretty much everyone in the tourist areas can speak some level of English but if you're hailing a cab from anywhere else, you're going to need a smattering of Thai (or a very sympathetic taxi driver) to get to places.
The good news is that just showing the Thai name of the place you're going to via your phone to the taxi driver works pretty well.
You can get a BTS sky train for card 200 baht and that'll save you from any time queuing to get tokens.
Rush hour can cramp hundreds of people into the platforms and that can be very unpleasant.
Get a tourist SIM card with 3 GB of data at least to help you with navigation on Google Maps and other research while you're in Bangkok.
Bangkok is definitely a place to contemplate the beauty of food.
If only my belly could cooperate to the full extent of my desires.
I spent a lot of late nights in Bangkok and I was relieved to find out that it was all very safe.
During the day, you'll have no problem finding things to do in Bangkok with major attractions in all parts of the city.
Find More Things to do in Bangkok