Known as "the land of the midnight sun" and "the land of a thousand lakes", Finland is one of those hidden treasures of the world that hasn't been trampled to the ground by busloads of tourists. For many travellers, its a new country to be explored.
I planned a visit to Finland a while ago and I would highly recommend a 7 day trip. Here was my 7 day Finland itinerary if you're planning on visiting the country on your next holiday.
Finland Itinerary
| | | | | | |
| --- | --- | --- | --- | --- | --- |
| Day | Location | Schedule | Activity | Cost (€) | Transport |
| 1 | Helsinki | 7am-5pm | Arrival | 5 | Bus from aiport |
| 2 | Helsinki | 9am-7am (Day 3) | Helsinki City Art Museum; Torni Bar; Harbour Markets; Helsinki Cathedral; Havis Amanda | 10 (museum entry) | On Foot |
| 3 | Tallinn | 9am-7:30pm | Fat Margaret; Old Tallinn; cobblestone roads; flower market | 45 | Ferry |
| 4 | Espoo | 9am-7pm | Nuuksio National Park; Espoo Museum of Modern Art | 12 (museum entry | Bus |
| 5 | Iso Vasikaari | 9am-2pm | Fishing; yachting; sunbathing; swimming | 5 (return ferry ticket) | Ferry |
| 6 | Rovaniemi | 8pm-7am | Santa's Village Lapland; Sky Enontekio | 180 (return train ticket) | Train |
| 7 | Rovaniemi | 9am-7.30pm | Departure | 5 (airport bus) | Train & Bus |
Day 1: Arrival in Helsinki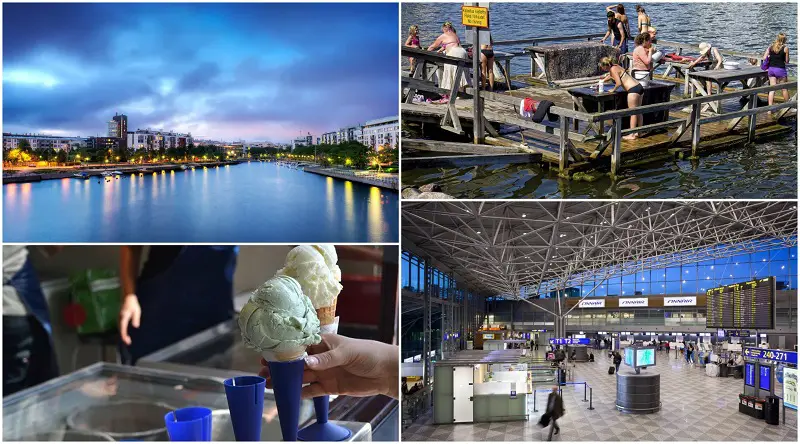 Helsinki Vantaa Airport is by no means special. Depending on when you arrive, you may or may not be so fortunate as to experience the airport at its deadest. I was one of the more fortunate ones.
I got in bright and early around 7am and found myself blessed with a lack of queues and out of the airport in 20 minutes (immigration included). From what I noticed, the duty free wasn't exceptional and neither were the food stalls, a.k.a. the couple of coffee kiosks open at the time. However, the airport does have the only Starbucks in the city, which is quite a hit with the Helsinkiläinen (Helsinki natives).
I won't lie; I spent most of the first day in bed, recovering from my 12 hour flight and jet lag, but when I finally did surface, at around 1pm, with the purpose of feeding myself, I had a bit of a gander around the city with a friend. I was taken on a lovely gastronomic tour of the city, featuring several small but unknown food trucks (only present in the summer), and ended up forgoing a choice of pita pockets, and gourmet burgers, for salmon on rye (a Finn favourite, and quite delicious, I might add).
I followed that up with ice cream from Helsingin Jäätelötehdas, a Helsinki Ice Cream Factory by the beach. I can't describe how amazing the ice cream was. We're talking the perfect combination of richness, flavour and density. Ice cream really is a science!
Also, right by the ice cream parlour was a 'carpet-washing pier', where people go to wash their carpets with eco-friendly pine soap and leave them to dry on a wooden drying rack made for the same ecological purpose. This was my first of many experiences with 'only in Finland' things. I really liked the idea that people could leave their belongings (carpets in this case) to dry and walk away with the security that if they returned a month later, their items would still be sitting there untouched.
Tips
Airport Bus – There is a bus service to and from the airport to the city centre, running every half-hour or so, and Finnair has their own shuttle service as well. Bus schedules can be checked online at www.finavia.fi/en
Never a Double – The scoops at the Helsingin Jäätelötehdas were rather large in size, so be sure to avoid my mistake of getting a double (orange and vanilla) and having too much to eat.
Day 2: Helsinki
Ask any Helsinki native, and they'll tell you that you haven't seen Helsinki until you:
Have a photo with Havis Amanda, a bronze statue of a woman housed in a fountain in market square.
Get a bite to eat at the harbour front market and maybe browse through the local souvenirs.
Drink a beer at and see the view from Ateljee Bar atop Hotel Torni, a building which survived WWII and has a 360 degree view of Helsinki.
To add to the list, I'd also suggest heading to a few museums. There is a plethora to choose from, but I'd personally recommend the Helsinki City Art Museum, also known as Helsingin taidemuseo, and the picturesque Senate Square.
I was also fortunate enough to squeeze in a trip to the Kamppi Chapel of Silence, a minimalistic birch, pine and spruce chapel located in the heart of the city.
Also, be sure to hit up the local bar scene in Helsinki, like Storyville Jazz; an underground jazz club with really swinging bands playing at night. It was a personal favourite of mine. It was actually at Storyville Jazz bar that I was introduced to Finnish brews like Lapin Kulta, Karhu, and a delectable gin drink aptly named Lonkero, which translates to Long Drink.
On a completely different note, bars in Finland are a great place to meet local people. Most people relax after a few drinks and Finns are their friendliest with a drink in hand.
Tips
Art Museum Tickets – Tickets for the Helsinki City Art Museum must be purchased in person and the museum is closed on Mondays. Students with an ISIC and senior citizens get a discounted ticket for €8 (as opposed to €10), and children below the age of 18 enter for free! Entrance is also free for everyone on the first Friday of the month.
After-beer-munchies – Most restaurants close down well before their beverage serving counterparts. But fear not, there are plenty (okay, maybe like 10) kiosks around the city serving greasy food for people in your position. Depending on the time of morning (or night, if you're not too much of a party animal) you visit them, they may or may not have a breakfast menu complete with bacon and eggs.
Helsinki Red Bus 24h Hop-On Hop-Off Ticket

Take advantage of the hop on hop off bus which gives you unlimited rides to all the major attractions in Helsinki including Senate Square, Olympic Stadium, Swedish Theatre and Market Square. It's the easiest way to get around.
Day 3: Day Trip to Tallinn, Estonia
Tallinn, the capital of Estonia, is a hop, skip and a jump (via ferry) from Helsinki. It is one of the most picturesque towns of its kind, especially during summer.
Tallinn is divided into two main parts; New Tallinn and Old Tallinn. Old Tallinn is the epitome of romance with its cobblestoned roads, hole-in-the-wall cafés and flower market. On arrival, I tried my hand at medieval archery (complete with a leather wrist bracer sans Velcro) outside Fat Margaret, the aptly named plump tower that is home to the Estonian Maritime Museum.
I also sampled Estonian coffee, which was delicious, and spent much of the day taking in the sights of Old Tallinn on foot whilst munching on freshly roasted cinnamon-sugar almonds (also utterly delicious).
I left Tallinn a little before sundown to take in the views from the ship on the way back and spent the rest of the evening enjoying the cool ocean breeze and shopping on-board before reaching land and making my way back to Helsinki.
Tips
Boat Drinking – If you're feeling exceptionally adventurous, I'd suggest trying Jalo-kola, a cut brandy (Jalovina) and cola concoction, on the route back, or some Saarema vodka. Note: these drinks, especially the latter, are not for the faint of heart.
Ferry Tickets and Schedules – There are two main ferry lines that run between Estonia and Finland. I took the Silja Line, but both have similar if not identical on-board facilities. Roundtrip tickets start at €30 and increase depending on which class you choose and whether or not you return the same night. Tickets are cheapest if purchased in advance. I paid close to €50 for what would have been a €30 ticket had I booked online a week earlier. The Silja Line fleet runs several times a day to and from Tallinn and Helsinki. Their timetables can be found on their website.
Last Ferry – I recommend that the last ferry back to Helsinki (at 10:30pm) should be avoided if traveling with younger children. Apart from the fact that it is crowded beyond belief, most of the people returning are fairly inebriated, and while there is security on-board and situations rarely get out of hand, there is the odd drunkard or two who can be annoying.
City Sightseeing Tallinn Hop-On Hop-Off Tour

When you arrive in Tallinn, the city sightseeing bus will be the easiest option to see all the main attractions in the city. Main stops include Russalka Monument, Toompea Castle and City Harbour Cruise Ship Terminal (where you can catch a cruise back to Helsinki).
Day 4: Espoo
The nearby town of Espoo is a roughly 20-minute bus ride from Kamppi Station, Helsinki. Being the second largest town in Finland, it has a lot to offer, including a lovely little marina that features the Haukilahden Yacht Club, which has a stunning collection of boats and yachts.
I visited the Nuuksio National Park, which was a beautiful area full of picturesque nature.
Public beaches stretch far and wide in Espoo, but I only got around to exploring a couple. Mellsten Café, a small, cosy eatery with a lovely wooden deck, was a splendid change from the city. Their coffee, panini and gelato were absolute perfection. On every following trip to Espoo, I made it a point to stop by Mellsten Café and sit with a coffee while enjoying the sea breeze.
Espoo is also home to EMMA, the Espoo Museum of Modern Art. I won't lie, not being one for 'modern art', I'm not sure I felt overly enriched (culturally speaking) once I'd left the museum. On the flip side, the same building that houses EMMA has a really neat clock museum.
EMMA offers discounted tickets for groups, students, senior citizens and children. Tickets are €10 for ISIC holders, €12 for adults, and free for seniors above 70, children below 18 and on Wednesdays between 6pm and 8pm.
Helsinki Card

I would highly recommend you get a Helsinki card if you're planning on visiting a few attractions in Espoo. Not only does it cover the main attractions in Helsinki, but it also covers transport around Espoo, allowing you to easily venture out to all the main points of interest in the city.
Day 5: Iso Vasikaari
Boat trips to offshore islands run frequently, especially in the summer, and one such popular island destination is Iso Vasikaari. I spent most of the day watching others fish, while I tanned, enjoyed a picnic and a book, and treated myself to a gelato with traditional Finnish cloudberry jam from a family-run, shack-type establishment.
Although Finnish waters are actually quite choppy year-round, even in the summer months, Finns have a term for conquering one's fears, embracing courage, and diving in the deep end: Sisu. So I, under the pressure of many a Finn, Sisu-ed my way into the cold waters and Un-sisu-ed my way right back within a good five minutes!
Once I was back in Espoo, I ended the day with a dinner at E.T. Charlie and a night time stroll around the harbour, before catching the night train to Rovaniemi.
Boat schedules and prices can be checked on VisitEspoo.fi. I definitely recommend skimming over the boat schedule the night before and arriving early since queues and crowds are aplenty on sunny days.
Day 6: Rovaniemi
Rovaniemi, for those unfamiliar, is a city in Finland's most northern province, Lapland. However, more importantly, it is home to the Claus Family. Yes I mean Santa and Mrs. Claus.
The Santa Claus Village is Rovaniemi's biggest tourist attraction. 'Santa' is a government employee who patiently sits on a chair with his impeccably groomed beard and listens to the likes of Suzie and Johnny talk about what they'd like for the following Christmas.
A must-do in Rovaniemi, apart from a touristy photo with one leg on either end of the line marking the Arctic Circle, is a meal at Sky Enontekio, a Michelin starred restaurant at the Sky Ounasvaara. Mushrooms are especially good during summer, so if you can, I'd opt for a dish with mushrooms in it. The restaurant also has a balcony with an amazing view of the surrounding forest and you occasionally get a good glimpse of reindeer.
Incidentally, for any first-timers in Finland, I'd suggest Rovaniemi to be a good starting point for an authentic Finnish sauna, primarily because it's a tad cooler than places further south. Not for the weak minded, I'll have you know, the authenticity factor comes two-fold. First, an ice cold shower or dip in a lake is a must midway through your time in the sauna. And second, you'll be joined by many friendly tourists and residents all enjoying beer, making the sauna a great social event.
Having made a good deal of Finnish friends at this point in my trip, I was comfortable with the idea of taking a beer into the sauna, giggling, sweating myself to a dizzy state, then showering and repeating the whole process.
I ended my time in Rovaniemi with a traditional Finnish dinner of reindeer, potatoes, carrots, pickles, turnips and lingonberry sauce, all washed down of course with wine.
Tips
Santa's Village – Certificates for crossing the Arctic Circle can be purchased at Santa's Post Office for €5. There is little to do in Santa's Village during the summer apart from feeding and petting reindeer. So if you desperately want to get the most out of Santa's Village (anyone visiting with young children), then I suggest visiting during the winter months when rides are running.
Aurora Borealis – Those visiting Rovaneimi before and after March and August respectively might be fortunate enough to catch the Aurora Borealis (The Northern Lights). The Finnish Meteorological Survey website provides more information on the auroras themselves, and forecasts can be checked on www.AurorasNow.fi, under the geomagnetic activity forecast.
Day 7: Rovaniemi to Helsinki
I left Rovaniemi mid-morning and caught the train back to Helsinki with enough time to have a final browse of the city, revisiting old sights before heading to the airport.
Other Considerations for a Finland Trip
Language – Finns, like most Scandinavians, have a fairly good grasp of English. In bigger cities like Helsinki you should have no problem communicating with people. However, smaller, more rural areas are an entirely different deal. I would recommend picking up a translation dictionary if you plan a trip into the remote parts of the country, just to err on the side of caution. I came across a really handy smartphone app called Learn Finnish while I was there and I found it invaluable in smaller towns in Central Finland. You could also use Finnish Dictionary +, which is now a much better alternative.
Pre-paid SIM Cards – R-Kiosks (dépanneur-type stores) keep pre-paid SIM cards. I picked up a Saunalahti one for under €10 (including credit) and you can upgrade to a data plan if you want to. I thought it had excellent coverage and since it could also be topped up online, it was fairly hassle free. To the best of my knowledge, there were few, if any, telephone booths in Helsinki and I rarely saw one in the country towns.
Rail Transport – Finland has an excellent railway system. You can book tickets, check rates, and look up routes at www.vr.fi/en. Most trains in Finland have dining carts, and although they're overpriced, they do serve stellar brews! Be sure to keep to yourself and not disrupt passengers on the train. Finns are extremely careful, courteous people by nature and they consider what we might take for harmless actions, like talking on the phone, to be rather rude, especially when the cart is fairly quiet.
Souvenir Shopping – Finland is rather expensive, but you can pick up some spectacular spectrolite jewellery in Roveniemi or at the Helsinki Harbour Markets, and amber, which is especially outstanding in quality in Tallinn.
Tipping – Most restaurants and bars include a service fee in their bill, so tipping is not necessary, and quite frankly, not the 'Finnish way' of acknowledging your satisfaction. However, smaller, family-run establishments might not agree, so it's always worth asking. Also, taxi drivers and most hotel staff do not expect tips either. That said, it is deemed polite to round up a bill in smallest possible denominations, especially if you, as a customer, have inconvenienced anyone serving you.
Cultural Differences – Although few Finns I know take offence to it, smiling at strangers or making eye contact when you're passing someone on the street is considered impolite. Why? Simply because they believe that 9 times out of 10 your smile is fake. As alien a concept as it might seem, elderly Finns in particular do not take well to a grin when passed on the street. I speak from experience here. Your grin will be returned with a frown and if you're exceptionally unlucky, a concise but slightly dispiriting speech on why smiling at strangers is a no-no!
Mosquitoes – Finnish mosquitoes are no joke. Seriously, take it from someone who has lived in Tropical and Equatorial climates – Arctic mosquitoes are a whole new level of evil. Having been bitten through shirts, and once through a pair of jeans, I can wholeheartedly say Arctic mosquitoes work for their blood. I thoroughly recommend stocking up on local mosquito repellent. I experimented with several (none of the sprays work, so you want to look for something in liquid form that's 'not suitable for children') and I found the 'Off!' brand to be the most effective for keeping the buzzing vampires away.
Camping – Under a 'right to roam' clause (jokamiehenoikeus), anyone can camp on Finnish land for free, as long as it's not in a residential area. Berries, mushrooms and caught fish are also free for all to  enjoy under the same law.
Overall Experience
After two visits to Finland, I can honestly say I'm addicted; addicted to the lifestyle, addicted to the culture and especially addicted to the people. If you plan a trip to Finland, 7 days would be my minimum recommendation for you to experience everything that it has to offer.