Here's the truth.
You're going to need a lot more than a 5 day Tokyo itinerary to see everything this busy city has to offer.
But as a couple, you'll definitely get a lot more done and I'll show you exactly where to go to maximise your time.
Tokyo, the living breathing heart of Japan, is one of the top tourist destinations in the world.
It boasts incredible sights, fantastic local cuisines and entertainment different to most cultures.
---
Day 1 – Downtown Tokyo
9am Meiji Shrine and Yoyogi Park
Meiji Shrine is a large shrine surrounded by a beautiful forest and located in the scenic Yoyogi Park.
You will embark upon a 20 minute romantic stroll with hundreds of Japanese families and couples.
As you head to the shrine, wou'll see trees as tall as buildings flanking you on either side.
The temple itself is a massive complex with the biggest torii gate I've seen in my time in Japan.
You can have your fortune read here and enjoy a brief break in nature before you go back to the action of Tokyo.
2 pm Harajuku
Just outside of Meiji Jingu is Harajuku, a hub of teen fashion in Japan.
The streets are lined with trendy shops, cafes, and diners.
It's a popular area for the young Japanese community.
The main area itself is called Takeshita Dori and has given birth to countless fashion trends in Japan and Asia.
Just a short walk away, you can find Omotesando.
Usually called the Champs Elysees of Japan, its a wide avenue with high fashion boutiques.
5 pm Shibuya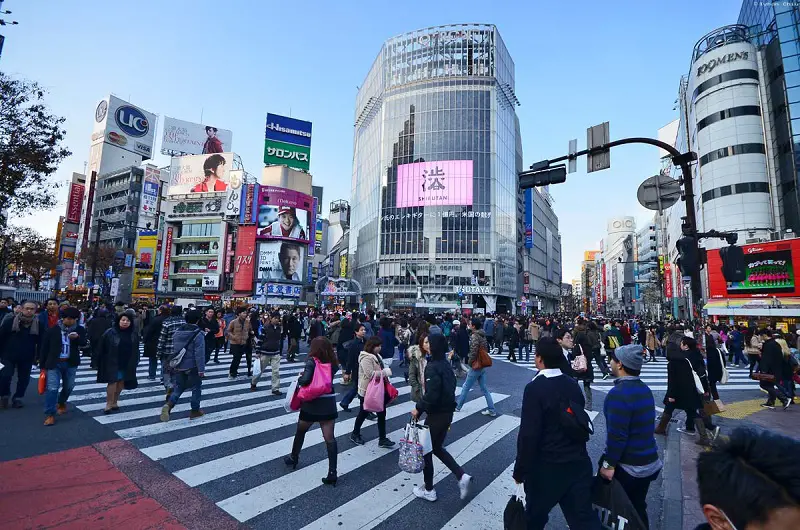 If you've ever seen a video of Tokyo, you've probably seen a massive intersection with thousands of people crossing at the same time.
That's Shibuya.
Once you're here, you can take pictures next to Hachiko, the faithful dog that waited for its dead owner for years.
Also take a stroll through its winding streets and get to experience a different bars, clubs and restaurants.
If you're looking for something more romantic, there is a hill dedicated solely to love hotels.
Couples can "rest" for a few hours on their long trip, or even stay overnight.
7 pm Shinjuku
Shinjuku is the busiest railway station in the world and a hub of entertainment in its own right. It's another central hub so changing hotel to this area is an option.
There is a concentration of skyscrapers here including Park Hyatt where the movie, Lost in Translation, was shot in.
There's also Kabukicho, the largest red light district in Japan.
Late at night, you can wrangle some food in Omoide Yokocho, a street full of quick and easy snacks.
---
Day 2 – Old and New Tokyo Attractions
10 am Odaiba

Odaiba is an island in Tokyo Bay that has numerous malls, rides, games and restaurants.
Unusually, you can find a miniature Statue of Liberty and a very large robot statue.
Walking through the malls, you're likely to stumble into many random and wonderful experiences like Hello Kitty stores and even haunted houses.
2 pm Hanayashiki
You can go to the Hanayashiki and Asakusa area by taking a ferry from Odaiba.
Hanayashiki itself is the oldest amusement park in Japan and offers a bunch of fun rides to go on before you go to Asakusa.
The Tokyo National Museum is also not so far from this area so feel free to drop by there as well.
5 pm Asakusa and Senso-ji

Senso-ji is the last temple that we'll be visiting on our trip and is, in my opinion, the grandest.
Walking through the market in Asakusa will make you feel like you've been transported to another time period.
There are shops with matching traditional Japanese robes for you and your partner, unique souvenirs and more local sweets which you've probably never seen before.
As you walk towards Senso-ji Shrine, you should be able to catch the beautiful sunset, a great photo opportunity for couples.
The back alleys of Asakusa are also littered with izakaya or bars.
7 pm Tokyo Skytree

Tokyo Skytree is the tallest building in Japan and offers an unrivaled view of the city at night.
Guaranteed, there will be many more couples visiting at this time.
If you have time, there is a shopping mall and aquarium on the lower floors.
Otherwise, you can head to Harajuku, Shinjuku or Shibuya for more entertainment options.
---
Day 3 – Unique Tokyo Culture
10 am Imperial Palace
This is the residence of the imperial family of Japan.
You can go on guided tours in the palace through most of the year.
However, you can't enter any of the buildings.
If you time your trip right, you might be lucky enough to enter the inner palace courtyard.
You may even see the imperial family address the nation.
1 pm Akihabara
Unashamedly, this is by far my most favorite place in Japan.
Akihabara is the tech, animation and manga paradise of Tokyo.
It is the most foreign place that you will probably see in Japan.
With arcade, accessory, electronics and sex shops that go on for up to 8 floors, Akihabara is unlike anything you've ever seen before.
Try dancing simulators in the arcade stores or challenge yourself to eat 3 kilograms of pork cutlets in Go Go Gorilla.
For something more suggestive, there are maid dance numbers in Maidreamin' or adult items on sale at various shops.
Akihabara is a place that you just can't get bored of.
6 pm Ueno
Ueno is both old and old fashioned.
Lined with streets that sell clothes on the cheap, you can walk through it and get to experience life as it used to be in Tokyo.
Besides the numerous museums and attractions, you'll love the peaceul vibe in the area.
There are seniors walking by and enjoying the street food, drinking in the izakayas, or locals exercising.
There is also a beautiful park opened 24/7.
Perfect place for a quiet walk with your partner.
---
Day 4 – Classic Tokyo



10 am Ikebukuro
Ikebukuro is another of Tokyo's many city centers and has multiple malls.
You'll find cities within cities like Sunshine City, huge electronic stores, and butler cafes with many handsome men doing their best to serve the female clientele.
Personally, I can't think of a better gift for your girlfriend than to be treated like a queen in one of these cafes.
1 pm Nihonbashi
Nihonbashi is the actual geographic center of Tokyo and has long been a place of commerce and prosperity.
The first malls in Japan were all opened here like the Mitsukoshi Nihonbashi.
This area is great for buying expensive souvenirs and memorabilia from Japan like kimonos and sake.
3 pm Tokyo Dome City
This is almost a city on its own and you can easily spend the whole day here.
It hhas a large baseball stadium, gardens, hotels and an amusement park.
But we're here for LaQua, a large beauty and relaxation complex.
Here you can rest your feet at an onsen and experience hot spring pools.
Just make sure you're ready to get butt naked.
Also, you can have a relaxing massage before the most gruelling night of your time in Japan.
6 pm Roppongi and Karaoke
Roppongi is generally considered to be the seediest area of Tokyo with real yakuza prowling the streets.
But don't worry about that as your immediate concern will be where to eat in the fantastic options available here.
After dinner, you can go to any of the clubs and pubs that litter the area.
I came to Roppongi deliberately to try the most Japanese experience, karaoke.
Usually people are not so comfortable with the idea of karaoke but hear me out.
If you buy a one night package for less than 4000 yen, you will have a private room to yourselves from 11 pm till 5 am.
Its all you can drink alcohol!
And believe me, after a few soothing drinks, you'll think you're the best singer in the world!
Karaokekan is my personal favorite karaoke chain.
---
Day 5 – Tokyo City Centre
7 am Tsukiji Fish Market
This is the best place in quite possibly all of Japan to get your hands on some fresh sushi.
If you're interested, you can get there around 6 or 7 am to see the fish auction.
It is absolute chaos with tons of fresh fish stacked and thousands of people walking around and bidding the best prices for the day's catch.
Here you can experience a sushi buffet for around 3000 yen.
The sushi chef will guide you on how to experience your meal and you will be tasting delicious sushi in over 10 servings.
10 am Ginza
Ginza is the uptown area of Tokyo and has very luxury options available for both shopping and dining.
If there's something special you wanted to buy for anyone, this might be the best place.
1 pm Tokyo Station
Tokyo Station is the heart of Tokyo's transportation system and the area itself has many a nice street lined with cafes and diners.
From here, you can visit any other district in Tokyo quite conveniently.
3 pm Tokyo Metropolitan Government Building
This was my last stop in Tokyo.
Enjoy a final majestic view of Tokyo with a cup of coffee before bidding goodbye to your Japanese experience.
---
Bonus 2 Days – Disneyland and Disneysea!
This is a no brainer! I deliberately left out Disneyland and Disneysea since they're two of the most obvious attractions to visit.
If you didn't like some of the itineraries listed so far, Disney is a guaranteed 2 fun days out.
While you might have visited other Disneylands, these two theme parks are definitely unique.
Japanese visitors lift their game excessively in the dress department.
You'll see at least 50% of visitors dressed as their favourite manga characters, superheroes, princesses and any other strange character they can think of.
Most of them hang around the castle taking photos all day.
Like most theme parks, the rides have long queues so plan your FASTPASS wisely.
Even if you do have to wait, the rides are well worth it.
I recommend spending at least 2 days at Disney – 1 day for Disneyland and 1 day for Disneysea.
---
Where to Stay in Tokyo

There are a number of neighborhoods you can base your stay at to be close to the major attractions in Tokyo.
Any of the following areas would be suitable places to stay for our Tokyo itinerary:
Shinjuku
Shibuya
Roponggi
Shinagawa
Ueno
Tokyo Station
Asakusa
And that's it!
I hope you guys will have a magical time in your 5 day Tokyo itinerary in Japan as I did.