Bali is a popular destination among wellness-conscious travelers.
They have some of the most luxurious retreats set in lush green forests, particularly Ubud.
We'll show you resorts that offer yoga classes, detox programs, and spa facilities.
At each property, you'll see a range of accommodations designed for couples and groups.
There are suites with private pools, hot tubs, and stunning views of the surroundings.
Here are the best luxury wellness retreats in Bali.
---
1. Mandapa, a Ritz-Carlton Reserve
Aptly named after a temple, guests can find their inner peace here.
Amidst rainforests and riversides, Mandapa offers a peaceful retreat for everyone.
Reserve the onsite Wellness Retreat Program, which includes guided sessions.
The Mandapa Spa also offers yoga and meditation exercises, plus healing rituals.
You will feel most at peace in the One-Bedroom Pool Villas.
These overlook the rainforest and have wood finishes with a private garden and pool.
Couples highly recommend the Kubu Restaurant for intimate date nights.
Guest Rating: 9.7
Star Rating: 5 stars
Best Rooms: One-bedroom pool villa
Address: Jalan Kedewatan, Banjar Kedewatan, 80571 Ubud, Indonesia
---
2. COMO Shambhala Estate 
Escape into the jungle to rejuvenate in this idyllic setting.
Here, the daily wellness activities feature hydrotherapy, pilates, and scenic estate walks.
COMO Shambhala Estate also has a vitality pool and massage pavilions, the perfect settings to relax.
For a healthy meal, the Glow Restaurant is your go-to.
On Sundays, the chef prepares a delicious brunch accompanied by live music.
If you're visiting with friends, book the most secluded dwelling onsite, the Three-Bedroom Pool Villa.
This villa has lush gardens with jungle views, a private pool, and vast living spaces.
For couples, have a look at the luxurious Shambhala suites.
Guest Rating: 9.6
Star Rating: 5 stars
Best Rooms: Three-bedroom pool villa
Address: Br Begawan, Desa Melinggih Kelod, 80571 Payangan, Indonesia
---
3. Capella Ubud, Bali 
Unwind at this highly-rated Ubud wellness retreat.
This award-winning accommodation is built uniquely within the rainforest.
Couples love staying at the Lodge, where antique Balinese furnishing meets spacious outdoors.
Sample tasty Asian BBQ at Api Jiwa, then head to the Campfire for hot drinks and movie night.
Guests of Capella Ubud also benefit from free private transfers to Ubud.
As for your health, Auriga Wellness welcomes everyone with open arms.
Holistic body treatments are available at the spa as well as healing sessions with the local camp guru.
If you're more active, check out the Armory for the gym and personal training sessions. 
Guest Rating: 9.6
Star Rating: 5 stars
Best Rooms: The Lodge
Address: JI. Raya Dalem, Banjat Triwangsa Desa Keliki, Kecamatan Regallalang, 80571 Ubud, Indonesia
---
4. The Kayon Jungle Resort 
The Kayon Jungle Resort is best known for its wellness facilities, particularly the Serayu Spa.
You'll find all the treatments there including a sauna, jacuzzi, and even a beauty salon.
If you book the Meubad Package, a team will personalize your wellness experience.
One of the more popular relaxation spots is the Wanna Jungle Pool & Bar.
Spread over three levels, you can enjoy a few drinks in the infinity pools overlooking the rice terrace.
On Sundays, definitely stop by Kepitu Restaurant and see the fire dance show.
If you want to be one with nature, check into the Kayon Royal Pool Villa.
Couples love this villa for its seclusion, open floor plan, and private jacuzzi.
Guest Rating: 9.5
Star Rating: 5 stars
Best Rooms: Kayon royal pool villa
Address: Br. Bresela, Ubud, Gianyar, Bali, 80572 Ubud, Indonesia
---
5. Chapung Sebali 
Just ten minutes outside Ubud, this hotel offers a luxury hideaway.
Start your day with a refreshing yoga session before a healthy breakfast is served.
The Jungle Fish Restaurant uses the freshest ingredients, making dining here a treat.
The pool bar receives compliments on its seating options and extensive menu too.
On the theme of luxury, the Luxury Residence is a one-of-a-kind dwelling.
Here, ambient lights lead you to a beautiful garden, private pool, and grand bathrooms.
End your stay at Chapung Sebali with a visit to the spa and try its signature treatments.
Guest Rating: 9.5
Star Rating: 5 stars
Best Rooms: Luxury residence with private pool
Address: JI. Raya Sebali No. 5 Keliki, Tegalalang, 80561 Ubud, Indonesia
---
6. The Legian Seminyak, Bali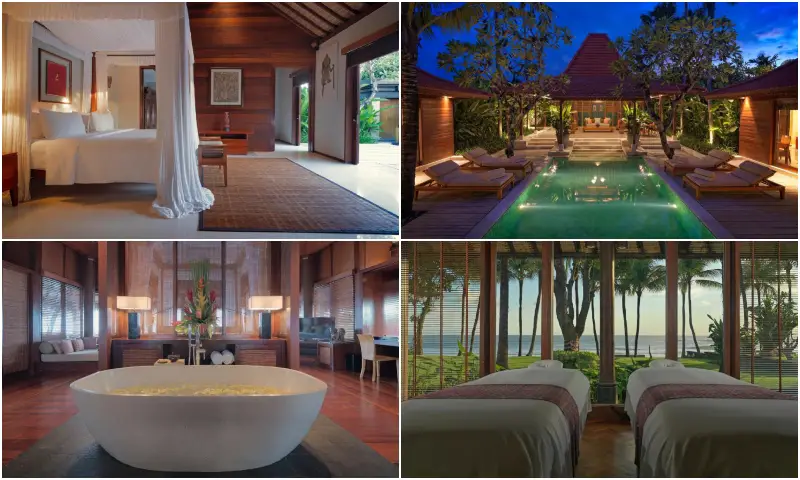 The Legian Seminyak Bali guarantees the best beachfront spa experience.
Relax by the infinity pool or try a personalized body treatment to rejuvenate. 
For active travelers, you'll love the modern gym, yoga, and spinning classes on the beach.
They also have executive chefs to ensure the freshest ingredients are picked from their Wellness Garden.
Besides nutritional dishes, you can expect fun dining experiences like the Sunset Jazz BIASA on weekends.
For honeymooners, have a look at the One-bedroom villas with private pools.
While larger groups may prefer the luxury villas with separate bedrooms and larger outdoor spaces.
Guest Rating: 9.5
Star Rating: 5 stars
Best Rooms: Apartment
Address: Jalan Kayu Aya, Bali, 80367 Seminyak, Indonesia
---
7. Bulgari Resort Bali
Positioned on a cliff over the ocean, this hotel has its own funicular.
Bulgari Resort Bali's private beach is only accessible by this elevator, which provides panoramic views.
Watch the crashing waves as you sample fresh grilled seafood at La Spiaggia.
Or try Il Ristorante, where a Michelin-starred chef prepares evening meals.
Most visitors come to this retreat for its complete wellness program.
They have four professional therapists at the Bulgari Spa, Detox rituals, and a range of workshops at its gym.
To make your experience complete, they offer some of the most luxurious rooms.
Make sure you check into a villa with ocean views.
Guest Rating: 9.5
Star Rating: 5 stars
Best Rooms: Five-bedroom mansion with private pools
Address: Jalan Goa Lempeh, Banjar Dinas Kangin, 80364 Uluwatu, Indonesia
---
8. Viceroy Bali 
Both close to Ubud and secluded, Viceroy Bali is your ultimate 5-star retreat.
Enjoy the slower pace of life in the Viceroy Pool Villa.
Perfect for families, this villa has two bedrooms overlooking the pool and an excellent outdoor dining area.
Visit the Lembah Spa or attend a yoga class for further relaxation.
They have Wellness packages that include private lessons, spa treatments, and nutritional juices.
Even a shaman is onsite if you're looking to improve your spiritual health.
Other onsite activities include cooking classes, trekking tours, and a Balinese dance class.
You will also find two of the finest restaurants here – Apéritif Restaurant & Bar and Cascades Bali Restaurant.
Guest Rating: 9.4
Star Rating: 5 stars
Best Rooms: Viceroy pool villa
Address: Jalan Lanyahan, Br. Nagi, 80571 Ubud, Indonesia
---
9. Kuwarasan A Pramana Experience 
Due to its romantic amenities, Kuwarasan Resort is well-liked among couples.
From candlelight dinners to flower baths, romantics are well taken care of.
An exclusive pool bar ensures that guests always have something to sip on.
One of the most luxurious rooms is the Presidential Suite where you'll find rich furnishing inside and a hot tub on the balcony.
On the upper floors, they have the best setting for yoga classes.
As a professional instructor guides you through stretches, you hear the pleasant river flows and rice fields.
There are also specialized treatments at Pramana Spa along with a huge jacuzzi for guests to relax.
A gym and beauty salon are available onsite too.
Guest Rating: 9.3
Star Rating: 5 stars
Best Rooms: Presidential suite
Address: JI. Cinta Br. Penusuan, Tegallalang Ubud, Gianyar, 80561 Ubud, Indonesia
---
10. Four Seasons Resort Bali at Sayan 
Guests enter a different world whenever they visit Four Seasons resorts, particularly at Sayan.
On arrival, you'll be walking above the treetops toward a huge rooftop lotus pool.
The immersive architecture here creates a haven for the wellness-conscious.
Begin with antigravity yoga in the morning, then cycle through the jungle.
Or book a session at Sacred River Spa, known for its chakra ceremonies and facials. 
For food, the Ayung Terrace is the main venue but there are other dining experiences around the resort.
For couples, check out the Sayan Villa while families may prefer the Two-bedroom villas.
Guest Rating: 9.2
Star Rating: 5 stars
Best Rooms: River-view two bedroom villa
Address: Sayan, 80571 Ubud, Indonesia
---
11. RIMBA by AYANA Bali
Rimba by AYANA Bali is the most budget-friendly wellness retreat on the island.
All their rooms have elegant decor and luxury marble bathrooms, most with large soaking tubs.
With twelve excellent pools and slides, this hotel is well-suited to families.
Other family perks include a tennis court, a golf course, and beautiful Kubu Beach.
But the real highlights are their spa and wellness facilities.
You can try ocean rituals, facials, and even the Nakatsuji anti-aging massage.
Make sure you check out their Aquatonic pool which is the largest Thalassotherapy facility in Asia.
Different wellness packages are available to ensure you get the most out of your stay.
Guest Rating: 9.1
Star Rating: 5 stars
Best Rooms: Wana two-bedroom suite
Address: Karang Mas Estate, Jalan Karang Mas Sejahtera, Jimbaran, Bali, 80634 Jimbaran, Indonesia
---
12. The Asa Maia 
The Asa Maia is Bali's best wellness experience for couples.
As it only has ten suites, this adults-only hotel is sure to provide quality service.
That said, guests can custom-tailor the retreat programs to meet their needs.
This grants you access to personal coaching, the fitness center, and other daily sessions.
Attend pilates classes or go surfing, then use the ice bath to soothe tense muscles.
Asa Maia believes in building a community, so all meals are shared on one table.
Yet, couples have total privacy in the Asa Maia Suite, which boasts open-concept spaces and a sky-lit shower.
Guest Rating: 9.1
Star Rating: 5 stars
Best Rooms: The Asa Maia suite with king bed
Address: Jalan Pantai Padang-Padang Banjar Dinas Suluban, 80361 Uluwatu, Indonesia
---
13. Fivelements Retreat Bali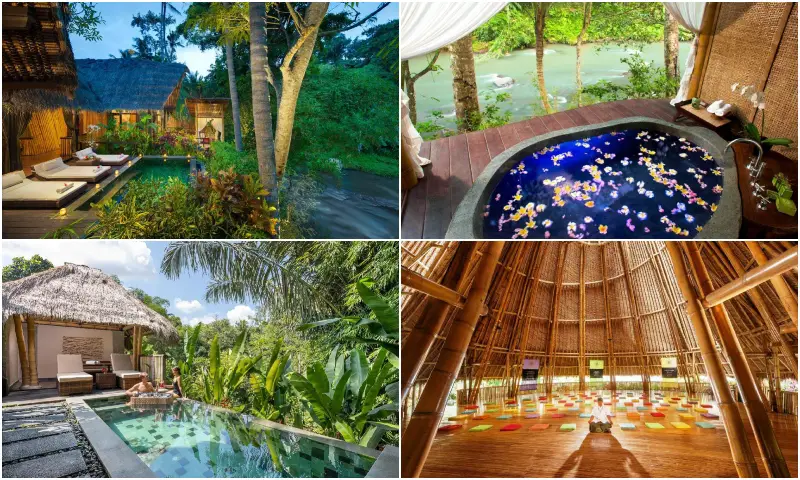 For a cleansing detox, you best pick the Fivelements Retreat Bali.
This hotel incorporates healing rituals and healthy eating to purge your body of toxins.
At Sakti Dining Room, the plant-based menu has the best vegetarian dishes and juices.
Whether you arrive alone or in a group, you will find a fitting wellness program here.
An accredited consultant can advise the best treatments for your health.
These could be healing rituals, meditation, yoga, and natural spa treatments.
Surrounded by lush greenery, most of their rooms are designed as romantic retreats.
For small groups, the Bidadari Suite is the better option with separate bedrooms and more space by the private pool.
Guest Rating: 9.1
Star Rating: 4 stars
Best Rooms: Bidadari two-bedroom suite
Address: Banjar Adat Baturning, Mambal, Bali, 80352 Ubud, Indonesia
---
Bali Wellness Retreats Map
Find More Wellness Retreats in Bali
---
FAQs
What's the best wellness retreat in Ubud, Bali?

The Capella Ubud is the best wellness retreat in Ubud.

Built uniquely into the trees, guests always feel at peace here.

The onsite Auriga Wellness offers many treatments and activities.

From yoga and massages to martial arts, you will have the most relaxing time.
What's the best wellness retreat in Bali for detox?

If you are looking for a thorough detox, stay at Fivelements Retreat Bali.

Here, healing rituals and movement are combined to give guests a purge.

On theme with detox, Sakri Dining Room only offers plant-based meals.

Most of their spa treatments also make use of natural ingredients.
What's the best wellness retreat in Bali with yoga classes?

Many wellness retreats in Bali offer excellent yoga classes.

Yet, the most special yoga sessions are at Kuwarasan A Pramana Experience.

Set on the upper floor, the venue overlooks gorgeous rice fields and you'll hear a river trickling in the background.

More importantly, they have an experienced team of yoga instructors to guide you through all the body postures.
What's the best wellness retreat in Bali for couples?

Capella Ubud is definitely the best place to visit if you're looking for a relaxing wellness retreat in Bali.

Besides being set in the lush forest of Ubud, the unique tents add an extra touch of romance.

Each luxury tent has a private soaking tub and plunge pool in the most tranquil setting.

On top of that, there are complimentary add-ons like breakfast, drinks, and scheduled activities.
Summary