Turks and Caicos is known for its beautiful beaches and luxury resorts. If you're traveling with your family, you'll want to make sure the right facilities are available onsite. We'll show you beachfront resorts, all-inclusive properties, and the most luxurious suites. Many are located in the popular Grace Bay, but there are also resorts in more secluded areas. Have your kids ready as we reveal the best Turks and Caicos resorts for families.
---
1. The Venetian on Grace Bay
The Venetian is a private luxury resort on the oceanfront at Grace Bay Beach. Centrally located, it's a short walk to restaurants and shops. For the most luxurious family stay, we recommend the Three-bedroom suite. Big enough for six, this suite features a large living and dining area, plus a full gourmet kitchen. There's also a glass-walled shower and a screened-in terrace overlooking the bay. At the resort's private beach, you can be as relaxed or active as you wish. Sit back, soak up the sun, or explore Grace Bay from a paddleboard or kayak. Then cool off in the large heated swimming pool with a jet tub and poolside cocktail service. Later, pamper yourself at the onsite spa with a massage, facial, or private salon service.
Guest Reviews: We had a gorgeous condo with an oceanfront view. It was an easy walk to the beach and the resort's pool is beautiful.
Star Rating: 5 stars
Best Rooms: Three-bedroom suites
Address: Grace Bay, 00000 Grace Bay, Turks & Caicos Islands
---
2. The Tuscany on Grace Bay
Tuscany is a 5-star beachfront resort on a quiet stretch of Grace Beach. For a luxurious suite with the best ocean views, choose a Three-bedroom oceanfront suite. The master suite features a screened balcony, a separate soaking tub, and a large glass shower. With Tuscany's spacious beachfront, guests can swim and sunbathe without the crowds. For water activities, there are diving, snorkeling, boating, and fishing tours. Or spend the day swimming and chilling at the resort's courtyard-style heated pool. Next to the main building, there's a jet tub and poolside beverage service. Grace Bay's restaurants and bars are within walking distance. Enjoy a variety of cuisines for breakfast, lunch, and dinner, plus most places do carryout.
Guest Reviews: Our suite was spacious and elegant with all the amenities. We had wonderful views of the beach and the ocean.
Star Rating:  5 stars
Best Rooms: Three-bedroom oceanfront suites
Address: Grace Bay Beach, Grace Bay Rd, Providenciales, Turks & Caicos Islands
---
3. Sailrock Resort – Oceanview Villas & Suites
Sailrock Resort is one of the premier boutique resorts on the beach in South Caicos. Set on one of the world's top coral reefs, it's a popular snorkeling and scuba diving spot. For beach access and exceptional ocean views, we recommend the Four-bedroom beach villa. Perfect for large families or groups, it has a huge living and dining area, plus a full eat-in kitchen. It opens onto a spacious terrace with a heated oceanfront pool and outdoor garden shower. At Sailrock, they offer several complimentary experiences, including kayaking, paddle boarding, and sailing. Spend the day relaxing on the sun deck, cooling off in the infinity pool, or soaking in the hot tub. Enjoy a sunset dinner at The Great House Restaurant or cocktails at Cove on the beach. Relax in one of Ridgetop Spa's open-air cabanas with a soothing massage or signature body treatment.
Guest Reviews: The large villa was perfect for our family. The free water sports at the beach kept everyone entertained.
Star Rating: 5 stars
Best Rooms: Four-bedroom beach villa
Address: Front St, Cockburn Town, TKCA 1ZZ South Caicos, Turks & Caicos Islands 
---
4. The Shore Club Turks & Caicos
The Shore Club Turks and Caicos is an exclusive resort on secluded Long Bay Beach. For families, there are a number of 2 to 3-bedroom suites fitted with the most elegant furnishings. With separate bedrooms, a full gourmet kitchen, and a spacious lounge, it's great for extended stays. Enjoy the soaker tub in the bathrooms and the furnished wrap-around balcony with the best ocean views. Outside the suite, the Shore Club has an activity for every member of the family. Non-motorized water sports are complimentary, including snorkeling and sea kayaking. There are four outdoor pools, including a lap pool, an adult pool, and a pool for families. For meals, treat yourself to Asian-Peruvian dishes at Sui-Ren, or a wood-fired pizza and aged rum at Almond Tree. Be sure to book an oceanfront treatment bungalow at Dune Spa for a massage or signature spa ritual.
Guest Reviews: Our suite was beautifully furnished with everything we needed. We loved Long Bay Beach, especially kite surfing.
Star Rating: 5 stars
Best Rooms: Three-bedroom suites
Address: Long Bay Beach, TKCA 1ZZ Grace Bay, Turks & Caicos Islands
---
5. COMO Parrot Cay
COMO Parrot Cay is an award-winning resort on a private island in Turks and Caicos. For the most luxurious stay, book the COMO three-bedroom villa. With three ensuite bedrooms, a living room, and a full kitchen, it's great for small parties. The outside terrace features a sundeck, an infinity pool, and an al fresco dining area. You'll have a private butler who can arrange everything, from watersports to spa appointments. COMO Beach Club offers direct beach access and two pools, including one for adults. Plus, they offer a variety of watersports, including kayaking, sailing, and snorkeling. For a relaxing break, Shambhala retreat offers 9 treatment rooms, a jacuzzi garden, and Japanese baths. At Lotus, they serve the finest Caribbean cuisine by day and an Asian menu at night.
Guest Reviews: Our room was large and very clean. Our kids had a blast. The food gets an A+ and the watersports were epic.
Star Rating: 5 stars
Best Rooms: Como three-bedroom villa
Address: Parrot Cay, TKCA 1ZZ, Turks & Caicos Islands
---
6. H2O Lifestyle Resort
H2O Lifestyle is a beachfront resort on well-known Long Bay Beach. Set on the Caicos Banks, it's a popular destination for sailing and kitesurfing. Check out the Penthouse apartment if you want your family to be treated like VIPs. This suite features four bedrooms, each with a private bath and terrace. There's also a living area, dining room, a full kitchen, and an oceanfront terrace. With private beach access, guests can enjoy their favorite watersports or cocktails from Hangtime Beach Bar. The beach bar is a local favorite, featuring amazing views and world-class cocktails. Or you can spend the day at one of H2O's two outdoor pools.
Guest Reviews: Everything in our apartment was brand new. The beach and two pools were amazing. Kite surfing was the best.
Star Rating: 4 stars
Best Rooms: Penthouse Apartment
Address: Long Bay Highway, TKCA 1ZZ Long Bay Hills, Turks and Caicos Islands
---
7. Grace Bay Club
Grace Bay Club is a luxury all-suite resort set right on the beach. The Club's Villa suites offer the best option for families of all sizes. With one or two bedrooms, each suite features an oceanfront master and a private terrace. There's also a large living area, private bathrooms, and a full modern kitchen. Outside, there are three pools and access to the Club's private beach. If you're looking for excitement, scuba diving, snorkeling, and other watersports are all available. Or if you want to relax, the pool bar and the oceanfront infinity bar both serve cocktails. And while the adults enjoy the sun, Kid's Town offers a variety of activities for kids. All the restaurants are kid-friendly, especially the Grill which offers a full children's menu.
Guest Reviews: We had a fabulous villa suite. We enjoyed the beach, especially the water sports. The food at Infiniti was 10/10.
Star Rating: 5 stars
Best Rooms: Villa suites
Address: 1 Grace Bay Circle Drive, TKCA1CC Grace Bay, Turks & Caicos Islands 
---
8. Point Grace
Point Grace is an all-suite boutique hotel on the shoreline of Grace Bay Beach. Their most luxurious room is the 4-bedroom Penthouse suite. You'll love the traditional Caribbean design with polished wood furniture and shuttered windows. If this is not available, there are 2 to 3-bedroom suites as well. At Point Grace, you can arrange a variety of watersports the whole family can enjoy. Kayaking, snorkeling, sailing, fishing, and paddle boarding are all available. If you just want to relax, lounge on the white sand beach or around the palm-lined pool. At night, enjoy a gourmet Caribbean-style dinner under the stars at Grace's Cottage restaurant.
Guest Reviews: We had a wonderful family holiday and everybody enjoyed the pool, the beach, and especially the food.
Star Rating: 5 stars
Best Rooms: 4-bedroom penthouse suite
Address: Grace Bay Rd, Grace Bay TKCA 1ZZ, Turks & Caicos Islands
---
9. Rock House
Rock House is a 5-star resort on the oceanfront at Providenciales Samsara Beach. For a family of four, check out their two-bedroom suites. You'll have a large living area, a full kitchen, and a luxurious bathroom with an outdoor shower. Its best feature is the private infinity pool overlooking the ocean. During the day, head down to their stylish beach club. There's an exclusive lounging area for guests, including food, beverage, and towel service. One of the more popular relaxing spots is on the private jetty, so make sure you head down early. Later, enjoy the sunset and a handcrafted cocktail at the Sunset Bar. Or try the Italian-inspired Caribbean cuisine and rock n roll-themed beverages at Vita restaurant.
Guest Reviews: Our suite with the pool was out of this world. The private beach was absolutely beautiful. Breakfast was delicious.
Star Rating: 5 stars
Best Rooms: Two-bedroom suites
Address: 1 International Drive, TKCA 1ZZ Providenciales, Turks & Caicos Islands
---
10. West Bay Club
West Bay Club is a luxurious oceanfront resort on Turks and Caicos Grace Bay. They have a range of suites from one to four bedrooms. No matter where you stay, the water views will be incredible, especially on the furnished outdoor terrace. At the beach, families can enjoy the classic Turk and Caicos vacation experience. You can enjoy water activities, including swimming, snorkeling, kayaking, and sailing. Besides the beach, the resort's pool is ideal for a refreshing swim or a day in the sun. For beachfront dining, Drift restaurant offers a variety of local dishes and a full bar. The Poolside restaurant serves Caribbean classics plus delicious grilled meats and seafood.
Guest Reviews: We splurged on a suite with an ocean view. The beach, the pool, and the snorkeling were all fantastic.
Star Rating: 5 stars
Best Rooms: Luxury four-bedroom suite
Address: Lower Bight Road, 00000 Grace Bay, Turks & Caicos Islands
---
11. The Palms Turks and Caicos
The Palms Turks and Caicos is one of the top luxury resorts along beautiful Grace Bay Beach. For 5-star accommodation, choose one of the resort's Penthouse apartments. These spacious apartments are available as one, two, or three-bedroom suites. Each master bedroom features a king bed and a private sun suite with an outdoor shower. There's also a living area, a gourmet kitchen, and a private terrace overlooking the sea. At the Palms, several water sports are complimentary, including snorkeling, kayaking, and sailing. If you want to enjoy the Caribbean sunshine, the infinity pool is ideal for swimming and relaxing. Guests can also sip their favorite cocktails and try Caribbean dishes at the Pool and Beach Bar. For dinner, Parallel 23 offers fresh seafood, aged steaks, and an extensive list of fine wines.
Guest Reviews: Our suite was fantastic. Loved the free use of the kayaks and Hobie Cat. The drinks at the pool bar were awesome.
Star Rating: 5 stars
Best Rooms: Penthouse apartments
Address: 16 Princess Drive, Grace Bay, 0000 Grace Bay, Turks & Caicos Islands 
---
Best Areas To Stay In Turks And Caicos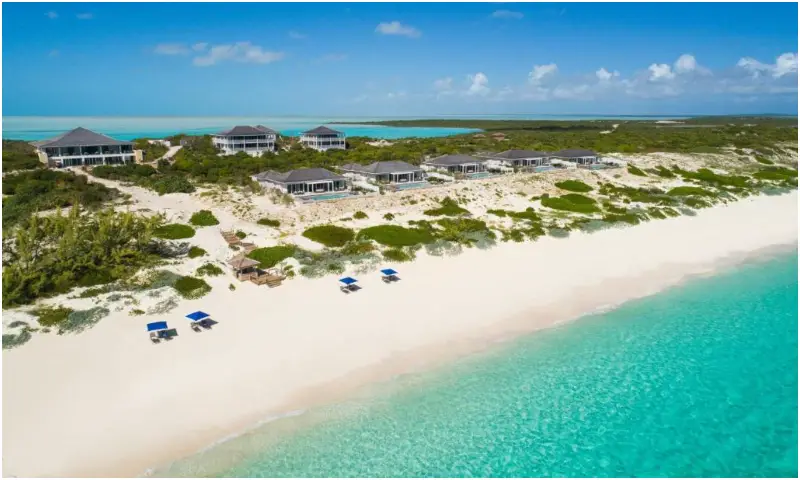 ---
Best Things To Do In Turks And Caicos For Families
Beach Time – The Turks and Caicos are famous for some of the most stunning beaches in the Caribbean. Many beaches have snorkeling directly off-shore. Grace Bay is the more popular beach with additional snorkeling sites at nearby Bright and Smith reefs. Beaches on the east side of Long Bay are less shaded. But if you want complete privacy, chartered tours can take you to the best beaches.
Water Sports – For off-beach reef snorkeling you can try Grace Bay Beach, Smith's Reef, Coral Gardens, and Bight Reef on Providenciales Island. Kayaking and SUPs are usually complimentary at most luxury resorts. Jet skis can easily be found at Five Cays Beach, Long Bay, and Sapodilla Bay – but jet ski tours will take you further out and around.
Boat Tours & Cruises – Private boat charters or cruises are quite popular around the Turks and Caicos Islands. Tours often stop by small uninhabited cays. You can enjoy activities like swimming, snorkeling, or scuba diving. There are generally tour operators near the docks, but you can also book through your resort. Luxury resorts often include access to Hobie Cats.
ATV Tours – ATV tours mostly explore the Northwest Point National Park, Malcolm's Road Beach, and West Harbor Bluff areas. The less populated and rugged Grand Turk or South Caicos island is also great for ATVs. In local residential areas or ecologically sensitive places (like Grace Bay), ATVs are not allowed.
---
Best Time To Visit Turks And Caicos
Turks and Caicos is popular for its beautiful beaches, turquoise waters, and warm weather. For the best experience, you'll need to consider things like weather, crowds, and seasonal factors that could affect your trip. Here are some of the best times to visit Turks and Caicos.
Summer Season (June to August) – These summer season months and are popular for family vacations. The weather is warm and ideal for swimming and watersports. Keep in mind it may be slightly hotter with higher humidity and more crowds.
Peak Season (December to April) – This is the high season with pleasant weather and minimal rainfall. It's also a perfect time for beach activities and watersports. Be prepared for larger crowds, plus higher rates for flights and rooms.
Off-Peak Season (September to October) – This is the rainy season, with the possibility of occasional storms. Visiting during this time does have advantages, like fewer tourists and lower hotel rates.
Naughty November – This is a sweet spot for travelers, the transition from off-peak to peak season. It's a great time to visit. The weather is pleasant, popular spots are less crowded, and hotel rates are generally lower.
---
Best Ways To Get Around Turks And Caicos
Rental Cars – There are numerous car rental shops around Providenciales – including the airport. For South Caicos, there are rentals in Cockburn Town near the airport or harbor. In North Caicos, there are a couple of car rental places, but it's best to just rent from downtown Providenciales.
Taxis – Taxis are generally your best way of getting around Providenciales. Besides the airport, popular taxi locations are harbors, hotels, and main tourist sights. Fairs usually start from around 7 USD.
Scooter or Bicycle – A few hotels or resorts in more populated areas may provide scooters or mopeds. However, there are no private rental shops for these on the islands. Likewise, resorts may provide bicycles where it's safe to cycle like Grace Bay, The Bight, and Turtle Cove areas. However, cycling is generally not recommended due to bad traffic and hot weather.
Water Taxis & Boat Tours – There are scheduled daily water taxis or ferries linking Providenciales to North Caicos. For South Caicos, there are two scheduled each week. Other locations such as Ambergris Cay require private charter boats or planes. Fortunately, you won't be short on options. There are private yacht charters, small island hopping cruises, scuba diving charters, glass-bottom boats, and whale watching among others.
Jitneys (Providenciales) – Jitneys are shared taxis or mini buses that run around the island. They are a cheaper option usually preferred by local people. Fares are generally fixed for specific locations and you can find a jitney near bus stops and other popular locations.
---
Best Turks And Caicos Resorts For Families With Young Kids
Grace Bay Club – Grace Bay Club is an ultra-luxury resort. The little ones will love Kids Town which has complimentary activities in the morning. Other activities that can be arranged include semi-submarine, snorkeling, and horseback riding. More importantly, there's a range of suites and villas with separate bedrooms for everyone.
The Shore Club (photo above) – The Shore Club is along the quieter east side of Providenciales. Their elegant 2 or 3-bedroom suites are perfect for families. Take the children to Jungle Jam kids club for half and full-day activities. The exquisite pool area has a family-friendly pool, lap pool, and a pool for adults only. There are also four select restaurants, including poolside cabana dining.
COMO Parrot Cay – Como is a private island resort near the tip of North Caicos. Beach Houses and Villas feature plunge pools, a full kitchen, and a butler service. Play Como will also take care of your children and keep them busy. There are three exquisite dining locations and regular themed dinner nights.
---
Best All-Inclusive Family Resorts In Turks And Caicos
Beaches Turks and Caicos Resort Villages and Spa (photo above) – This is an all-inclusive spa resort along Grace Bay with themed villages, a waterpark, and 21 restaurants in total. Apart from complimentary watersports, there are multiple land activities, a kids club, and night entertainment for adults, older teens, and tweens. Key West Villages has some of the most luxurious residences.
Alexandra Resort – Alexandra is a smaller and more intimate all-inclusive Grace Bay resort with an active kids club. You can also get kiteboarding, windsurfing, and sailing lessons. Their 2-bedroom suites are ideal for most families. Free shuttles go to the sister resort Blue Haven so you can enjoy additional dining and full facilities.

Blue Haven Resort – Blue Haven is around Grace Bay on the northern front of Providenciales facing Mangrove Cay. While Alexander Resort has more dining options, Blue Haven has motorized watersport options like jet skies and wakeboarding. For families, the

2 and 3-bedroom suites are highly recommended.
---
Turks and Caicos Resorts Map
Find More Family Resorts in Turks and Caicos
---
Best Turks & Caicos Rooms