Japan is a country known for its hot springs and public sento baths.
But if you're looking to relax in a full-length soaking tub, your best bet is a luxury hotel.
We feature some of the best properties across Tokyo and highlight each of their unique offerings.
Most rooms with luxury soaking tubs are premium 5-star suites.
Some suites have epic city views from the tub, and even TVs to watch your favorite shows.
There are also some unique boutique offerings and rooms with a sauna too.
See our selection of the best Tokyo hotels with luxury soaking tubs below.
---
1. Hotel Gajoen Tokyo

Hotel Gajoen is a small luxury hotel billed as a museum of Japanese beauty.
It has over 2000 paintings and artifacts, many of them considered national treasures.
Originally a gourmet restaurant, it was rebranded as a hotel in 2017.
Its culinary traditions continue with seven independent food and beverage outlets.
There are 60 luxury guest suites each with a spa tub and a steam sauna.
The Superior Japanese king suite has traditional tatami mat floors with a western-style bed.
But the bathroom is the real highlight, reminiscent of a ryokan Japanese inn fitted with a large modern jacuzzi tub.
During your stay, there are activities like the hotel's art collection tour, a matcha experience, and morning yoga sessions.
Guest Rating: 9.6
Star Rating: 5 stars
Best Rooms: Superior Japanese suite king room
Address: 153-0064 Tokyo-to, Meguro Shimomeguro 1-8-1, Japan
---
2. The Prince Gallery Tokyo Kioicho
The Princess Gallery is a 5-star hotel in downtown Tokyo near the Akasaka Palace. 
It's a modern high-rise with abundant use of glass and natural light. 
Guest facilities include a Swiss spa, indoor pool, and communal sento mineral bath.
If you're shy about communal bathing, the Designer suite has a jacuzzi tub with wide windows. 
The suite has numerous seating arrangements with surrounding views of the night skyline.
Other rooms have tubs, but not spa baths and some don't have city views.
You can enjoy all-day dining at Oasis Garden, but the downtown location has plenty to offer.
Guest Rating: 9.4
Star Rating: 5 stars
Best Rooms: Designer suite
Address: 102-8585 Tokyo Prefecture, Chiyoda-ku, Kioicho 1-2, Japan
---
3. Palace Hotel Tokyo

Palace Hotel is just east of the Imperial Palace with direct access to Otemachi Station.
This 5-star hotel has views across the palace moat and its natural setting.
It's Evian Spa has an indoor pool with city views and heated communal baths for men and women.
There is also a men's dry sauna and a women's marble sauna.
For the best bath, the top floor Chiyoda suite has a spacious balcony and a full-length stone soaking tub.
If you want something more affordable, the Grand Deluxe King rooms have soaking tubs by the window too. 
At Wadakura you can enjoy fine traditional Japanese kaiseki or there's Sushi Kanesaka headed up by a renowned Michelin chef.
There is also a hotel take-out deli and a pastry shop.
Guest Rating: 9.4
Star Rating: 5 stars
Best Rooms: Chiyoda suite
Address: 100-0005 Tokyo-to, Chiyoda-ku Marunouchi 1-1-1, Japan
---
4. The Okura Tokyo
Okura Tokyo is a premium Japanese hotel not far from the Roppongi entertainment district.
Right next door is the Okura Museum of Art.
The gym has full city views, personal trainers, and a 25-meter pool with a steam sauna.
Its award-winning spa offers Western and Japanese fusion techniques.
Junior suites in the Heritage Wing all have full-length soaking tubs, and some of them have city views. 
Fine and all-day dining awaits on the 4th to 6th floors, including Chef's Garden which features their patisserie brand.
Starlight Bar & Lounge on the 41st floor has the best night views.
You can enjoy a light a la carte menu or afternoon tea here.
Guest Rating: 9.4
Star Rating: 5 stars
Best Rooms: Junior suite
Address: 105-0001 Tokyo-to, Minato-ku Toranomon 2-10-4, Japan
---
5. The Peninsula Tokyo
The Peninsula Tokyo is a multi-award-winning 5-star hotel close to Hibiya Park and Ginza shopping areas.
The spa is renowned for its top-range skin care and each treatment room has a private shower.
For a special deal, the Afternoon Tea spa package is well-recommended.
Its 20-meter indoor pool has nice seating and relaxing areas, and there's a gym room too.
For your stay, all rooms have bathtubs but they are more deep than full-length.
For tubs by the window, you should try the Deluxe or Grand Premium suites.
Peter Steak & Grill has the best dining views, while Hei Fung Terrace serves fine Cantonese cuisine. 
There's also a Sushi Wakon whose Kyoto branch has 2-star Michelin status.
Guest Rating: 9.1
Star Rating: 5 stars
Best Rooms: Deluxe suite
Address: 100-0006 Tokyo-to, Chiyoda-ku Yurakucho 1-8-1, Japan
---
6. Mandarin Oriental, Tokyo

The Mandarin Oriental Tokyo is conveniently close to Shin-Nihombashi Station.
Apart from its modern sleek design, there are several things that set this hotel apart.
Its restaurants have fabulous views, particularly Sense, a Cantonese restaurant on the 37th floor.
At the gym, you can book private Pilates sessions and the Wellness Package includes six gym sessions. 
For relaxation, try the 24k gold leaf facial rejuvenation, or multi-day retreat package at the spa.
The best rooms are King suites with full-length soaking tubs by the window. 
If you want surrounding views of the Tokyo skyline, you should try the corner suites.
Guest Rating: 9.1
Star Rating: 5 stars
Best Rooms: King suites
Address: 103-8328 Tokyo-to, Chuo-ku Nihonbashi Muromachi 2-1-1, Japan
---
7. Four Seasons Hotel Tokyo at Otemachi
Four Seasons has a hotel next to Tokyo Station and another in the quieter location of Otemachi.
The one at Otemachi though has much better views of the Imperial Palace grounds.
Make sure you book the Four Seasons suite if you want direct views from the private soaking tub.
Some Deluxe rooms also have luxury bathrooms with floor-to-ceiling views by the tub.
For fine dining, Otemachi is home to the French restaurant Est, which is a Michelin-starred experience.
For casual fare, their outdoor Italian piazza at Pigneto is especially nice.
They also have special kids-friendly menu items at discounted prices.
Other facilities onsite include a spa, pool, and fitness center.
Guest Rating: 9.0
Star Rating: 5 stars
Best Rooms: Four Seasons suite
Address: 100-0004 Tokyo-to, Chiyoda-ku Otemachi 1-2-1, Japan
---
8. Hotel Niwa Tokyo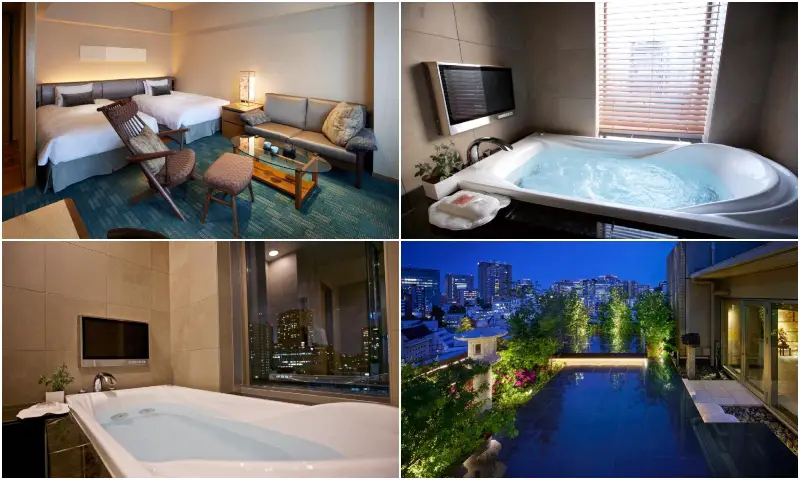 Hotel Niwa is a modern Japanese designer hotel in a quiet neighborhood of Chiyoda City.
It has four Japanese gardens, one on the roof terrace with panoramic views.
The rooms are comparatively quite spacious with a simple aesthetic.
All rooms have a bath, but the Premium Twin has a spa bath, and the Special Signature has an extra-large onsen-style bath.
They serve a Western buffet for breakfast with freshly baked bread and croissants.
Alternatively, you can choose a traditional Japanese breakfast set.
The hotel has massage chairs you can use for free and there's a coin washing machine and drier.
Hotel Niwa is in a good location if you're planning to explore Akihabara and Tokyo's tech hub.
Guest Rating: 8.8
Star Rating: 4 stars
Best Rooms: Premium twin room – non-smoking
Address: 101-0061 Tokyo-to, Chiyoda-ku Kandamisaki-cho 1-1-16, Japan
---
9. The Strings by InterContinental, Tokyo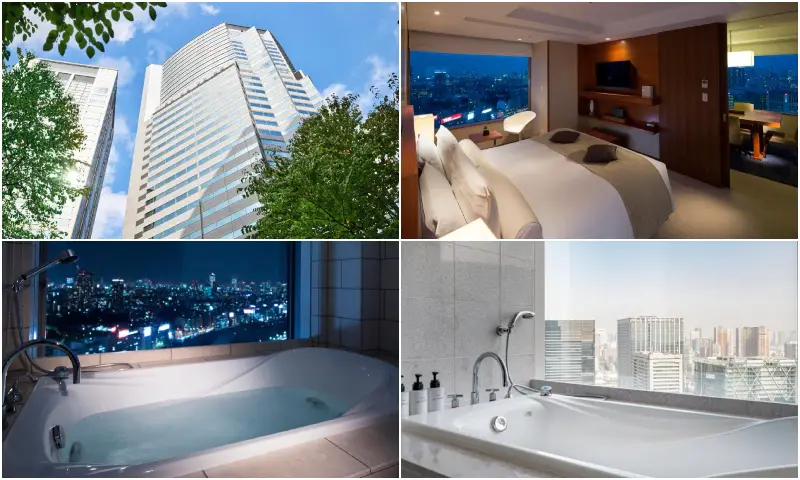 The Intercontinental Strings is a 5-star hotel next to Shinagawa Station.
It's more of a business-class hotel with the gym being the only featured facility. 
It does, however, have good dining options – including in-room dining. 
Their best restaurant is Kazane, a Japanese teppanyaki, while China Shadow has private dining and a dim-sum course.
For rooms, the Club Intercontinental or King suite has a large bathtub by the window overlooking Tokyo Bay.
The suite also has a lounge and a spacious drawing room for meetings.
Guest Rating: 8.7
Star Rating: 5 stars
Best Rooms: One-bedroom king suite with luxury view bath
Address: 108-8282 Tokyo-to, Minato-ku Konan 2-16-1 Shinagawa East One Tower 26-32 Floor, Japan
---
10. The Westin Tokyo
The Westin Tokyo is in the more upscale district of Ebisu in Meguro City. 
Nearby are the Yebisu Beer Museum, Yebisu Garden Place, and the Tokyo Photographic Museum.
The Westin's most prized dining venue is the French restaurant, Victor.
Its champagne selection is unrivaled to suit any occasion.
Another option is Yebisu, famous for its Wagyu Beef, and the elegant Compass Rose bar for its sky views.
There are, however, no less than eight fine F&B establishments to choose from.
All rooms are in fine Rococo style with full-length soaking tubs.
But the Imperial and Presidential suites are the best with large soaking tubs in luxurious bathrooms.
Guest Rating: 8.7
Star Rating: 5 stars
Best Rooms: Imperial suite
Address: 153-8580 Tokyo-to, Meguro-ku, Mita 1-4-1, Japan
---
11. Villa Fontaine Premier Haneda Airport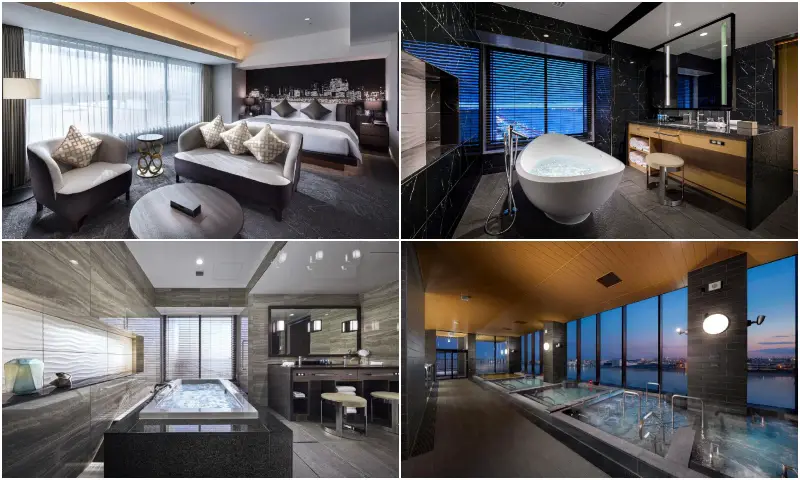 Villa Fontaine Haneda Airport is one of the best luxury hotels with a Japanese onsen for their guests.
The water, rich in iodine and calcium chloride, is considered good for dry skin and improved circulation. 
There are both spacious indoor and outdoor baths with loungers overlooking the Tama River and the airport.
For exclusive bathing in your own quarters, try the Premier suite. 
It has a gorgeous full-length bath set into a black marble frame.
For a feminine touch, the Fontaine suite has a free-standing French bath while all other rooms have a standard full-length tub.
Izumi Tenia serves excellent izakaya-style cuisine with views that can stretch to Mt. Fuji.
The Throne & Lounge is just as scenic, but more open and relaxed. 
Guest Rating: 8.7
Star Rating: 5 stars
Best Rooms: Premier suite room
Address: 144-0041 Tokyo-to, Ota-ku Haneda Airport 2-7-1, Japan
---
12. The Ritz-Carlton, Tokyo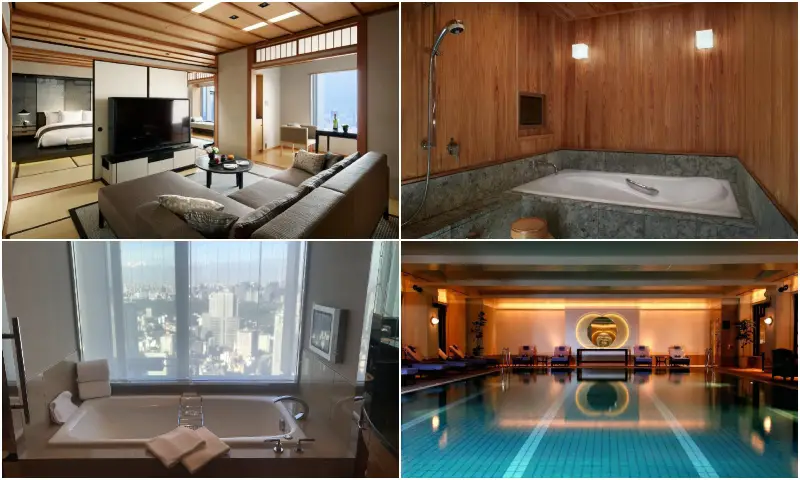 The Ritz-Carlton is mid-town opposite a beautiful strolling park and close to the Roppongi entertainment district.
It's a blend of Western and Japanese aesthetics with the Modern Japanese suite being its best presentation.
It has screen doors, partial tatami flooring, and an onsen-style bathroom.
The TV sitting in front of the bathtub adds an extra modern touch to the room.
If you prefer something more modern, you can admire the city views and watch TV from the tub in the Millenia suite.
For dining, restaurants at the Ritz-Carlton showcase French and Japanese cuisines and cooking techniques.
The Bar in the Lobby Lounge is another popular hangout area at night. 
Other facilities you'll have access to include the spa, pool, and fitness club.
Guest Rating: 8.5
Star Rating: 5 stars
Best Rooms: Modern Japanese suite
Address: 107-6245 Tokyo-to, Minato-ku, Akasaka 9-7-1 Tokyo Midtown, Japan
---
13. Hotel Allamanda Aoyama Tokyo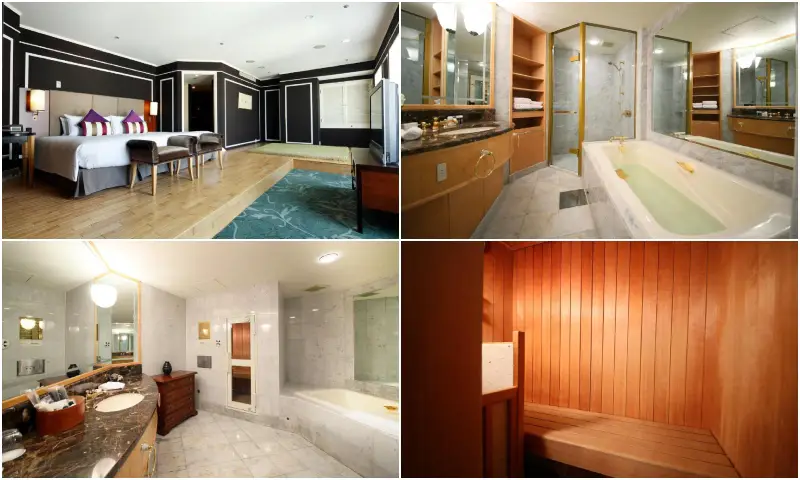 The Allamanda is a chic and young urban hotel in one of Tokyo's most fashionable districts.
It's a 10-minute walk to Omotesando Station and 1-minute to the Ginza Line Gaienmae Station.
Spacious suites, superbly and tastefully designed, are the hotel's forte.
One of the more popular rooms is the Stadium suite.
From here, you can watch a live game from your room, and also have access to a sauna and bathtub.
All other rooms have full-length soaking tubs with the most luxurious in the Royal suite king.
For a workout, there's a 25-meter indoor pool with a jacuzzi, or you can request a personal trainer at the gym.
On the 8th floor, Portofino café opens for breakfast, lunch, and dinner.
Guest Rating: 8.5
Star Rating: 5 stars
Best Rooms: Royal suite king
Address: 107-0061 Tokyo-to, Minato-ku Kita Aoyama 2-7-13, Japan
---
Tokyo Hotels Map
Find More Tokyo Hotels with Private Tubs
---
FAQs
What's the best Tokyo hotel with a soaking tub and sauna in the rooms?

Plenty of luxury hotels in Tokyo have full-length soaking tubs, but an in-room sauna is quite rare.

However, all suites at the Hotel Gajoen Tokyo have a steam sauna.

Allamanda Hotel in Aoyama also has a suite with a dry sauna and also features a viewing area of the stadium.
What's the best Tokyo suite with a TV next to the soaking tub?

A number of hotels in Tokyo have TVs by the tub, but the Prince Gallery Tokyo Kioicho has the most luxurious bathroom.

The Designer suite in particular has amazing views and a TV by the marble soaking tub.

Other hotels with TVs by the soaking tub include The Peninsula Tokyo, Hotel Niwa Tokyo, and The Ritz-Carlton.
What's the best Tokyo hotel with views of the city from the soaking tub?

The Mandarin Oriental is in the heart of the city near Tokyo Station.

Its modern design skillfully exploits great viewing angles.

Their King suites have long soaking tubs with full window views, and Corner suites have the best surrounding views.

Other hotels with grand city views are The Prince Gallery Tokyo Kioicho and Four Seasons Hotel Tokyo at Otemachi.
What's the most romantic Tokyo hotel for couples?

Hotel Gajoen Tokyo is the best place to stay if you're planning a romantic trip, particularly their Japanese-themed suites.

Inside, you'll have your own private hot spring bath with views of the garden.

They also have the best fine dining restaurants so you can easily arrange a date night.

With a beautiful garden, cultural art on display, and 5-star service, this hotel has the best setting for romantic couples.
Summary