Tokyo is a buzzing city with unique bars, restaurants, entertainment, and cultural attractions.
After a long day out, you'd want to stay at a hotel with a swimming pool onsite.
Especially during the warmer months.
We'll show you the most luxurious hotels with indoor and outdoor pools, some even have city views.
At each property, we'll highlight the ideal suites.
So before you book, here are the best hotels in Tokyo with swimming pools.
1. The Prince Gallery Tokyo Kioicho
Based in a hypermodern high-riser, The Prince Gallery Tokyo Kioicho is the perfect example of a classy and opulent hotel.
Many of the high-end suites here overlook lush gardens and the magnificent skyline of Tokyo.
But if you're traveling with family, the Deluxe Premier twin rooms are most suitable.
Inside, you'll have 2 double beds and an extra single bed.
If budget is not an issue, you can always book 2 separate suites and live in luxury.
For dining, the hotel features a Japanese restaurant, a Mediterranean eatery, and a bar for the adults.
Besides a fitness center and comfy spa facilities, the hotel has a large indoor swimming pool with striking panoramic vistas over Tokyo.
Bear in mind that the gym and the spa center are accessible exclusively to guests older than 18 years.
Guest Rating: 9.4
Star Rating: 5 stars
Best Room: Deluxe premier twin room
Address: 102-8585 Tokyo-to, Chiyoda-ku, Kioicho 1-2, Japan
---
2. Imperial Hotel Tokyo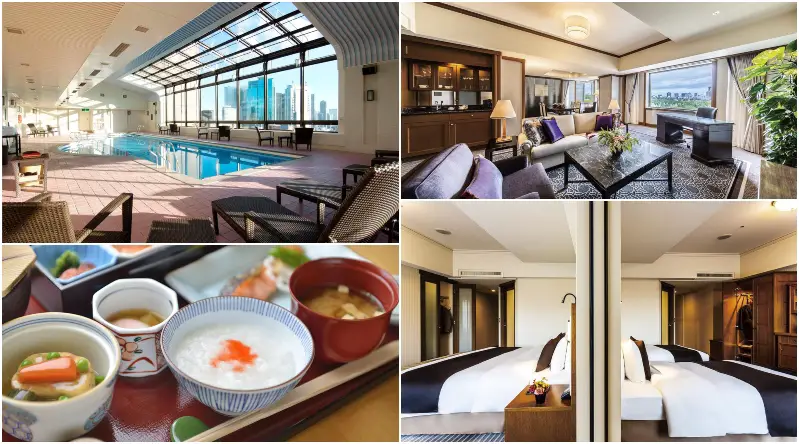 The Imperial Hotel Tokyo is an iconic establishment in Japan's capital city.
Inside, you'll see fancy chandeliers and bright lighting to give that golden royalty feel.
If you want the best room, have a look at the luxurious Park view corner suite.
Although bigger groups may prefer the family connecting rooms. 
For a relaxing afternoon with the kids, head to the lap pool located on the 20th floor.
Other facilities onsite include tea ceremony rooms, a massage parlor, and a beauty salon.
For food, there are endless choices of classy restaurants here.
There's a buffet, French cuisine, and of course, authentic Japanese food.
Guest Rating: 9.2
Star Rating: 5 stars
Best Room: Park view corner suite
Address: 100-8558 Tokyo-to, Chiyoda-ku Uchisaiwai-cho 1-1-1, Japan
---
3. Andaz Tokyo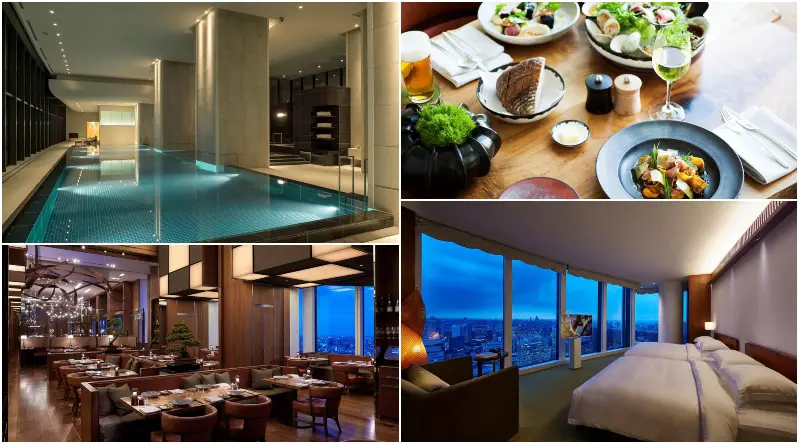 Andaz Tokyo boasts 164 guest rooms, 5 restaurants and bars, and a splendid indoor pool on the 37th floor.
Most rooms can easily accommodate a family of 4 – generally 2 adults and 2 kids.
If you want the best room, have a look at the Andaz suite.
You'll have the most incredible city views from your beds, especially at night.
Lounge access is included where you can get free drinks and snacks.
For dining onsite, there's a Japanese grillroom, a Western-oriented diner, a sushi bar, and the stunning rooftop bar on the 52nd floor.
At the AO Spa & Club, you can do your laps in a pool, or lay down for a rejuvenating massage.
Guest Rating: 9.2
Star Rating: 5 stars
Best Room: Andaz suite
Address: 105-0001 Tokyo-to, Minato-ku, Toranomon 1-23-4, Japan
---
4. Grand Prince Hotel Takanawa Hanakohro
This exclusive resort is based in south Tokyo and offers the best cultural experience.
Rooms and common areas are furnished with traditional Japanese decor. 
To make the most of your time here, book the Grand suite.
These rooms have extra futon beds for the kids, plenty of living space, and even a private onsen bathroom.
Outside, you can wander around the scenic Japanese gardens, which are most beautiful during cherry blossom season. 
They also have 2 pools – Sky pool and Diamond pool.
Cabanas and sofas surround the pools so you can laze around all afternoon.
Guest Rating: 9.2
Star Rating: 5 stars
Best Room: Japanese Grand suite
Address: 

108-8612 Tokyo-to, Minatoku 3-13-1, Japan
---
5. The Peninsula Tokyo
The Peninsula Tokyo is an extravagant hotel, located near the Imperial Palace and Hibiya Park. 
Make sure you book the Executive Suites for a ritzy getaway.
You'll enjoy a snuggly living room, a dining table for 4, and a spacious bathroom with a massive tub.
If you have young kids, they'll love the Pokemon amenities such as a toothbrush set and a stuffed Pikachu toy.
On the 6th floor at the Peninsula Spa, enjoy some pampering with a facial, massage, or incense treatment.
This is also where you check in to use the heated indoor pool on the 5th floor.
For dining, there's a Cantonese kitchen in Hei Fung Terrace, or nibble on exquisite dishes in Peter on the 24th floor.
Guest Rating: 9.1
Star Rating: 5 stars
Best Room: Suites
Address: 100-0006 Tokyo-to, Chiyoda-ku Yurakucho 1-8-1, Japan
---
6. Park Hyatt Tokyo
Park Hyatt Tokyo is a 5-star hotel in the western part of the city.
Committed to providing guests with the ultimate views, this hotel occupies the 14 highest floors of a 52-story building.
This upscale hotel embraces guests with some unique amenities.
You'll find a library with international books, a pastry shop, and a delicatessen.
The rooms are jam-packed with features, particularly the Deluxe king suites. 
A sweet spot to hang out during your stay is the hotel's indoor pool.
Open daily from 6am-10pm, you'll be able to see Mt Fuji through the floor-to-ceiling windows.
Culinary highlights include the grill restaurant on the top floor and the atmospheric Peak Lounge.
Guest Rating: 9.1
Star Rating: 5 stars
Best Room: Deluxe king suite
Address: 163-1055 Tokyo-to, Shinjuku-ku, Nishishinjuku 3-7-1-2, Japan
---
7. Keio Plaza Hotel Tokyo Premier Grand
This 5-star hotel is based in the popular Shinjuku area, loved for its shopping and entertainment options.
For groups, have a look at the Family suite or quadruple rooms to get separate beds.
The suite is more luxurious with a separate lounge area overlooking the city.
For a refreshing plunge, head for the Sky Pool on the 7th floor of the building.
Just note that this outdoor pool is only open during the summer months.
If you're after different activities, the hotel also offers a fitness center and a tea ceremony area.
For dining, there are loads of options onsite including Japanese, Chinese, and Italian.
Guest Rating: 8.9
Star Rating: 5 stars
Best Room: Family suites
Address: 160-8330 Tokyo-to, Shinjuku-ku, Nishishinjuku 2-2-1, Japan
---
8. Conrad Tokyo
Conrad Tokyo lies in the city's very heart, close to the Tokyo Tower and the Hamarikyu Gardens.
This luxury hotel is situated on floors 28 to 37 of a high-rise building.
It offers guests upscale dining options and some of the most attractive suites in Tokyo.
Choose from king rooms, executive rooms, and bay view suites with Executive Lounge access.
In the lounge, you can enjoy a complimentary breakfast, afternoon tea, snacks, and cocktails in the evening.
Treat yourself to fine Japanese, Chinese, or French cuisine in one of the hotel's highly rated restaurants.
Conrad Tokyo has an indoor pool with lovely city views and lounge chairs for your comfort.
Alternatively, you can overlook Tokyo from a massage bed in the hotel's spa facility, or work out in the fitness room.
Guest Rating: 8.9
Star Rating: 5 stars
Best Room: Two bedroom deluxe suite
Address: 105-7337 Tokyo-to, Minato-ku, Higashi-Shinbashi 1-9-1, Japan
---
9. Sheraton Grande Tokyo Bay Hotel
The Sheraton Grande Tokyo Bay Hotel is located right at Tokyo Bay, close to Tokyo Disney Resort.
With over 1000 guest rooms, you'll have plenty of options for a relaxing stay during your vacation.
You can even bring your dog along since its a pet-friendly hotel.
There indoor pool is open daily from 8am-10pm.
For more fun, you'll love the outdoor pool with a rocky waterfall backdrop.
However, this is only open in the summer months.
Other activities for the guests include a minigolf course and an arcade.
For food, there's a buffet-style feast in the Grand Cafe, a teppanyaki restaurant, or visit one of the other 3 onsite cafes.
Guest Rating: 8.3
Star Rating: 5 stars
Best Room: Executive suite
Address: 279-0031 Tokyo-to, Maihama 1-9, Japan
---
Tokyo Family Hotels Map
Also read:
Find More Tokyo Family Hotels with Pools
FAQs
Summary