Tokyo is one of the quirkiest cities in the world with the most unique culture. From ancient temples, beautiful cherry blossoms, and food experiences, there's plenty to see. Some of their hotels are unique too. We'll show you Japanese ryokans, artistic suites, and bizarre capsule hotels. Whether you're traveling as a solo, couple, or family, there'll be a themed room designed for you. Here are the most unique themed hotels in Tokyo.
---
1. Hotel Gajoen Tokyo
Immerse yourself in the authentic Japanese experience at Hotel Gajoen! This Museum Hotel boasts Japanese pre-war art, Japanese-style courtyards, and traditional banquet halls. All the rooms in this exquisite hotel are suites, and some of them come with a private sauna. The spacious rooms and the luxurious experience make this a perfect stay for couples. But if you're traveling as a family, there are a number of Japanese suites that sleep up to 4. As a guest, you will have access to OUKA executive lounge, where coffee, tea, and cocktails are served.  You can attend a traditional Japanese tea ceremony at OUKA from 2 to 5 pm on weekends and holidays. For onsite dining, check out TOFUTEI, a thatched roof hut restaurant surrounded by a calming garden and a gentle stream.
Guest Reviews: Really gorgeous and impressive. Japanese suite room is one of my best experiences.
Star Rating: 5 stars
Best Rooms: Superior Japanese suite king room
Address: 153-0064 Tokyo-to, Meguro Shimomeguro, 1-8-1, Japan
---
2. Hotel K5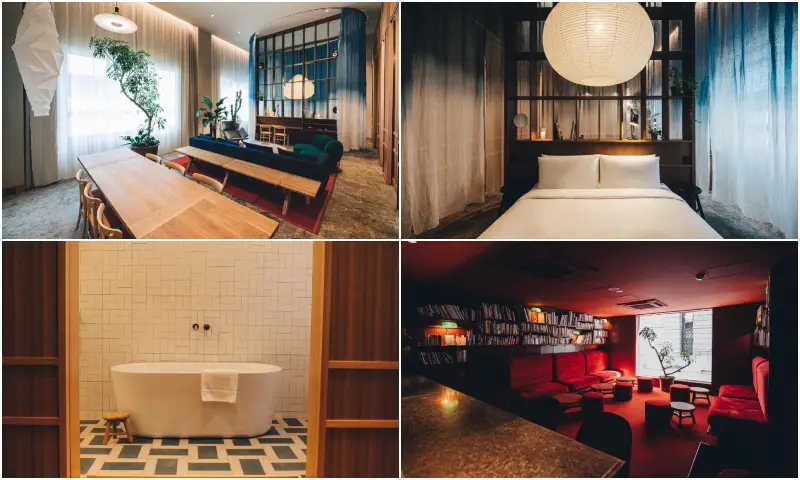 Hotel K5 was built in a renovated historical building dating back to 1924. What makes this hotel unique are the plush interiors following their theme of "being one with nature in the city". The hotel houses twenty guest rooms with suites, rooms, and studios to choose from. All the rooms are designed for a two-person stay, making this place a crowd favorite among couples. For the music lover in you, each room features a record player with an impressive vinyl record collection. Caveman Restaurant serves delectable gourmet food paired with natural wine and beers. For drinks, Switch Coffee Lounge and Brooklyn Brewery at the hotel will take care of all your cravings. Hotel K5 is a mere 5-minute walk from Nihombashi station, making it a very accessible location.
Guest Reviews: The room was enormous by Tokyo standards and very comfortable. Amazing boutique hotel.
Star Rating: 4 stars
Best Rooms: K5 loft with bathtub
Address: 103-0026 Tokyo-to, Chuo-ku Nihonbashikabuto-Cho3-5, Japan
---
3. Asakusa Tobu Hotel
The Asakusa Tobu Hotel is located in the heart of Tokyo! The convenient location makes it a perfect stay for travelers exploring the city. It is right across the road from the Asakusa subway station, making it easy for the guests to reach the airport. The hotel offers a range of rooms, but what makes it unique are its Hello Kitty rooms. Double rooms and King rooms are best suited for couples, while Hello Kitty and Deluxe Quadruple rooms are perfect for families. Ichi no Ichi, the hotel's in-house restaurant, offers a healthy Japanese seasonal spread for breakfast and lunch. When you're ready to explore, the famous Sensoji Temple is a 3-minute walk from the hotel.
Guest Reviews: My daughter loved the Hello Kitty room!
Star Rating: 3 stars
Best Rooms: Hello kitty rooms
Address: 111-0032 Tokyo-to, 1-1-15, Japan
---
4. TRUNK (HOTEL)
Trunk Hotel is located in the fashion-forward and hip neighborhood of Shibuya.
What sets this hotel apart is the breathtaking blend of old and new Japanese architecture.
The hotel was designed to reflect the soul of Shibuya, one of the most lively and creative places in Tokyo.
The Balcony Junior Suite would be a natural choice for families since it has bunk beds.
While couples will love the Suite with a terrace.
The hotel organizes regular activities that help the guests immerse themselves in the local culture.
For Shibuya soul food, head over to the Trunk Kushi stand and dig into their signature skewers.
But if you want a complete meal, dine at Truck Kitchen to enjoy Japanese-Western fusion food, sake, Hojicha tea, and signature cocktails.
Guest Reviews: Beautiful design hotel in Shibuya. Very cool hotel.
Star Rating: 4 stars
Best Rooms: Suite with terrace
Address: 150-0001 Tokyo-to, 5-31 Jingumae, Shibuya-Ku, Japan
---
5. BnA WALL
BnA Wall, located in Nihonbashiodenmacho, is Tokyo's edgiest Art Hotel. A spectacular 5-meter mural is the heart of this hotel, and it is repainted every three months by professional artists. Artists designed all the rooms, so they all have their own theme. This hotel is a hot favorite with couples looking for an immersive art experience. One of the most popular options is the Hardcore game room, so make sure you book early. For snacks, the bistro stand, STAND BnA, offers freshly brewed coffee and delicious Tokyo deep-cut food and drinks. Jisshi Park, Takarada Ebisu Shrine, and Suginomori Shrine are all within a 5-minute walk from BnA Wall.
Guest Reviews: Beautiful room. The art is amazing. The staff was so kind and friendly.
Star Rating: 3 stars
Best Rooms: Hardcore game room
Address: 103-0011 Tokyo-to, 1-1 Nihonbashiodenmacho, Chuo-ku, Japan
---
6. Park Hotel Tokyo
Park Hotel promises to indulge you in Japanese art rooted in its deep connection to nature. The hotel starts from the 25th floor of Shidome Media Tower, offering stunning views of the city. If you stay here, make sure you check in to the Artist Rooms, which are designed by artists. Just keep in mind they're set up for couples rather than large groups. Throughout the year, the hotel also hosts regular art shows and exhibitions. ART colors dining on the 25th floor, one of the in-house restaurants, serves American breakfast. Alternatively, dig into the sumptuous Japanese Kaiseki cuisine at Hanasanshou for lunch or dinner. The hotel is well-connected, with the Shinbashi train station just a 4-minute walk away.
Guest Reviews: Really nice hotel. Interesting artwork throughout. Stay here for the views.
Star Rating: 4 stars
Best Rooms: Artist rooms
Address: 105-7227 Tokyo-to, Minato-ku Higashi Shimbashi 1-7-1, Japan
---
7. Artist Hotel – BnA STUDIO Akihabara
BnA Studio Akihabara welcomes guests into a world curated by Tokyo's most progressive artists. The aesthetic is a mix of modernity and traditional Japanese craftsmanship. Each room is unique, with unprecedented themes and custom-made furniture. To fight those hunger pangs, the guest rooms are equipped with a fully functional kitchenette. Deluxe and Executive Studios are best suited for families, while Superior Studio is ideal for couples. Every night, BnA Frontdesk Bar is open and attracts the best of Tokyo's art scene. The hotel houses Chat Base, a co-working space for artists on its first floor. BnA Studio is just a 7-minute walk away from the buzzing Akihabara shopping hub.
Guest Reviews: Loved the design of the space but it's a bit far from public transport.
Star Rating: 3 stars
Best Rooms: Studios 
Address: 101-0021 Tokyo-to, Chiyoda-ku Sotokanda 6-3-3, Japan
---
8. ONE@Tokyo
ONE@Tokyo aims to capture the essence of the bygone Edo era in modern Tokyo. Its interior design combines industrial materials with wood to produce a timeless aesthetic. The facade has floor-to-ceiling glass windows allowing sunlight to flood the lobby. The Studios, Standard, and Superior Semi Double are ideal for couples. ONE@Tokyo is known for its Atelier Suites, which resemble an artist's atelier. If you need a refresher, the in-house cafe/bar is perfect for a morning coffee or a cocktail after a long day. Oshiage Subway Station is only a 3-minute stroll from the property.
Guest Reviews: Convenient location but the room did feel a bit cramped.
Star Rating: 3 stars
Best Rooms: Suites
Address: 131-0045 Tokyo-to, Sumidaku Oshiage, 1-19-3 Japan
---
9. First Cabin Ichigaya
This capsule hotel is designed to give guests the experience of staying in a flight's first class. You don't have to pay thousands just for a luxurious seat on the plane. This compact hotel is perfect for solo travelers looking for a clean and affordable place to stay. The First Cabin allocates different floors for men and women for extra security and comfort. Like other capsule hotels, guests have access to a shared bathroom. Enjoy a dip in the hotel's in-house onsen, a traditional Japanese public bath. The First Cabin is right across the river from Ichigaya JR station so it's quite convenient. They also have these unique capsule hotels in Akasaka, Atagoyama, and Haneda Terminal 1.
Guest Reviews: Convenient, good value for money. Just don't be too loud.
Star Rating: 1 star
Best Rooms: First class cabin
Address: 162-0844 Tokyo-to, Shinjuku-ku Ichigayahachimanmachi 8 TKP Ichigaya Bldg., Japan
---
10. Henn na Hotel Maihama Tokyo Bay
The check-in at Henn na Hotel is completely handled by dinosaur robots! This Jurassic-themed hotel offers a unique experience during check-in as dinosaurs sort out your room. To start your morning on a high note, dig into the delicious breakfast at Jurassic Diner, the in-house restaurant. There is a range of rooms to select from, making it a great stay for families, couples, and groups alike. The Dinosaur Triple room is a delight for kids, making it very popular with families. If you've planned a day at Tokyo Disney parks, there is a free shuttle bus right outside. It'll take you to Mahaima station where there are regular trains to each theme park.
Guest Reviews: The robot dinosaurs are very cool! The robot inside the room was cute but didn't work well.
Star Rating: 3 stars
Best Rooms: Standard triple room
Address: 279-0043 Tokyo-to, Chiba, Urayasu, Fujimi 5-3-20, Japan
---
11. Book And Bed Tokyo Shinjuku
This accommodation bookstore is a book lovers paradise! Book and Bed feature towering bookshelves right next to bunk beds. Guests can choose from single, double, and even bunk bed rooms. Couples often go for the Superior Room, which is more private. The hotel offers multiple plans for each room based on various breakfast options. Check out the in-house bar for delicious quick bites, coffee, milkshakes, and cocktails. This unique hostel is in a great location, a minute's walk away from Tenjin Station.
Guest Reviews: Capsules were very comfortable. But bathrooms were not particularly clean.
Star Rating: 2 stars
Best Rooms: Superior room
Address: 160-0021 Tokyo-to, Shinjuku Kabukicho 1-27-5 Kabukicho APM Building 8F, Japan
---
Best Themed Hotels in Tokyo For Families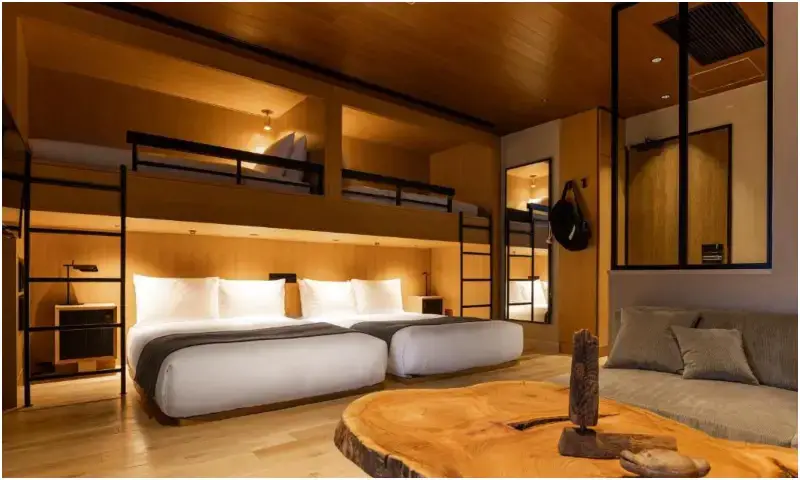 Asakusa Tobu Hotel – If you have little kids, they're going to love the Hello Kitty rooms. With 4 single beds, it's suitable for small families. But the room is a bit small so one night might be enough.
TRUNK (HOTEL) – As you can see in the picture above, the Junior Suite is much more spacious compared to the Hello Kitty rooms. Kids can take the bunk beds above the parents. Its unique modern design plus outdoor space makes this ideal for longer stays. 
---
Best Themed Hotels in Tokyo For Couples
Hotel Gajoen Tokyo – Staying in a Japanese-style suite is a must when visiting Tokyo and this is one of the best options. Their Japanese rooms have private spa baths and saunas, perfect for romantic nights in. 
Hotel K5 (photo) – With a mix of modern and retro decor, this is another themed hotel with private bathtubs in rooms. The added greenery makes this a very pleasant and calming place to stay.
---
Are Themed Hotels the Same As Tokyo Love Hotels?
No – We're keeping things clean here. However, Tokyo love hotels generally have themed rooms too. Locals usually book them by the hour, but for tourists, it might be worth staying the night – just to see what it's like. Most "love rooms" will have private hot tubs and massage chairs for relaxation. Some are brightly lit with karaoke systems for a night of fun. There are also luxury suites that are dimmed to set an intimate vibe. If you're interested in these types of themed rooms, check out these love hotels:
Hotel PetitBali Higashi-Shinjuku – This is a popular love hotel brand. It's a cute little place replicating the vibes of Bali. Shinjuku is a great location too. 
Hotel Karuta – Besides love rooms, they have a girls-only party room with open-air baths. It's a great option for bachelorette parties.
Hotel G-Style (photo)– Located just a 2-minute walk from Otsukaekimae Station. Each room is themed with overwhelming bright colours.
You can find more love hotels here:
---
Most Unique Capsule Hotels In Tokyo
Capsule hotels are usually the cheapest places to stay overnight. For solo travelers, have a look at these themed hotels:
First Cabin – Besides Ichigaya, there are 3 other First Cabin capsule hotels in Tokyo. They can be found in Akasaka, Atagoyama, and Haneda Terminal 1. All the capsules are uniquely designed to replicate the first-class experience on planes.
Book And Bed Tokyo Shinjuku – If you love reading or manga, you can easily spend hours here. It's easier to stay overnight so you can see the variety of books they have.
Resol Poshtel Tokyo Asakusa (photo) – As the name suggests, this capsule hotel is very posh. All the staff can speak English very well and the facilities are excellent. Inside the capsules, you'll find unique Japanese artwork too.
---
Are There Anime-Themed Hotels in Tokyo?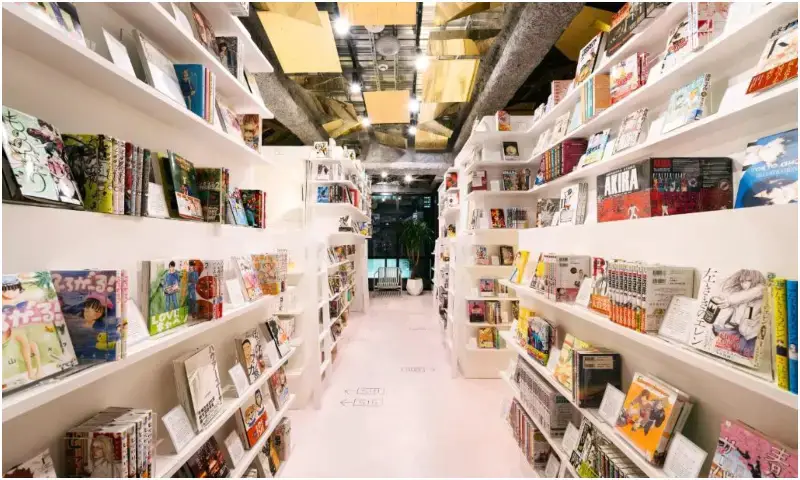 There are no anime-themed hotels in Tokyo at the moment. However, some hotels in Japan have had temporary themed rooms with Naruto, Dragon Slayer, and My Hero Academia characters. If you enjoy anime, the best hotel to stay at is Manga Art Hotel. They have over 5,000 comics for guests to read. Similar to capsules, male and female guests are split into single dormitory rooms. You'll be able to read your favorite anime series all night! Another hotel with manga comics is Booth Netcafe & Capsule in Shinjuku.
---
Tokyo Hotels Map
Also read:
Find More Unique Hotels in Tokyo
---
Summary