As Seychelles boasts excellent weather all year round, it's a buzzing holiday destination, no matter the season. With its many islands, travelers can explore multiple beaches and coral reefs. Being a pristine paradise, you'll also find many luxury island resorts in Seychelles with private pool villas. We'll show you properties with packages, spas, and stunning beachfront views. But before reviewing each resort, here are our recommendations. 
---
Best Seychelles Resort For Families
Constance Lemuria (photo above) – One of the more highly-rated resorts by guests, big families will love the huge Presidential Villa. You'll be just steps from a private beach area. A family of four may prefer the smaller 2-bedroom villa. There's also a Kid's Club for 4 to 11-year-olds.
Four Seasons Resort Seychelles – If you want privacy, this resort located on Desroches Island will be perfect. They have a range of luxury Pool Villas with 2 to 5 bedrooms. Based on guest feedback, prices per night are steeper compared to other resorts. But you will get the complete VIP experience. 
---
Best Seychelles Resort For Couples
Anantara Maia Seychelles Villas – This resort has the best guest rating in Seychelles. Like the one in the photo, all their luxury villas have private pools and are designed for couples. You can arrange romantic dinners by the beach, hillside, or in your own room.
Six Senses Zil Pasyon – For complete privacy, you'll find a number of Pool Villas in very secluded locations on the island. Ideal for honeymoons, you'll have the best water views no matter where you stay.
---
Are There All-Inclusive Resorts In Seychelles?
Not many resorts in Seychelles offer all-inclusive stays. Some do have forms of half-board or full-board offers. In most cases though, expect to pay extra for dining and drinks. All resorts will have their own exclusive deals ranging from 25 to 50% off services and facilities. STORY Seychelles is one resort that does have an all-inclusive offer. However, based on past guest experiences, it may not be the best value.
---
1. Anantara Maia Seychelles Villas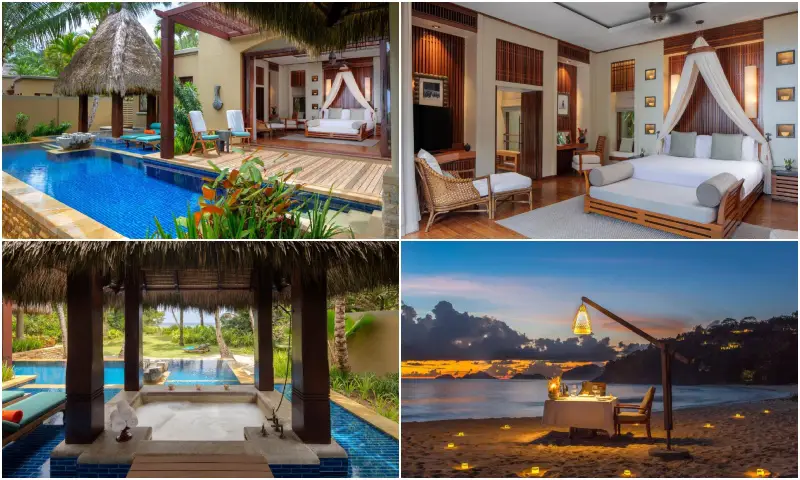 Vacation in the seclusion of lush forests and sandy beaches at Anantara Maia. Onsite, thirty luxury villas greet guests, offering breathtaking views of the Indian Ocean. Reserve the Premier Villa to have direct beach access from your doorstep. Designed using wood millwork, this villa has beautiful exteriors and an infinity pool. The hotel offers an all-inclusive package, so you're taken care of the second you arrive. Try the signature Vichy ritual at Anantara Spa or practice yoga amid the lush green scenery. Couples can create their dream dinner dates during Dining by Design. Select all the specific details you can dream up, and the staff will make it a reality.
Guest Reviews: Amazing views, top quality food, very welcoming.
Star Rating: 5 stars
Best Rooms: Premier villa with infinity pool
Address: Anse Louis, Anse Boileau, Seychelles
---
2. Le Château de feuilles
Le Château de feuilles is renowned for its generous hospitality. With private transfers on offer, you'll notice the first-class service instantly. Perched on a hilltop, you'll enjoy unobstructed island views when staying here. Other amenities include a natural pool, luxury spa, and atmospheric open-air restaurant. The two-bedroom pool villa is perfect for families, while couples will enjoy the Deluxe pool suite. Embark on a trip to Grand Soeur, which is exclusively closed for hotel guests on the weekend. Here, you can enjoy fine secluded beaches and eat delicious BBQ in a peaceful setting.
Guest Reviews: We got spoiled – The view from the rooms, the restaurant, and the jacuzzi is breathtaking.
Star Rating: 5 stars
Best Rooms: Two-bedroom villa with private pool
Address: Pointe Cabris, Baie Sainte-Anne, Seychelles
---
3. Constance Lemuria
Constance Lemuria is all about providing guests with unforgettable travel experiences. With endless culinary delights to watersport adventures, you're sure to make memories. There's even a turtle sanctuary onsite, which all ages love to explore. Hotel facilities cover nine dining venues, a spa, a tennis court, and a golf course. Check into the Presidential Villa (Apartment), the most sought-after accommodation. It sleeps up to nine people and has an outdoor bath, pool, and a private beach. If you are here on a honeymoon, dining "on the rocks" is a true highlight.
Guest Reviews: Idyllic – Best location in Praslin Island, much better than the Raffles.
Star Rating: 5 stars
Best Rooms: Presidential Villa (Apartment) 
Address: Petite Anse Kerlan, 6170 Grand' Anse Praslin, Seychelles
---
4. Four Seasons Resort Seychelles at Desroches Island
Enjoy the holiday of your dreams in this island paradise. Desroches Island is for guests only, meaning the native turtles are your only company. This allows you to explore fourteen kilometers of sandy beaches in total seclusion. You can picnic on their grounds or visit one of the excellent restaurants onsite. The Lighthouse is a unique dinner spot with stunning sunset views and seafood. Rich in amenities, the resort has a spa, a tennis court, free bicycles, and a full activity center. Those with a large entourage will appreciate the Residence Villa.  Offering open-air living spaces, and green outdoors with a pool, staying here is a treat.
Guest Reviews: The villa residence was sumptuous. Private access to the beach made early morning walks and snorkeling easy.
Star Rating: 5 stars
Best Rooms: Five king bedroom residence villa
Address: Desroches Island, Desroches, Seychelles
---
5. L'Escale Resort Marina & Spa
Aptly named after an ancient port, this hotel is your ideal coastal stopover. Located by the water, you merely have to dock your boat for your vacation to begin. Book the Two-bedroom Presidential Villa, which is great for families. This large villa has warm homely interiors and an enormous outdoor terrace and pool. Dine at L'Escale Lounge & Restaurant and enjoy the extensive breakfast spread. On Fridays, attend Kreol Night to savor a Creole-inspired meal alongside some dancing. Also, stop by the onsite spa, which has a Zen water garden and hammam.
Guest Reviews: Breakfast was excellent. The staff was very attentive and polite.
Star Rating: 5 stars
Best Rooms: Two-bedroom presidential villa
Address: Roche Caiman, Mahe, Victoria, Seychelles
---
6. Six Senses Zil Pasyon
Wellness enthusiasts and couples worldwide rightly flock to this island resort. Six Senses Zil Pasyon is based on Félicité Island, a private island known for its rock formations and jungles. It is home to beautiful hiking trails, panoramic views, and excellent restaurants. Designed for couples, try the over-water hammock at Koko Bar and sunset dinners on Top Hill. The resort also offers several wellness programs to help guests relax and detox. Onsite activities include cooking classes, outdoor movie nights, and rum tastings. The best villa is The Sanctuary, with its futuristic exterior and infinity pool.
Guest Reviews:

The villa was superb. The staff was very friendly and professional.

Star Rating: 5 stars
Best Rooms: The Sanctuary
Address: Felicite Island, Felicite, Seychelles
---
7. Mango House Seychelles
Fall asleep to the sound of lapping waves at this oceanfront resort. Originally, Mango House Seychelles was built as a famous photographer's home. Now, it houses tourists who want to eat, explore, and unwind amid beautiful scenery. Stay at the Three Bedroom Villa, where you can watch the most breathtaking sunsets. Best suited for families, it features canopy beds and a pool alongside outdoor seating. Under the care of an attentive staff, unwind by the pools and sample fresh sushi at Azido. You can also try rock fishing before going on a private sunset cruise with your partner.
Guest Reviews: Lovely hotel, with excellent staff, a beautiful location.
Star Rating: 5 stars
Best Rooms: Three-bedroom villa
Address: Anse Aux Poules Bleues, Baie Lazare, Mahe, Seychelles
---
8. Four Seasons Resort Seychelles
At Four Seasons Resort Seychelles, all guests receive special treatment. Using the complimentary equipment, active travelers love kayaking and surfing here. While food lovers heartily sample Asian and Creole delicacies onsite. Visit Kannel for its fine fish selection, then continue toward the Bar for a fun cocktail-making class. An open-air spa, a children's club, and pools await your arrival too. Enjoy the benefits of a villa host at the onsite Residence Villas. These villas boast ocean views, luxury furnishing, and private infinity pools.
Guest Reviews: Sunset with a glass of champagne on the rooftop of the Spa was unforgettable. It was a dream holiday.
Star Rating: 5 stars
Best Rooms: Four-bedroom residence villa
Address: Petite Anse, P.O. Box 1397, Baie Lazare Mahe, Seychelles
---
9. JA Enchanted Island Resort Seychelles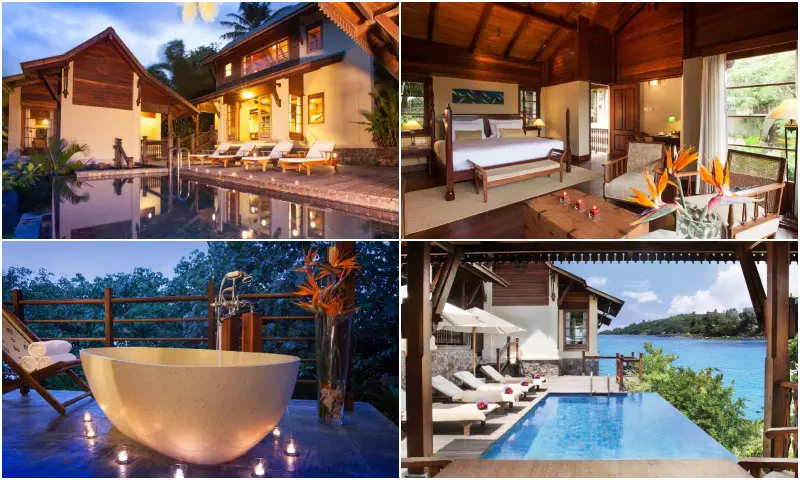 This small luxury island resort is a perfect match for couples and newlyweds. Escape into one of the eleven villas onsite, where your romantic getaway begins. You may also book the whole island and have your wedding here. One of the more luxurious options is the Owners Signature Villa designed for small groups. The villa has a cozy vibe, thanks to the wooden ceilings, on-balcony bathtub, and beach. There's a restaurant, a poolside bar, and a library on the premises too. However, the hilltop spa and fitness center undoubtedly have the best views on the island.
Guest Reviews: Perfect location, quiet and relaxing atmosphere. But WiFi is terrible and slow.
Star Rating: 5 stars
Best Rooms: Two-bedroom owners signature villa
Address: Sainte Anne Marine Park, Round Island Seychelles
---
10. Constance Ephelia
At this resort, you will find the biggest spa village on the Indian Ocean. Constance Spa is set inside a tropical garden, offering eighteen treatment rooms, a sauna, and a thermal pool. Besides wellness, Constance Ephelia also gives prominence to the surrounding nature. You'll get the most stunning photos of palm trees and green vegetation here. If you're brave enough, zip-lining through the jungle will be your favorite activity. The onsite restaurants and bars, tennis courts, and boutiques are welcome additions too. For extra privacy, the Hillside Villas are at a remote location, all with private pools and spacious living spaces.
Guest Reviews: Gorgeous location, lovely facilities, delicious food. Slow internet.
Star Rating: 5 stars
Best Rooms: One-bedroom hillside villa with private pool
Address: Port Launay, Mahe, 21000 Port Glaud, Seychelles
---
11. Hilton Seychelles Northolme Resort & Spa
This 5-star hotel is a good fit for those wishing to sightsee and island hop. A daily shuttle takes you to Victoria, Seychelles' capital, where you can buy local crafts and souvenirs. Alternatively, ocean lovers can join scenic boat tours and sailing adventures. For guests, who would rather stay onsite, there's a spa, a golfing deck, and infinity pools to enjoy. Both restaurants here give vivid ocean views, as the Ocean View Bar draws you in with a 007-inspired menu. The Oceanfront Villa is raised above the beach, making swimming in the ocean easy. It features two comfortable bedrooms, luxury bathrooms, and a terrace with a pool.
Guest Reviews: The most beautiful place I've ever been – great views, villas, and service.
Star Rating: 5 stars
Best Rooms: Two-bedroom oceanfront villa
Address: Glacis, Beau Vallon, Seychelles
---
12. Raffles Seychelles
In the heart of Praslin, Raffles Seychelles enchants guests with its blue-roofed villas. The Two-bedroom Villa is a favorite among families. This stylish villa has endless ocean views, a deep soaking tub, and a private pool. Hotel guests adore the complimentary butler service, which makes relaxing here simple. Extra amenities consist of pools and a spa with open-air massage pavilions. The Sugar Palm Kid's Club also arranges fun activities for little ones, like crab hunting and beach football. In the prime dining venues here, you can try Asian delicacies or take mixology classes.
Guest Reviews: Gorgeous secluded location of villa with pool. Dinner was overpriced. 
Star Rating: 5 stars
Best Rooms: Two-bedroom villa
Address: Anse Takamaka, Belle Sainte Anne, Seychelles
---
13. Hilton Seychelles Labriz Resort & Spa
Hilton Seychelles Labriz Resort & Spa is another family-friendly accommodation. It is the only resort on Silhouette Island, making your stay here very safe and peaceful. Kids love the Island Academy's cultural and leisure activities. Meanwhile, parents revel in their time by the pools or doing morning yoga. The onsite diving center is famous for catering to all ages, even offering unique night dives. For dining and drinks, the resort has many restaurants and bars, each offering tasty dishes. Pick the spacious Silhouette Estate as the lodging of your family vacation. It sleeps up to six people and has a mosaic-tiled private pool and large lounging spaces.
Guest Reviews: Pool, rooms, and restaurants in front of the beach. It was a dreamlike vacation.
Star Rating: 5 stars
Best Rooms: Two-bedroom silhouette estate
Address: Silhouette Island, 00000 Silhouette Island, Seychelles
---
14. STORY Seychelles
Spend your Seychelles honeymoon at this oceanfront boutique resort. On arrival, thoughtful gestures, like flower decorations and massages, greet newlyweds. At nightfall, head to Eden and enjoy an intimate dinner on the beach, surrounded by glowing lanterns. Onsite Trader Vic's also receives compliments on its cocktails and nightly live music. Make the Beach Villa your home away from home while you're here. A romantic atmosphere prevails due to its canopy bed, private pool, and cabana. Excellent onsite amenities feature a spa, a pool, a tennis court, and an activity center.
Guest Reviews: Lovely hotel. We had the private pool room which was amazing. But restaurants and bars were expensive.
Star Rating: 5 stars
Best Rooms: Beach villa
Address: Bel Ombre Road, Beau Vallon, Seychelles
---
Best Areas To Stay In Seychelles
The Seychelles has 115 islands, all of which await you with stunning scenery. Yet, there are three islands in particular that travelers love exploring. We collected our favorite highlights of each island to help you choose where to stay.
Mahe Island – Mahé Island is the central hub of the Seychelles. Travelers come here to see the sandy-white beaches and to visit the capital, Victoria. Most airlines schedule daily flights to the Seychelles International Airport, which is also on the island. If you're planning a trip to Mahe Island, the best resort is Anantara Maia Seychelles Villas. Based on past guest experiences, you'll love the location and sea views.
Praslin Island – Praslin Island is known for its beautiful beaches, palm trees, and birds like black parrots. So visiting Vallée de Mai Nature Reserve is a must here. Praslin Island also has a more relaxed vibe, where you can enjoy great food and watch beautiful sunsets.
If you want the best stay, guests highly rate Le Chateau de Feuilles for its dedicated staff too. To reach the island, book a flight from Mahe Island or catch a ferry through Cat Cocos.
Felicite Island – Only a 25-minute boat ride from Praslin, Felicité Island is a favored day-trip destination. Spend your idle time in this paradise of a private island filled with forests and hills. But make sure you find time to go snorkeling – the marine life is incredible. As Felicité Island only has one resort, your privacy at Six Senses Zil Pasyon is always guaranteed. The free WiFi is a definite onsite perk too.
---
Best Time To Visit Seychelles
Thanks to its tropical climate, Seychelles generally has beautiful weather throughout the year. With average temperatures between 24 and 30 degrees (72 – 86 Fahrenheit), visitors never have to pack puffy jackets. April to November are the hotter months but it'll be fine if you have access to a private pool from your room. If you want to avoid the crowds, schedule your vacation off-peak season outside of July and August. That said, the most beautiful time to visit the Seychelles is in April. The natural landscape is in full bloom in April, enchanting you with vibrant colors and fragrant flowers. Another good month to travel is October. The water is much calmer for snorkeling and there'll be lively celebrations for the annual Festival Kreol in Victoria.
---
Seychelles Resorts Map
Find More Seychelles Resorts with Private Pools
---
Best Seychelles Pool Villas