Sunny weather, beaches, and parks are what San Diego is known for. This vibrant coastal city is a perfect destination for a family getaway, especially for those with young kids. To make it more exciting, why not stay at the hotel with waterslides and swimming pools? We've found the best San Diego hotels that the whole family will enjoy. You can have it all – from stunning ocean views to a variety of fun activities. There's even one with direct access to the LEGOLAND amusement park. Keep reading and explore the best hotels with fun waterslides and pools in San Diego, California.
---
1. Hilton San Diego Bayfront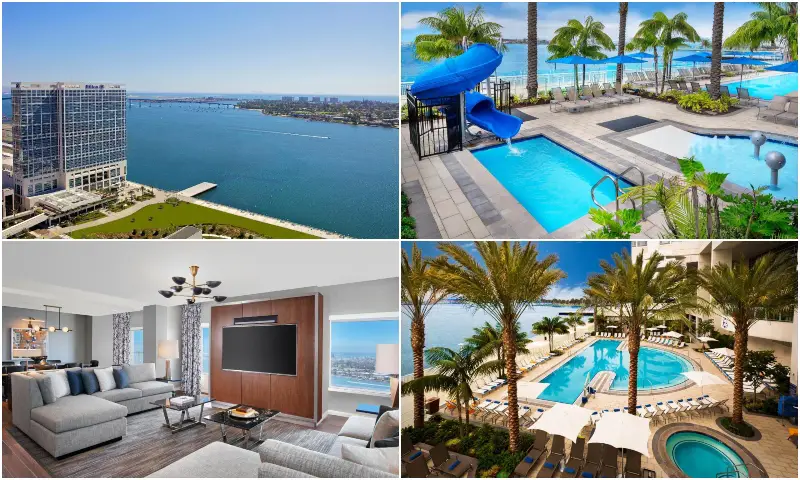 This 30-story oceanfront hotel is a great destination for a fun family getaway. It's within walking distance from Petco Park and many local attractions. The outdoor area includes a saltwater pool, a small waterslide, and waterfall feature. If you want to relax in the shade for a moment while your kids play, The Pool Club is open every day until 8 pm. You can get refreshing drinks like hand-crafted cocktails and California coastal-inspired cuisine. For food, go to the Odysea restaurant for a nice family lunch or dinner. You'll also love the rooms – they boast beautiful bayside views. If you want the best rooms, Executive and Presidential Suites are fitted with a large dining table, a kitchenette, and a spacious living area.
Guest Reviews: Wonderful location, ample parking (though not cheap!). The mini water slide for the kids was awesome.
Star Rating: 4 stars
Best Rooms: Executive & Presidential suites
Address: 1 Park Boulevard, San Diego, 92101, United States
---
2. Sheraton Carlsbad Resort & Spa
Sheraton Carlsbad Resort & Spa is all about luxury and excitement. Have an adventurous vacation at its resort-style pool with a waterslide fit for kids. You'll also have direct access and a private entrance to the LEGOLAND amusement park. To relax and unwind, visit the onsite Ocean Pearl Spa which offers a variety of treatments and packages. Treat yourself to a gourmet pizza or burger at the 7 Mile Kitchen with patio seating. After a day of fun and sun, take it easy at your comfortable, well-decorated suite. The Ponto Studio Suite features a balcony and floor-to-ceiling windows. There's no doubt that this resort provides an ideal retreat for all ages!
Guest Reviews: The pool was beautiful. We didn't have to leave the hotel to find food. $28/day parking seems expensive.
Star Rating: 4 stars
Best Rooms: Studio suites
Address: 5480 Grand Pacific Drive, Carlsbad, CA 92008, United States
---
3. Welk Resorts San Diego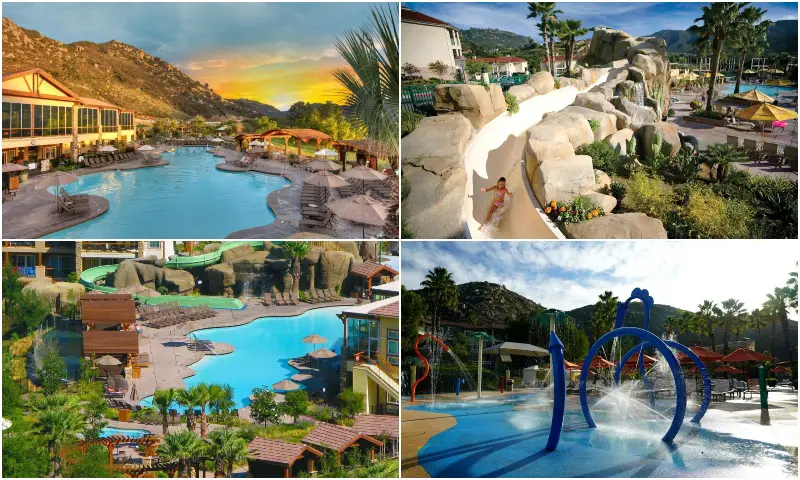 Find endless vacation vibes at Welk Resorts San Diego. Located in the hills of Escondido, this family-friendly resort offers scenic surroundings and versatile activities. It offers five Recreation Centers with swimming pools, hot tubs, slides, and games. The 120-foot waterslide at Mountain Springs Centre is surrounded by decorative rocks and plants. For more entertainment, there's a theatre with Broadway musicals, concerts, and other live shows. You can also play golf or relax at Bello Vita Spa. After all the fun, enjoy a meal at the onsite Canyon Grill restaurant. The accommodation is perfect for families; stunning 2-bedroom Villas feature large living spaces and a private balcony or a patio. Once you experience what Welk Resorts has to offer, you'll never want to leave!
Guest Reviews: The view over the golf course was great. Only one restaurant with a bar was open for limited hours.
Star Rating: 3 stars
Best Rooms: 2-3 bedroom villas
Address: 8860 Lawrence Welk Drive, Escondido, CA 92026, United States of America 
---
4. Omni La Costa Resort & Spa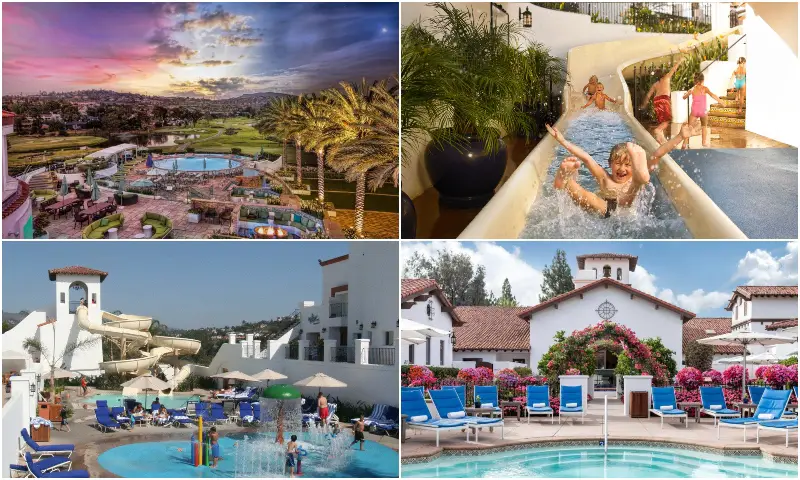 Have an unforgettable Californian vacation at the Omni La Costa Resort. On arrival, you'll find beautiful, spacious villas, perfect for families. The Studio Villa features a private balcony, a full kitchen, and designer furnishings with a fireplace. You'll be steps away from the resort's amazing pool area. It features 8 swimming pools including Splash Landing Pools with waterslides and a Family Pool. There are also hot tubs, a seasonal Splash Café, and plenty of cabanas and gazebos to use. For a proper meal, you can dine at the traditional Bob's Steak & Chop House. Magnificent spa and fitness facilities add to the resort's wide range of amenities.
Guest Reviews: My son loved the pool. Also, the hot tubs, water slides & splash pad for the kids were great.
Star Rating: 4 stars
Best Rooms: Villas
Address: 2100 Costa Del Mar Road, Carlsbad, CA 92009, United States 
---
5. Hyatt Regency Mission Bay Spa and Marina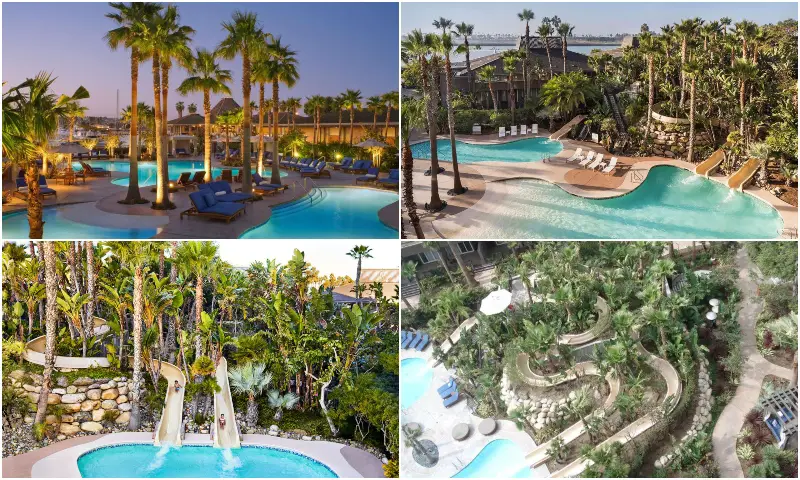 Settled on Mission Bay, this upscale hotel offers panoramic views of the Pacific Ocean. It will also keep you close to many local attractions including SeaWorld San Diego. But what makes this hotel truly unique are the exciting long waterslides surrounded by palm trees. For adults, you'll love the 3 swimming pools and a sunny pool deck with cabanas. Choose from a variety of water sports on the on-site marina. Catch a movie at the outdoor Seaside Cinema. Stay in a stylish, spacious suite with a private balcony. It's everything you need for a dreamy vacation!
Guest Reviews: People definitely come for their water slides. But if you're only here for 1 night, there won't be time to use it.
Star Rating: 4 stars
Best Rooms: Suites
Address: 1441 Quivira Road, Mission Bay, San Diego, CA 92109, United States of America 
---
Where To Stay In San Diego County For Waterslides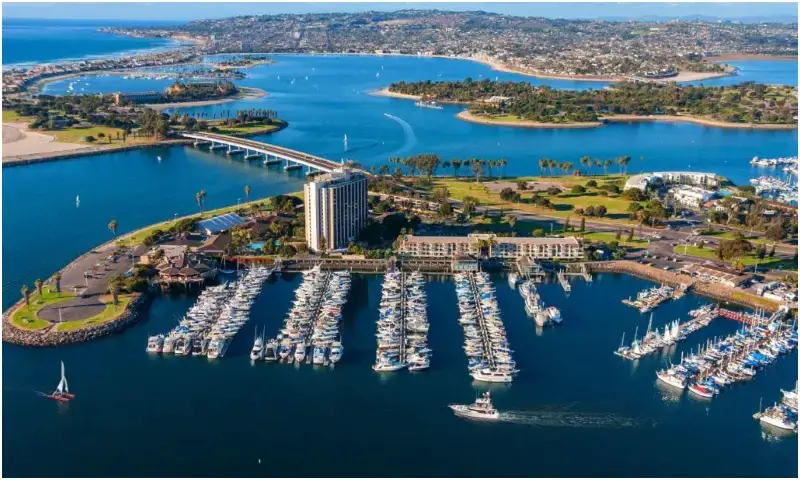 Mission Bay – Mission Bay is a coastal community in San Diego, known for its beaches and parks. There's a wide range of recreational activities including kayaking, sailing, and paddleboarding. Mission Bay is also home to two of San Diego's popular theme parks, SeaWorld and Belmont Park. To make the most of your time here, stay at Hyatt Regency Mission Bay (as pictured above). Onsite, they offer a variety of activities, including thrilling waterslides, 3 swimming pools, and access to a marina.
Escondido – Escondido is a city in Northern San Diego County, offering lots of outdoor recreational activities. There's hiking, fishing, and the most popular attraction San Diego Zoo Safari Park. Stay at Welk Resorts San Diego which is one of the most popular family resorts in Escondido. They offer 5 outdoor recreation centers, including Mountain Spring's 120-foot waterslide.
Carlsbad – Carlsbad is a coastal city in San Diego County, known for its beaches and mild climate. Visitors can explore the beaches, or enjoy watersports like surfing or paddleboarding. Carlsbad is also home to Legoland Resort, a popular theme park. Adjacent to Legoland is Sheraton Carlsbad Resort & Spa known for its resort-style pool and waterslide.
---
Best Time To Visit San Diego
The best time to visit San Diego depends on you, and what activities you want to enjoy. If you want to experience San Diego's beaches, pools, and waterparks the best time to visit is June to August. It's the peak summer period, so the weather will be sunny and warm. But be prepared for larger crowds and h igher hotel rates. If you prefer more peaceful surroundings, spring and fall will be much more pleasant.  The days are warm, the nights are cool, and the rainfall is minimal. For the most part, it's still an ideal time to enjoy San Diego's beaches, pools, and waterslides.
---
Best San Diego Hotels With Water Slides For Kids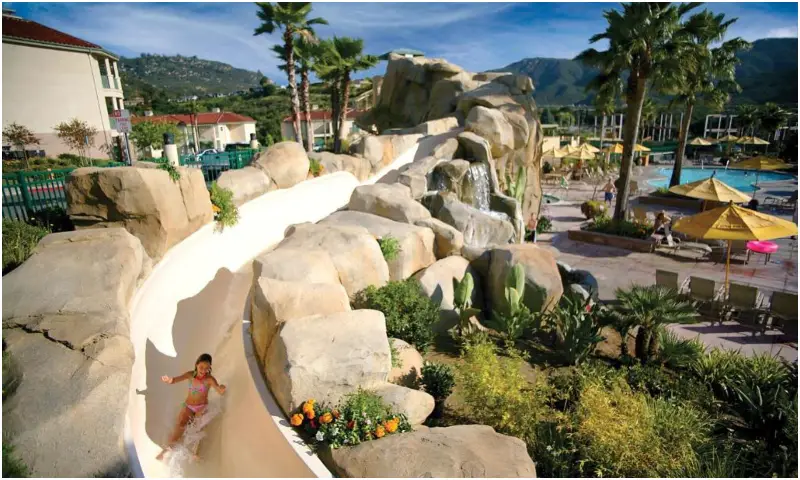 Welk Resorts San Diego (photo) – Welk Resorts offers five incredible recreation areas, each with its own unique swimming pool. For kids, there's a 120-foot waterslide at Mountain Springs and a children's pool at Harmony Hill. Another section onsite is Broadway Hill, offering a variety of games and activities the whole family can enjoy.
Omni La Costa Resort & Spa – This resort offers families an unforgettable San Diego vacation. They feature 8 swimming pools, including the kid-friendly Splash Landing pools and play area. It's next to the family pool and features two thrilling 100-foot slides and a smaller toddler slide.
---
Best San Diego Hotel With Water Activities For Adults
A hotel that's more appropriate for adults is Hyatt Regency Mission Bay Spa and Marina. Besides waterslides, there are three swimming pools and private poolside cabanas. At Hyatt's onsite marina, Mission Bay Sports Center, adults can take water activities to the next level. If you're into human-powered watercraft, there are kayaks, paddleboards, and pedal boats to explore the bay. For something more thrilling and exciting, they offer a range of engine-powered watercraft. You can hire powerboats, jet skis, and even jetboards that hover above the water.
---
More Water Parks in San Diego County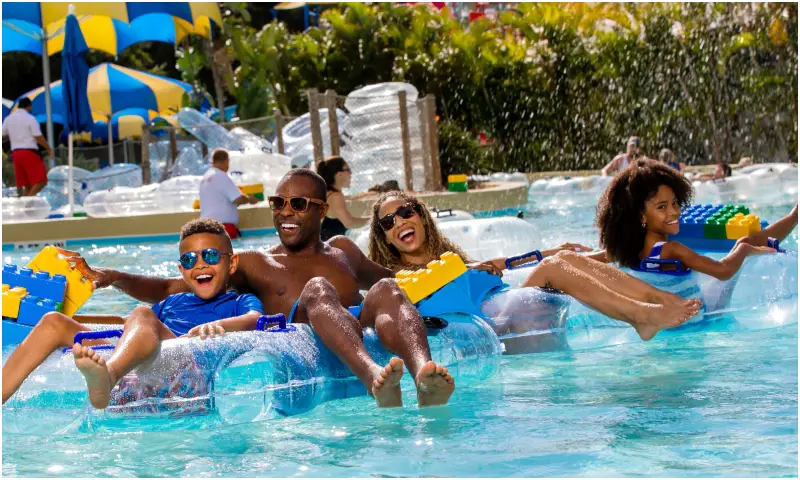 Sesame Place San Diego – Sesame Place is a San Diego theme and waterpark based on the world of Sesame Street. They feature a variety of family-friendly water slides and other attractions. There's Big Bird's Wave Pool and Rambling River, plus Honker Dinger Dash's six colorful slides. If you want to go down slides with friends and family, try Oscar's Rotten Rafts or the six-story thriller Cookie's Monster Mixer.
LEGOLAND Water Park California (photo) – Legoland California has the most popular waterpark in San Diego County. Located next to Legoland Resort, the park offers a wide range of water-based attractions. There include waterslides, wave pools, and lazy rivers all designed around the Lego brand.
The Wave Waterpark – The Wave Waterpark is much smaller compared to the other two waterparks, but they still have enough attractions for a fun day. They have water slides, pools, and splash areas. During summer, they often have special events and promotions.
---
San Diego Hotels Map
For more activities, check out:
If you want to check out other hotels in San Diego, have a look at these articles:
---
Best San Diego Rooms