Are you looking for a romantic B&B in Key West?
This southernmost tip of the USA is located in the state of Florida and has several cool attractions for holiday goers. 
One of the hotspots is Duval Street, an entertainment strip packed with shops, restaurants, and bars.
Suitable for all couples on any romantic occasion.
Around Duval Street, you can find a collection of charming accommodations, allowing you to enjoy Key West and Duval Street for several days.
So if you're going on a journey with your partner, read on to find out more about the best bed & breakfast near Duval Street.
1. Andrews Inn & Garden Cottages
Andrews Inn & Garden Cottages sits right around the corner, within short walking distance from neat bars and eateries on Duval Street.
This bed & breakfast, surrounded by lush tropical vegetation, houses 6 guest rooms in a stylish villa.
Inside the rooms, you'll find tasteful ornaments like the ceiling fan, four-poster beds, and traditional wooden furniture.
Other than charming looks, each room has conveniences like an ensuite bathroom and a private outdoor patio for lounging in the shade.
Andrews Inn & Garden Cottages provides its guests with a long list of free items and services.
Dip into the outdoor pool, or borrow a book from the inn's library.
Each morning, a stunning spread of freshly baked pastries, fruits, yogurt, cereals, and bagels is served at the alfresco dining area.
There's also free parking on-site if you're driving to Key West.
Guest Rating: 9.7
Star Rating: 3 stars
Address: 0 Whalton Lane, Downtown Key West, Key West, FL 33040, United States
---
2. The Artist House
Footsteps away from popular venues on Duval Street lies The Artist House.
Based in a carefully restored 1890s Victorian house, this bed & breakfast boasts rooms with chic French doors, armchairs, golden-framed mirrors, and paintings.
The Artist House has some excellent features in its enchanting rooms and suites on top of the classic characteristics.
Most of the dwellings have a fridge, private outdoor deck, airconditioning, and flatscreen TV.
While the more luxurious suites come with a stunning spiral staircase and a bathtub.
On the shared patio of The Artist House, you can open a book, eat breakfast, hang out with your lover, or enjoy the happy hour with affordable drinks.
Breakfast here contains juices, hot drinks, yogurt, cereals, and baked goods.
This will certainly set you up for a romantic day of exploring in Key West.
Guest Rating: 9.5
Star Rating: 3 stars
Address: 534 Eaton Street, Downtown Key West, Key West, FL 33040, United States
---
3. Amsterdam's Curry Mansion Inn
Amsterdam's Curry Mansion Inn looks like a fairytale castle from the outside, but it actually is a fully-functioning B&B with 16 comfy guest rooms.
Although all rooms have their own charm and personality, we would prefer the master suites with their private balcony and spa bath to enjoy an amorous trip.
At the property, you'll have plenty of options to snuggly relax with your partner.
Amsterdam's Curry Mansion Inn has a library, several fireplaces, and board games to make yourself comfortable. 
On sunny days – which often occur – dive into the B&B's outdoor pool or rest under the poolside umbrellas with a chilled drink.
It's best to get your drink during the open bar cocktail happy hour when the drinks are cheap.
Some free tidbits include complimentary WiFi, parking, and a full breakfast that includes eggs of your choice, fruit salad, bread, spreads, milk, and cereals. 
Guest Rating: 9.4
Star Rating: 3 stars
Address: 511 Caroline St, Downtown Key West, Key West, 33040, United States 
---
4. Avalon Bed and Breakfast
Avalon Bed and Breakfast is located on Duval Street itself, but it's on the quieter end of this party strip.
Pick from 19 painstakingly revived rooms in this late 19th-century mansion.
It sits opposite The Key West Butterfly and Nature Conservatory.
To be inspired for a romantic holiday, order a romance package to get a bottle of welcome champagne, rose petals on the bed, and a swan towel decoration.
For a romantic getaway or even honeymoon, the Balcony King Room is highly recommended.
It features a coffee machine to kickstart your day and a spacious private balcony for some serious downtown with your lover.
Help yourself to a morning feast, which is spread out in the dining area.
A continental breakfast with croissants, bagels, fruits, meat cuts, and eggs will certainly get you ready for the day.
Guest Rating: 9.3
Star Rating: 3 stars
Address: 1317 Duval Street, Downtown Key West, Key West, FL 33040, United States
---
5. Southernmost Point Guest House
Find yourself in a jungle retreat called Southernmost Point Guest House, where exotic flowers and plants pop up all around the house.
The two-story manor boasts 13 rooms to back down with your partner, including some charming suites packed with amenities.
On top of a fully-equipped kitchen and separate dining area, these ample residences have a private patio with either ocean or Duval Street views.
The inn's bar referred to as the southernmost pub in the US, is the perfect place to romantically sip on cocktails or other refreshing beverages.
Unwind in the B&B's pool or the heated spa, or head for the coastline with the complimentary beach towels.
If you're planning to stay for a more extended period, the Southernmost Point Guest House has a self-service laundry machine and in-room fridges for keeping your food.
Guest Rating: 9.2
Star Rating: 3 stars
Address: 1327 Duval Sreet, Downtown Key West, Key West, FL 33040, United States
---
6. Old Town Manor
The Old Town Manor is just a stone's throw away from the buzz and action of Duval Street.
Its wooden facade and tropical gardens make for an inviting ambiance, and inside, 14 uniquely designed rooms await.
It may be hard to choose among the one-of-a-kind guest residences, but the Anniversary Queen Suite is a particularly commendable option for honeymooners and couples.
Enjoy the charming four-poster bed with its bed-facing TV, private balcony overlooking the property's vegetation, homely armchairs, and the large ensuite bathroom.
The morning meal is served on the property's outdoor deck and consists of yummy dishes like waffles, sweet pastries, cheeses, and even smoked salmon.
To accompany the food, you can choose from a selection of teas, coffee, juices, and (vegan) milk.
Old Town Manor is a pet-friendly B&B, and they even welcome your animal friends with dog beds, water, food bowls, plus bags for taking them on a day trip.
Guest Rating: 9.2
Star Rating: 3 stars
Address: 511 Eaton Street, Downtown Key West, Key West, FL 33040, United States
---
7. L'Habitation Guesthouse
This adult-only B&B is close to all features that make Key West attractive: the beach, Duval Street, and several cultural venues.
Look for your holiday nest between the exotic plants, and find shelter from the sun in queen rooms, king rooms, or suites.
To celebrate your dreamy trip in the best way possible, reserve the two-bedroom suite.
Here, you can seek the comfort of the lounge with its sofas, TV and board games, and generous bathroom.
All of the guest rooms are equipped with a small fridge, an iron and iron board, as well as access to free WiFi.
Savor a cup of coffee or the complete breakfast spread on the B&B's communal terrace while reading the newspapers provided by the hosts.
Alternatively, you can request to have the morning banquet served in your room or suite.
Guest Rating: 9.1
Star Rating: 3 stars
Address: 408 Eaton Street, Downtown Key West, Key West, FL 33040, United States
---
8. Duval Gardens
If you want to be as close to the action on Duval Street as possible, look no further than the Duval Gardens B&B. 
This building has served as an ordinary house and a boarding house for soldiers during World War II.
But now it has the noble function of guest lodging.
No matter which room you choose within this charming bed and breakfast, you'll always have a flatscreen TV, a private bathroom, and snug bathrobes at your disposal.
Are you thinking of preparing a surprise meal for your lover?
Pick the King Junior Suite equipped with a kitchenette with stove, oven, fridge, and microwave.
While the rooms are already fully-featured, the inn adds to that with a cozy outdoor pool for guests.
A complimentary welcome drink and breakfast are also included in the room rate.
On the verandah, you can indulge in a banquet feast with tropical fruits, yogurt, eggs, pastries paired with juices and hot drinks.
Guest Rating: 9.1
Star Rating: 3 stars
Address: 1012 Duval Street, Downtown Key West, Key West, FL 33040, United States 
---
9. Coco Plum Inn
Coco Plum Inn occupies two Victorian houses, both dating back to the 1890s.
The B&B is positioned one street away from the nightlife destination Duval Street and 5 minutes away from the Key West Lighthouse by foot.
Coco Plum Inn prides itself in having affluent queen and king rooms and even a grand 3-bedroom suite.
For a holiday break to remember, add the king with a private patio and whirlpool bath to your reservation cart. 
A nice way to unwind is dipping in the resort's outdoor pool, which is open to guests 24 hours per day.
Watch birds and butterflies float by from the B&B's large deck that overlooks rich foliage.
Pamper yourself during the first meal of the day, and gorge on different styles of eggs or cherry and chocolate waffles.
Guest Rating: 9.0
Star Rating: 3 stars
Address: 615 Whitehead Street, Downtown Key West, Key West, FL 33040, United States
---
10. Duval House Bed and Breakfast
As a resort for adults alone, Duval House Bed and Breakfast is an oasis of peace and tranquillity for the perfect romantic escape.
This guest lodging has several types of rooms, ranging from serene queen rooms to apartment-style residences.
Select the duplex apartment or suite.
You'll have a coffee machine, a large balcony, a lay-flat sofa, and a full kitchen with a stovetop waiting for you.
Sit under the umbrella on the shared patio or in the hidden hammock and enjoy the gardens or have a good read on sun-drenched days.
If it's getting too hot, the open-air pool is a superb spot to cool down, after which you can chill in the reclining chairs around it.
The start of the day is a little party at Duval House Bed and Breakfast: revel in a hearty breakfast consisting of waffles, enticing fruits, muffins, and top-notch coffee.
Guest Rating: 8.9
Star Rating: 3 stars
Address: 815 Duval Street, Downtown Key West, Key West, 33040, United States 
---
11. The Casablanca Hotel
Just like most other listings, The Casablanca is a former residence that dates back to the end of the 19th century.
Since it's based right on Duval Street, you'll have no trouble finding the quaint and lively cafes the lane is famous for.
The contrast between the popping artworks, dark wooden furniture, and white walls inside makes spending time inside your room very attractive.
For your romantic holiday, you can choose from a selection of queen and king rooms.
But the most attractive residence here is the king room with a pool view.
Explore a leisure afternoon strolling past the shops and restaurants of Duval Street, or spend some time at the hotel's outdoor pool.
As an alternative, you can simply lounge at the sun deck of this historical accommodation.
Guest Rating: 8.9
Star Rating: 3 stars
Address: 904 Duval Street, Downtown Key West, Key West, FL 33040, United States 
---
12. Marreros Guest Mansion
Experience an unspoiled honeymoon or couple getaway in this splendid house, which is a real eye-catcher. 
A timber facade with captivating arches and colonial-style rooms catapult welcome you to enjoy a completely unwinding holiday experience.
Boasting 13 unique guest rooms, Marrero's Guest Mansion gives you food for thought when booking your trip in Key West.
Savannah is the most appealing room within the estate.
Thanks to its private bathroom complete with shower and bathtub, as well as easy access to the pool and gardens.
Several locations within this inn invite guests to hang out, such as the historical lounge with its plush armchairs or the heated swimming pool.
Happy Hour is a good time to be at the B&B, as you'll be served beer, wine, and snacks on the house.
Before you take off to explore Key West, delve into a breakfast feast that includes bread, bagels, hot drinks, juices, pastries, and yogurt.
Guest Rating: 8.8
Star Rating: 2 stars
Address: 410 Fleming Street , Downtown Key West, Key West, FL 33040, United States
---
13. Seascape Tropical Inn
Seascape Tropical Inn is a historic bed and breakfast packed with guest-friendly amenities.
The rooms here seem to have a beach and ocean theme.
You'll find many blue and yellow shades along with artworks celebrating Key West's beauty.
For a glamorous getaway with your lover, it's suggested to reserve the charming Havana Suite with its private entrance, loft bedroom, cathedral ceiling, and modest kitchenette.
Feel the love in the air and order chocolate-covered strawberries or a bottle of champagne to enjoy in your room.
Do you prefer to go outside and explore instead?
Thanks to the property's concierge service, booking your excursions around Key West is effortless.
Before you start your activities, it's advised to take advantage of the complimentary breakfast, consisting of muffins, waffles, pastries, yogurt, and even mimosas.
Other things to enjoy at the Seascape Tropical Inn are a heated pool with a hot tub, a porch for sunbathing, and tropical gardens.
Guest Rating: 8.7
Star Rating: 3 stars
Address: 420 Olivia Street, Downtown Key West, Key West, FL 33040, United States
---
14. Duval Inn – Key West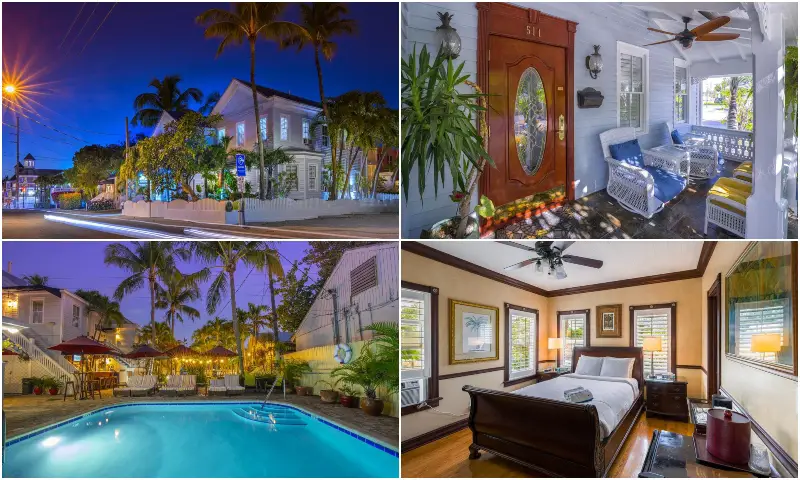 In a quiet side street near Duval Street, you'll bump into Duval Inn – Key West.
The charming B&B is encircled by lush tropical plants, a swimming pool for guests' use, and authentic verandahs that complement houses with this style.
Spread over the lot, you'll find the main house, a cottage, and a bungalow, with a combined number of 13 rooms.
Each of the rooms here boasts a flatscreen TV, a ceiling fan, and an ensuite bathroom, while some of the more upscale residences have a balcony.
Find utter relaxation outside the room, for example, in the pool or the exotic gardens around.
A highlight is the guest-only happy hour early in the evening when an assortment of alcoholic drinks is served for free.
If you're planning a romantic dinner on Duval Street or a cool tour with your partner, the concierge service at Duval Inn – Key West comes in handy.
Guest Rating: 8.6
Star Rating: 3 stars
Address: 511 Angela Street, Downtown Key West, Key West, FL 33040, United States
---
Key West Bed & Breakfast Map
Also read:
Find More Romantic B&Bs in Key West
FAQs
Summary