Rhodes Island is famous for its beaches, natural scenery, and ancient historical sites. One of the best ways to enjoy your trip is by staying at a hotel with a hot tub. Many are adults-only, but some family resorts are included too. We've picked out highly-rated guesthouses, boutique hotels, and beachfront properties. There are hot tubs on the balcony as well as jacuzzi suites with stunning views. Here are the best Rhodes hotels with private hot tubs.
---
Rhodes Island Beachfront Hotels With Hot Tub Suites
Elysium Resort & Spa beachfront location
---
Private Hot Tubs On The Balcony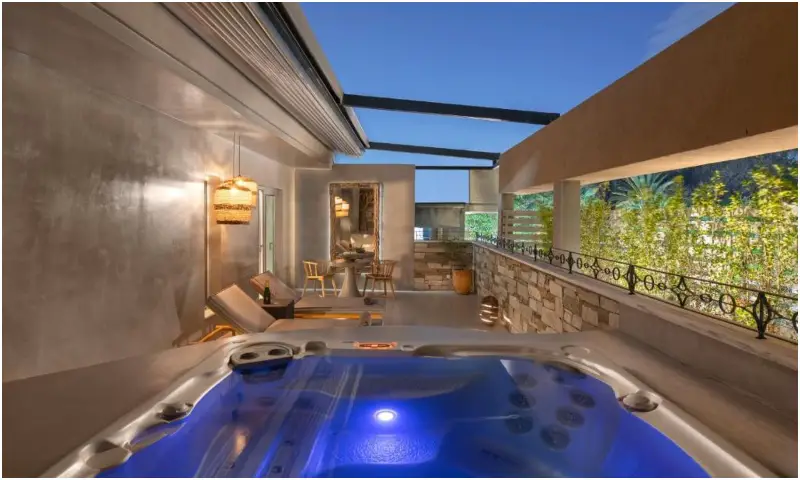 Elakati Luxury Boutique Hotel balcony hot tub
Elakati Luxury Boutique Hotel – Elakati is minutes away from the Medievil City. The Helios King suite has an outdoor jacuzzi area but with a sky roof only. Other luxuries include a hydro massage shower, a hammam, and an infrared sauna.
Limeri Traditional Guest House – Limeri is an old stone-walled guest house on Mount Akramati. The Spa Family suite has a separate master bedroom, single beds, and a spacious outdoor area. The balcony has a luxury spa tub and luscious views of the mountainside.
In Camera Art Boutique Hotel – Situated within the Medieval City, each room is home to a unique photography exhibition. This three-story master suite has panoramic views over the harbor. You'll have a hot tub on the roof terrace. On the first and third floors, there are ensuite bedrooms.
---
Hot Tubs Suites For Families
In Camera Art Boutique Hotel – Forms of Light master suite hot tub
In Camera Art Boutique Hotel – This is one of the best places for families, located in the center of the Medieval City. The Forms of Light three-story suite has two bedrooms with balcony views over the harbor. One is on the first floor, while the second floor is a sitting area with a sofa bed. The master bedroom is on the third floor and you'll find the luxury hot tub on the terrace deck.

Mitsis Alila Resort & Spa – This all-inclusive resort is a good choice for families with older children or teens. There are a number of Family suites, one with a jacuzzi and a Pool suite. The Faliraki downtown is about 5 km south.
---
Private Hot Tub Suites For Couples
Hot tub rooms at Koukos Rhodian Guesthouse
Koukos Rhodian Guesthouse – This classic historic-themed guesthouse is located in the center of Rhodes City. Suitable for couples, it's an adult-only accommodation. The Kavafis suite has an outdoor jacuzzi on a private and romantic gardened terrace. There's also an in-house spa and wellness center.
Elakati Luxury Boutique Hotel – Elakati is located in the romantic locale of Medieval City. Both the Queen and King suites have open-air hot tubs on the private terrace. The King suite has an additional hammam and infrared sauna. This boutique establishment is also adults-only.
---
1. Koukos Rhodian Guesthouse 
Koukos Rhodian is a classic boutique-style guesthouse with a spa. Inside, you will find hard-carved furnishings and traditional ornamentations. Each room has a shaded terrace, a wood-burning fireplace, and a sitting area. For a romantic touch, a number of rooms have spa baths. The best of these is 'Kavafis' with a private outdoor jacuzzi terrace surrounded by a lovely garden.  The Elitis and Ellisavet rooms are also nice choices if you prefer an in-room hot tub. There are handmade pies, puffs, and traditional wood-fired oven bread for breakfast plus afternoon snack offerings. Alternatively, you'll find great restaurants just a short walk from the hotel.
Guest Reviews: Our suite's private terrace with a jacuzzi bath was definitely worth it. Fantastic food and great drinks from the bar.
Star Rating: 4 stars
Best Rooms: Kavafis
Address: Mandilara 20-26 str., Rhodes Town, 81500, Greece
---
2. Elakati Luxury Boutique Hotel 
Elakati is a contemporary luxury boutique hotel incorporating hints of traditional design elements. All rooms have a feel of sophisticated luxury and the Helios king suite lives true to its name. Its spacious enclosed verandah has discreet lighting, two comfortable loungers, and a state-of-the-art hot tub. In the bathroom is a hydro massage shower cabin with a hammam. An additional royal touch is an infrared sauna.  If that's not available, check out the Iviskos queen suite which is just as luxurious. The hotel is minutes away from restaurants, shops, and bars. You can also explore the island on one of their bio-material bicycles.
Guest Reviews: The Helios suite was incredible. We loved the hot tub on the terrace, as well as the wet and dry saunas.
Star Rating: 5 stars
Best Rooms: Helios king suite
Address: Lochagou Fanouraki 29, Rhodes Town, 85100, Greece
---
3. 10GR Boutique Hotel & Wine Bar 
The 10GR is a stone-built, luxury boutique hotel in the Old City. There are deluxe double rooms for the more modest, but other rooms are all luxury suite offerings. The Executive Rhodes and Superior Lindos suites have a hot tub in the bathroom. Additionally, they have a hydro-massage shower and double vanity, but the Executive suite is a lot more spacious. A highlight of the 10GR is its authentic cuisine and Greek wine tasting. The restaurant serves breakfast, lunch, and dinner. Using the freshest Greek produce, you'll enjoy the best cuisines along with vegan and gluten-free choices. Close by are restaurants, bars, nightclubs, and a number of historic sites within the Medieval city.
Guest Reviews: Our suite was roomy and comfortable with a beautiful outside area. The Greek breakfasts were very good.
Star Rating: 5 stars
Best Rooms: Executive suite Rhodes
Address: Polidorou 9, Rhodes Town, 85100, Greece
---
4. Limeri Traditional Guest House 
The stone-walled Limeri Guesthouse blends effortlessly into its rugged location of Mount Akramiti. To one side is the Aegean Sea, and on the other is the green mountainside. Although off the beaten track, this country lodge comes with some assured luxury. The Limeri and Kimisala suites both have a luxury hot tub spa embellished by wood and stone on a private terrace. These suites, suitable for a family, have a king-size bed, a two-person 'pataros' bed, and one single bed. There are additional deluxe and junior suites to choose from. Every day at the restaurant, you can enjoy handmade firewood oven bread and local cheeses. During the day, you can explore the historic Monolithos village, orchids, and hiking trails.
Guest Reviews: Our family suite was perfect. Especially the stone terrace and hot tub. Dinner at the restaurant was delicious.
Star Rating: 5 stars
Best Rooms: Spa family suite
Address: Monolithos, Monolithos, 85108 Greece
---
5. In Camera Art Boutique Hotel 
This hotel is a luxury art concept by acclaimed Rhodian photographer and hotel owner, Nikos Kasseris. Each suite is uniquely designed around photographs and themes from select exhibitions. The Master suite, or Forms of Light, is a three-story suite with the best panoramic views of the harbor. On the top floor are two spacious terraces, sunbeds, and an outdoor hot tub. The suite itself displays photographs from the same-titled 1984 exhibition. A breakfast buffet or in-room breakfast is served every day. There are other hot tub suites such as Terra Incognita showcasing the Thrace of northern Greece. For a little more, you can request massage and salon services in your suite.
Guest Reviews: The Forms of Light suite's views were second to none. The terrace and jacuzzi were our favorites.
Star Rating: 4 stars
Best Rooms: Master suite
Address: Sofokleous 35, Rhodes Town, 85100, Greece
---
6. Port Royal Villas and Spa 
Port Royal is an all-inclusive luxury beachfront resort. It's situated on the east side of Kolymbia – one of the best waterfront locations on the island. Bungalow suites can come with luxuries like a shared pool, a private jacuzzi, or an in-room bathtub. However, the one-room Junior and two-room Presidential suites both have private pools. The private pool includes a whirlpool jacuzzi as do the ensuite baths. Armira poolside restaurant serves Greek specials for lunch between noon and 4pm, with three more dining venues open at night. You can relax outdoors at the Blue Bar lounge to spectacular scenery. For active guests, you'll have access to a tennis court, mini football, table tennis, and fitness instructors onsite.
Guest Reviews: Our bungalow was clean and spacious with incredible views. The spa and the beach were the highlights of our stay.
Star Rating: 5 stars
Best Rooms: Presidential bungalow suite
Address: Main Street, Kolimbia, 85100, Greece
---
7. Nikos Takis Fashion Boutique Hotel 
Right in the heart of the Medieval City, Nikos Takis will take your experience of the past to new elevations. This sumptuously elegant 'fashion boutique hotel' is the creation of the high fashion designers Nikos and Takis. No matter what room you choose, the experience will be hard to match. The Medieval Room has all modern luxuries set to sculptured walls and arches with candle-lit iron chandeliers. Premium suites all come with the added delight of a hot tub. Ontas, for one, is bedecked in Oriental designs, brocades, and silk bedspreads. The Grand Master suite, however, has an outdoor jacuzzi with wonderful ocean views. Services include a gourmet a la carte breakfast and in-room massages.
Guest Reviews: Royal Grand Master suite was so comfortable and the hot tub was perfect. I would come back again just for breakfast.
Star Rating: 4 stars
Best Rooms: Royal grand master suite
Address: Panaitiou 28, Rhodes Town, 85100, Greece
---
8. Rhodos Horizon City
Designed for adults only, Rhodos Horizon Hotel is conveniently located right opposite the Rhodes Casino. The interior has a dominant white theme offset by light grays and browns with occasional bursts of color. The best rooms and suites are those with ocean-view balconies. The Deluxe island suite has a jacuzzi hot tub in the open-plan bathroom. For groups, the City Suite has two king-sized beds in a large single room with separate ensuites. The hotel serves a buffet breakfast and there's a lobby bar to relax in. Other facilities onsite include the ocean-view rooftop pool, table tennis, billiards, and gym.
Guest Reviews: Our deluxe suite with the sea view was the best. Great location, we walked to the beach and the old town.
Star Rating: 4 stars
Best Rooms: Deluxe suite
Address: Amerikis 65, Rodos 851 31, Rhodes Town, 85131, Greece
---
9. Kouros Exclusive Hotel & Suites
Kuoros Exclusive Hotel & Suites offer simple but stylish luxury. There are two pool suites, but the Premium suite has a gorgeous free-form swim-up design. However, if it's a hot tub your looking for, the Executive suite has an outdoor jacuzzi on the furnished balcony. Even better is the Penthouse hot tub suite with a terrace large enough for two sun loungers and an outdoor dining table. For food, try Mediterranean and Asian fusion cuisine at the Terra Med Restaurant and Bar. Dining can either be indoors or outdoors on the terrace. You can also stop by the Pleoni poolside bar for snacks and cocktails.
Guest Reviews: Our suite with a jacuzzi was awesome. The food was delicious and the facilities were amazing.
Star Rating: 4 stars
Best Rooms: Penthouse suite
Address: Apollonos, Faliraki, 85105 Greece
---
10. Casa Cabana Boutique Hotel & Spa 
Casa Cabana is a stylishly modern boutique hotel with a premium spa. The boho chic design incorporates natural and rough woods, wicker, and woven batiks set off against white or stone walls. The large free-form pool is surrounded by sunbathing cabanas and there's also a spacious leafy palm tree garden. Most desirable, however, are the rooms and suites. The Junior suite, designed for couples and honeymooners, has a spacious balcony and an in-room jacuzzi. Superior suites have a jacuzzi on the balcony. If you prefer a larger plunge pool, there are two pool suites, one with a loft sleeping three people. For dining, The Esan fine cuisine restaurant is considered one of the best in Faliraki for Rhodian cuisine.
Guest Reviews: Our suite was perfect. We could walk to the beach and loved spending time at the spa.
Star Rating: 4 stars
Best Rooms: Junior suite
Address: Odos Agioy Nektarioy, Faliraki, 85100, Greece
---
11. Elysium Resort & Spa 
The Elysium is a luxury 5-star spa resort on the upper-east end of the island near the Kallithia Springs. The resort offers attractive packages for honeymooners or romantic getaways. The Presential suite has an in-room jacuzzi with infinite views over the ocean. For added style and luxury, Club Suites have a hydro-massage jacuzzi tub in the bathroom. Elite Club services include private check-in, an exclusive rooftop restaurant, and a lounge. Fresh Restaurant is a lovely outdoor location for casual Mediterranean fare. Not to be missed, however, is the multi-award-winning Noble Gourmet for the best of Rhodian cuisine. Likewise, the acclaimed Serenity Spa makes the Elysium stand out in more ways than one.
Guest Reviews: Our suite was fabulous. The spa, restaurants, bars, and nightly entertainment were incredible.
Star Rating: 5 stars
Best Rooms: Presidential suite
Address: Faliraki – Kallithea Beach, Faliraki, 85100, Greece
---
12. Mitsis Alila Resort & Spa 
Mitsis Alila is a large all-inclusive spa resort in Faliraki. Their resort has multiple pools and is located beside a Blue Flag beach. The Presidential suite features an outdoor hot tub and two luxury bathrooms. If that's not available, the Junior suites and Family suites also have an outdoor jacuzzi with balcony sun loungers. Ellinadiko has superb poolside dining for authentic Greek flavors. But you can also enjoy Tex-Mex, Pan-Asian, a brunch and burger bar, Pita Corner, Creperie, and pizzas by the beach. For drinks, you can head to the Wine bar, Champagne bar, Beach bar, Pool bar, or Night bar. The full kids club also includes sports, handicrafts, movies, games, a saltwater pool, and water slides.
Guest Reviews: We loved our sea view room with the large balcony. The pools, beach, and restaurants were amazing. 
Star Rating: 5 stars
Best Rooms: Presidential suite
Address: Faliraki – Kallithea Beach, Faliraki, 85100, Greece
---
13. Villa Di Mare Seaside Suites 
Villa de Marie is a historic venue being the first grand hotel of Rhodes and a modern composition of luxury. The multi-awarded Villa di Mare Restaurant is a gastronomical highlight. One of the more lively spots is the Pool Bar, featuring signature cocktails, finger foods, and live entertainment. The Sea Front premiere suites come as one of the best-recommended stays. One has an outdoor jacuzzi pool tub and the other a larger plunge pool – both looking onto the waterfront. There are additional pool suites and bungalows to choose from. Private services can include yoga, pilates, water sports, scuba diving, as well as massage and salon. The hotel can organize premium sightseeing tours and private cruises.
Guest Reviews: We had a private entrance jetted pool room right on the beach. The spa and the restaurant were lovely.
Star Rating: 5 stars
Best Rooms: Sea front premiere suite
Address: 84, Irakleidon Avenue, Ixia, 85101, Greece
---
14. The Ixian Grand & All Suites 
The Ixian Grand features a number of luxury spas and pool suites for all-inclusive relaxation. Deluxe double rooms have an outdoor jacuzzi with either a sea or garden view. For a private pool and a hot tub, try a Grand suite, especially the beachfront one for its beautiful swim-up pool. The Ixian Spa has both a steam bath and a Turkish bath with massage specials for couples. For food, you'll find unique and selective cuisine choices. Vis-a-Vis has American breakfast, Mediterranean dining, and featured international cuisine. For fine Greek food and wine, Milonges poolside is a good choice, and Muza Htista offers Peruvian-Japanese fusion dishes. For Suite guests, there's the exclusive rooftop Alazonia for breakfast and a la carte dinner.
Guest Reviews: Our room was comfortable and the hot tub was excellent. The live band and the nightly shows were marvelous.
Star Rating: 5 stars
Best Rooms: Double rooms
Address: Ixia Beach, Ixia, 85101, Greece
---
Best Areas To Stay In Rhodes For Hot Tubs
Rhodes Town – The capital city on the northern point of the island. There are numerous historical sites to see in the Medieval City. It also has a vibrant nightlife and plenty of shopping choices.
Kallithea Beach – Kallithea is on the east side of the island about 8 km south of Rhodes Town. It's famous for its crystal clear Aegean waters and white sandy coves. You'll find the bars, clubs, and restaurants here a little more laid back.
Faliraki – Faliraki is a popular resort town about 5 km down from Kallithea Beach. It is also well-loved for its beaches, blue waters, and exciting nightlife. With broad and long beaches, it is great for water sports.
Kolymbia – Kolymbia is about halfway between Rhodes and Lindos. It has a wide beach which is suitable for families with young children. In the area, there are plenty of resorts and hotels too. It's also a place for snorkeling, good food, boat excursions, and water sports. You can explore the nearby village or hike to Seven Springs.
Ixia – Ixia is a popular, energetic beach town on the west coast. It has everything from upscale to downtown with plenty of bars and restaurants along the main strip. It's only a 10-minute bus ride or taxi to Rhodes Central which has better sightseeing, swankier clubs, and more exciting shopping.
---
Best Places To See In Rhodes
---
How To Get Around Rhodes Island
If you're not going far from your base, taxis, and city buses are your best choice. Taxis routes are charged to a set price and city bus tickets range from 1 to 7 Euros. It's best to buy a Wave travel card or use the smart app to charge as you go. For Rhodes Old Town, there is a hop-on hop-off bus and cars are not allowed. To get around the island, the best option is a rental car or scooter. Public air-conditioned buses also run between major towns, villages, and key tourist sights, but transfers may take up time. If you prefer, there are numerous bus, boat, and curated tours available. Also popular are cycling routes around key island locations where you can easily rent mountain or pro bikes.
---
Best Time To Visit Rhodes Island
When deciding on the best time to visit Rhodes Island, there are three main things to consider:
Weather and Climate – Rhodes Island, located in the Aegean Sea, enjoys a Mediterranean climate with hot summers and mild winters. If you like warm weather for outdoor activities and using the hot tub, the best time to visit would be during the summer months. This is from June to September. During this period, temperatures range from 25 to 35 degrees Celsius (77 to 95 degrees Fahrenheit).
Hotel Availability and Rates – The popularity of Rhodes Island attracts a large number of tourists during the peak season. So hotel rates tend to be higher, especially for hotels with hot tub rooms. If you're looking for better deals, consider visiting during the shoulder seasons of spring (April to May) or autumn (September to October). This is when the weather is still pleasant, and there are fewer crowds. During these periods, you may have a better chance of finding hotels with hot tubs at more affordable prices.
Personal Preferences – Besides the weather and availability, your personal preferences should also influence your decision. Some travelers enjoy the hustle and bustle of peak season. While others prefer a quieter and more relaxed atmosphere. Additionally, if you're interested in exploring other attractions on the island, you may want to consider the tourist season. Places like historical sites or natural beauty spots will be more accessible.
---
Rhodes Hotels Map
Find More Rhodes Hotels with Hot Tubs
---
Best Rhodes Island Hot Tub Suites