Puerto Vallarta is one of the most popular Mexican resort towns along the Pacific Coast.
After exploring the historic cobbled streets, we know most visitors want to relax back at the hotel.
Fortunately, there are plenty of places to stay where you can have your own hot tub to soak in.
We'll show you properties on the beach, all-inclusive hotels, and secluded boutiques.
If you want the beach vibes near bars and restaurants, there are great options in the Romantic Zone too.
So before you plan your trip, check out the best Puerto Vallarta hotels with private hot tubs.
1. Villa Lala Boutique Hotel
Wild and romantic, this Adults-Only stay is built on the hillside next to the ocean.
It's nestled among palm trees with easy access to a private bay and beach.
In the morning, you'll be waking up to beautiful jungle or ocean views.
All the suites are spacious and have comfy beds with Egyptian Cotton sheets.
But if you want the best, check out the King suite with ocean views.
Couples will love the open-air layout of the private outdoor plunge pool and hot tub.
Dine at the Romantic Restaurant serving breakfast, lunch, and dinner, or opt for a special set-up on the water.
There's also an outdoor guest pool, salt pool, and common green areas for guests.
Guest Rating: 9.7
Star Rating: 4 stars
Best Rooms: King suite with ocean view
Address: Carretera Puerto Vallarta- Cihuatlan, 48354 Puerto Vallarta, Mexico
---
2. Grand Miramar All Luxury Suites & Residences 
Built atop the highest point in the city, Conchas Chinas, you'll be spoilt with the best scenery at Grand Miramar.
We highly recommend the Master Suite with ocean views – it's open, bright, and clean.
It feels like your home-away-from-home, from its grand sweeping balcony to the modern kitchen.
Start the day with a morning hot tub session on the patio.
For foodies, dine at Eugenia Restaurant for an Haute cuisine experience.
Or, check out Cielito Lindo for a local celebration.
Grab drinks at the adults-only La Terraza, or enjoy sunset hour with cocktails at The Gin Joint.
There's also a Spa and Wellness Centre and four swimming pools for guests.
Guest Rating: 9.2
Star Rating: 5 stars
Best Rooms: Master suite with ocean view
Address: Paseo de los Corales 139, Conchas Chinas , 48390 Puerto Vallarta, Mexico
---
3. Hotel Mousai 
If you're looking for a stay that exudes vibrancy, you'll want to check in to Hotel Mousai.
Sleek and sophisticated, the adults-only beachfront hotel shows off contemporary design.
The funky interiors extend to all of the hotel's suite options.
Stay in the north or newer south-facing building and book the Ultra Mousai Corner Suites.
Wake up to sea views, enjoy coffee from your hammock, and laze away in the private outdoor hot tub.
The infinity rooftop pool is a showstopper, and in the evening DJs take center stage.
Enjoy Japanese at Hiroshi, contemporary Chinese cuisine at DAO, or an Italian feast at NOI.
Fully equipped, there are tennis/basketball courts, as well as a luxury guest spa.
Guest Rating: 9.2
Star Rating: 5 stars
Best Rooms: Ultra Mousai Corner Suites
Address: Carretera a Barra de Navidad KM 7.5, 48390 Puerto Vallarta, Mexico
---
4. The Westin Resort & Spa, Puerto Vallarta
Located on its own private beach, you can expect all the luxuries at Westin Resort & Spa.
Grab a bike and explore the lush gardens and grounds or enjoy a massage on the beach.
The tropical hotel gives off all the Casablanca feels – including the low ceilings.
All room options have a luxurious old-world feel, but book the Presidential Suite for something extra special.
Hang out at your private pool on the patio, or relax inside in your Moroccon-inspired Jacuzzi spa bath.
There are three guest pools, including a kids pool, as well as a Beach Club.
On-site dining options include Arrecifes Seafood & Steakhouse, El Palmar Restaurant, and La Cascada Restaurant & Bar.
Apart from being family-friendly, they're pet-friendly too!
Guest Rating: 8.9
Star Rating: 4 stars
Best Rooms: Presidential suite
Address: Paseo de la Marina Sur # 205 Marina Vallarta, Marina Puerto Vallarta, 48290 Puerto Vallarta, Mexico
---
5. Hilton Vallarta Riviera All-Inclusive Resort
The red, blue, and white color theme immediately transports you to a colonial coastal town from a bygone era.
Once you're inside this Hilton resort, the architecture is full of modernity.
If available, book the Presidential King Suite sporting an open-plan set-up and views to die for.
The contemporary suite is bright and spacious, with a separate living area and bedroom.
The bathroom is très chic, and so is the outdoor area.
Enjoy dinner outside on the terrace, or chill with a glass of champagne in your outdoor hot tub.
There are nine restaurants, and three bars to choose from, like Maxal, Sunan, Skybar, and many more.
Adults can enjoy activities like yoga, while the young ones can hang out at the Kids and Teens Clubs.
Guest Rating: 8.8
Star Rating: 5 stars
Best Rooms: Presidential king suite
Address: Carretera Barra de Navidad km 4.5, 48390 Puerto Vallarta, Mexico
---
6. Sunset Plaza Beach Resort Puerto Vallarta
Built right next to the ocean shore, the all-inclusive resort is ideal for both couples and families.
Spend your day on the private beach, at the gym, playing tennis, or getting a facial at ZENSET Spa.
For the best room, check out the Ocean View one-bedroom suite which has its own kitchen, lounge, and dining area.
A gorgeous balcony stretches across the front of the suite, including the bedroom.
The marbled bathroom with its spa hot tub is the epitome of luxury.
For dining, choose between three restaurants; Piccolo Restaurant, El Mirador, and Luciano.
Or, chill with a cocktail at one of the three guest pools.
Guest Rating: 8.7
Star Rating: 4 stars
Best Rooms: Ocean view one-bedroom suite
Address: Diego Rivera 121 Zona hotelera las Glorias, 48330 Puerto Vallarta, Mexico
---
7. Hyatt Ziva Puerto Vallarta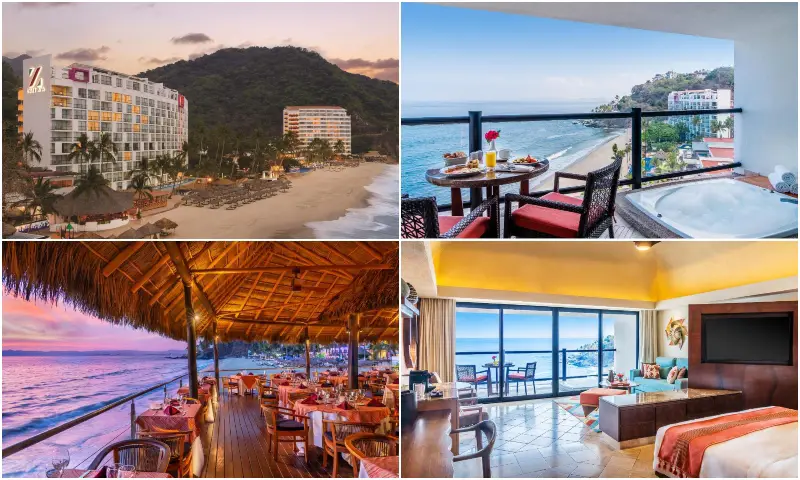 You'll never want to leave once you arrive at Hyatt Ziva Puerto Vallarta resort.
Enjoy food from around the world at one of the 10 dining options, from Latin America to Italy.
Take a nightcap at the HyghlightZ Sports Bar or enjoy the hotel's 24-hour room service.
But what most guests love is the private beach, Las Estacas.
If you book the Club oceanfront room, there's a hot tub outside while indoors, it's super spacious.
Or, check out the One-bedroom plunge pool if you prefer to cool down.
Although, nothing beats chill time on your private beach cabana.
There's also a tennis court, infinity pools, and a fitness center for more active travelers.
Guest Rating: 8.7
Star Rating: 4 stars
Best Rooms: Club ocean front hot tub king
Address: Playa Las Estacas S/N, Puerto Vallarta Jalisco, 48300 Puerto Vallarta, Mexico
---
8. Almar Resort
Warm and welcoming, the LGBTQ+-friendly stay will have you feeling fabulous from the get-go.
Wake up to a backdrop of palm trees and the ocean in the Grand Almar room.
More like an apartment, it has its own living room, dining area, kitchen, as well as a private balcony.
The room decor is fresh and elegant and you'll spot the hot tub in your separated open-plan bedroom.
Located in the heart of the trendy Zona Romántica district, there's much to do and see around you.
Plus, its Mantamar Beach Club Bar is a renowned party venue with an infinity pool, DJs, and delicious cocktails.
Dust off the beach sand at their Top Sky Bar with its panoramic city views.
The adults-only resort also hosts 'gay weddings'.
Guest Rating: 8.4
Star Rating: 4 stars
Best Rooms: Grand Almar
Address: Amapas 380, Zona Romantica, 48380 Puerto Vallarta, Mexico
---
9. Villa Premiere Boutique Hotel
Classy and charming, this trendy beachfront hotel pays attention to all the details.
All room options boast classic white and blue ocean tones and include a flatscreen TV and free Wifi.
The Master Suite is super romantic with its massive marbled spa bath, plush beds, and butler service.
The master bedroom and lounge both open out onto the patio where the private hot tub sits.
Dine at La Corona for a gourmet treat, La Ceiba for traditional Mexican, or book a group Chef's Table experience.
Try a treatment at the Mind & Soul Spa, or their oxygen bar.
Rejuvenate with beach yoga or take a stroll along the beachfront promenade – just a few minutes walk away.
Guest Rating: 8.4
Star Rating: 5 stars
Best Rooms: Master suite
Address: San Salvador, 117 Colonia 5 de Diciembre, 48350 Puerto Vallarta, Mexico
---
10. Secrets Vallarta Bay Resort & SPA 
Looking for the ultimate resort and spa to unwind at?
Find peace at their onsite Secrets® Spa, built underground like the spa baths of ancient Rome.
If you want the complete package the massive Presidential Suite looks out over the ocean.
Luxurious and lush interiors, the bathroom alone is the size of one bedroom.
You'll find all the bells and whistles like flatscreen TVs, an iPad docking station, and champagne waiting on arrival.
Enjoy your private hot tub, or head down to the guest pool on the beach.
Order a meal from your private cabana, or dine at the Barefoot Grill, Bordeaux restaurant, Castaways restaurant, and more.
Guest Rating: 8.2
Star Rating: 5 stars
Best Rooms: Presidential suite 
Address: David Alfaro Siqueiros No.164 Zona Hotelera Las Glorias, 44333 Puerto Vallarta, Mexico
---
11. Buenaventura Grand Hotel & Great Moments
Palm trees, soft sands, and blue waters…this all-inclusive stay is a 1-minute walk away from Camarones Beach.
Stepping inside, the rooms are all clean and comfortable, with pops of color.
Mixing natural materials for warmth and ambiance, we recommend the Honeymoon Suite.
Arrive to a hot tub filled with Rose petals.
You'll feel transported to Bali in your four-poster bed with billowing white sheets.
Don't miss a day at the outdoor Shakti Spa, or splash about in one of three guest pools.
For families with little ones, you can drop them off at Candu Kids Club.
Guest Rating: 8.0
Star Rating: 4 stars
Best Rooms: Honeymoon suite
Address: Avenida Mexico 1301, 48350 Puerto Vallarta, Mexico 
---
12. The Hacienda at Hilton Puerto Vallarta 
Suitable for adults-only, this romantic stay is where Mexico meets Arabian nights.
From the pool lined with tropical trees to the curved hallways and entrances, it's the little details that make a difference.
The rooms are insta-worthy with funky wallpaper and trendy room decor.
The Junior Suite with its private terrace is really tasteful and elegant.
Unwind in your marbled bath, and the private hot tub has an outdoor room of its own.
Rooms include all the extras like a coffee machine, flatscreen TV, AC, and minibar.
To cool off, the beach is just a three-minute walk, or, splash around the two guest pools.
Dining options include their signature Sea Fire restaurant, II Formaggio, and O West Sushi & Bar.
Guest Rating: 8.0
Star Rating: 5 stars
Best Rooms: Junior suite with terrace
Address: Avenida de las aguilas s/n Zona Hotelera Norte, 48333 Puerto Vallarta, Mexico
---
Puerto Vallarta Hotels Map
Find More Puerto Vallarta Hotels with Hot Tubs
---
FAQs
What's the best Puerto Vallarta beach hotel with private hot tubs?

Located on its very own private beach, enjoy unending sunshine at The Westin Resort & Spa.

Away from the crowds, laze about in your private cabana, and enjoy a meal with your feet in the sand.

The guest pool is right on the beachfront too, and you can even enjoy a luxe spa treatment right here.
What's the best all-inclusive hotel in Puerto Vallarta with private hot tubs?

Hilton Vallarta Riviera All-Inclusive Resort ensures its guests don't have to worry about a thing except having a great time.

Your stay here includes daily breakfast, lunch, dinner, and snacks, plus unlimited drinks/cocktails at the restaurants.

Take advantage of the pool and beach services, enjoy daily activities, nighttime entertainment, and full access to the fitness center.
What's the best adults-only hotel in Puerto Vallarta with private hot tubs?

It feels more like your very own private island at Villa Lala Boutique Hotel.

Designed for couples, explore secret hidden romantic areas, unwind in the infinity pool and take in the sounds of peace and serenity.

Planning on popping the question? The hotel can help set up the perfect space for you.
What's the best hotel in the Romantic Zone, Puerto Vallarta with private hot tubs?

Almar Resort is conveniently located in the Romantic Zone renowned for its trendy restaurants, bars and clubs.

Built on the beachfront, this LGBTQ+ hotel is home to raving parties – where you may even spot a celeb or two.

Book your private hot tub stay in The Almar Tower side if traveling as a couple.
Summary