Are you considering Playa del Carmen for your next beach vacation?
This Mexican town faces the Caribbean Sea and has a pleasant climate throughout the year.
But the beach is not the only place where you can go for a swim.
Many stunning hotels actually have swim-up rooms.
We'll highlight those best for families and couples, some are also all-inclusive.
Read on to find out the best Playa del Carmen hotels with swim-up rooms.
1. Palmaïa – The House of AïA
Resting between a lush forest and the dazzling blue sea is Palmaïa – The House of AïA, a 5-star all-inclusive resort.
The 234 suites here are wonderfully elegant and rustic, with wooden ceilings, classy rugs, and comfortable sofas.
Highlights are the swim-up suites, from where you can dive straight into the hotel's enormous lap pool.
Inside most rooms, a large soaking tub, generous lounge area, a high-end coffee machine, and a TV with streaming services await.
Furthermore, most residences have a private and furnished balcony with garden and sea views.
For an enchanting dinner date, head to Palmaïa – The House of AïA's own vegan restaurant.
Here, you can experience what magic the chefs can bring with plant-based ingredients.
You can also join traditional rites or lay down for a heavenly spa treatment in the jungle.
Guest Rating: 9.6
Star Rating: 5 stars
Rooms: King & queen swim-up rooms
Address: Paseo Xaman – Ha Manzana1, Fracc Playacar, 77710 Playa del Carmen, Mexico
---
2. Secrets Maroma Beach Riviera Cancun 
Secrets Maroma Beach Riviera Cancun is both an adult-only and all-inclusive hotel.
Offering nothing but the most luxurious experiences, this resort has an endless list of amenities.
Travelers can delve into a luscious pool complex, entertaining shows at night, and a 13,000 square foot wellness center.
For the best room, we recommend reserving a Junior Swim-Out Suite.
You can dip your toes in the common pool from your private patio or swim some laps across the property.
Secrets Maroma Beach Riviera Cancun has 9 restaurants and 5 bars, varying from fine dining venues to low-key pubs.
Visit the giant spa center for some relaxation, join in for a yoga class, or have fun with a cocktail mixing session.
Guest Rating: 9.4
Star Rating: 5 stars
Rooms: Junior suite swim-out king rooms
Address: Carretera Federal 307 Chetumal-Cancún Km. 306.5 Solidaridad,, 77710 Playa del Carmen, Mexico
---
3. Hilton Playa del Carmen
Near the beating heart of the town lies Hilton Playa del Carmen. 
This 5-star getaway provides guests with extravagant eateries, spectacular shows, pools, and cultural experiences.
All of the accommodations here are suites, but for swim-up options, you'll have to go with the Junior Suite Swim Up King residences.
Outside your personal patio, you'll have direct access to the canal-like pool.
There are even reclining chairs placed on the surface of the pool, allowing for some serious relaxation.
Culinary and cultural endeavors are available at any time of the day. 
You can dine at one of the 7 exotic restaurants, get dancing classes, or savor Mexican food and drinks tastings.
Guest Rating: 8.9
Star Rating: 5 stars
Rooms: Junior suite swim-up
Address: Constituyentes No 2, 77780 Playa del Carmen, Mexico 
---
4. Grand Hyatt Playa del Carmen Resort
Indulge in 5-star bliss at the Grand Hyatt Playa del Carmen Resort.
Being a seaside hotel, this property boasts suites with exquisite ocean views plus ocean-facing lounge chairs and umbrellas.
Inside, the 278 rooms and 36 suites cater to all your holiday needs, such as large TVs and private balconies.
For a fantastic swimming experience, book the Swim-Up King or Swim-Up Two Queen Beds.
At your personal porch, you're just footsteps away from the stairs leading to a shared swimming pool.
You can plan spa treatments, a gym session, or a visit to the gift shop to bring home some precious souvenirs.
Grand Hyatt Playa del Carmen Resort is an excellent pick for families.
Thanks to the family rooms, the fun kids club, and a shallow pool for toddlers, you'll have a great time at this hotel.
Guest Rating: 8.8
Star Rating: 4 stars
Rooms: Swim-up king room
Address: 1a. Avenida esquina Calle 26, Colonia Centro, 77710 Playa del Carmen, Mexico 
---
5. Paradisus Playa del Carmen
Situated near the buzzing resort town center is Paradisus Playa del Carmen.
Enjoy the ecstasy of 5-star splendidness at this 5-star resort, which directly borders the sea.
Some of the deluxe suites come with a whirlpool tub, plus swim-up opportunities.
The hotel even has an attractive swim-up bar to complete the fun pool experience.
Other standard amenities inside most accommodations include a separate seating area, a flatscreen TV, and a massive ensuite bathroom.
Fill your tummy with nourishing Latin cuisine at Fuego, savor Mediterranean dishes at Vento, or choose from no less than 20 other bars and restaurants.
Paradisus Playa del Carmen offers guests to stay on an all-inclusive basis that covers all foods, drinks, and most activities.
Guest Rating: 8.7
Star Rating: 5 stars
Rooms: Deluxe swim-up suites
Address: Quinta Avenida Esquina Calle 112 Norte Lote 1 Manzana 569, 77719 Playa del Carmen, Mexico
---
6. El Dorado Maroma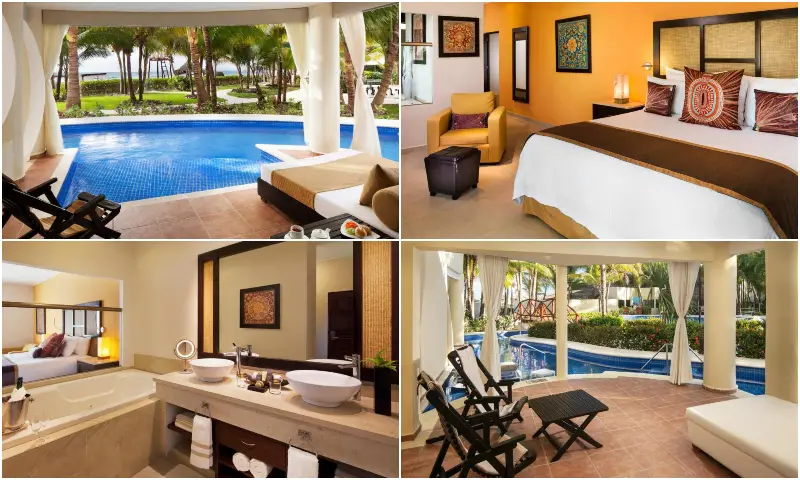 Inches away from the beach, you can smell the salty scent of the Caribbean Sea at El Dorado Maroma.
Part of the action here happens at the beach, where umbrellas, reclining chairs, hot tubs, and water activities await. 
In the actual suites of El Dorado Maroma, you'll have a minibar, generous bathtub, and a private porch.
There'll be plenty of time to chill with a drink at hand.
The Swim Up Suite and Royal Swim Up Suite grant guests immediate access to the river-shaped pool complex.
All you have to do is descend the stairs from your private furnished patio.
After your pool activities, what's better than to sit down for a meal?
Choose Peruvian cuisine at Lima Limon, treat yourself to Asian delicacies at Kiyoko, or sink your teeth into Italian dishes at Mio Cuccina Italiana.
Amusement is provided through water activities like kayaking and paddleboards, cooking classes, and many other pursuits.
Guest Rating: 8.5
Star Rating: 5 stars
Rooms: Swim-up with hot tub
Address: Carretera Cancún-Tulum KM 45, 77710 Playa del Carmen, Mexico
---
7. Mareazul Beach Front Resort Playa del Carmen
Mareazul Beach Front Resort Playa del Carmen is home to modern suites with either garden or ocean views.
All the residences are very light and have a minimalist design, making them look even bigger than they actually are.
The spacious suites on the ground floor grant you direct access to the outdoor pool.
On the porch that borders this pool, you'll find a hammock, plus a table and chairs for an outdoor dinner party.
One benefit to staying here is the fully-equipped kitchen, including a stove, fridge, toaster, and coffee machine.
In the resort's zen and botanical gardens, you can relax, meditate, or admire the rich flora of Mexico.
Alternatively, you can use the cycling and running track, play a game of tennis, or organize a scuba diving or snorkeling trip.
Guest Rating: 8.4
Star Rating: 4 stars
Rooms: Ground floor apartments
Address: Carretera Federal Km 294, 77710 Playa del Carmen, Mexico
---
8. Ocean Riviera Paradise
For a combination of entertainment and comfortable dwellings, Ocean Riviera Paradise is a desirable option in Playa del Carmen.
Their all-inclusive package allows access to wellness services, sports pitches, nightly parties, and all foods and beverages.
If swim-up options have your interest, it's best to arrange a stay at the Swim Up Junior Suite or Swim Up Master Suite.
After a buffet-style breakfast in one of the hotel's restaurants, there's no greater joy than diving into the pool from your own room.
If you're bringing along your children, they'll enjoy the unique menu options, books, and DVDs provided upon arrival.
While the kids are busy with their activities, you can plunge into the 5 pools or go for a beneficial treatment in the spa center.
On top of that, the resort has bowling alleys, a casino, a basketball court, a games room, and a sports bar.
Guest Rating: 8.0
Star Rating: 5 stars
Rooms: Junior & Master swim-up suites 
Address: Carretera Federal Chetumal Cancun KM 296, Predio Montecarlos Lotes 7, 7-1 y Predio Punta Bete Lote 15-5, 77511 Playa del Carmen, Mexico
---
Playa del Carmen Hotels Map
Besides swim-up rooms, you may also be interested in hotels that have private pools.
Check our guide on the Best Playa del Carmen Hotels with Private Plunge Pools.
Find More Hotels in Playa del Carmen
FAQs
Summary