Oaxaca City is a beautiful place to explore in Mexico, but at times, it can get warm and humid.
For a trip to Oaxaca, you'll want the best hotel to cool off after a day of exploring.
We'll show you the most luxurious places, boutique dwellings, and traditional haciendas with pools.
There are rooms designed for couples, solo travelers and families alike.
So if you're not sure where to stay, here are the best Oaxaca City hotels with swimming pools.
1. Grand Fiesta Americana Oaxaca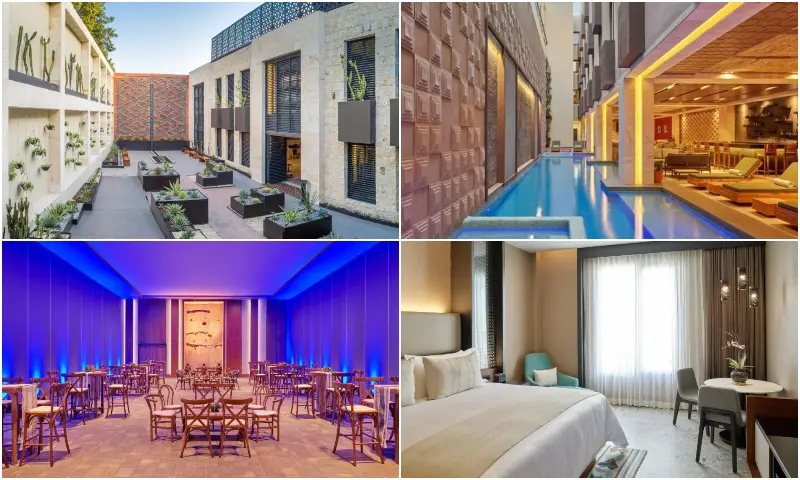 This luxury hotel is positioned in the real heart of Oaxaca City.
Rooms are designed to make you feel at home.
They're all very clean, comfortable, and stylish.
If available, their Presidential and Master suites are the most lavish.
But the Grand club rooms will be excellent choices too if you just want a good night sleep. 
Facilities include a swimming pool, gym, and spa.
A variety of international cuisines are available onsite, although we recommend sampling some of the traditional Oaxacan dishes.
Be sure to visit Salon Agave, the bar which specializes in cocktails made with the region's famous mezcal.
Guest Rating: 9.5
Star Rating: 5 stars
Best Rooms: Grand club rooms
Address: José María Pino Suárez 702, Col. Centro, Oaxaca, Oaxaca, 68000 Oaxaca City, Mexico 
---
2. Holiday Inn Express Oaxaca
If you're after a hotel that offers a location that is perfect to explore the city, the Holiday Inn Express is just that.
It's within walking distance to the Cultural Center, the Temple of Santo Domingo, and a number of craft markets and galleries.
Back at the hotel, there's also plenty to enjoy.
To start with, there's a free breakfast buffet including traditional chocolate from Oaxaca.
There's a swimming pool surrounded by sun loungers and an outdoor patio for relaxing.
A small fitness center is also available.
The rooms are not overly fancy, but they're cozy and have everything you need.
Check out the King suite if you want a small lounge and kitchenette.
Guest Rating: 9.1
Star Rating: 4 stars
Best Rooms: King suite
Address: Diaz Quintas, 115 Centro Historico, 68000 Oaxaca City, Mexico
---
3. Quinta Real Oaxaca
This boutique hotel is housed in the exquisitely restored 16th century Convent of Santa Cataline de Siena.
It has been declared a UNESCO World Heritage Site.
On arrival, you'll see a mix of old-world charm packed with modern amenities and facilities.
Rooms are spacious yet cozy and have expansive windows with excellent views.
For guest convenience, there's a travel agency, dry cleaning, taxi service, and concierge service all onsite.
You'll love the heated outdoor pool with surrounding recliners too.
F&B options include Las Bugambilias Bar which has an a la carte menu.
The extensive drinks menu features a superb selection of wines and cocktails with over 101 types of Mezcal.
Guest Rating: 9.0
Star Rating: 5 stars
Best Rooms: Gobernador King
Address: Calle 5 De Mayo 300, 68000 Oaxaca City, Mexico 
---
4. Hotel Parador de Alcalá
This is one of the smaller hotels in Oaxaca City, but nonetheless impressive.
You'll find 21 well-appointed rooms arranged around a pretty courtyard.
Each features modern facilities such as iPod docking stations and LCD TVs.
The onsite restaurant El Patio, is surrounded by orange trees and is perhaps the heart of the hotel.
As well as a complete American breakfast, a la carte service is offered throughout the day.
The swimming pool on the roof is a nice addition.
It's complemented by a solarium terrace and garden which proffers 360 degree views of the city.
Guest Rating: 9.0
Star Rating: 4 stars
Best Rooms: Suite with balcony
Address: Macedonio Alcalá, 301, Col. Centro, 68000 Oaxaca City, Mexico 
---
5. Hotel Siglo XVII Art Gallery
If you're looking for a traditional hacienda-style property with lots of authentic Mexican charm, look no further.
Hotel Siglo XVII Art Gallery is quite an old hotel located in a lively area of Oaxaca City.
Rooms are on the simpler side but there are plenty of configurations depending on your needs.
All are equipped with seating areas, comfy beds, flatscreen TVs, and private bathrooms.
The swimming pool is set in an attractive, leafy area making it a lovely spot to relax.
There's also a fitness center, bar, and 24-hour reception desk.
Top marks are given to the staff.
Previous guests always seem to comment on how welcoming and friendly they are.
Guest Rating: 8.9
Star Rating: 5 stars
Best Rooms: Executive suite
Address: 111 Calle Porfirio Díaz, 68000 Oaxaca City, Mexico
---
6. Hotel Hacienda
For a quieter stay, amid the Sierra Madre's mountains, Hotel Hacienda is hard to beat.
This hotel is known for its colonial-style architecture.
It's every bit as traditional as it looks too, with brick pathways and an array of antiques dotted around the hotel compound.
The rooms are clean and packed with all the facilities you'll need.
Go for the Junior Suite to allow you a little more space and air-conditioning.
All-day dining is available at Las Canastas restaurant which serves both international and Mexican fare.
When you're looking for some downtime, we recommend you pick a spot by the pool and enjoy a beverage from La Terraza bar.
Useful facilities include currency exchange, secure parking, car rental facility, and guided tour service.
Guest Rating: 8.7
Star Rating: 4 stars
Best Rooms: Junior suite
Address: Av. Eduardo Mata 1918, 68120 Oaxaca City, Mexico
---
7. Hotel Fortin Plaza
Looking for a hotel with a nice view to look at?
Rooms at the Hotel Fortin Plaza come with striking views of either Oaxaca City or the mountains.
There's a choice of rooms including 88 standard bedrooms, 18 suites, and two luxury suites.
They are kitted out with cable TV, coffee makers, and some have private bathtubs.
The pool here has warm water that is typically around 28 degrees.
If you wish to enjoy a meal onsite, there's Nizhanda Restaurant.
It's buffet-style serving a mix of international and fusion cuisine which is accompanied by live music.
If you're traveling for business, there are plenty of event and meeting spaces.
Guest Rating: 8.6
Star Rating: 4 stars
Best Rooms: Executive junior suite
Address: Avenida Venus 118 Col Estrella, 68040 Oaxaca City, Mexico
---
8. La Noria Centro Historico
The La Noria Centro Historico claims to be 'no ordinary hotel, no mere stopover'.
On arrival, you'll see characteristics of Oaxaca City with elaborate culture evident throughout.
Rooms feature helpful essentials and boast both Spanish and Mexican touches.
The Asuncion Restaurante further delves into the Oaxaca lifestyle with delicious specialties for guests to sample.
There's also a bar and a sunny terrace.
While the pool is small, you'll enjoy the mini waterfalls trickling down your back.
Those wishing to step out and explore the city should consider booking a guided tour with the hotel.
Guest Rating: 8.6
Star Rating: 4 stars
Best Rooms: Suite
Address: Av. Hidalgo 918 Centro, 68000 Oaxaca City, Mexico 
---
9. Fiesta Inn Oaxaca
The Fiesta Inn is located in one of the most commercially developed areas of the city.
Sears, Sam's Club, and even Macdonalds are within walking distance if you want to be close to shops. 
There are 145 rooms with a variety of configurations from superior rooms to more luxurious suites.
We recommend the Executive Rooms which are pleasantly designed with comfort and entertainment in mind.
They're fitted with smart TVs, cable, and Chromecast so you can project your favorite shows.
The meeting point of the hotel is Tita Mexican Diner.
Whether you visit for breakfast, lunch, or dinner, dishes here are made with love and the freshest ingredients.
Facilities include an outdoor pool, gym, lobby bar, and gift shop.
One of our favorite features is the digital check-in service – very convenient!
Guest Rating: 8.5
Star Rating: 4 stars
Best Rooms: Executive rooms
Address: Avenida Universidad Numero 140 Ex-Hacienda de Candiani, 68130 Oaxaca City, Mexico 
---
10. Hotel Victoria Oaxaca
Surrounded by 70,000 square meters of tropical gardens, you'll feel instantly relaxed at Hotel Victoria.
All 147 rooms are decorated in contemporary Mexican style.
They're equipped with modern amenities such as air-conditioning, cable TVs, and WiFi.
If you choose a villa or suite, they boast private entrances with views of either the gardens or the city.
El Tule is the onsite restaurant which serves national and international cuisine all day.  
To relax, you can hang out in the lobby or terrace bar.
But it's the outdoor pool where you should sit and chill.
Not only is the pool the largest in the city, but it's also in the midst of the stunning gardens.
Guest Rating: 8.4
Star Rating: 4 stars
Best Rooms: Superior rooms
Address: Carretera International KM. 545, 68070 Oaxaca City, Mexico
---
11. Hotel CasAntica
Slightly smaller in size, the Hotel CasAntica is a pretty property with a home-from-home feel.
There are 49 bedrooms which are compact but functional.
Maximize your space and choose the Presidential Suite.
This room is one of the most lavish and offers a spa bath, balcony, mini bar, and city views.
There's a restaurant onsite called El Pombo which also features a bar and lounge.
But, if you'd prefer to dine in the comfort of your room, then room service is available during selected hours.
Whilst the hotel does indeed feature a pool, do note that it is on the small side.
The front desk is open 24-hours a day, and there are nice touches such as complimentary newspapers in the lobby.
Guest Rating: 8.0
Star Rating: 4 stars
Best Rooms: Presidential suite
Address: Av.Morelos 601, 68000 Oaxaca City, Mexico
---
Oaxaca City Hotels Map
Find More Oaxaca City Hotels with Pools
---
FAQs
What's the best Oaxaca City hotel with a swimming pool near Zocalo?

You'll find the small but perfect La Noria Centro Historico a short walk from Zocalo.

The square is just two blocks away from the hotel.
What's the best boutique hotel in Oaxaca City with a swimming pool?

If it's a boutique property you're after, then we love the Quinta Real Oaxaca.

It's traditional and historic, yet still extremely beautiful and full of facilities.

For something a little more modern, choose Hotel Parador de Alcalá.

Here, you'll love the rooftop pool and solarium.
What's the most luxurious hotel in Oaxaca City with a swimming pool?

The most luxurious hotel in Oaxaca City with a swimming pool is Grand Fiesta Americana Oaxaca.

This five-star establishment has lavish rooms, excellent facilities, and highly personal service from the staff.

The swimming pool is stylish and elegant.
What's the best Oaxaca City hotel with a swimming pool for families?

The Hotel Fortin Plaza has spaces designed to make every member of the family feel comfortable.

The whole family will love the heated swimming pool.

There's also a food service suitable for children, and rooms designed to accommodate families.

Alternatively, the Quinta Real Oaxaca is an excellent option for families too.
Summary