Known as the city that never sleeps, New York City is home to many world-famous landmarks. But more than that, it has a good mix of everything – that's why people keep coming back! New York's rich history, diverse culture, and artistic heritage are also embedded in some luxury hotels. And with stunning views, many of these properties feature suites with private balconies and terraces. We'll also highlight the rooms that are most suitable for couples and families. Here are the best hotels in New York City.
---
1. Casa Cipriani New York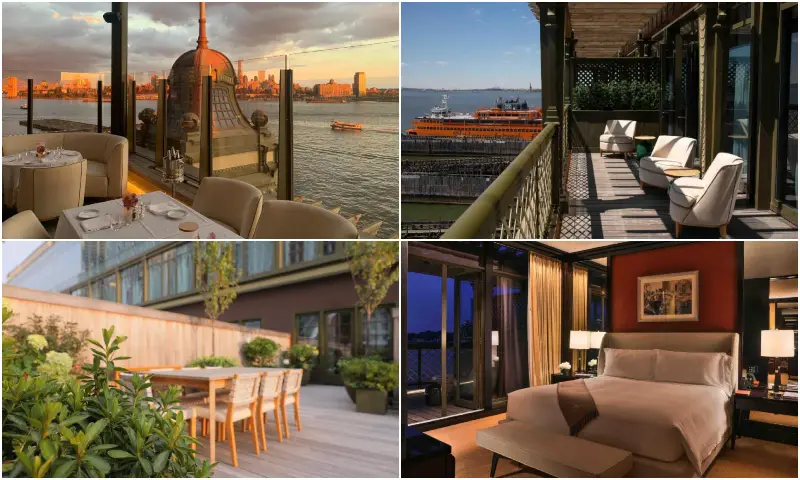 One of the last Beaux-Arts buildings today, Casa Cipriani New York is a 5-star hotel in Lower Manhattan. It exudes timeless elegance and relaxing vibes with interiors in neutral colors. Former guests commended its comfort facilities, stating they had an exceptional stay. Custom Italian furnishings are set in its 47 rooms and suites, many with private balconies and terraces. The 2-Bedroom Verrazano Suite with modern amenities is best fitted for large families. And with a terrace, you can enjoy luxe views of the Brooklyn Bridge and the Statue of Liberty. Besides that, this hotel features a full-service spa and a state-of-the-art fitness center. Food and drinks are served at the exclusive The Club, which hosts several classy restaurants and bars.
Guest Reviews: Outstanding quality of breakfast, excellent staff – calm, beautiful, stylish location with River View.
Star Rating: 5 stars
Best Room: Two-bedroom Verrazano suite
Address: 10 South Street, Wall Street – Financial District, New York, NY 10004, United States
---
2. The Whitby Hotel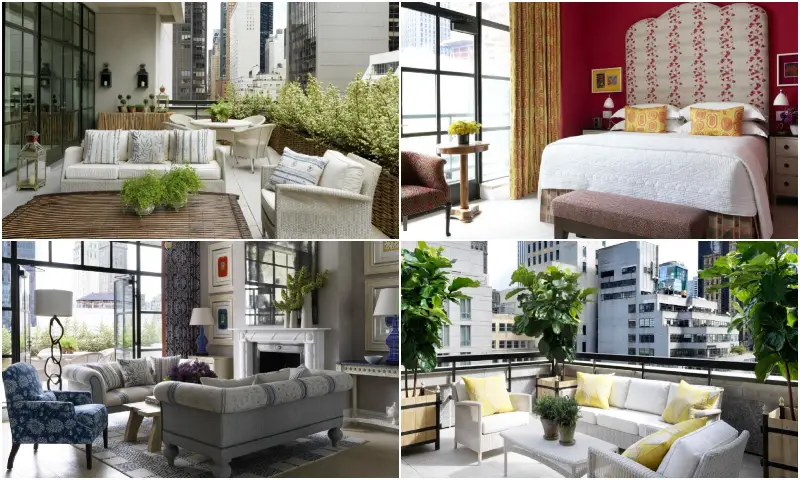 Located a few minutes away from Central Park, The Whitby Hotel is a luxurious boutique hotel. The name comes from a coastal town in England, which is why it embodies modern British elegance. It has afternoon tea and boasts a well-equipped gym, family facilities, and a 130-seater screening room. Sophisticated dining, drinks, and live entertainment are hosted at The Whitby Bar & Restaurant. Art is at its core with pieces displayed in the guest drawing room and event venues. Each of its 86 rooms has artistic designs and large windows, and many feature a private terrace. Large families on an NYC vacation will adore a stay in the spacious 2-Bedroom Whitby Suite. It occupies the entire top floor with a separate living room and 2 terraces overlooking the city.
Guest Reviews: A wonderful warm welcome from staff, lovely comfortable rooms, and communal spaces. Sophisticated and homey all at once.
Star Rating: 5 stars
Best Room: Whitby suite
Address: 18 West 56th Street, New York, NY 10019, United States
---
3. The Maritime Hotel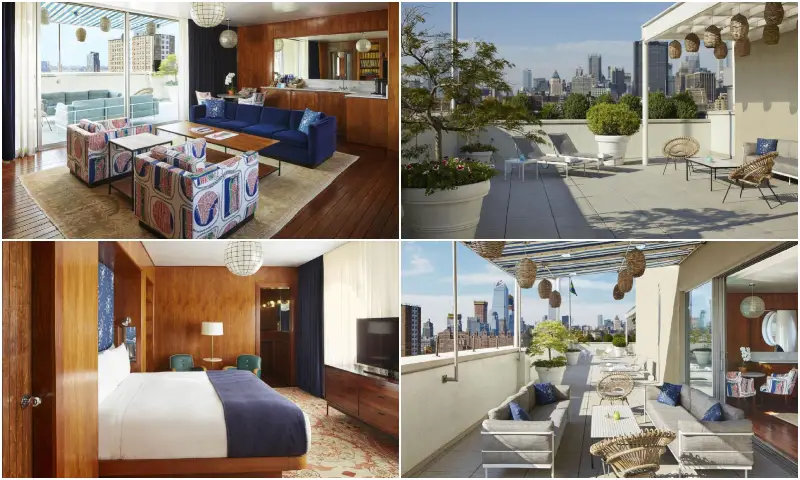 The Maritime Hotel stays true to its name as it welcomes guests to its ship-like, boutique hotel. Situated in Chelsea, Manhattan, it is close to Chelsea Market, the metro, and many other attractions. Though it's not a large property, guests commend the hotel for its location and hospitality. Besides that, its nautical-themed interiors are evident in its furnished rooms and penthouses. Each room has porthole windows, wooden furnishings, and marble bathrooms with rain showers. Couples can stay in any room, but the Rooftop Penthouse is a perfect room choice for small families. It features a living room, 2 fireplaces, and a rooftop terrace with undistorted views of New York. For food and drinks, Catch Steak is a steakhouse, while Tao Downtown serves Pan-Asian cuisine.
Guest Reviews: The atmosphere of the hotel was unique and charming. The room was spacious, and well-planned, with a great view not impeded by neighboring buildings. 
Star Rating: 4 stars
Best Room: Rooftop penthouse
Address: 363 West 16th Street, Chelsea, New York, NY 10011, United States
---
4. Arlo Midtown
A stylish and contemporary hotel, Arlo Midtown stands out for its sleek and modern design. The lobby welcomes guests with its cozy seating areas and trendy interiors of vibrant colors. Some best features include a 24-hour fitness center and a large terrace with a glass ceiling. Enjoy onsite food and drinks at the Atrium Bar, Breakfast Room, and the rooftop bar ART Midtown. Many guests love to stay in this hotel since its close to many popular attractions. With calming hues, its rooms and suites provide a relaxing escape from the hustle and bustle. The Arlo Suite with a separate living space is best fitted for couples on an NYC getaway. Spacious and well-furnished, it features a private terrace with breathtaking city views.
Guest Reviews: The location was perfect, only about a 10-minute walk from Times Square and Broadway.
Star Rating: 4 stars
Best Room: Arlo suite
Address: 351 West 38th Street, Hell's Kitchen, New York, 10018, United States
---
5. The Beekman, a Thompson Hotel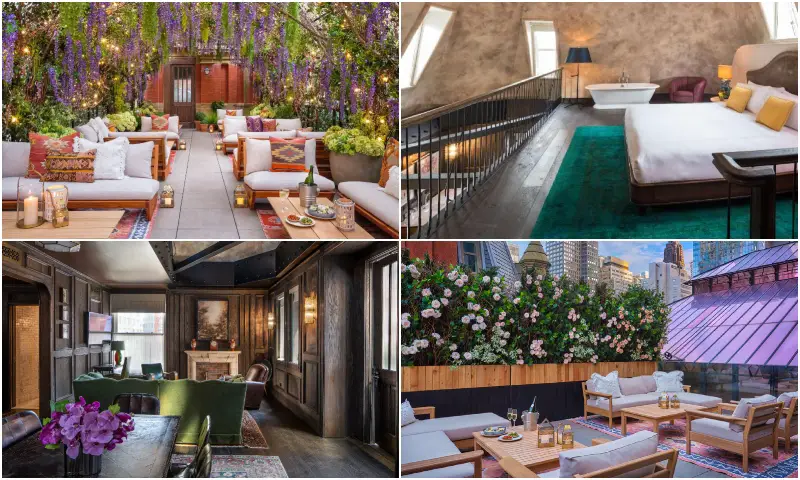 With a 5-star rating, The Beekman is a historic luxury hotel located in the Financial District. It has convenient access to iconic landmarks like the Brooklyn Bridge and New York City Hall. Guests are greeted by its 9-story, Victorian-style atrium topped with a stunning pyramidal glass ceiling. Contemporary touches complement the classic details of the hotel, creating a dramatic ambiance. Meanwhile, sophisticated decor and furnishings make the rooms, suites, and penthouses cozy. The Penthouse with a private rooftop terrace provides a luxurious city paradise for families. Exclusive amenities are in-room dining, a craft cocktail table, and a house car service. This hotel also houses a bi-level fitness center and classy restaurants, Temple Court and Le Gratin.
Guest Reviews: Beautiful property, comfortable room, and amazing restaurants. It's a block away from Fulton Street subway station. 
Star Rating: 5 stars
Best Room: Penthouses
Address: 123 Nassau Street, Wall Street – Financial District, New York, NY 10038, United States
---
6. 33 Seaport Hotel New York
Nestled in the middle of the dynamic Seaport District is the 5-star 33 Seaport Hotel New York. Simplicity is reflected in its minimalist interiors, which look more elegant in neutral colors. Modern artwork and stylish furnishings are also set up in the lobby, elevating its charm. Guests have access to its fitness center and furnished terraces with impressive views of the city. Luxury amenities are configured in its 66 guest rooms and suites, making the stay comfortable. Many of its positive reviews reveal that guests have a pleasant stay in the hotel. For large families, the Seaport King Suite with a private terrace is the top choice. And while in the hotel, enjoy Korean cuisine at Restaurant Pearl and nourishing dining at Jewel Bar.
Guest Reviews: The room with the balcony overlooking the incredible seaport and bridge was exceptional. Can't beat the location and comfort.
Star Rating: 5 stars
Best Room: Seaport king suite
Address: 33 Peck Slip, Wall Street – Financial District, New York, NY 10038, United States
---
7. MADE Hotel
MADE Hotel is a hip lodging in NoMad, Manhattan, and a few minutes away from Madison Square Park. Other popular attractions nearby are Candytopia and the National Museum of Mathematics. Inside, the interiors feature a combination of natural elements and modern minimalist aesthetics. With live potted plants placed everywhere, the hotel becomes a haven in the middle of the city. It offers homey rooms and suites, each with custom-made furnishings and premium amenities. A must-have room for couples is the Suite with Balcony overlooking the majestic city of New York. Grab a bite or a drink at Debajo, Paper, Lobby Bar, and Good Behavior, the hotel's rooftop bar. Besides being a hotel, MADE also hosts events like art exhibits, live performances, and workshops.
Guest Reviews: Cool room with a nice view and balcony to enjoy morning coffee on. Loved the rooftop bar!
Star Rating: 4 stars
Best Room: Suite with balcony
Address: 44 West 29th Street, NoMad, New York, NY 10001, United States
---
8. Times Square EDITION New York
If you want to stay close to the famous Times Square, EDITION New York is easily a top choice. Museums, broadway theaters, and other well-known historic landmarks surround the hotel as well. No wonder former guests of the 5-star hotel have high praises for its excellent location. With stylish interiors and exquisite furnishings, it radiates an upscale and exclusive atmosphere. Its elegant rooms and suites provide serenity and comfort amidst the high energy of Times Square. Retreat in the Premier 1-bedroom Suite while marveling at the Hudson River on the private balcony. For classy fine dining, visit The Terrace and Outdoor Gardens, 701West, and the Lobby Bar. The hotel also houses the Paradise Club, which welcomes everyone who loves to dance and party.
Guest Reviews: The service from checking in to checking out was wonderful. All the staff was helpful and friendly.
Star Rating: 5 stars
Best Room: Premier one-bedroom suite
Address: 20 Times Square, 701 7th Avenue at West 47th Street, New York, NY 10036, United States
---
9. Renaissance New York Times Square Hotel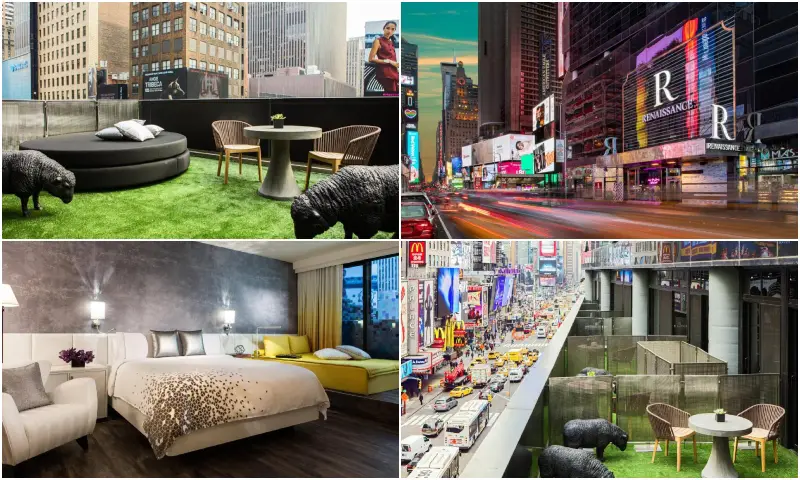 Another hotel near the bustling Times Square is the Renaissance New York Times Square Hotel. With its location, guests have easy access to high-end shops and popular attractions. Many of its reviews commend its great location, stating that it's one of the best in New York. Inside, the urban chic and classic interiors reflect the city's history and artistic heritage. It also features a well-equipped fitness center and meeting spaces for special events. The rooms and suites are well-furnished and configured with large windows with sweeping city views. Every room is spacious, but the Times Square Terrace Room is intimate and best suited for couples. Dine in The Living Room and have drinks at R Lounge and Glass Patio while overlooking the city.
Guest Reviews: The location of the hotel was perfect. We could easily get to many places as it was in the middle of everything. Exceptional staff.
Star Rating: 4 stars
Best Room: Times Square terrace rooms
Address: 714 Seventh Avenue, New York, NY 10036, United States 
---
10. INNSiDE by Meliá New York Nomad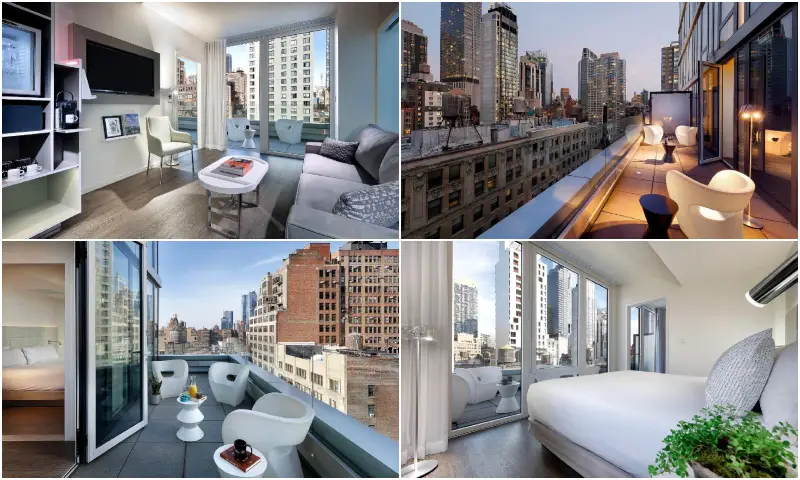 INNSiDE by Meliá New York Nomad is a stylish hotel situated in the high-class Chelsea, Manhattan. The sophistication it exudes is elevated with innovative technology and a minimalist aesthetic. Modern furniture pieces are set up in the hotel, giving off a trendy and cosmopolitan vibe. It features a 24-hour fitness center, ambient event rooms, and comfy lodging for pets. Breakfast, lunch, seafood-inspired dishes, and delicious cocktails are served at The Wilson. Going further INNSiDE is its furnished rooms and suites that offer a blend of comfort and functionality. With floor-to-ceiling windows, each room has stunning views of Manhattan and its vibrant streets. Couples will love to stay in the white-dominated and well-lighted Townhouse Suite with Terrace.
Guest Reviews: Good breakfast. Accessible and not crowded location. Nice touch with additional amenities, such as a yoga mat and umbrella, along with water and soda.
Star Rating: 4 stars
Best Room: Townhouse suite with terrace
Address: 132 West 27th Street, Chelsea, New York, NY 10001, United States
---
11. The Gotham Hotel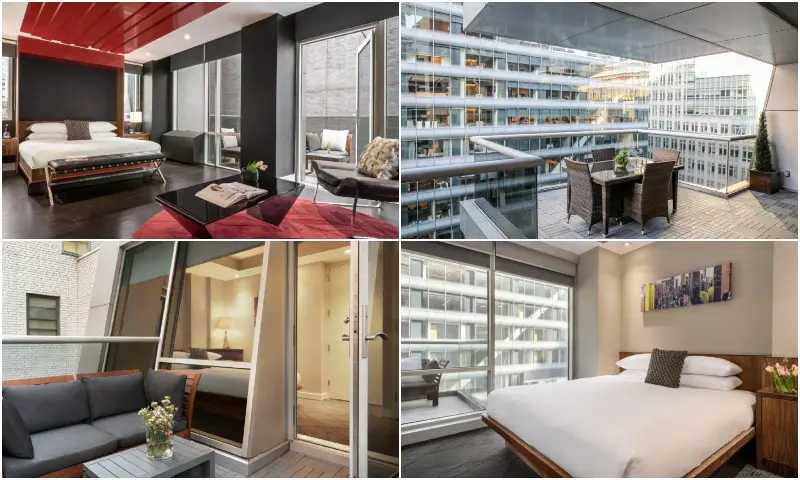 A family-owned boutique hotel, The Gotham Hotel has been in the business since 2010. It is named after and stands on the final site of the historic landmark Gotham Book Mart. The 26-story hotel offers rooms and suites, displaying books from the iconic bookstore. Aside from that, every room has a private balcony or terrace with captivating views of the city. Taking the entire 25th floor, the Penthouse is a perfect urban escape for couples in New York. Homey and cozy, it has a living space and a terrace styled with laidback and exquisite interiors.  Complete your stay by dining and drinking at the onsite restaurant, The Reading Room. And if you're up for a day trip, St. Patrick's Cathedral and Rockefeller Center are close to the hotel.
Guest Reviews: The staff was extremely friendly and helpful, and mini-bar credit was provided. The location was 3 or so blocks from Times Square. I'll definitely come back!
Star Rating: 4 stars
Best Room: Penthouse
Address: 16 East 46th Street, Midtown East, New York, NY 10017, United States 
---
12. The William Vale
Rated with 5 stars, The William Vale is a luxury hotel located in Brooklyn, New York. The hotel's architecture stands out with its sleek lines, glass façade, and geometric shapes. Combining modern elegance and industrial chic, its interiors are equally impressive, too. It features a 9-hole mini golf course and an outdoor swimming pool, the longest in Brooklyn. Italian-inspired dishes, drinks, and small bites are available at Leuca and the rooftop bar Westlight. Relax in one of its 183 spacious rooms and suites, each one featuring large windows and a balcony.  The King 1-bedroom Suite with a balcony accessible from the bedroom and living room is best for families. But make it more luxurious by staying in the 2-bedroom Vale Garden Residence with an outdoor hot tub.
Guest Reviews: A lovely, but somewhat pricey place to stay. Great if you are looking for a special treat.
Star Rating: 5 stars
Best Room: King one-bedroom suites
Address: 111 North 12th Street, Brooklyn, NY 11249, United States
---
13. The Lexington Hotel, Autograph Collection
In the 1950s, The Lexington Hotel was once home to the famous Marilyn Monroe and Joe DiMaggio. Now, this is an iconic hotel in Midtown Manhattan where the classic glamor of 1929 meets modern charm. It reflects the grandeur of the Art Deco era, with its distinctive facade and ornate detailing. The upscale rooms and suites are styled in bespoke and artsy interiors, exuding a Jazz-inspired ambiance. And if you want to relive the moments of Marilyn Monroe, the Norma Jean Suite is the best room to book. Great for families, this suite has a separate living room with a sofa bed and a private terrace. Treat yourself to a refined dining experience at The Stayton Room or a nice warm drink at Starbucks. For some downtime, visit popular sites like the Chrysler Building and St. Bartholomew's Church.
Guest Reviews: Great location and cozy rooms, but expected a bit more for the price we paid.
Star Rating: 4 stars
Best Room: Norma Jean suite
Address: 511 Lexington Avenue at 48th Street, Midtown East, New York, NY 10017, United States 
---
14. The Time New York
Surrounded by different Broadway theaters, The Time New York is a chic hotel in Times Square. Neutral color palettes dominate its interiors, creating a relaxing yet inviting atmosphere. The spaces are installed with top-tier and minimalist furnishings for a more elegant look. Onsite dining venues like Serafina, Legrande Lounge, and Goldfinch Coffee Shop also keep it classy. Its 167 rooms and 25 suites display similar vibes and feature modern and sophisticated amenities. For an unforgettable stay with family or friends, the Penthouse Suite is an excellent choice. Taking up 3 floors, this suite is like a house with a living space, a dining area, and a terrace. And overlooking the Hudson River, the master's bedroom has a sauna and a luxurious marble bath.
Guest Reviews: The whole stay was great. It was really clean & centrally located. The staff at the entrance downstairs were very helpful and friendly.
Star Rating: 4 stars
Best Room: Penthouse suite
Address: 224 West 49th Street, New York, NY 10019, United States 
---
15. Sofitel New York
Sofitel New York is a 5-star hotel located in Midtown Manhattan, close to Times Square. French influences with contemporary American aesthetics are apparent in its overall interiors. A gilded dome, abstract sculptures, intricate murals, and exceptional artworks welcome guests. Some of its best features are a 24-hour fitness center and large indoor and outdoor event venues. The hotel offers 398 luxury rooms and suites designed with European-inspired decor and art pieces. With a separate living room, the Prestige Skyscraper Terrace Suite is most suitable for families. Head to Gaby Brasserie Française and Mademoiselle Gaby if you're craving French cuisine. And for a short trip, Bryant Park and the Rockefeller Center are a short distance from the hotel.
Guest Reviews: Sofitel is always top-notch. Rooms are big for NYC, quiet, and spotless. But late checkout rates seem excessive.
Star Rating: 5 stars
Best Room: Prestige skyscraper terrace suite
Address: 45 West 44th Street, New York, NY 10036, United States
---
Best Areas To Stay in New York City
Private terraces at Renaissance New York Times Square Hotel
New York Time Square – Staying in New York Times Square is staying in the heart of the city. Most of the popular tourist attractions like the Grand Central Station and Rockefeller Center are a walking distance from each other. The best hotels in Times Square are Times Square EDITION New York and Renaissance New York Times Square Hotel.
Financial District – It is a business-oriented neighborhood and home to The Statue of Liberty and Wall Street. If you're on a business trip to New York, this is the best area to stay. The Beekman, a Thompson Hotel is one of the top-rated hotels in the Financial District.
Central Park – For a more relaxed area in bustling New York City, staying close to Central Park is ideal. Make sure you visit attractions like the Belvedere Castle, Bow Bridge, and Bethesda Terrace Arcade. The Whitby Hotel is one of the more convenient options if you want to be close to Central Park.
---
Best Time To Visit New York City
In a nutshell, New York City can be visited year-round, as each season offers a unique experience. If you prefer fewer crowds and more affordable rates, consider visiting during spring or fall. The spring season is from March to May, while the fall is between September and November. Peak tourist seasons tend to be during summer when the city comes alive with numerous festivals and outdoor concerts. New York City is also a popular destination during winter, especially on Christmas and New Year's Eve. You'll have to book very early, especially if you want to see the fireworks. Times Square EDITION New York is the best hotel with private terrace suites but expect to pay premium prices.
---
Best Value NYC Hotels With Balconies
One Bedroom Terrace at Suite The Whitby Hotel
Staying in a balcony room or suite certainly won't be cheap in New York City. Most guests find them quite expensive, particularly Sofitel New York. If you want to get the best value during your stay, check these hotels first:
---
Most Romantic NYC Hotels for Couples
Balcony views at The William Vale
The Whitby Hotel – Aside from being close to Central Park, this hotel offers afternoon tea for 2. And to make the stay more romantic, its 1-Bedroom Terrace Suite is designed for couples on an intimate getaway.
The William Vale – This hotel features an outdoor pool where couples can have a date under the sun. While it has many rooms for couples, the Vale Garden Residence spells the most romantic suite. Guests can enjoy stunning views of the city on the private terrace or the large outdoor hot tub.
---
Best NYC Hotels for Families
2-bedroom suite at the Lexington Hotel
The Whitby Hotel – They have the best family facilities catering to the needs of guests with children. These include a children's menu, books, board games, and 24-hour room service, to name a few. There are also 2-bedroom and 3-bedroom suites, which are suitable for large families.
The Lexington Hotel, Autograph Collection – With a plethora of exceptional works of art, getting inside this hotel is like an art exhibit. Kids will love to marvel at the vibrant, colorful pieces adorned on the walls while learning the rich history of the city. Family rooms are available, and The Lady Ella Suite with 2 bedrooms is the perfect choice.
---
New York Hotels Map
Also read:
Find More New York Hotels with Balconies & Terraces
---
Best NYC Balcony Rooms